These darling lavender sachets are easy to make and fun to give as gifts. A great scrap fabric project. Fill with dried lavender and keep in dresser drawers or car. The lavender scent lasts a long time!
You might also like our double-sided tissue holder sewing tutorial, our 10-minute fleece bunny, or our hand towel travel caddy tutorial!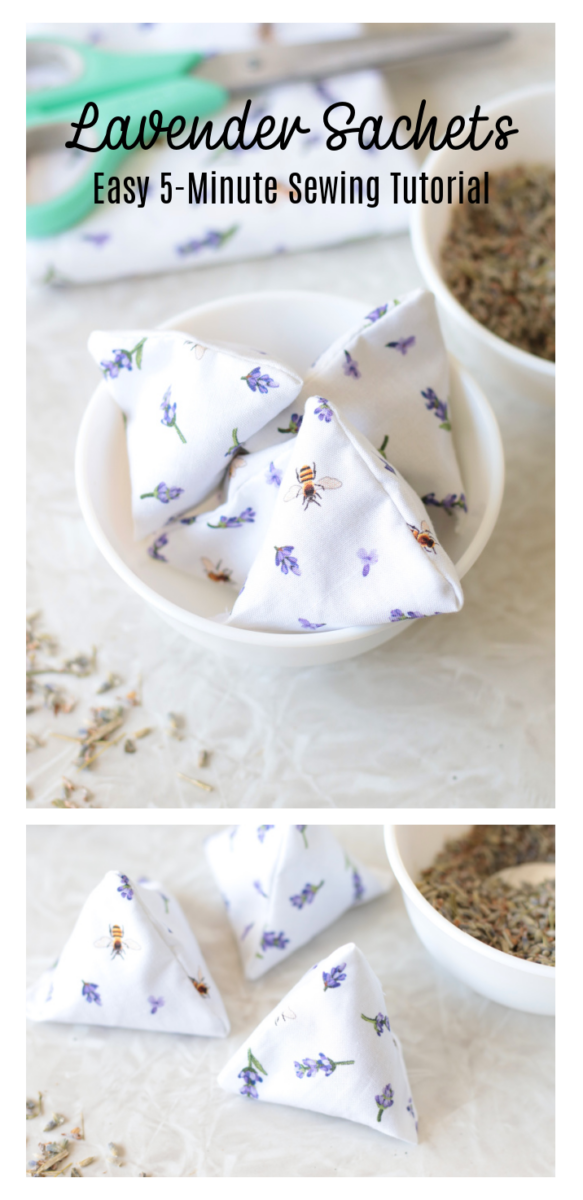 Watch our step by step videos!
Sweethaven Lavender Farm
If you ever have a chance to go to a lavender field—take it! My girls and I visited Sweethaven Lavender farm (in Williamsburg, Virginia) a couple of weeks ago and it was magical. Rows and rows of English and French lavender flowers, an entire store with items made from lavender, lavender-infused treats, u-pick wildflowers, and the cutest cafe.
We picked bouquets of lavender stems to dry and hang in their room, purchased sachets and lip gloss, sampled lavender lemonade, cotton candy, and ice cream, and even brought home a fresh lavender plant to grow in the backyard.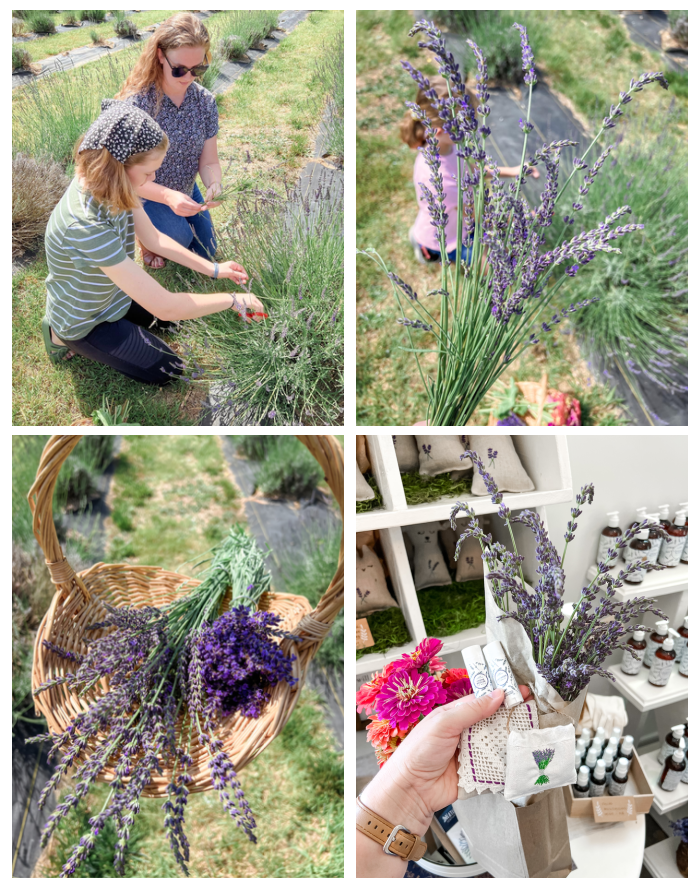 French Lavender vs. English Lavender
We picked both French lavender and English lavender. French lavender has longer stems and is more aromatic. English lavender has shorter stems and a sweeter scent. They smell distinctly different, which surprised me a bit. I figured lavender was lavender. French lavender is used more for scented products and English lavender is used for baking and infused treats, but you can use them interchangeably. Both types of lavender are beneficial when it comes to aromatherapy.
My girls were so excited about the sachets that we bought that I decided to buy a bag of dried lavender buds to make more at home. Lavender sachets are just so feminine and fun. This bag of dried lavender (Amazon) was super inexpensive and will go a long way!
Easy Lavender Sachets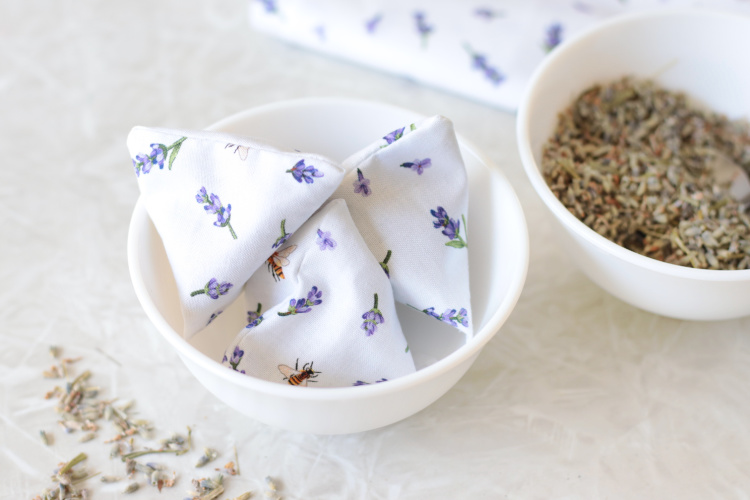 Our sachets are patterned after our chicken bean bags (in a fun pyramid shape) and take about 5 minutes to make. A great beginner sewing project and a great way to use up fabric scraps. We used cotton fabric, but muslin works well too. You just want something breathable.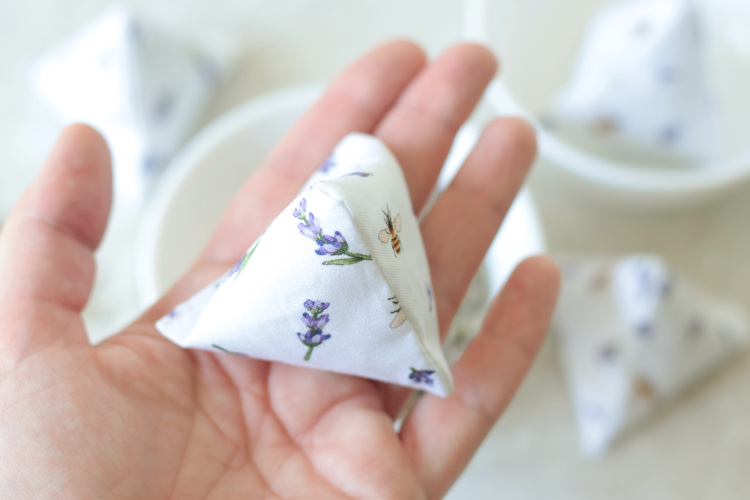 You can easily make these flat by stitching the opening closed to make tiny sachet pillows, or you can make these cute pyramid shapes by lining up the side seams before stitching the opening closed. Either way, you'll have a darling little sachet. Flat sachets are the perfect size and shape for tucking into a pillowcase. The scent of lavender helps with insomnia and anxiety.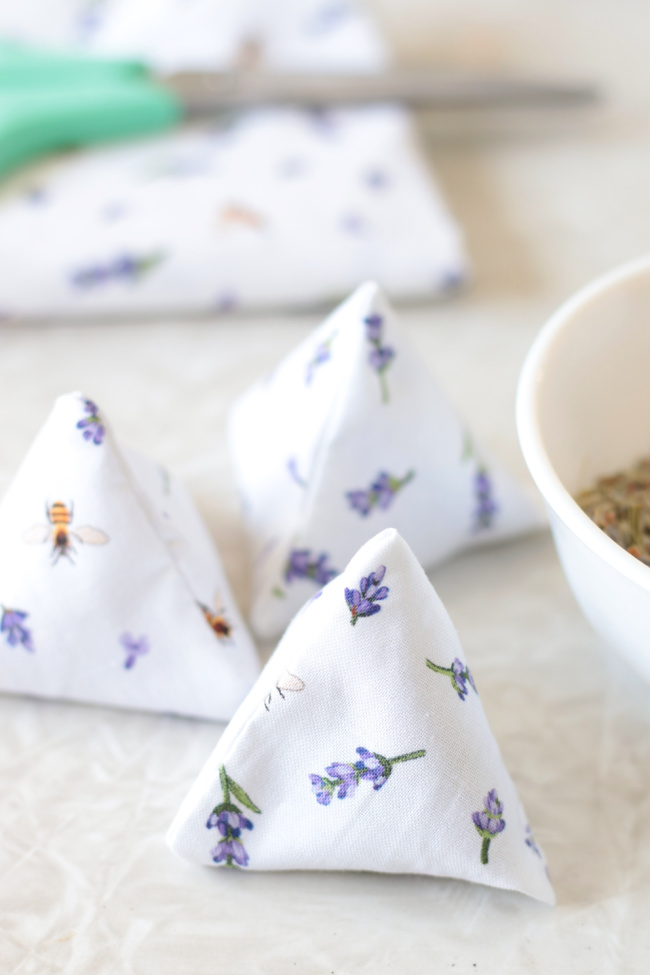 Tuck them in a closet, underwear drawer, gym bags, guest room, or inside the car. Lavender sachets will stay fragrant for a long time, especially when stored in a small space.
Homemade Lavender Sachet Supplies
(scroll to the end of the post for the step by step tutorial)
Many people make lavender sachets using lavender essential oil, rice, and dried lavender. Ours are simply dried lavender.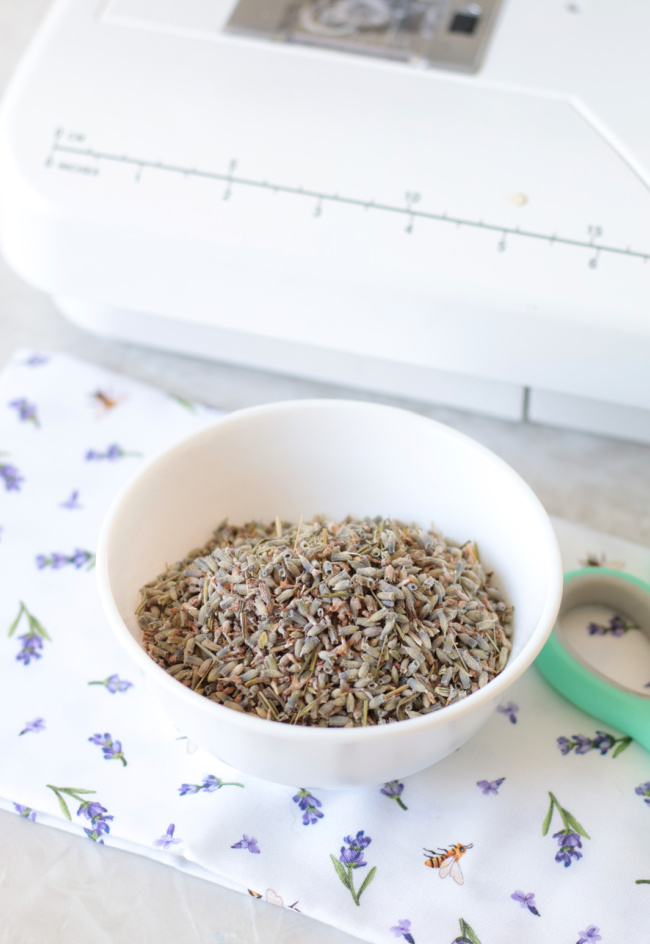 dried lavender: any type of dry lavender
scrap pieces of fabric: light cotton or muslin
sewing machine
thread
scissors
pin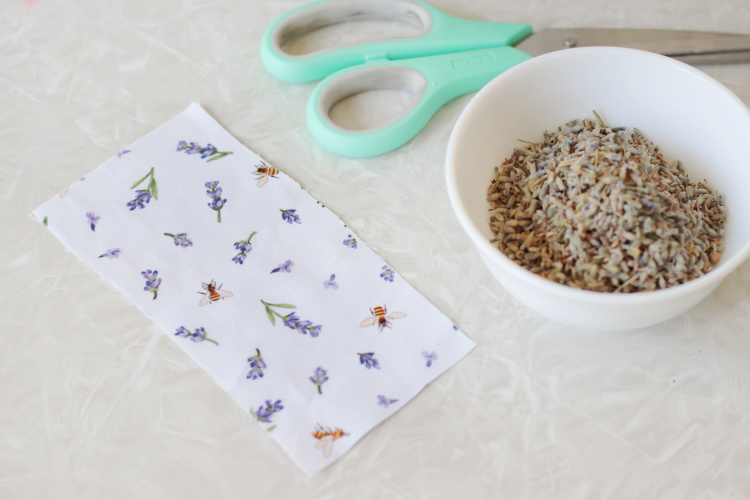 These take just minutes to make so go ahead and make a few for yourself and a few to give away.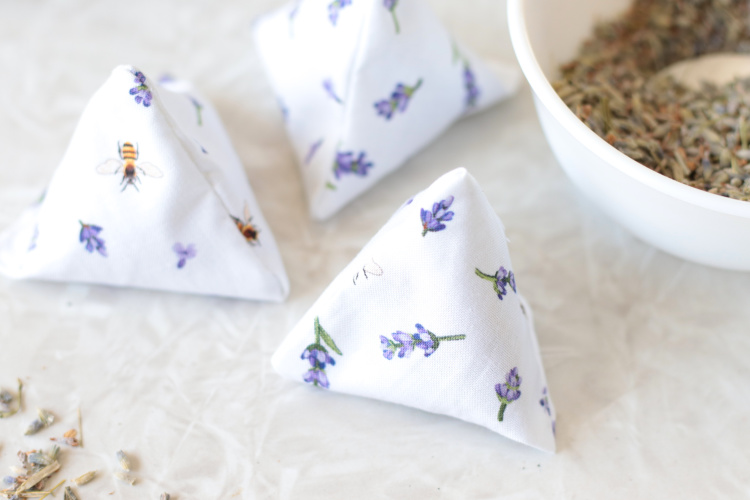 Lavender Sachet Gift Idea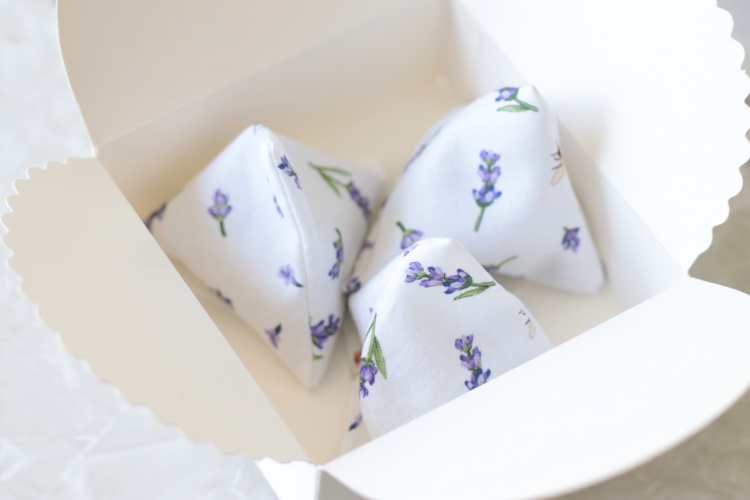 I love these little treat boxes that I found on Amazon. I've used them for so many things and found yet another use—lavender sachet gift boxes. Simply secure them with a ribbon to close. I could smell the lavender coming out of the gift boxes on the counter. So fragrant.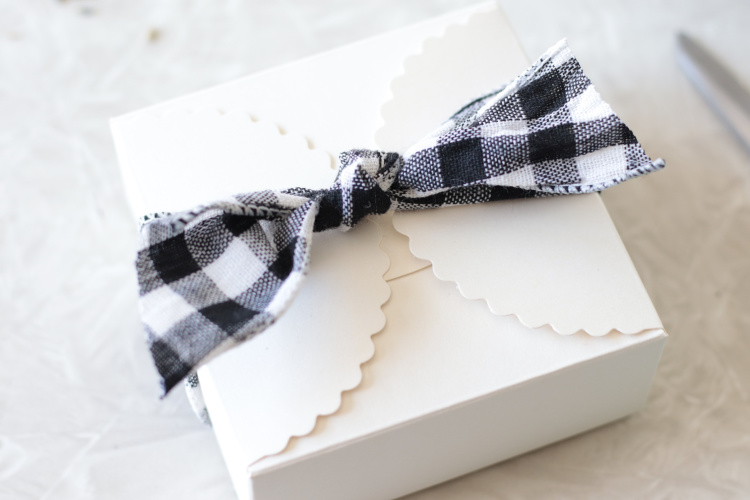 Lavender Sachets Sewing Tutorial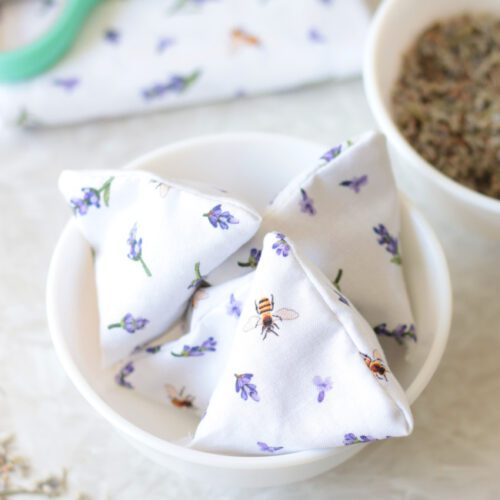 Print
Lavender Sachets
These darling lavender sachets are easy to make and fun to give as gifts. A great scrap fabric project. Fill with dried lavender and keep in a drawer or car! 
Equipment
scissors

pins

sewing machine
Instructions
Cut fabric into a 3"x6" rectangle.

Place the rectangle on your work surface and fold in half (wrong side of the fabric should be on the oustide).

Sew two sides closed with a 1/4" seam allowance, leaving the last side open.

Fill sachet with a few spoonfulls of lavender.

To turn your sachet into a pyramid shape vs. a flat square, line up your seams instead of leaving them flat on the sides (if this doesn't make sense, refer to the step by step video).

Turn under raw edges and pin closed.
Notes
To make flat rectangle sachets, simply sew them closed after filling them with lavender instead of lining up the side seams.