These fresh cherry cookie bars are made with a cake mix cookie dough. Easy to work with, semi-homemade, and full of fresh cherry filling. You can certainly  use canned pie filling, but fresh pie filling is to die for and since we had a bucket of cherries to use up that is the route I took. Switch it up and use any seasonal fruit! My husband's favorite cake mix (actually the only one he will eat!) is cherry chip. So that's what I used, but yellow or white would work too.
Fresh Cherry Cookie Bars
Crust:
1 box cake mix
1/2 c. softened butter
2 eggs
1 c. flour
Filling: (can also substitute 2 cans cherry pie filling)
4 c. fresh cherries, pitted
1/4 c. water
1 1/2 T. lemon juice
1/3 c. sugar
3 T. corn starch
1/4 tsp. almond extract
Icing:
1 c. powdered sugar
2 T. milk
1/4 tsp. vanilla
1 tsp. butter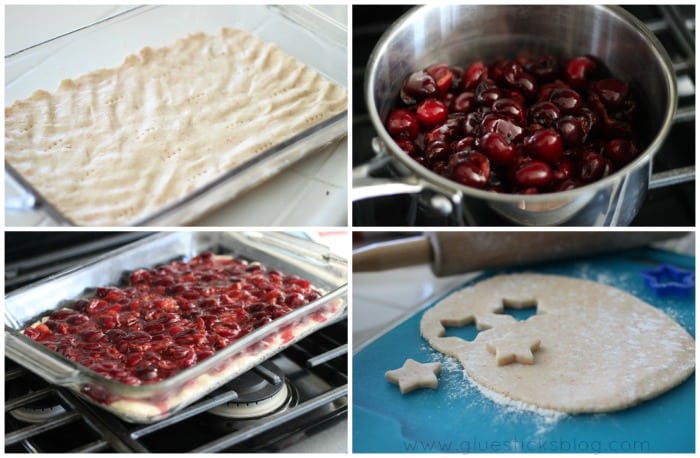 Mix all ingredients in a bowl until dough forms. Press 2/3 of the dough into an ungreased 9×13 baking pan, pressing evenly. Set remaining dough to the side.  Pierce dough in pan with a fork. Bake at 350 degrees for 10 minutes.
Meanwhile, heat cherries and all of the filling ingredients in a medium sauce pan. Bring to a boil, while stirring. Reduce heat to low and simmer for 10 minutes, stirring frequently.
Pour cherry filling over the crust.
Roll out remaining dough 1/4″ thick and cut with cookie cutters (any shape!).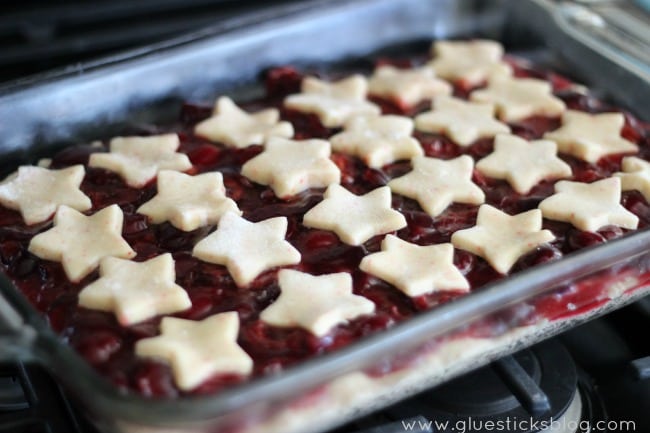 Lay the cutouts on top of the filling in any pattern you'd like.  Bake at 350 degrees for 15-18 minutes or until cookie cutouts on top are set.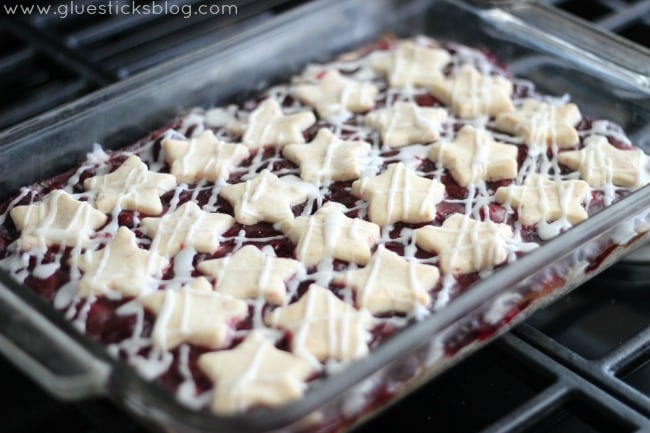 To make the icing: melt the butter and mix with the rest of the ingredients until creamy. Add milk 1 tsp. at a time until you achieve desired consistency. Drizzle over warm cookie bars.
Cool and cut into bars.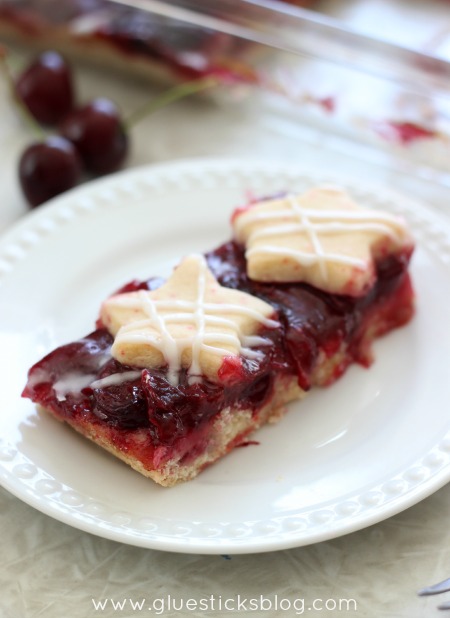 Serve with a glass of cold milk. These would be amazing with peaches too. I love this time of year!