Sponsored post written by me on behalf of Smithfield® Marinated Fresh Pork. The opinions and text are all mine.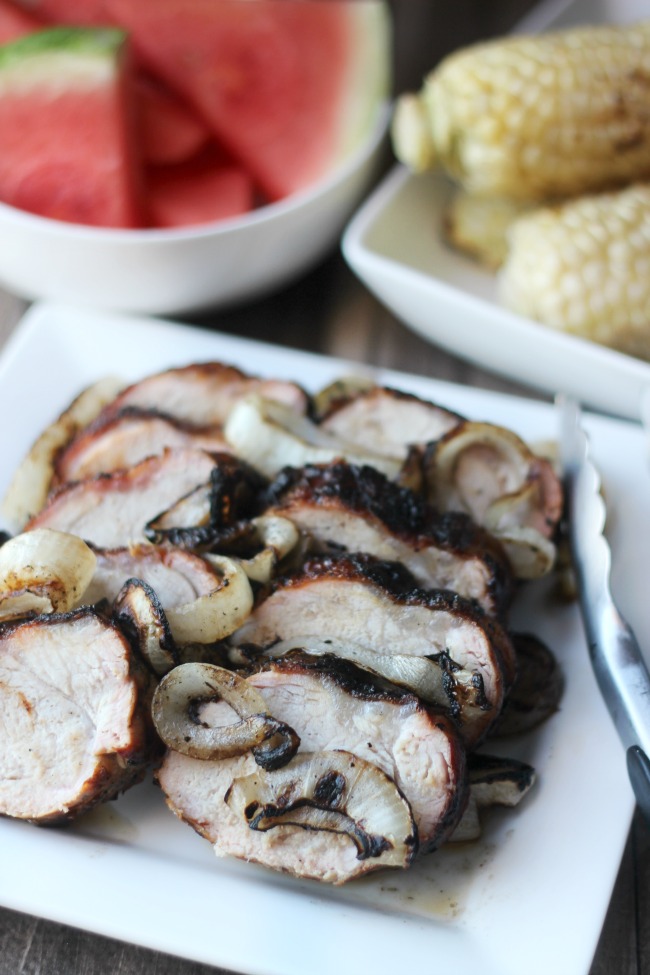 Moist and flavorful pork loin filet with grilled onions that come together in 30 minutes! Serve with grilled corn on the cob and fresh watermelon for the perfect summertime meal.
We took all 5 kids to the local water park. Not your run of the mill splash pad, but the kind of water park that you walk in at opening and don't leave until they are locking the gates at closing. The kind with endless pools, water slides, raft slides, and a lazy river. The kind that I LIVED for as a kid, but dread going to as an adult, ha! It was our kick off to summer—a fun outing for the kids on their last day of school. We had a fabulous time, but were absolutely exhausted afterwards!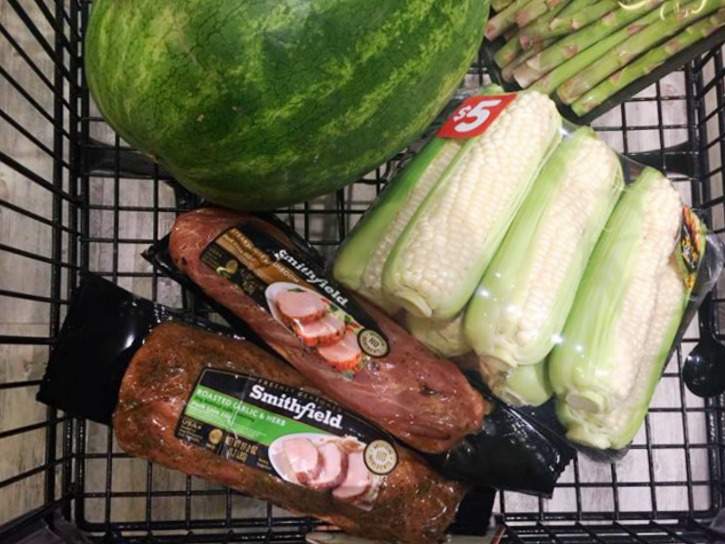 I needed to get a few things at Safeway, just down the road from the park, so we made a quick stop. I ran inside while my husband stayed in the van with the kids, and said I'd be right back. OF COURSE I got a container of their bakery cookies. Priorities. They were out of the s'mores ones (my favorite), but chocolate chip did just fine. I also picked up the components for a quick grilled dinner. A Smithfield Marinated Fresh Pork Loin Filet from the fresh meat section (I wasn't sure which flavor to go for so I grabbed two), corn on the cob, watermelon, and asparagus.
I hit up the self checkout line, and in less than 10 minutes was back in the van with everything I needed for a healthy dinner with virtually no prep involved. Oh, and the cookies were for the car ride home. Balance in all things.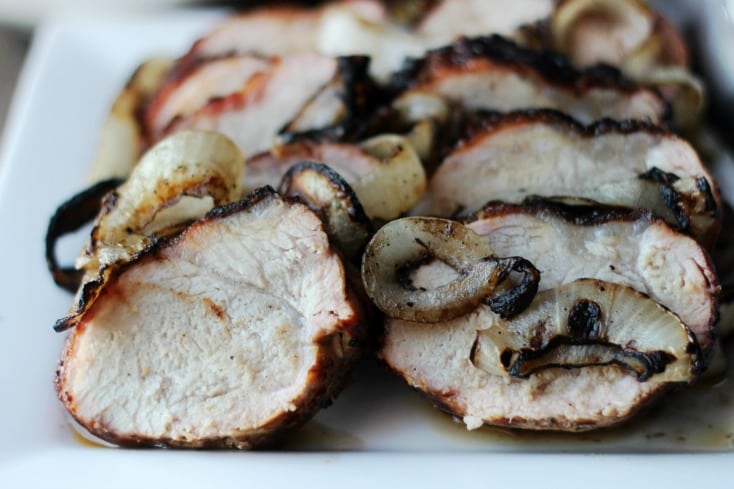 Have you tried the Smithfield Marinated Fresh Pork? It is made from 100% fresh pork with no artificial ingredients. Each comes already marinated and perfectly seasoned. I usually keep a couple in our freezer. They can be sliced or cubed to make cooking one up quick and easy! Our favorites have been the Golden Rotisserie and Roasted Garlic & Herb varieties. I've shared recipes with some of the other varieties before so I decided to use the Smithfield Steakhouse Mushroom Pork Loin Filet that I found at Safeway this time around. I don't usually care for mushrooms, but I LOVED the flavor combination from the dry rub and marinade in the Steakhouse Mushroom Pork Loin Filet. The mushrooms were diced super tiny and weren't overpowering at all.
Grilled Steakhouse Mushroom Pork Loin Filet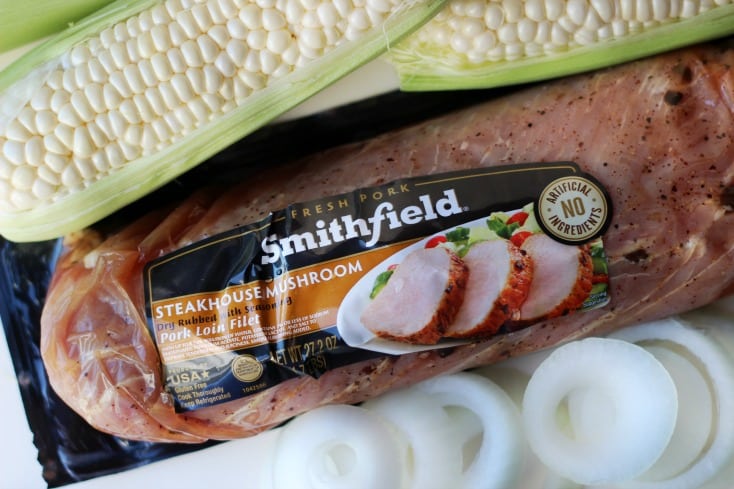 Ingredients:
1 Smithfield Steakhouse Mushroom Pork Loin Filet (1-1.5 lb.)
1 yellow onion, sliced into rings
2 T. olive oil
Preheat grill to 375 degrees. Cook in indirect heat, turning occasionally until internal temperature reaches 150 degrees (about 30-40 minutes). Wrap in foil and set aside.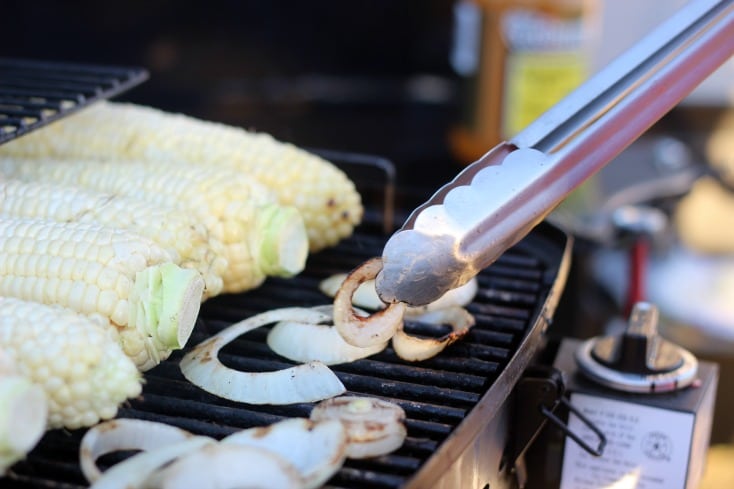 While pork loin is resting, toss onions in olive oil. Grill onions and any other vegetables you'd like until tender. We like brushing our corn with butter and sprinkling with seasoning salt while still on the grill. The butter gets nice and golden.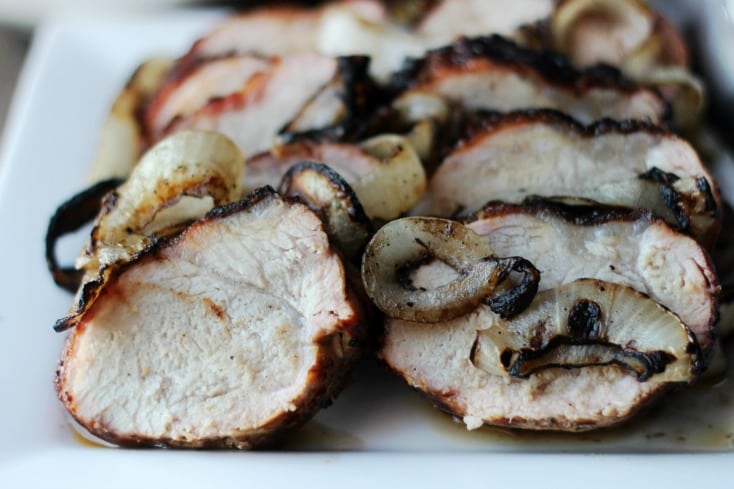 Slice pork into 1″ medallions and serve with grilled onion rings and vegetables.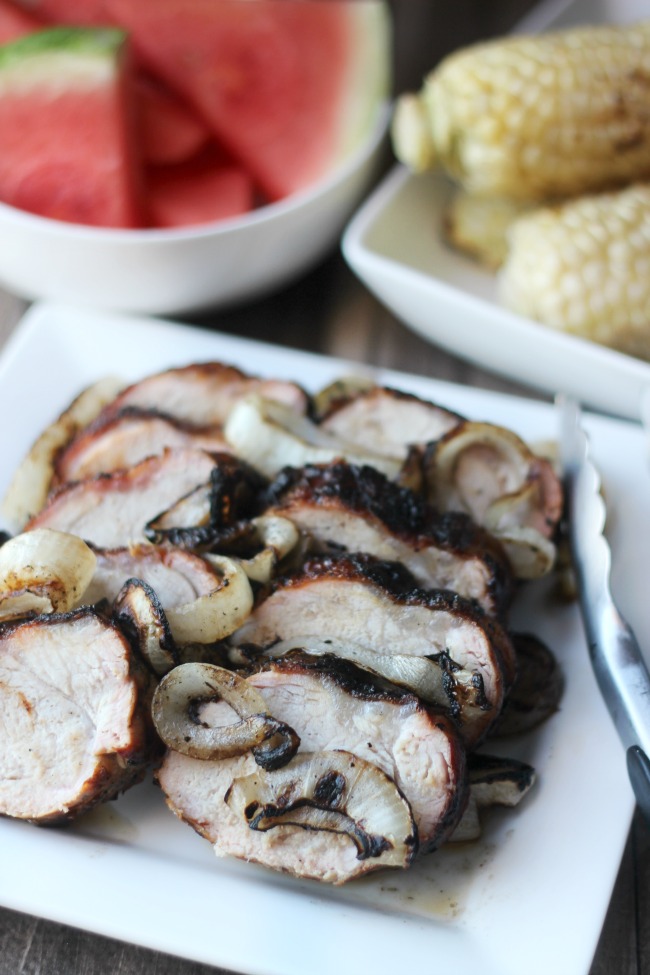 I started with a slow-marinated Smithfield Pork Loin Filet and made it my own with grilled onions for a bold flavor combination! My goodness, these are my favorite kind of meals. The ones that come together in 30 minutes and totally hit the spot! Real flavor, real fast! Smithfield is challenging you to see what you can do with Marinated Fresh Pork in 30 minutes. You can submit your recipe for a chance to win great prizes! Just visit www.SmithfieldRealFlavorRealFast.com.