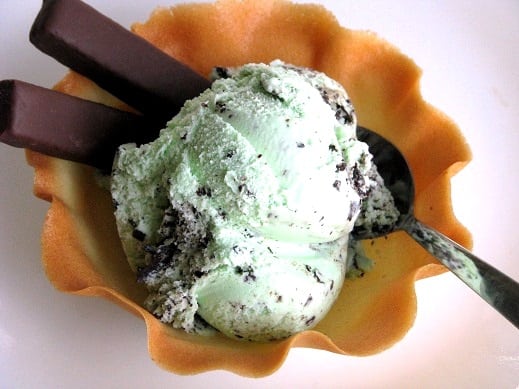 The other night, Derrick asked me to make a batch of fortune cookie batter….for what? Ice cream bowls! I knew they would taste good, but I wasn't sure how they would hold up. The end result? Amazing!
Fortune Cookie Ice Cream Bowls
Ingredients
2 egg whites
1/2 cup flour (sifted)
1/2 cup sugar
2 tablespoons water
1 teaspoon almond extract
1/2 teaspoon vanilla extract
Cooking Directions
Set oven to 400 degrees F.
Place egg whites in a bowl and beat with electric mixer on medium speed until very frothy, almost soft peaks. Add sifted flour, sugar, almond and vanilla then mix. Stir in 2 tablespoons of water to thin batter.
Using a Silpat baking mat, parchment paper or baking pan (lightly sprayed with non stick cooking spray), place 1/4 cup of batter on pan. Spread into a smooth circle 6-8″ in diameter (depending on how large you want your bowl to be). Bake for about six minutes, or until the edges are lightly browned.
When they come out of the oven, working quickly, form your cookie over the back of a small glass bowl. Place another upside-down bowl on top to keep the cookie in shape. Let cool about 60 seconds and remove the top bowl. Carefully move cookie from bottom bowl and let cool on a rack.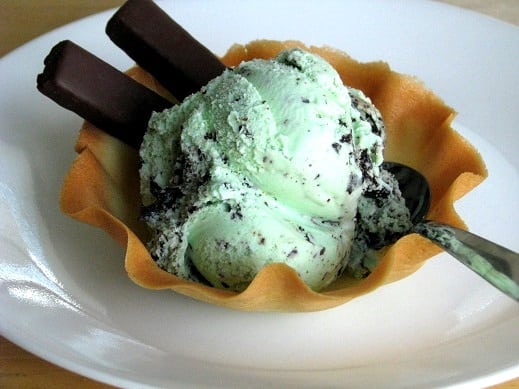 When making fortune cookies. the edges get brown and the centers remain cream colored. To get an even color throughout the cookie, you can add a small dab of Wilton's concentrated food coloring (buttercup yellow). Derrick did that for the last half of the batch and they looked awesome.
They were a hit!