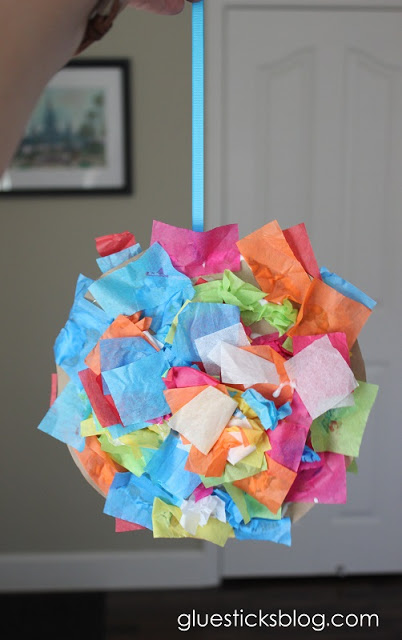 I have the fun opportunity to teach preschool in my home twice a month! Some friends and I do a co-op and we are each teaching about a different country during the month of May. I chose Mexico.
We had a great time learning about our neighboring country, the food, music, customs…and pinatas!
When I was coming up with me lesson plan, I had the ridiculous idea to help the 6 children (3 and 4 years old) paper mache a small balloon and each make a pinata. Yeah, that idea lasted about 2 seconds until I decided to do a more realistic project for children that age.
The kids each made one of these little pinatas to take home and here is how we did it!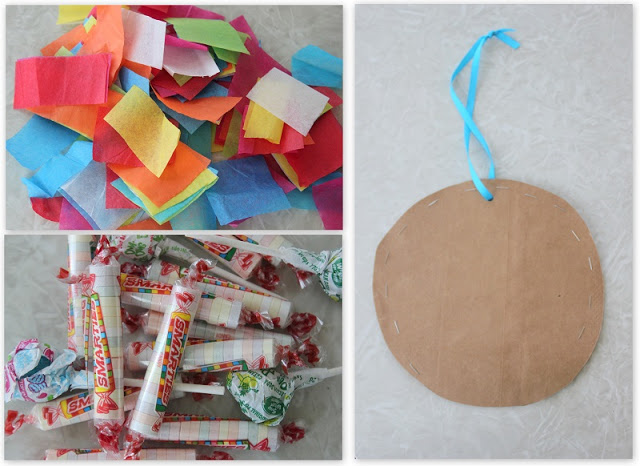 Supplies
brown paper
stapler/staples
tissue paper, cut into small squares
school glue
hole punch
ribbon
candy
Cut out 2 pieces of brown paper in any shape you'd like. I went with a circle, but it would be fun to make one in any shape!
Staple the edges, all the way around, leaving a space to add candy.
Punch a hold in the top section and string with a ribbon.
Fill with candy and staple closed.
Drizzle glue across and let the children decorate with tissue paper. Crumpled, or simple glued flat. Eiteher way looks cute.
Flip over and decorate the other side.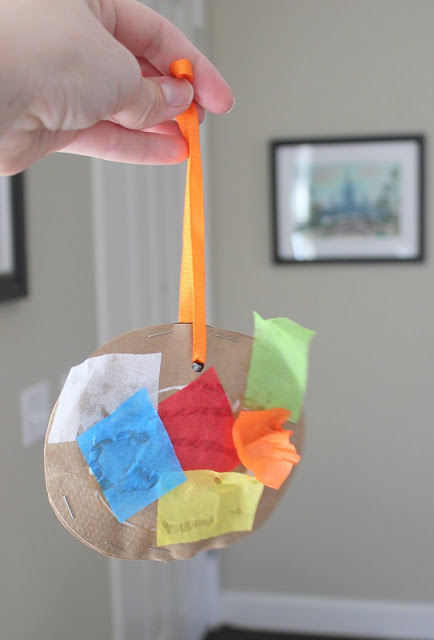 Ruby, who is 18 months old, made one too. She wasn't sure why we were putting the candy inside and was more interested in just eating it as she went.
When they are ready to break it open, they simply have to rip it in half and all of the candy falls out!
Welcome! I'm Brandy, mother to 5 darling kiddos and a cute black lab named Toby. My husband is in the Coast Guard so we've lived all over the place, turning each house into a home. I love baking, sewing, making cute things with my kids, and sharing what I've learned with all of you!