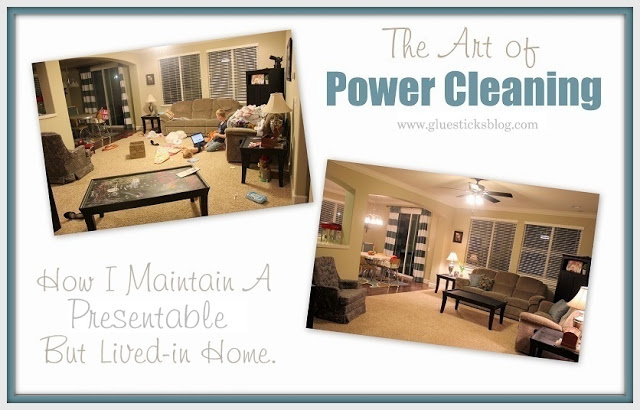 Here is my one true tip for a clean and presentable home without getting overwhelmed. Power cleaning. It doesn't make the house spotless, but it does help maintain it. I am sharing how I use it our home, being a stay at home mom of 4, but power cleaning it is great for ANY household.  Short bursts of energy with big results…I sound like Jillian Michales here, ha! But it's true. I'm a sprinter. It's how I clean my home and how I work out.
If I thought that I could tidy up the house in the morning and have my house stay that way, it would be a perfect time to do so, but I have four children. It's more of a "two steps forward, 1 step back" approach that leaves me exhausted and the house isn't that much cleaner in the end. Following them around all day picking up their messes just doesn't work for me. Or for them.
If I take the time to vacuum and pick up clutter during the day, chances are it will re-appear as soon as school gets out and backpacks, flyers, shoes, and toys are in the mix.
I've also found that I am that much more behind in the morning if I am cleaning up last night's mess.
So  I save a lot of my "tidying up" for the evenings when the kids are in bed and start out my day feeling ahead of the game. My husband works at night and so when his shift changed, so did my schedule. I really don't care for his schedule and look forward to the day he goes back to a 9-5 so that we can see him more so we try to make the best of it right now.
Cleaning at night actually saves a lot of time. The biggest advantage for is the lack of distractions. Phone,  preparing meals, etc.
After a long day the last thing I feel want to do is clean, and so I power clean!
Here is how I do it:
Music. Depending on my mood and how much motivation I need to get going, I'll put on a playlist I which may or may not contain a lot of 80s music 🙂
Time Limit. I like to play mind games. Call me crazy, but if I know there is an end time in sight it is easier to keep moving. I put the kids to bed around 8pm, so I do not want to still be cleaning any later than 8:45 if I can help it, and I usually finish before that.
Clutter. The kids pick up most of their toys before going to bed. Stuffed animals, blankets, etc. Things that I don't want to be putting in their rooms after they go to sleep. Everything else I quickly pick up after they are in bed. 5-7 minutes.
Vacuum. Optional. Once the living room is de-cluttered I vacuum the living room and great room . I also vacuum the rug under the dining table. I like to get this out of the way while the kids are still falling asleep. That way I don't wake them up. If the carpet doesn't look like it needs to be vacuumed, I'll skip it. I usually vacuum about 4 times a week. 5-6 minutes.
Kitchen. Then I move on to the kitchen. I usually do dishes right after dinner so I add any dessert dishes, etc. to the dishwasher and start it. Then I wipe down all surfaces (counters, table, stove) with disinfecting spray and clear off any clutter (mail, homework, etc. that needs to be sorted) into a junk basket on the counter. I can sort through that another time. It only slows down the process of cleaning. 5 minutes.
Floors. The kitchen floor always needs to be swept and if it needs to be mopped I do that as well, but just a quick cleaning with my microfiber mop as opposed to getting down and scrubbing the floors.  I spray the floors with either water or a multipurpose cleaner and use my mop (which works like a swiffer) to quickly clean the laminate floors and they air dry. 10 minutes.
Guest Bathroom. Our first floor bathroom is used the most so I wipe down the counter tops and change out the hand towel every day. 1 minute.

Just remember to keep moving. Don't get distracted by checking Facebook or texting. It's only 20 minutes or so and if you push yourself it is also a great work out! Think about it, running up and down the stairs to put stuff away, pushing the vacuum, wiping counters. You're burning calories and getting a clean house!
The entire process takes less than 30 minutes for our 3 main living areas. The idea is to get through it, not to deep clean and perfect it. To touch on every room and eliminate the clutter that distracts you the most.
The beauty of starting out the day with a clean home is that if I have company coming over or am teaching preschool that day in my home, I don't have to worry about rushing around the house to clean when I am also trying to get the kids ready for school and get myself ready for the day. All I have to do is clean up breakfast and put laundry in the hamper.
And that is how I power clean. If you'd like keep reading, I'll share a few more things that I sometimes do in the evenings to alleviate some daytime cleaning.
If I'm still feeling energetic after power cleaning the house I will  try to do one more household chore that I would normally have done during the day. Some things can be cleaned during the day and they stay clean longer. Like bathrooms, etc. It's the clutter that seems to take over quicker. I don't have to deep clean often because I try to maintain it. Clorox wipes are my best friend. A quick wipe down every other day keeps dust, hair, and the stickiness out of the bathrooms, on the floors, baseboards and counters.
The only other household task I do at night is folding laundry and I don't mind folding it if I have a fun show to watch. My favorites lately? Revenge, Missing, and  Downton Abbey. It's the "putting it all away" part that I hate. And I do that during the daytime.
 Is my home always clean? Of course not!
Check this out
.  This is just  how I do my best to keep up during this crazy and amazing time of my life. Knowing that I can tackle it quickly in the evenings makes it feel less overwhelming during the daytime when the kids are up and playing. If you have a tip to share for keeping up with clutter, leave a comment! I'd love to hear about it!