I'm excited to be sharing a few girls room organization tips! This tiny room fits two girls, their clothing, and all of their toys in one tiny little space! This post contains affiliate links.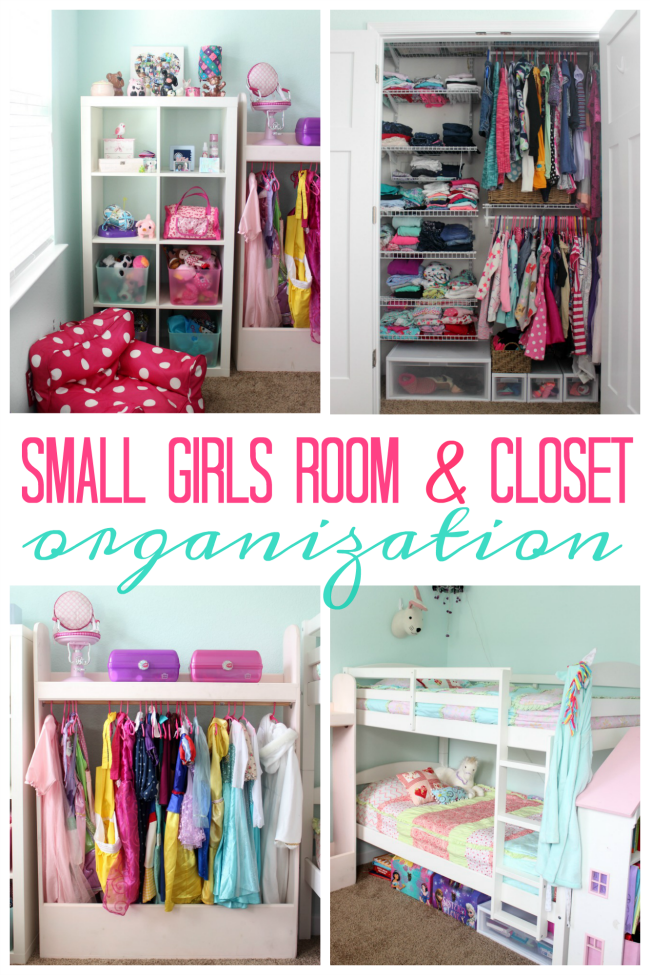 Girls Room Organization In a Small Space
Our home here in Virginia is exactly the same square footage of the two homes that we've lived in before, but the layout is completely different! The master bedroom and kitchen are larger in this house which meant that the extra space had to come from somewhere. Unfortunately the kids' bedrooms took the hit. This left us scratching our heads as to how we'd fit 5 children and all of their things into these tiny spaces.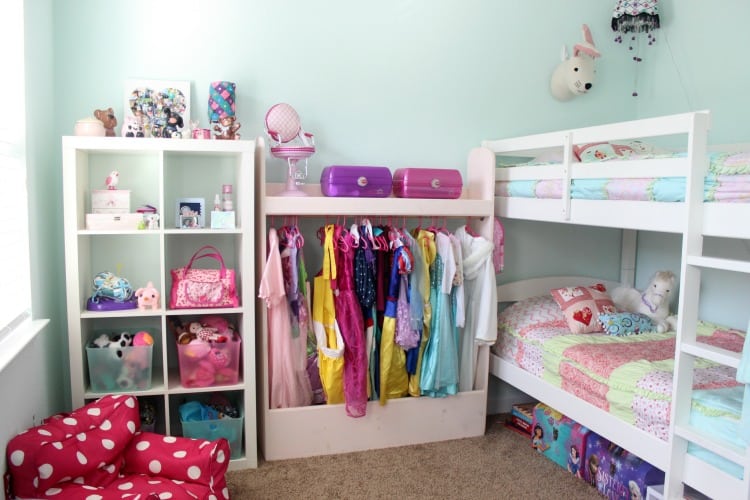 We had 3 rooms, but an uneven number of children. Our older 4 like sharing rooms (2 boys, 2 girls) and it didn't make sense to have the baby in his own room when we could use the 3rd room for my husband's office. So we solved the nursery situation by having the baby use on of our master closets
(read about that here)
, and began organizing the other bedrooms to utilize every square foot of space!
Space Saving Ideas for a Girls Room
Here's how we set up this girls room.  We've been here for over six months and have arranged the room twice. This arrangement is a keeper and gives them the most amount of floor space for playing.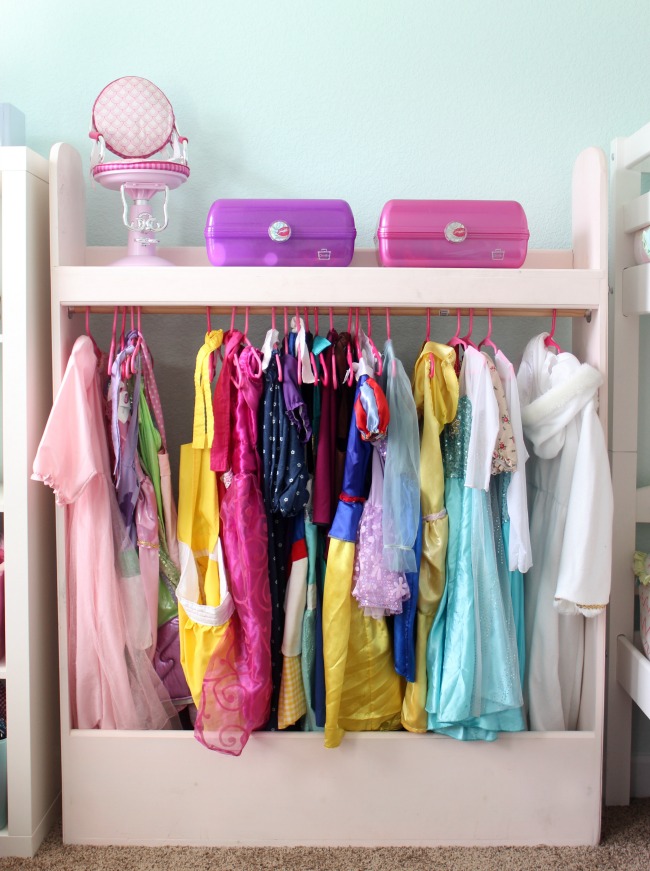 Girls Room Organization: Dress Up Storage
This darling dress-up box came with us from California. Derrick made it for the girls a few years ago (tutorial here). It takes up wall space, but they love it, I love it, and Daddy made it. So it stayed. My favorite feature is the large storage area at the bottom. We keep all of their dress up shoes, wands, and fairy wings in there. The top shelf is the perfect place for the Caboodles of jewelry and lip gloss.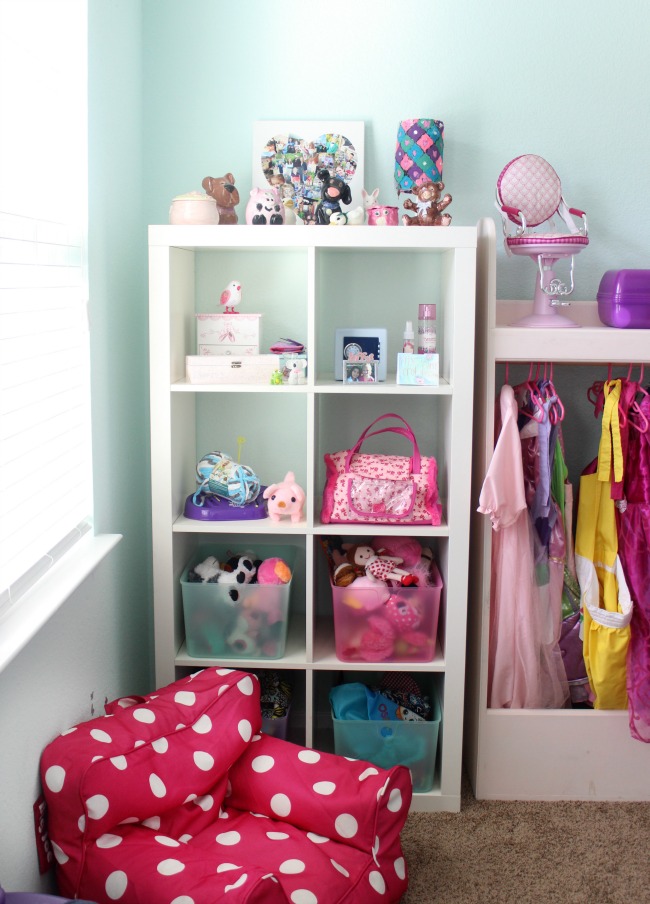 Small Accessories and Toy Storage
I had this storage unit from IKEA in our office before, but decided to use it in the girls' room. They have a TON of knick knacks that they've made and wanted on display. After moving it around and trying several spots, we slid it in-between the wall and the dress up box for a perfect fit. I found the colored totes at Target in the dollar spot section for $5. We keep purses and small stuffed animals in the totes.
Favorite Items
Ruby has two prized possessions. The Step2 vanity that she received for her birthday last year, and her polka dot reading chair that she's had since she was three. We really had to prioritize on what we let take up wall space, but I'm so glad that we found a way to incorporate both. We did this by storing a TON of stuff under their bunk bed.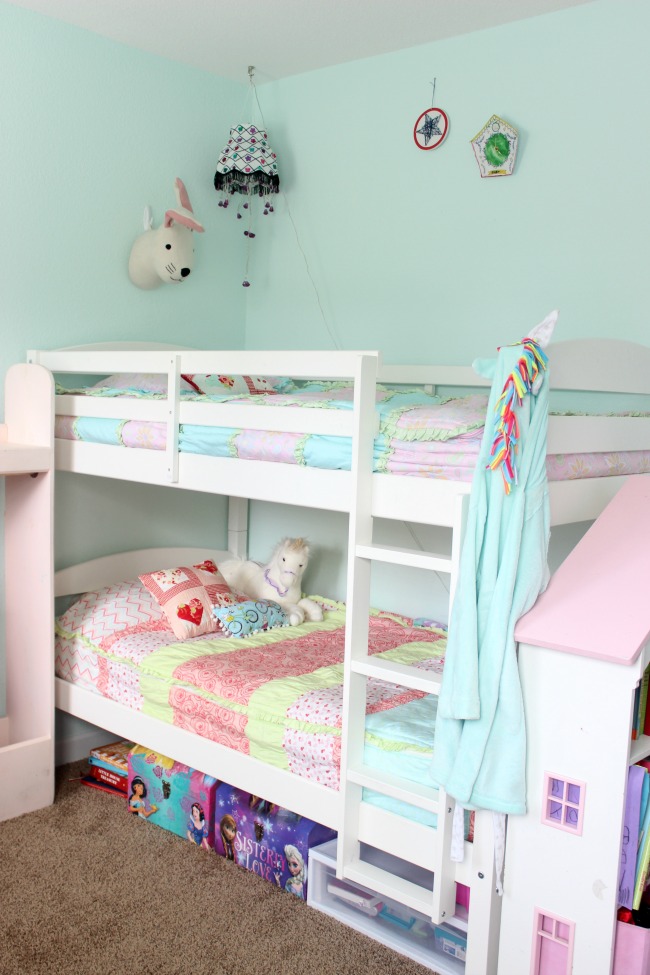 Sleep Area
Our boys have their bunk beds separate so that we can store things under both of the beds. I wanted more floor space for the girls since they still play with their toys so we stacked the beds and added storage baskets underneath.
(You'll notice that each girl has her own lighting system. Ruby's is a little lampshade that hangs from the ceiling, and Kaylee has color-changing lights that are strung under the top bunk. All of the credit goes to their awesome Daddy who took them to the store to pick them out. They love reading at night to the light of their pretty lamp and stars.)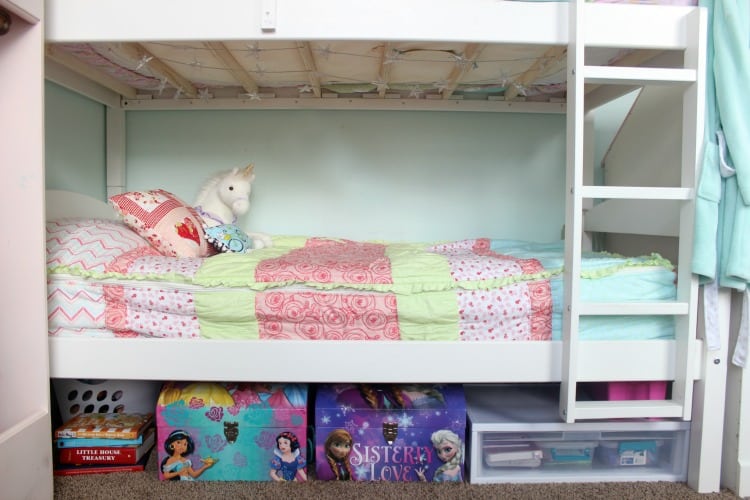 Under the Bed Storage for a Girls Room
The back wall is lined with laundry baskets full of stuffed animals. Their favorites are in the $5 totes that I showed above, and the ones they don't play with as often stay under the bed. They can easily slide the baskets out when they want to play with their animals. And their bedding is from Beddy's.
Each girl has a treasure box that I bought at Michaels for $7. These are off limits to mom, meaning—they don't have to worry about me organizing them or getting rid of the trinkets and scraps of paper inside. They are free to have whatever they'd like inside. Kaylee has a variety of books and Ruby has loom band creations and other crafts inside hers.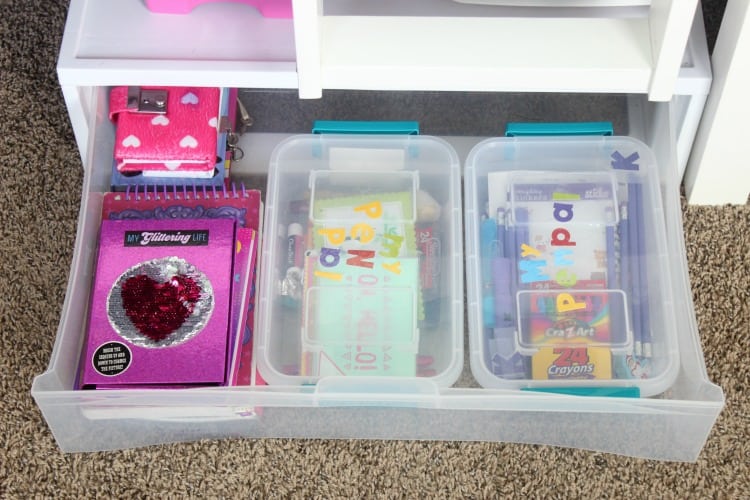 We reconfigured their closet and used the stacking dresser drawers that they used in our California house for storage under the bed and in other areas of the room. This drawer slides out and is where they keep their journals (they have so many!) and
pen pal kits
to keep in touch with their friends in California.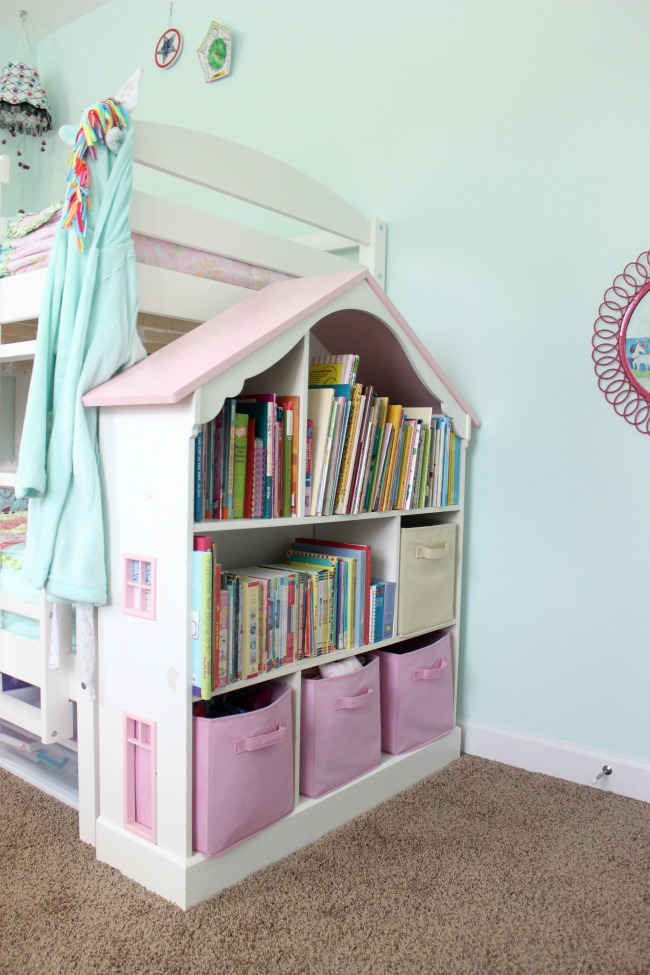 Books
I bought this darling bookcase second-hand a couple of years ago. I wasn't sure if there would be wall space for it, and there wasn't, so it butts up with the end of the bunkbed and is the first thing you see when you walk into the room.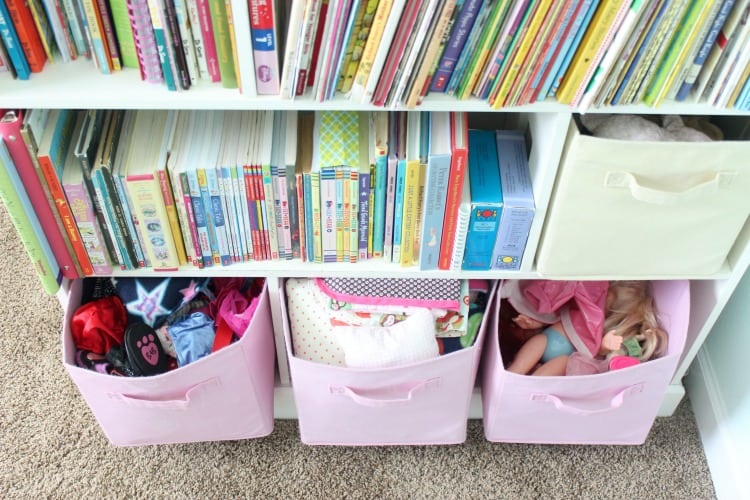 The girls keep their Build a Bear accessories, puppets, baby dolls, and doll clothing in the bins.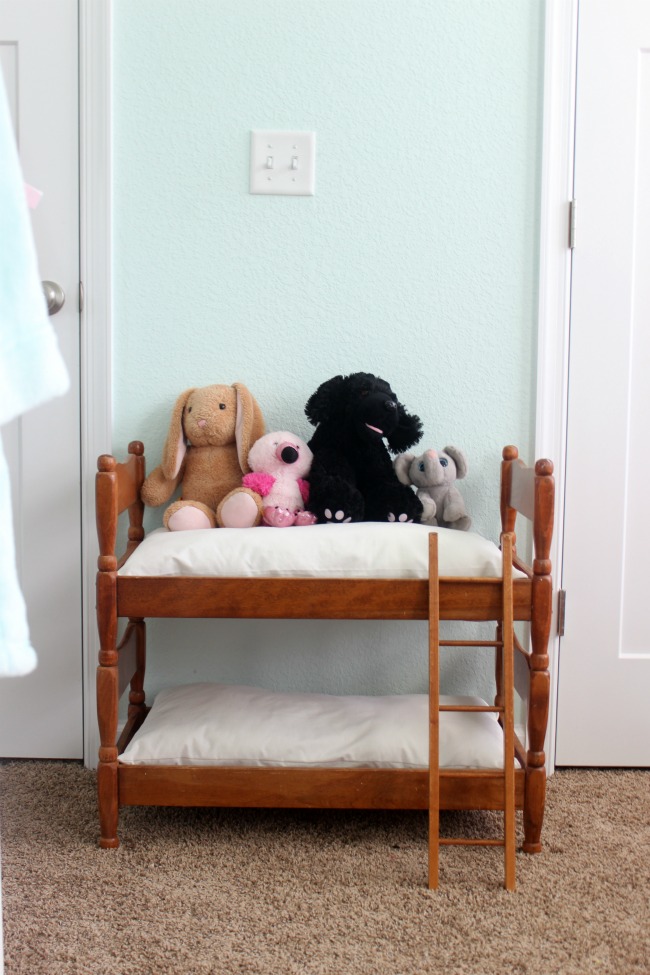 My mom sent the girls this darling antique doll bunk bed for their birthdays. She called me ahead of time to make sure it would be okay and wouldn't be too big. I told her that I didn't care how big it was, we'd make it work. Isn't it absolutely perfect?! The girls LOVE it and we found a place for it by the door. The only challenge is keeping Mac from climbing on it. He thinks it was made for him.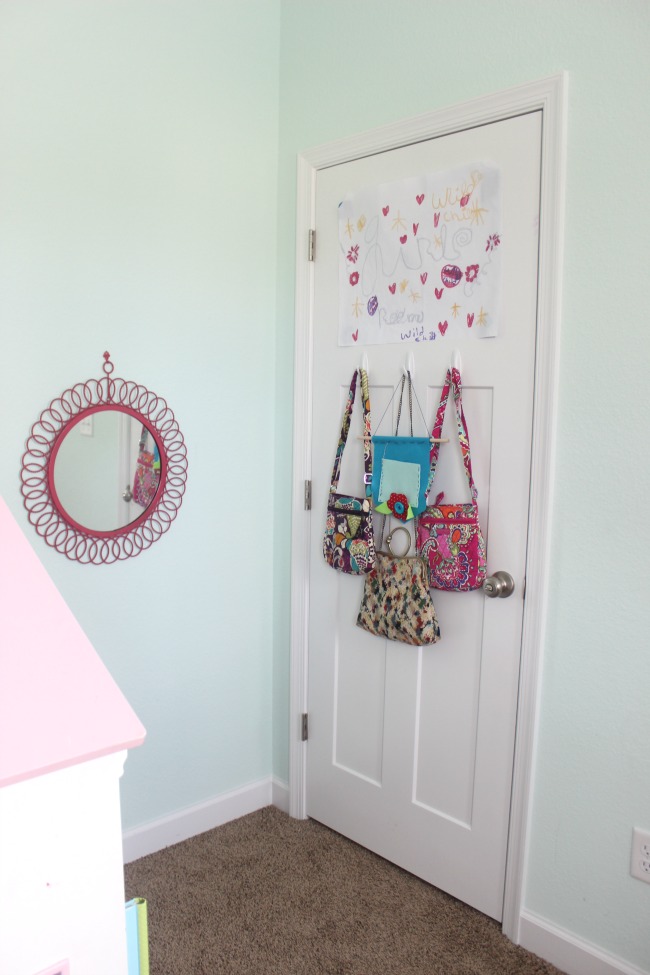 I attached command hooks to the back of the door and the inside of the closet doors for the purses and bags that they use on a regular basis.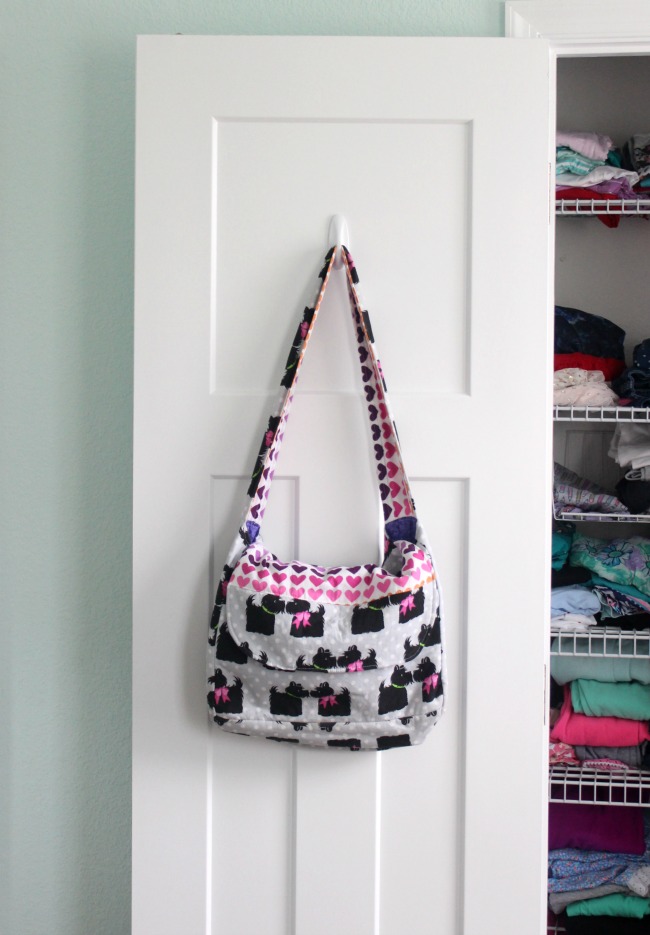 You can read more about the girls'
homemade dance bags here.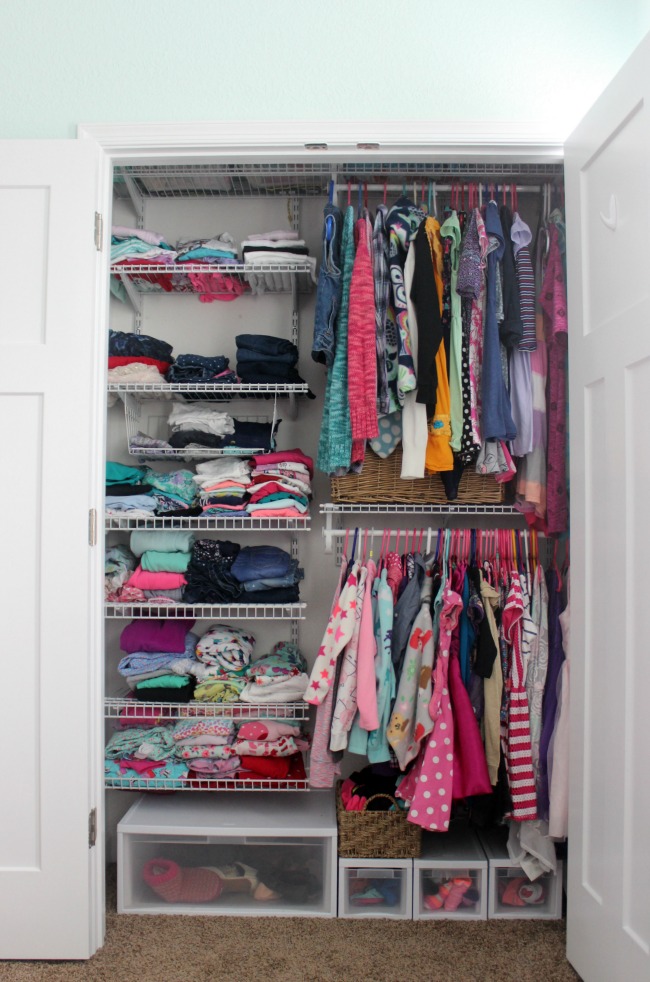 Girls Room Organization: Closet Storage
We took one look at the closet and knew that having their dressers inside wasn't going to be an option at this house. We disassembled the stacking drawers and put some in Mac's nursery closet and used the rest for shoes, underwear, and tights. Then Derrick put in this custom closet organization system.
You can't see the shelf on the top, but we have totes of Barbie's and other toys up there.
Kaylee's clothes are on the top racks and bar, and Ruby's are on the bottom racks and bar. Kaylee can easily reach to grab her clothes from the top by stepping on the bottom drawer, but it is difficult for her to stack the clothes and put them away. That is the ONLY downside to this closet system, but as the gets older she will be able to put her clothes away on the top shelf by herself. As a side note, filing clothing into drawers is my favorite way to store kids clothing! They can see exactly what they have and don't have to rummage through their drawers.
I love this little space. It is so bright and cheery. There really isn't a theme to any of the kids' rooms. We chose a color for the walls together, but let the girls hang up their decorations wherever they wanted. I think they did a great job. I especially love their little paintings and hand-drawn posters.
We created a darling little room for two darling little girls in a tiny space and it WORKS!
You might also like these organizational projects…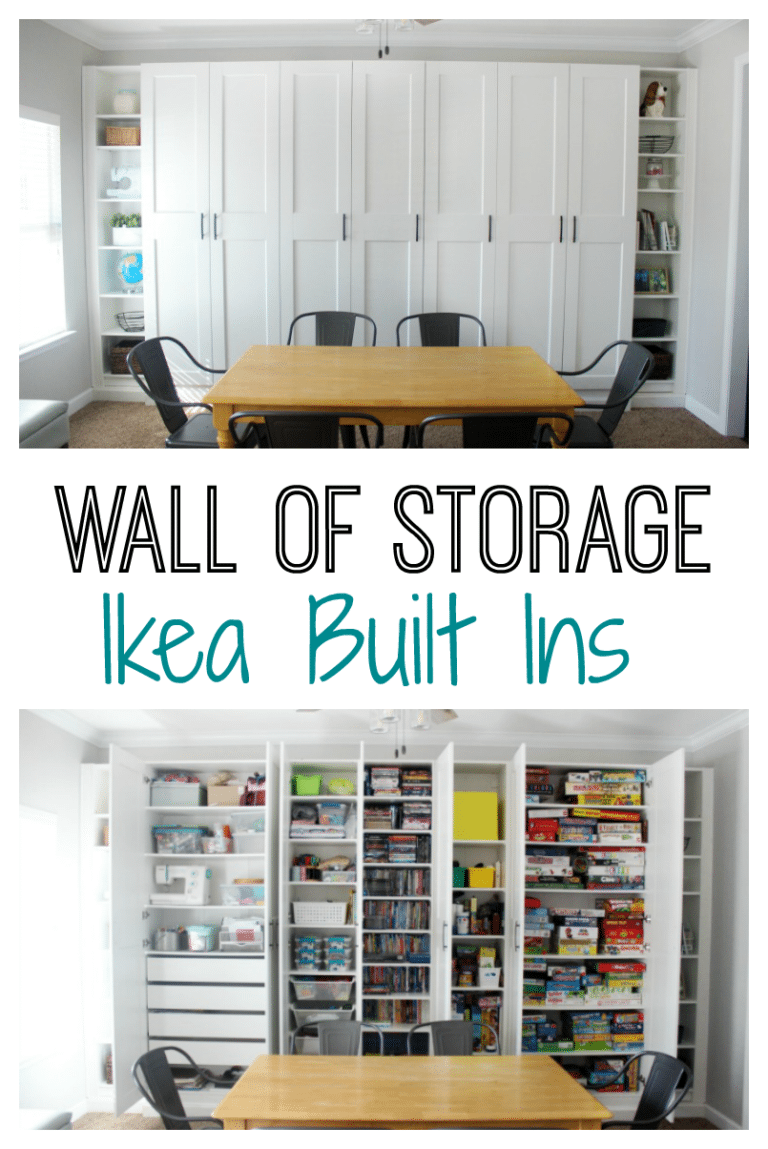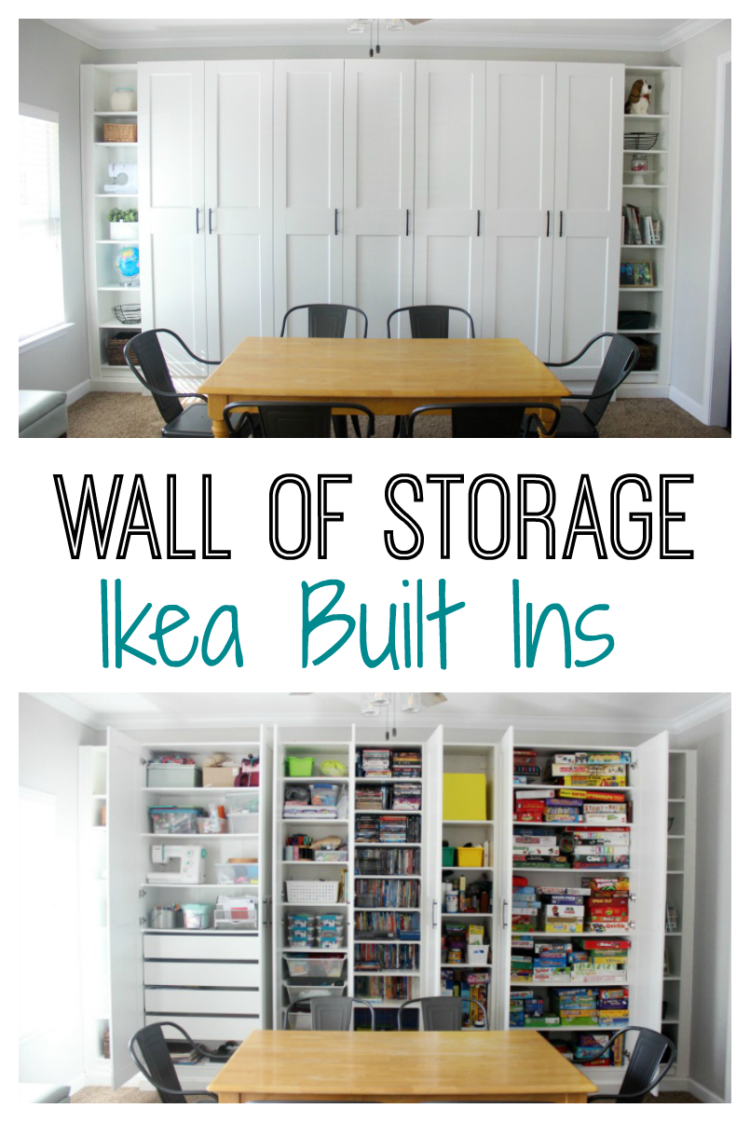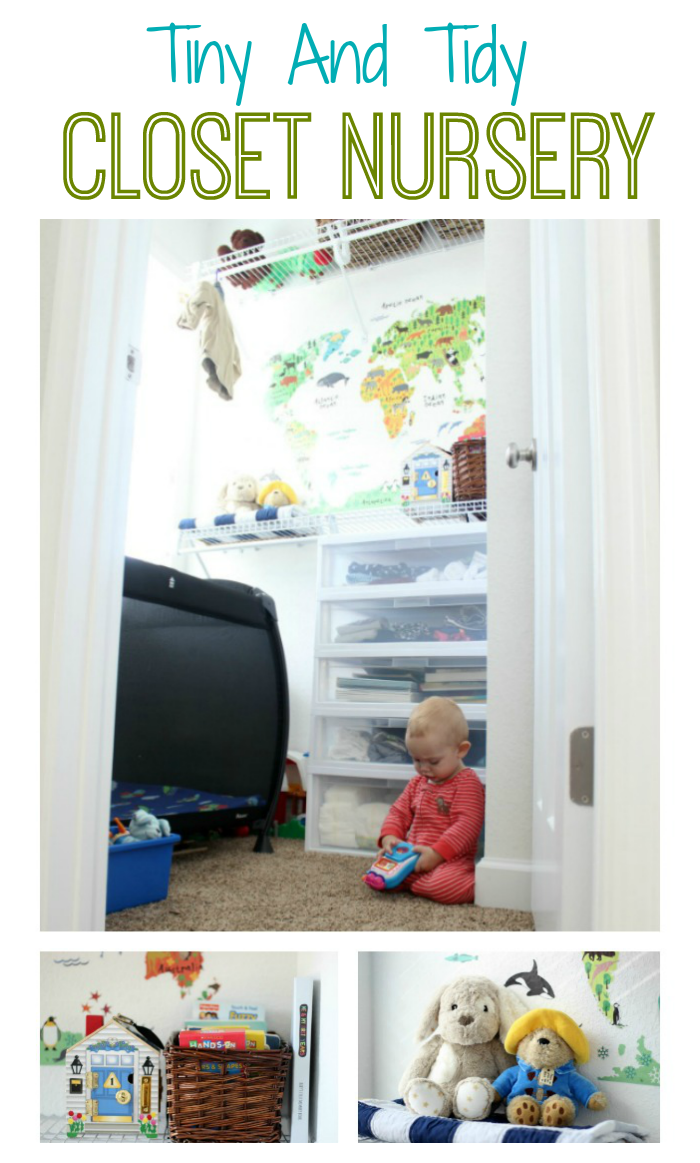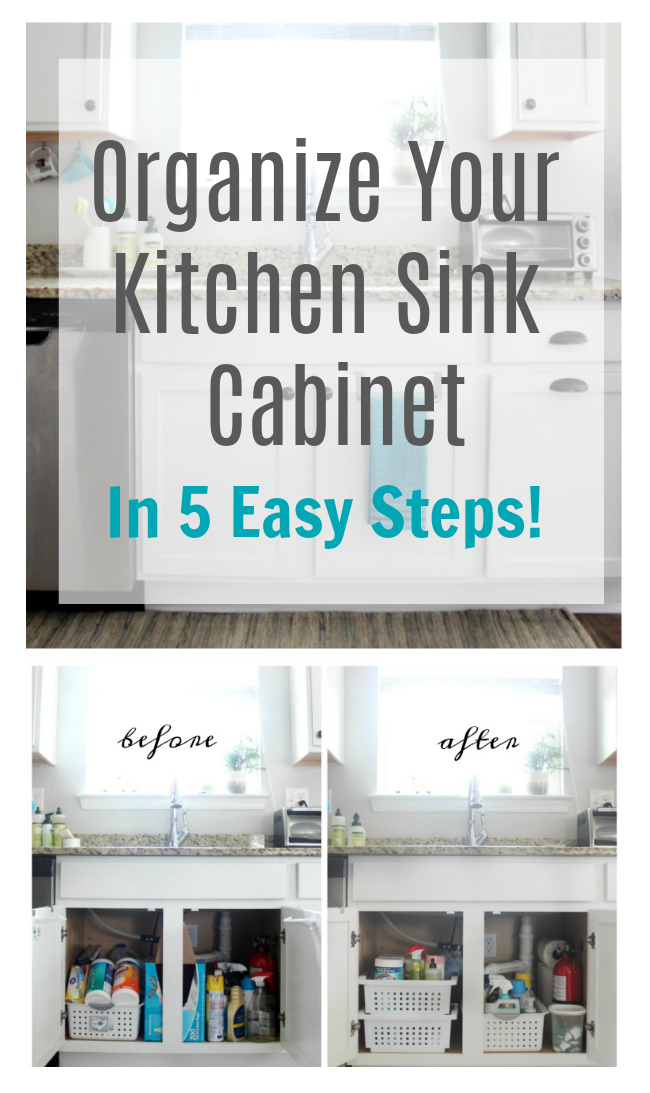 Kitchen Sink Organization
Welcome! I'm Brandy, mother to 5 darling kiddos and a cute black lab named Toby. My husband is in the Coast Guard so we've lived all over the place, turning each house into a home. I love baking, sewing, making cute things with my kids, and sharing what I've learned with all of you!