These IKEA built-ins were created by using a combination of wardrobes and bookcases. A place for everything and everything in its place.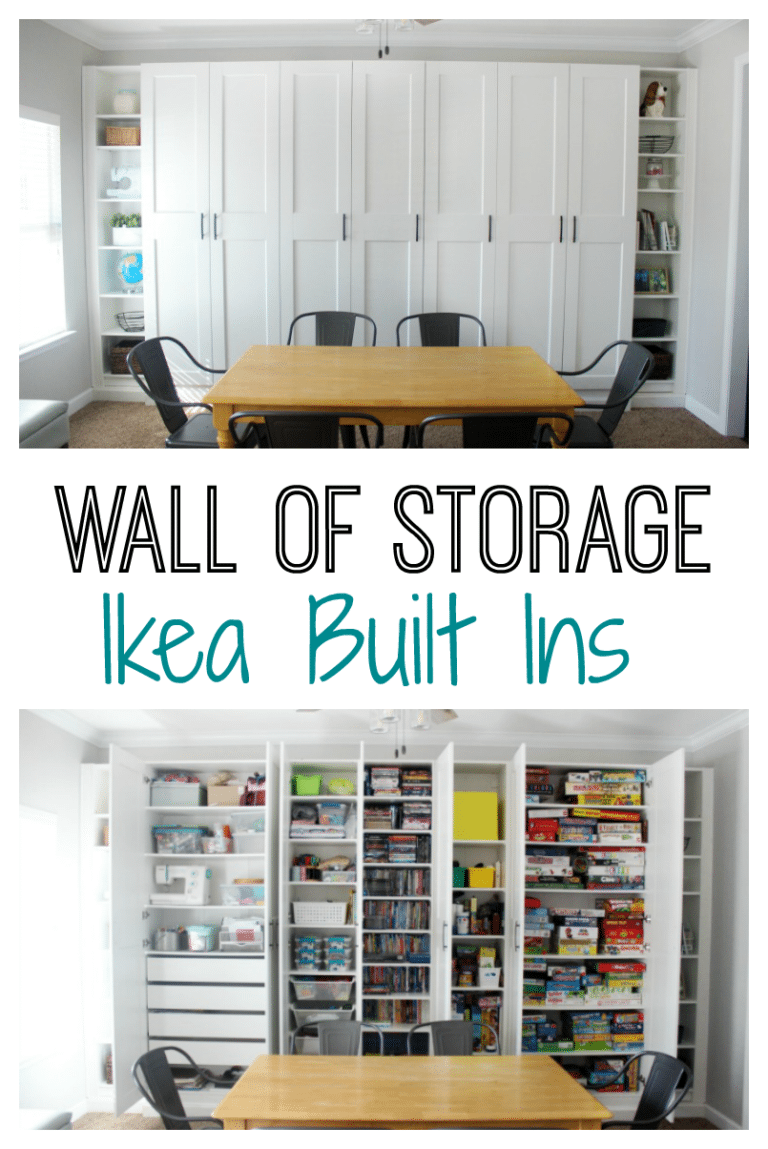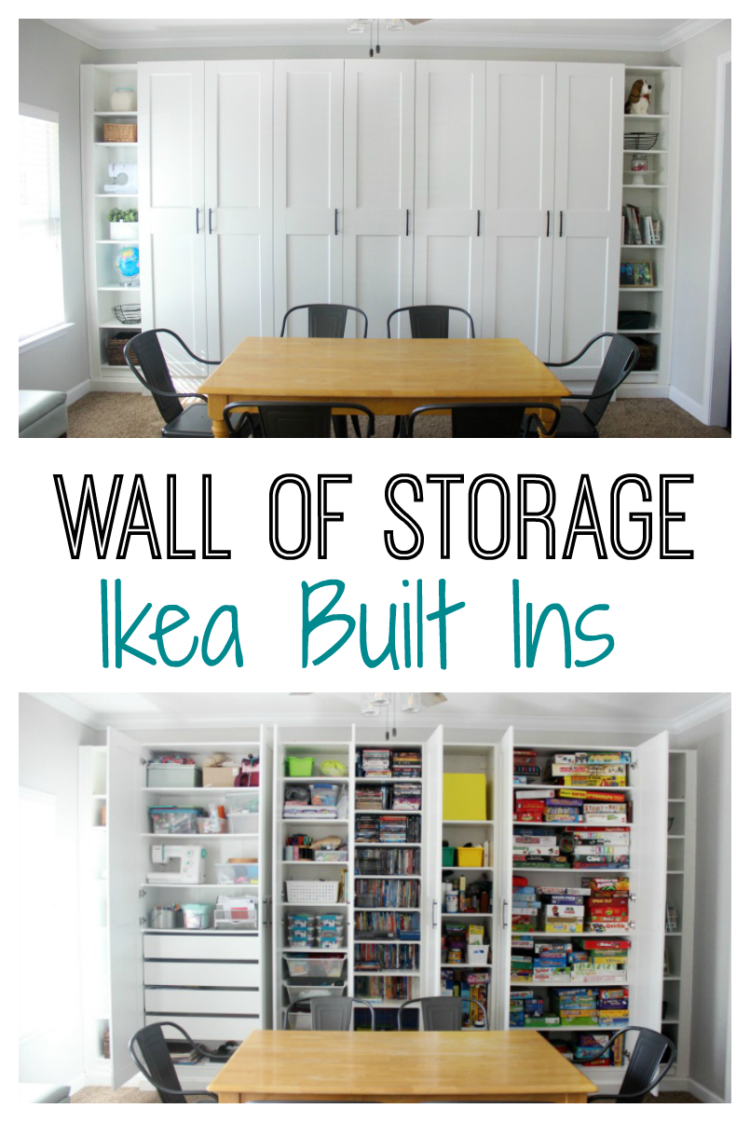 When we moved into our home last summer we quickly realized that our home was severely lacking in the storage department. We unpacked the bedrooms and living room and put everything else in the formal dining room. Now, many families actually utilize their formal dining rooms, but we never have. We eat in the kitchen dining area and so this space was just an open room for us.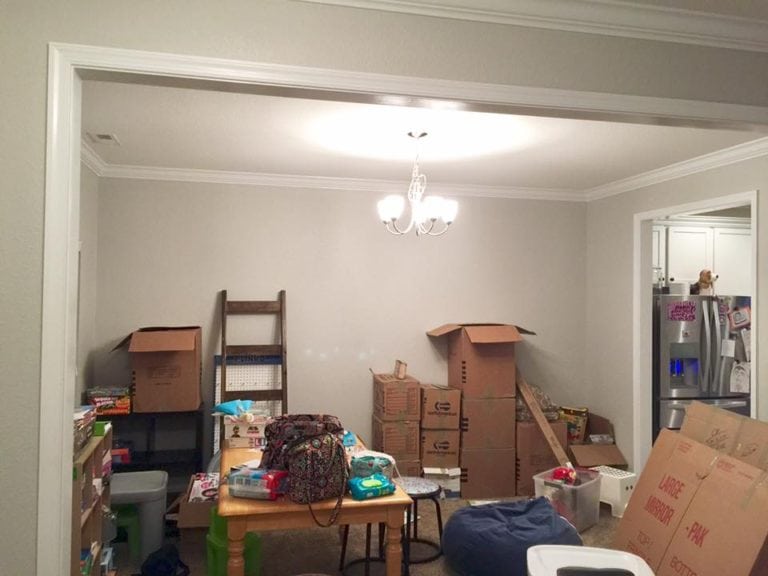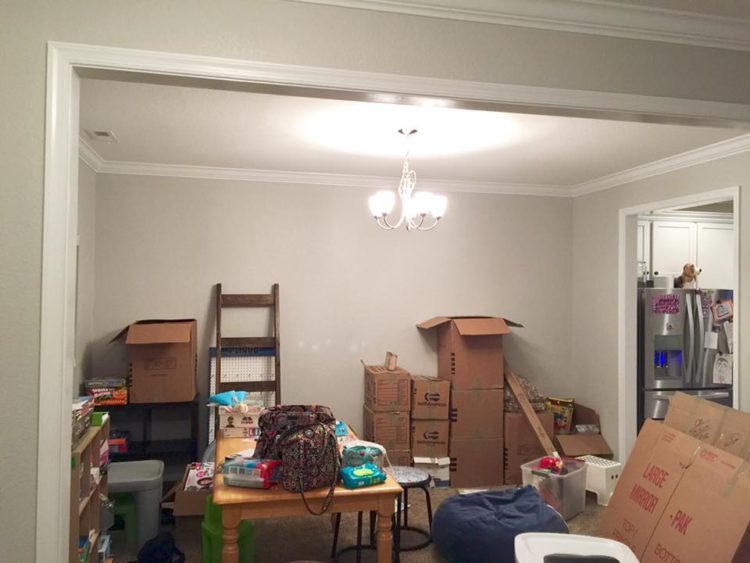 We went back and forth about what we should use the room for and ultimately decided that it needed to be a storage room. The room where we kept all of our games, DVDs, and craft supplies. That's a tall order for a single room. Especially when it is the FIRST room that you see when you walk into the house.
How to decide which items to purchase to make IKEA built-ins for an entire wall.
I spent hours designing a space that I hoped would work for our family. IKEA's design program has a lot to be desired. It froze on me a couple of times and I had to start over completely. It also doesn't have the capability of letting you mix and match items that should be in separate rooms. ie: I wanted to use bedroom wardrobes mixed with office bookcases, but it didn't let me combine both items into my digital design layout.
When everything was all said and done, I had a hodgepodge layout of what I wanted, and my husband got started on the building process.
Every room is different, but I'll share the products we used for our Ikea built-ins at the bottom of the post so that you can mix and match them to fit your space!
How to customize  IKEA built-ins from wardrobes and bookcases.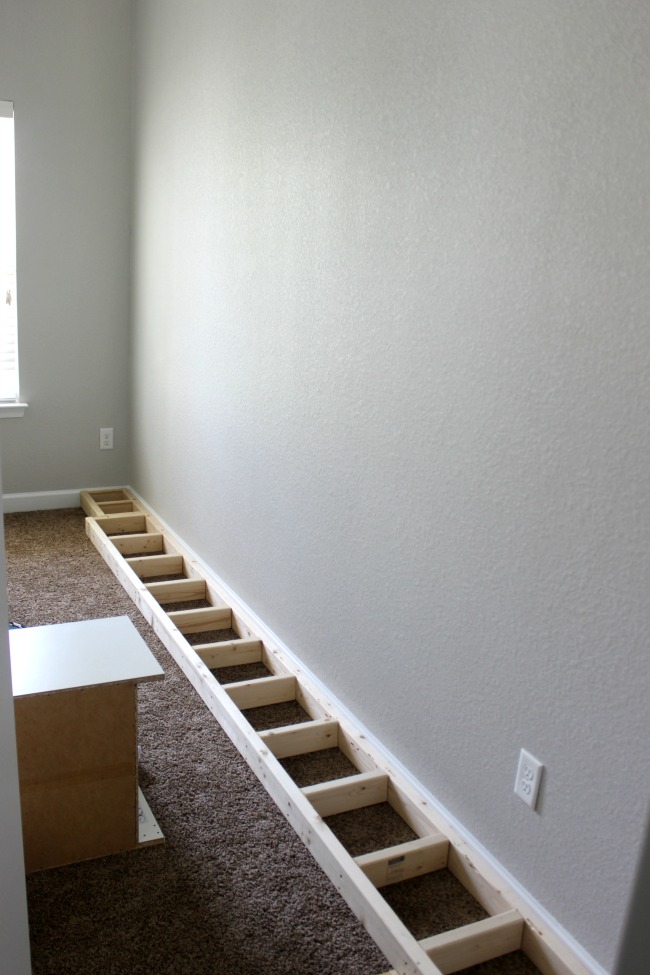 He built a platform for the wardrobes and bookcases to stand on so that he could frame them out and add trim.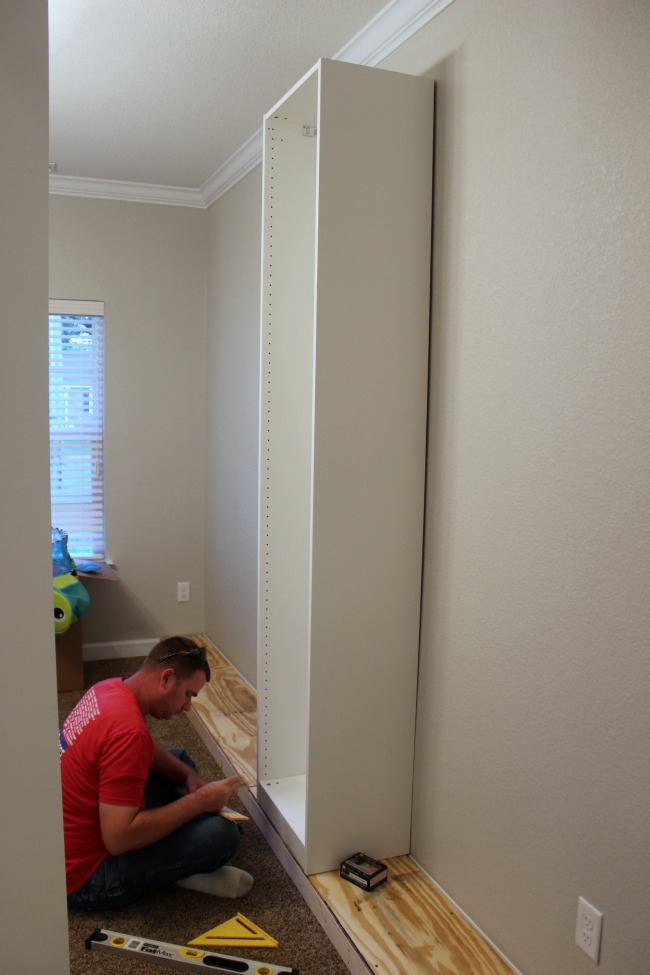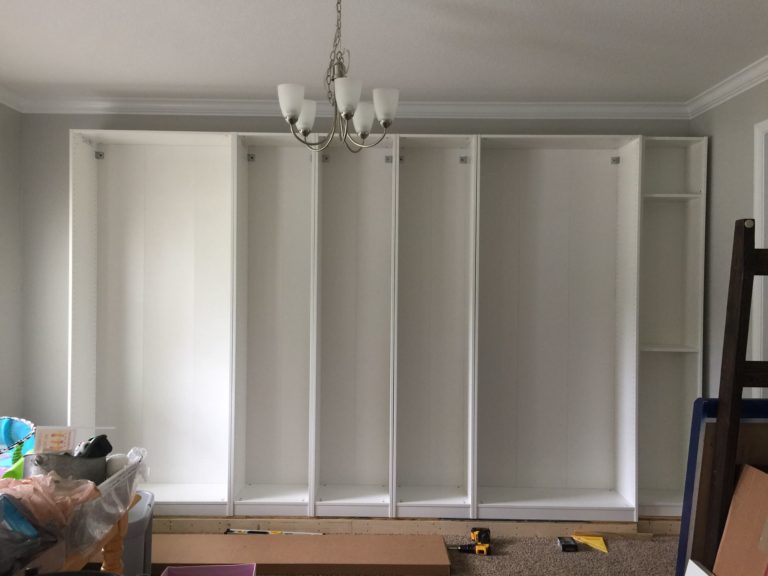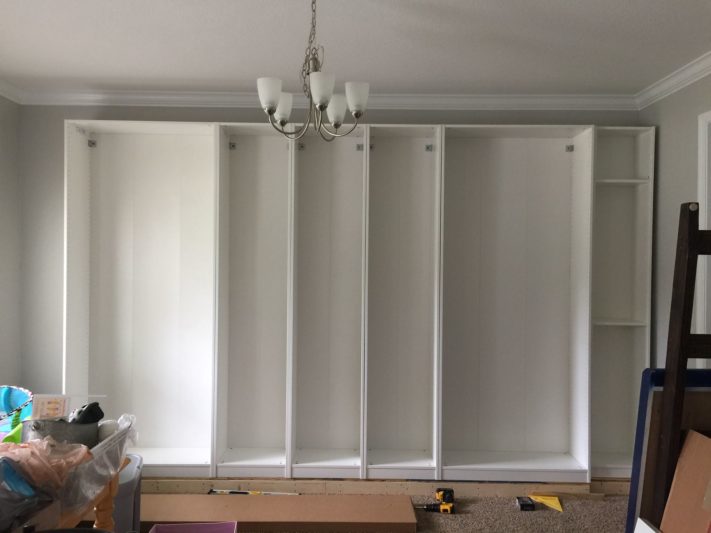 Then he put everything together and attached them to the platform. We added drawers, wire drawers, shelves, and doors.
When all was said and done we had 2 large wardrobes, 3 narrow wardrobes, and two narrow bookcases. We added doors and handles and Derrick finished the trim.
The wardrobes are deeper than the bookcases, so they are better for storing games and bigger items. You can also put solid doors on them vs. the half glass doors that were offered for the bookcases. This is why we did not use bookcases for the entire wall. The bookcases are shorter than the wardrobes, but you can buy an extension kit and that will bring them right up to where the wardrobes are. As you can see, our bookcases don't come out as far as the center wardrobes, and I like the depth that it adds to the look of the room.
It took a couple of weeks, working here and there, for Derrick to put everything together and then I spent an ENTIRE DAY filling them up and organizing everything.
Here are the finished custom IKEA built-ins.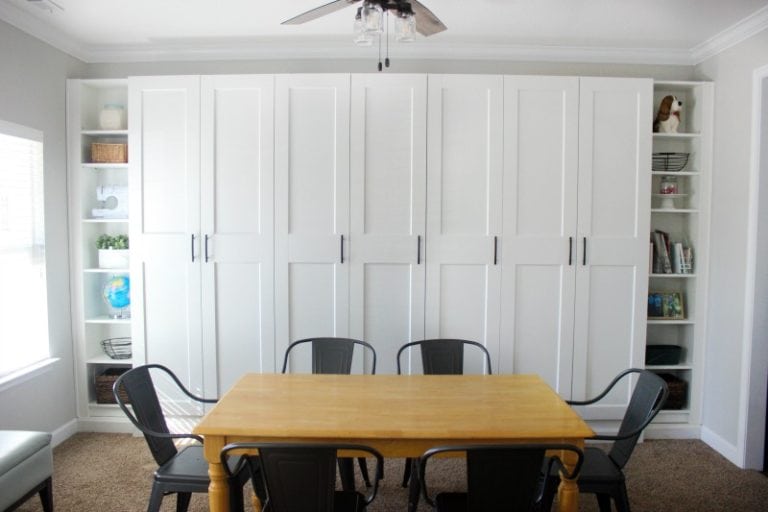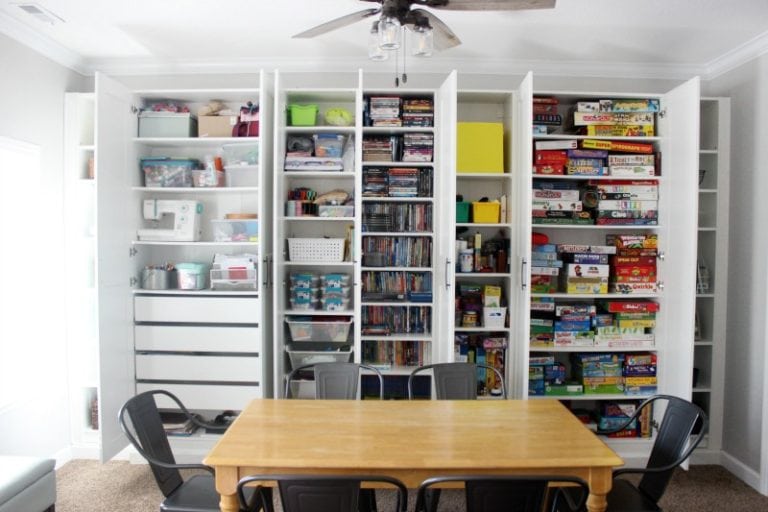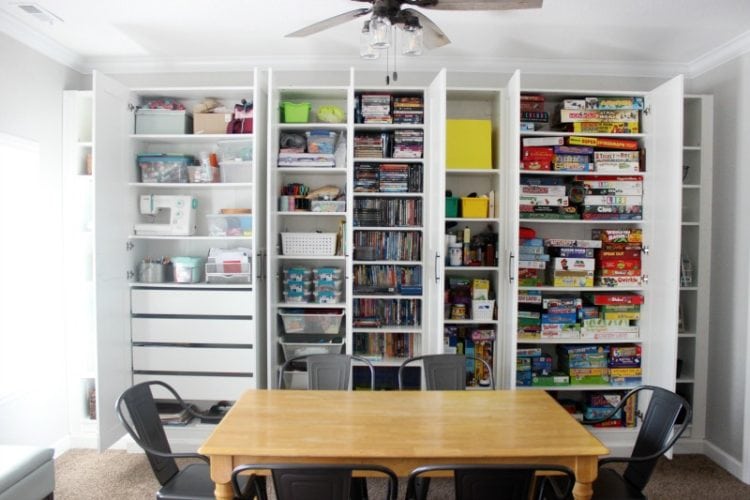 As you can see, the kids have had their way in the game cupboard and it doesn't look as tidy as it did when we finished this project 4 months ago, but that's life. At least it's all hidden away one the doors close, right?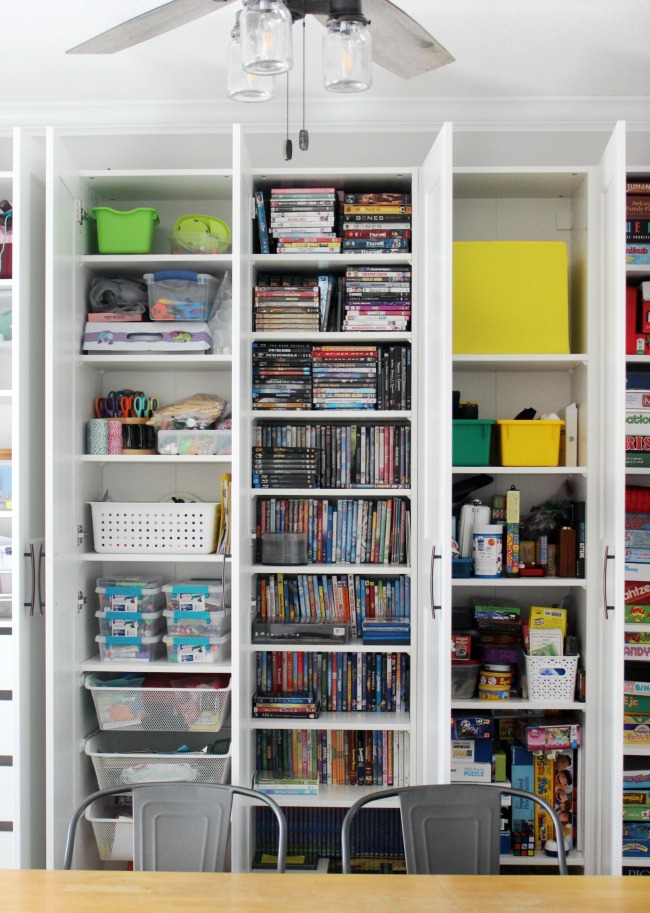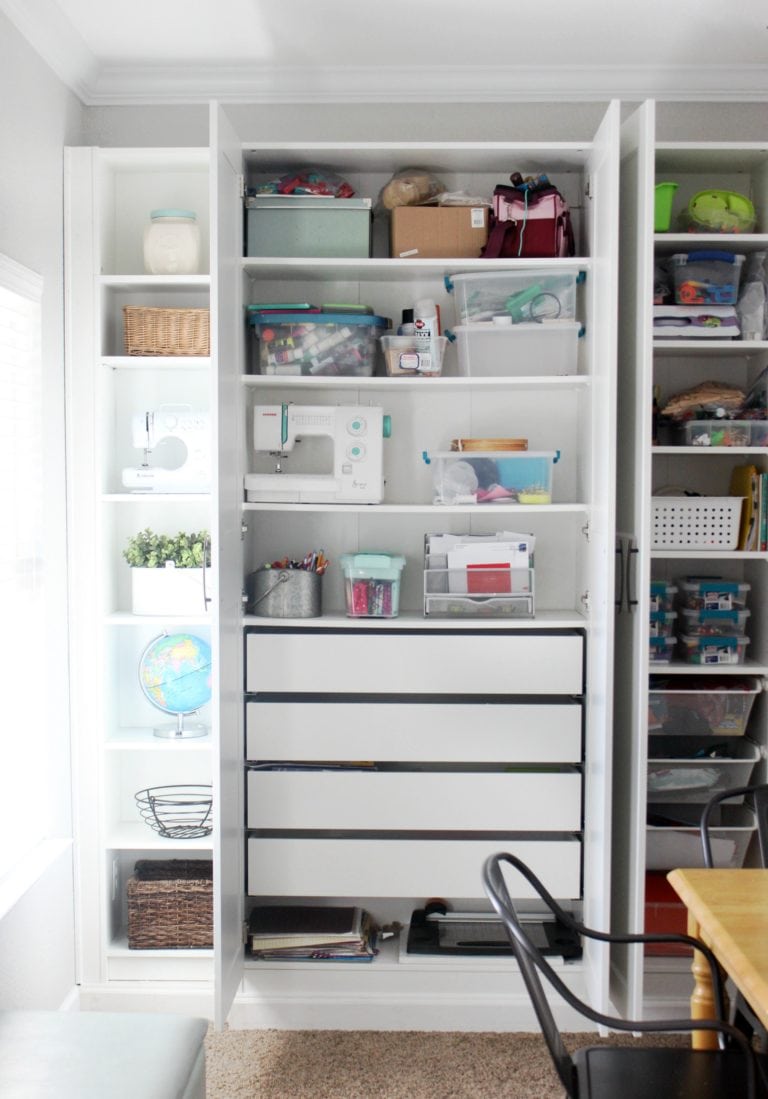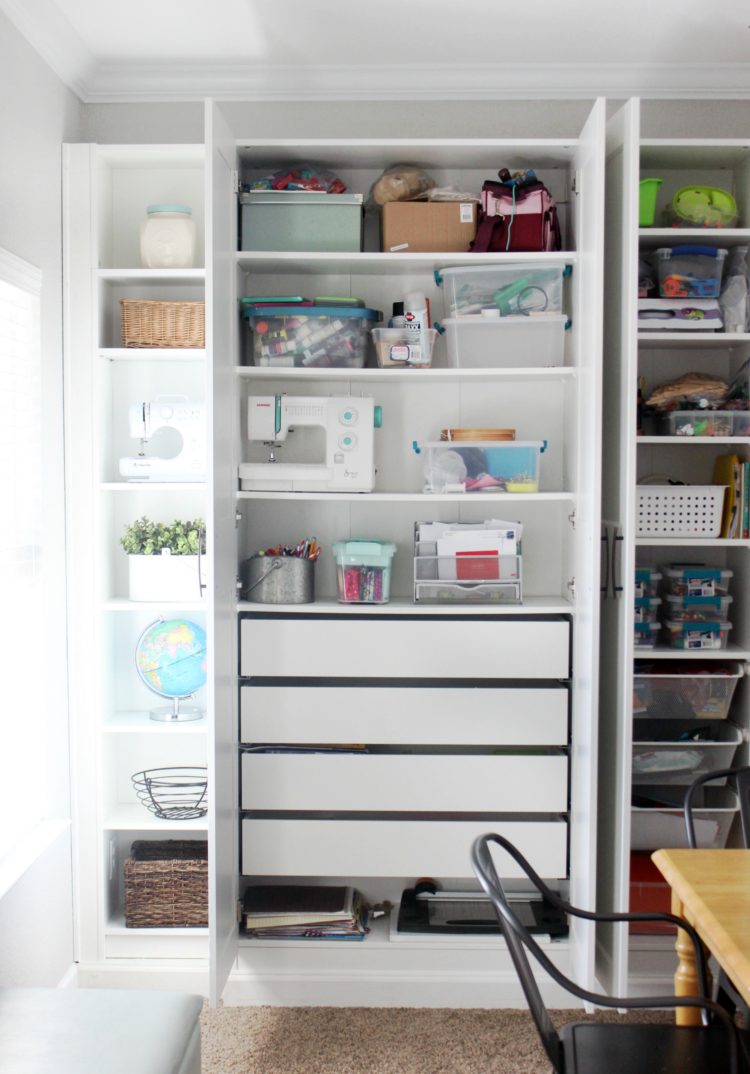 Ahh! Cue the choir of angels. EVERYTHING fit with room to spare in these IKEA built-ins. It's my favorite room in the house. I love that the handles are high enough that the baby can't reach them so when the doors are shut, everything is tucked inside and out of his grasp.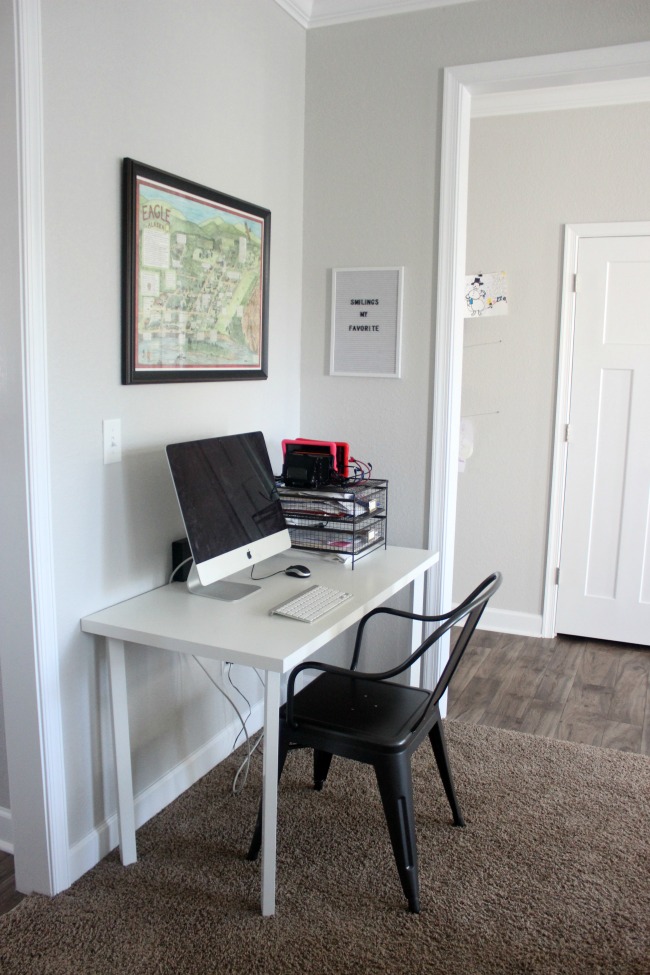 We added a small IKEA desk off to the side for our computer and our old dining table is being used as a homework and game table.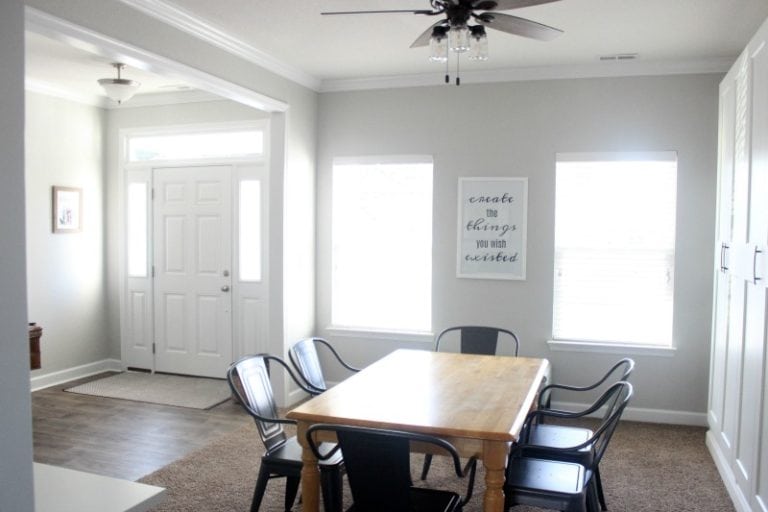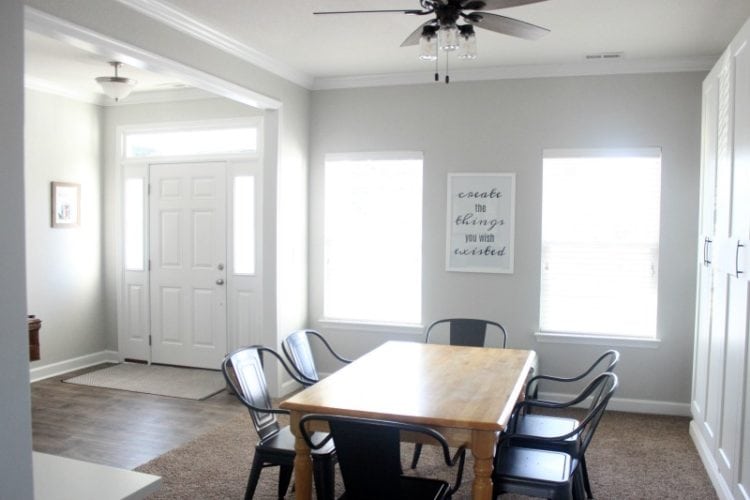 It was a TON of work to customize these IKEA built-ins, but worth every bit of effort. Here's a quick before and after…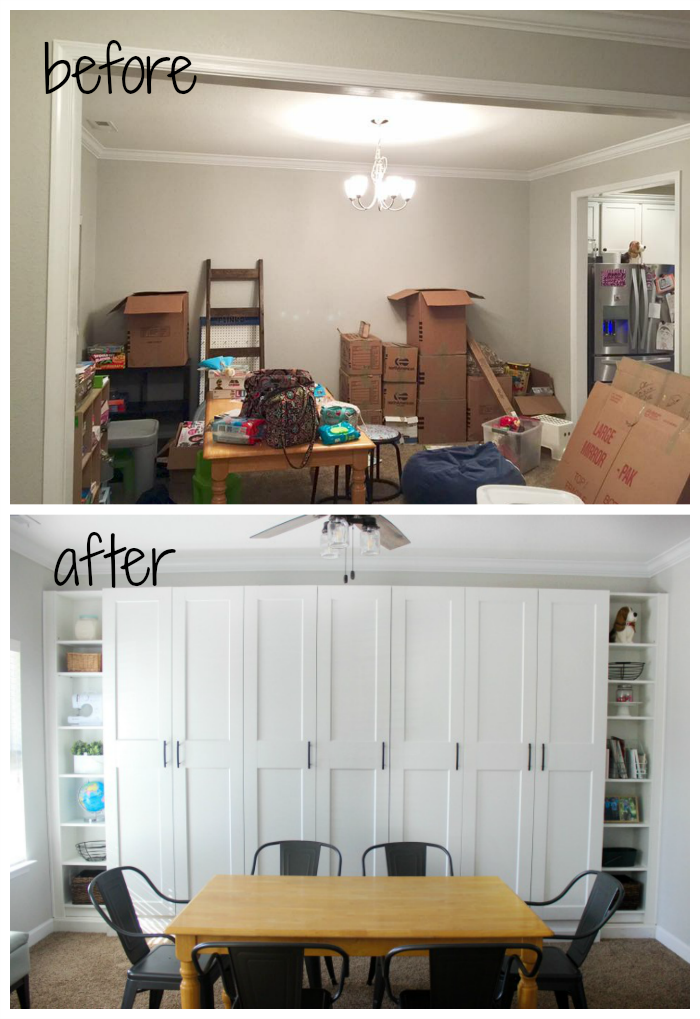 Items needed to make IKEA Built-Ins to cover an entire wall:
Wide Shelves and Narrow Shelves
Handles from Lowe's
Dining Chairs from Walmart (out of stock right now)
CREATE poster. My own printable. I'll share that soon! Frame from Michael's.
With lumber, hardware, and trim, our grand total to make these IKEA built-ins was around $1300.00.
It was an investment for sure, but one that will pay off. This was a game changer for our storage problem and will be a selling feature someday if we move.
If you have any questions and making our IKEA built-ins I'll do my best to answer them!
You might also like these organizational projects..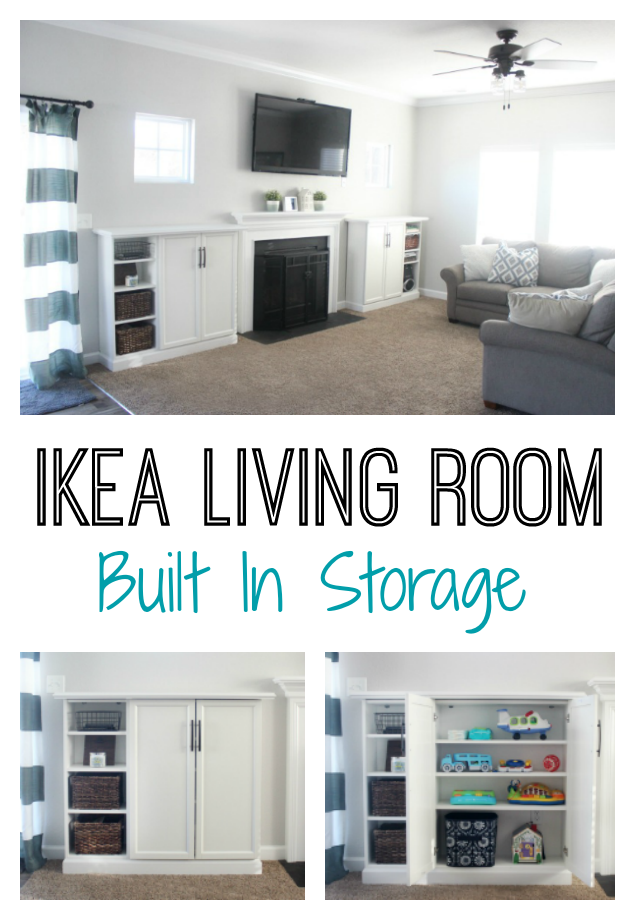 Built-In Living Room Storage with IKEA Bookcases