This shop has been compensated by Collective Bias, Inc. and its advertiser. All opinions are mine alone. #HogWildThrowdown#CollectiveBias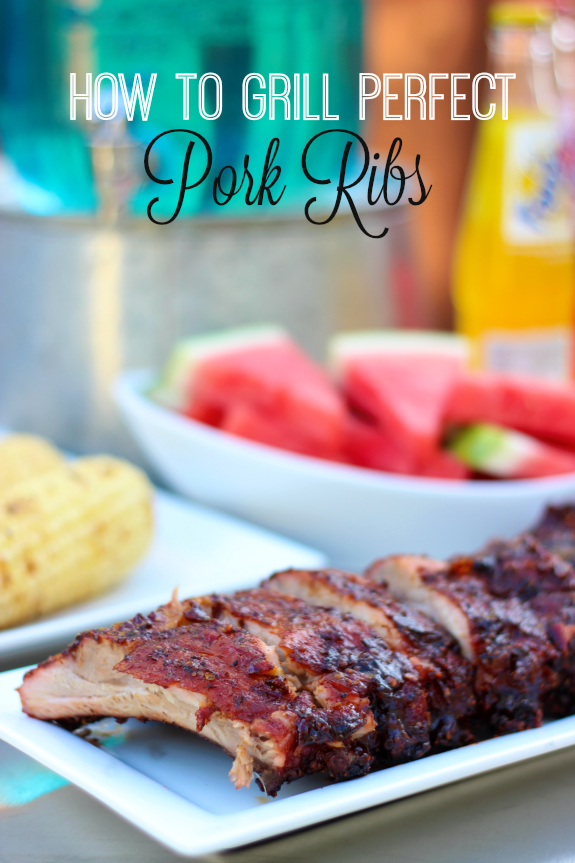 I would love to take credit for this delicious rack of ribs, but all of the credit goes to my husband. Our in-house grill master! I love when he suggests grilling out because it means less dishes for me and a meal that our whole family will love.
He uses charcoal briquettes, along with wood, to slow cook and smoke his meats and it really does make all the difference. Ribs can be intimidating because you can't just toss them on a grill like you would a steak or burgers, but they aren't hard to make. Just set aside a few hours for them to slow cook and you're set! I followed him to the backyard last week to learn how to make a delicious rack of back ribs and snapped photos along the way to share with you!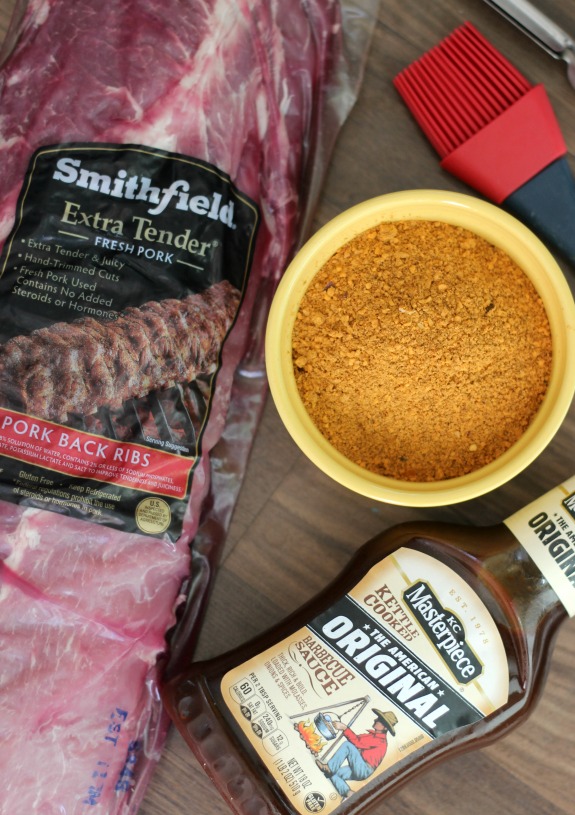 I picked up two packages of Smithfield® back ribs because some of us like them with sauce and others prefer a simple dry rub. Why not just make both and have leftovers? Sounds like a great idea.
Prepare your meat by peeling off the membrane which is the white film along the rib bone. Then season generously with your favorite dry rub. Use your hands to work the dry rub into the meat.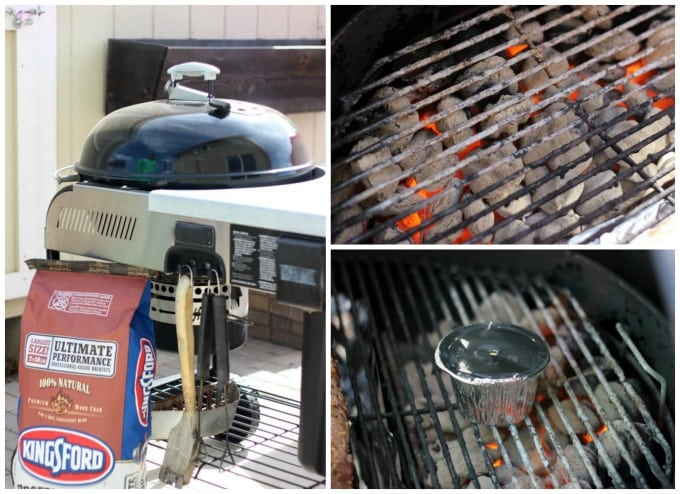 Ribs need to be cooked indirectly. That means that the charcoal is off to the side and the meat is not placed directly over the coals. Once the briquettes turn grey you are ready to slow cook. Grill temps can fluctuate from the outdoor environment, but the temp you're looking for is anywhere from 275-350 degrees. According to your tastes, you can add water soaked wood chips, wood chunks, or use a wood chip cup as shown in the photo above to add a smokey flavor to your meat. I don't like a lot of smoke flavor so these cups work perfect.
Place the ribs to the side of the coals. Cover and cook for 3-4 hours.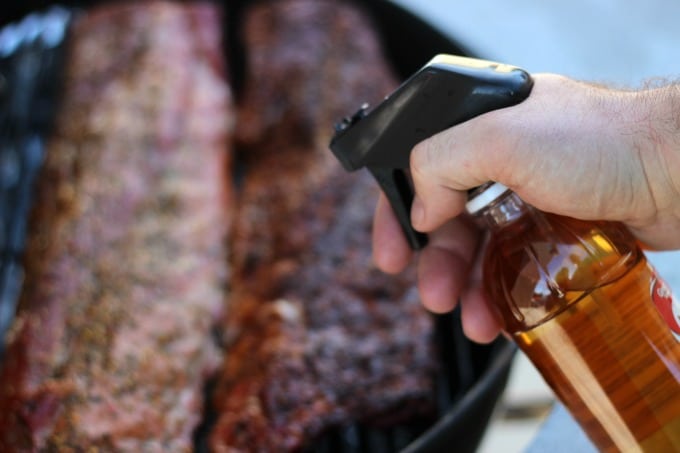 Spritz with apple cider vinegar every hour to keep ribs moist.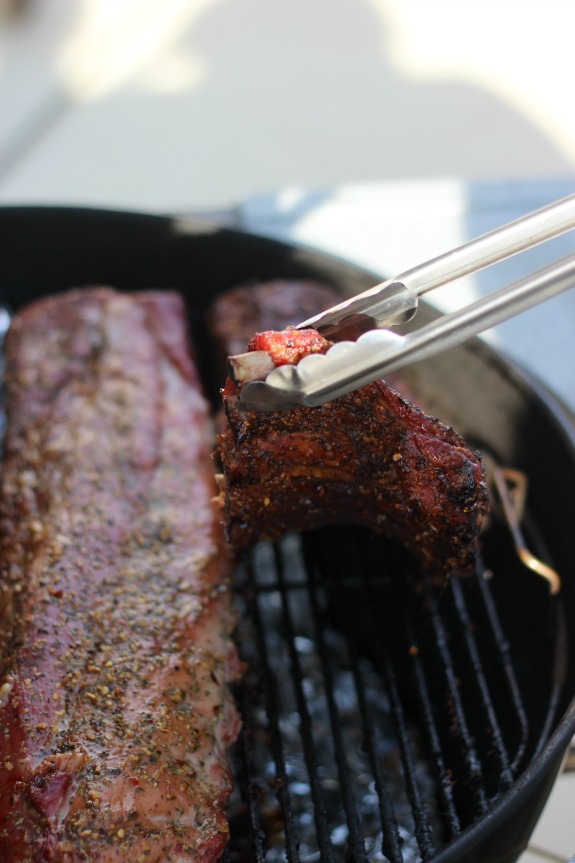 You can check for doneness by watching the rib bones. When the meat shrinks down and exposes the bone about 1/4″ they are just about there. Pick up the rack and bounce them a bit. If they are ready, the rack will bow until the meat starts to crack on the surface. It should be close to breaking when you lift the rack for a nice and tender rack of ribs.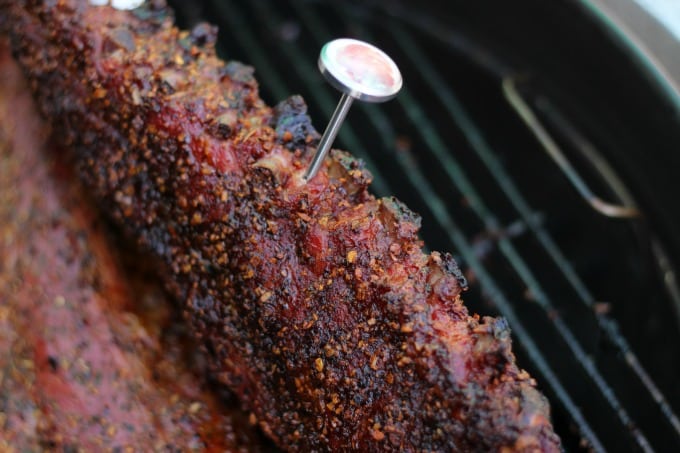 You can also use a thermometer, but due to the bone/meat ratio it can be hard to get a good reading. They are done at 145 degrees, but 180 degrees produces a nice and tender rib.
We generally cook them at least 3 hours and then check to see if the meat cracks significantly when the rack is bowed like shown in the photo above.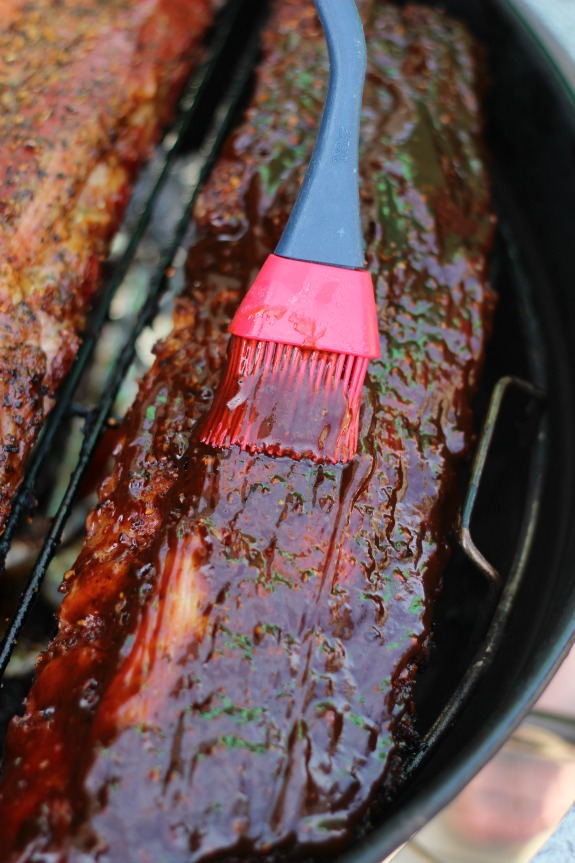 When the ribs are done, brush with your favorite BBQ sauce, cover, and let cook another 15 minutes or so to let the sauce caramelize.
Remove ribs from grill and let sit 10-15 minutes before cutting.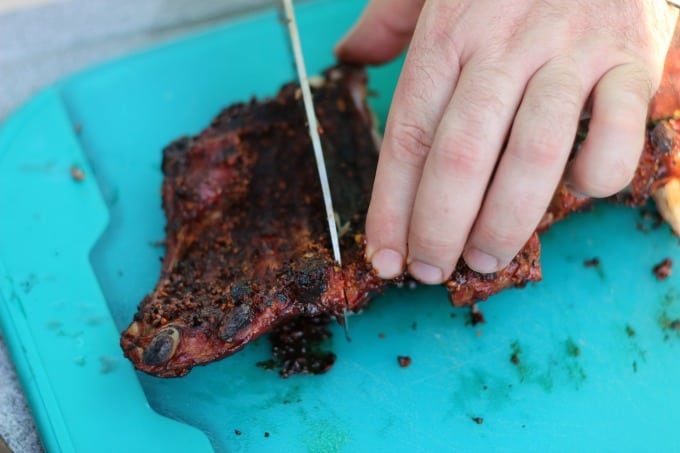 Turn rib rack over and slice along the bone line.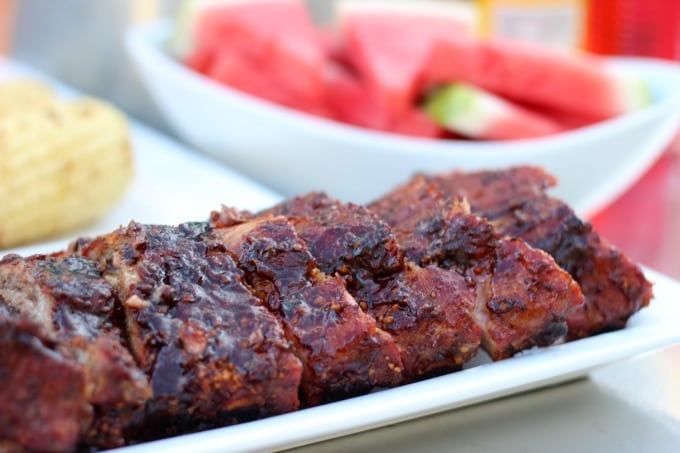 There are so many ways to customize these ribs. Switch up the dry rubs you use, try out different types of BBQ sauces, or marinate the ribs ahead of time if desired!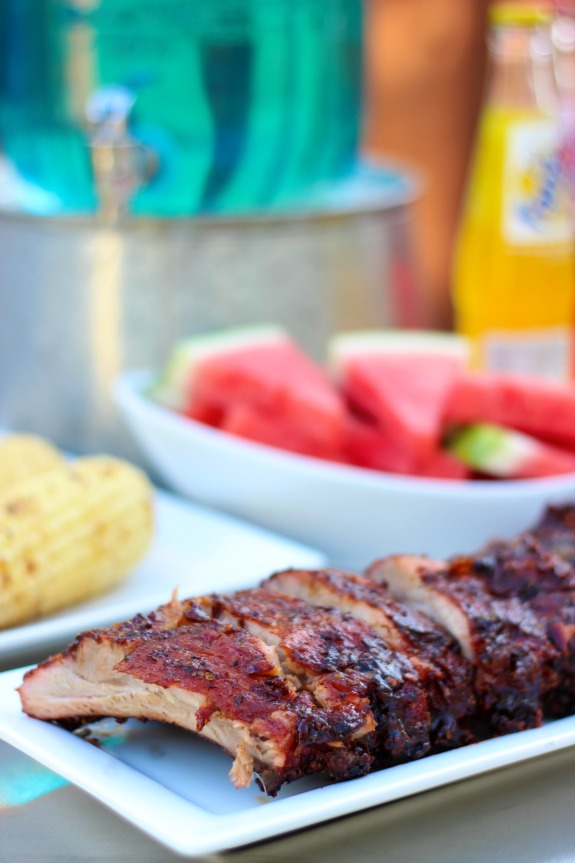 Served with a grilled corn on the cob and fresh watermelon they make the perfect summertime dinner!