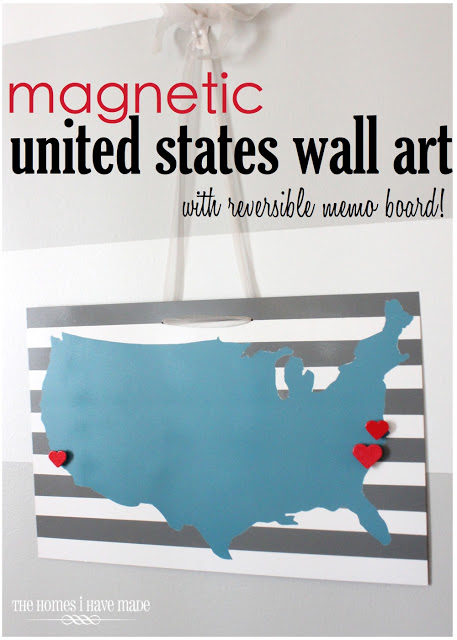 Hi Gluesticks readers!
My name is Megan, and I blog over at
The Homes I Have Made
– a DIY and craft blog where I chronicle the various "homes I have made" over the past 8 years as a military wife, as well as feature lots of ideas, tips, tricks, and projects for making any temporary space a cute, cozy and comfortable home! I am really excited to be here today sharing another homemade gift idea. Let's get started shall we?!?
3 More Home Decor Projects You'll Love From The Homes I Have Made:
What Inspired The Idea For This Magnetic Memo Board
I have been seeing a lot of these adorable USA prints and canvases all over the blog-o-sphere. I love the idea of them as gifts, with the heart marking where the recipient lives or is from. However, every time I think to give one of these to a friend, I run into a little problem. Being a military spouse, living in a military community, many if not most of us are living far away from where we are from…AND…in a few short years, we will be living somewhere new. So…where to place the heart so that the print can be enjoyed for years to come? Then it occurred to me, I could magnetize it, and the recipients could move the magnets around the map as they themselves move around the country! And…while I was at it, I figured I'd make the back of the board cute too, so it can be used as a magnetic memo board!
This project wasn't expensive or difficult, but it does require a few steps and lots of hours of drying time. Let me show you how I did it!
USA Magnetic Memo Board
If this board were for my family, here's how I'd place our hearts…the two smaller ones for the two places we've lived before, and the largest heart for where we live now!
Oh…and don't forget that you can flip it over to use it as a magnetic memo board!
I love the ruggedness yet modern look to this project; and making it reversible means that it can be used in a variety of ways. The concept is so versatile too…instead of doing the USA, you could mask out a monogram, a phrase, a word, or an image…whatever your recipient is in to!
Thanks Megan! If you loved this project (and I'm sure you did) be sure to check out Megan's blog for TONS more inspiration and decor ideas! This post is refresh of a post originally shared in 2012. —Brandy