This shop has been compensated by Collective Bias, Inc. and its advertiser. All opinions are mine alone.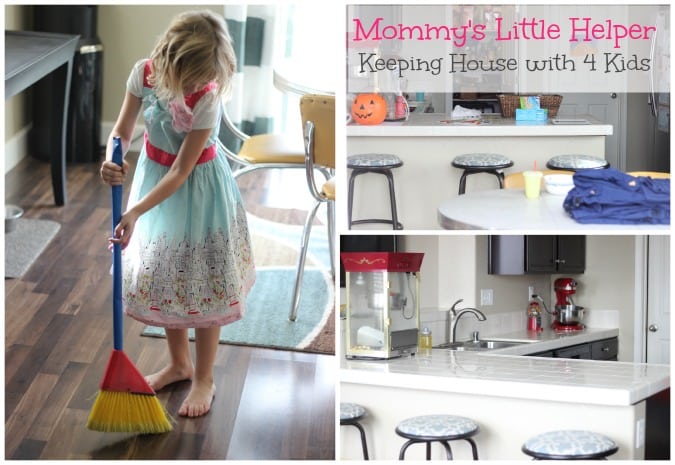 How do I keep clean home with four children? We don't! But we keep it tidy enough for us. Our house is often cluttered and well lived in, but when it's time to get to work "Many Hands Make the Work Light".
It is easy for kids to get overwhelmed quickly. Like when I send the girls up to clean their room. They take one look and have no idea where to even begin. It's easy for me to feel the same way on Mondays when my house is a disaster after the weekend, so I understand what they are going through.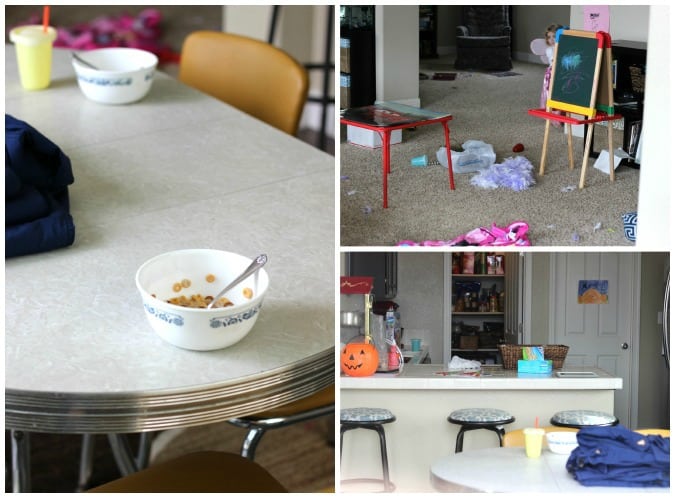 On this particular day (see photos above), I had an early dentist appointment directly after taking the kids to school. Then I was busy all afternoon until they came home. So at 3:00 pm. this is what our house looked like. Soggy cereal, bread basket and sandwich bags from making school lunches, Halloween candy, and clutter in the living room. Yes, that is a feather boa on the floor. Biggest mistake ever when I let that come into our home. It sheds like CRAZY!  I grabbed my camera and decided to document and see how long it took us to power clean.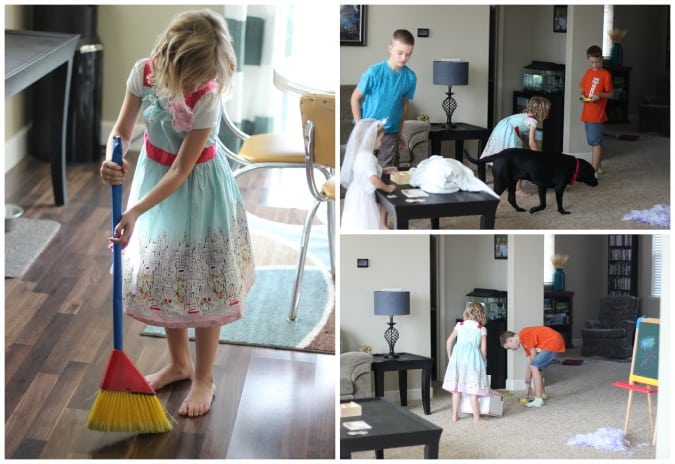 When I clean up the house by myself I have to make many trips up and down the stairs picking up toys, clothes, etc. My kids can do this and they do it well. I tell them to each put away as much as they can carry while I clean up downstairs. It works out much better this way.
Kaylee likes to sweep the kitchen. She doesn't really get much in the dust pan, but it is good for her to practice. Soon the living room is on its way to be nicely straightened and the kids have emptied their lunch boxes, put them away, and hung up their backpacks.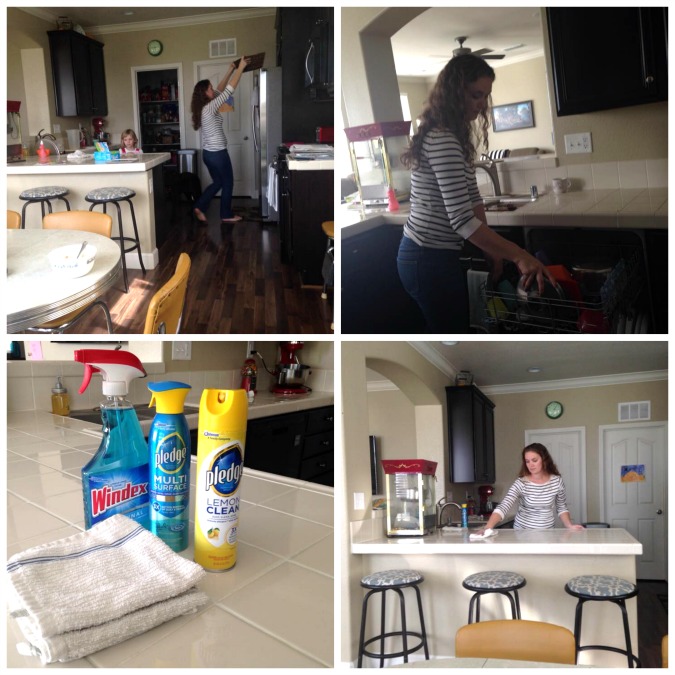 I loaded the dishwasher, cleared the counters, and wiped them down with Pledge® Multi Surface Everyday Cleaner. I love multi-surface products that clear up shelf space under my sink. I use it on my tile counters, inside the stainless steel sink, and on my range. Windex® is great for my laminate floors. I can do quick spot cleaning with it without leaving streaks, and don't get me started on our sliding glass window. Toby gives it a great mud bath every day, so I am constantly wiping it down with Windex®. If only everything cleaned up as quick and easily as glass.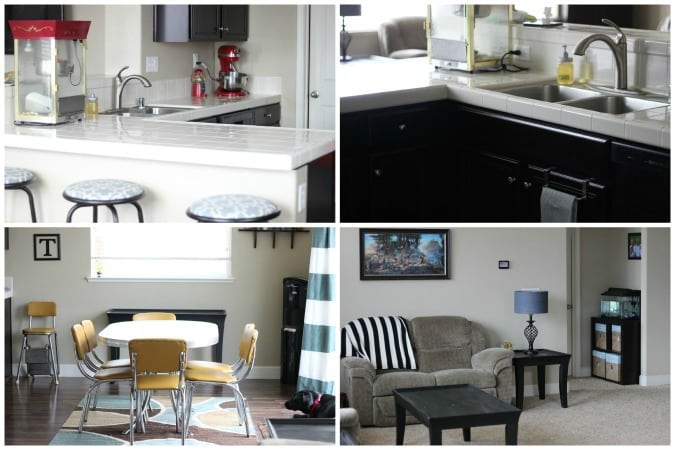 A little over 10 minutes was all it took to quickly de-clutter and wipe down surfaces.
Pay no attention to my funny lamps. New shades on old lamp bases temporarily 🙂
10 minutes isn't bad, but the 15 seconds like our flipgram video showed would be even better!
With 5 of us working together we made a great team! Is the house deep cleaned? Nope. But it is good enough for now and easier to prep dinner in a clean kitchen.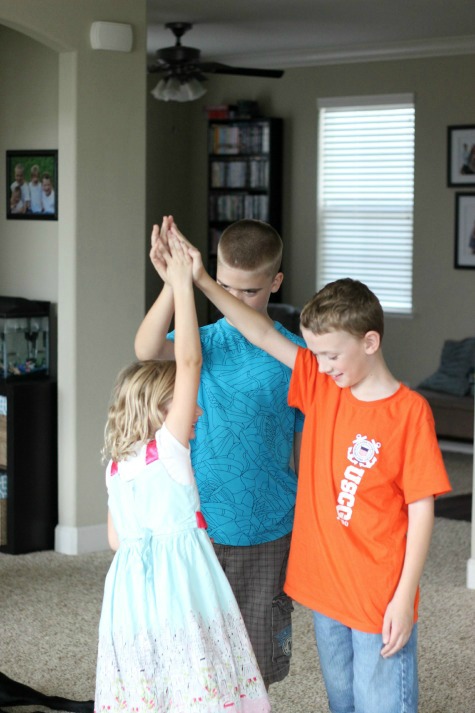 Knowing that there is an end to the cleaning really helps motivate them. I tell them "Let's pick up everything before Studio C starts!" (their favorite TV show), or "Everyone pick up as many things as you can in 5 minutes". As long as they know they aren't going to be cleaning until the sun goes down they are pretty eager to help. It could also be due to the fact that they know if they leave their things out, I will take them away. Ruby had a laundry basket of toys that were confiscated a few weeks ago. So…threatening works too.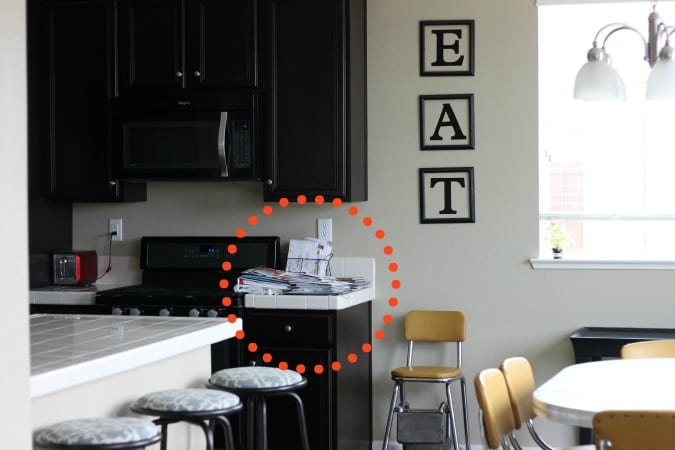 And this counter? It's the mail/bills/need to sort counter. I don't mess with that when I'm doing a quick clean-up. I just pretend it isn't there.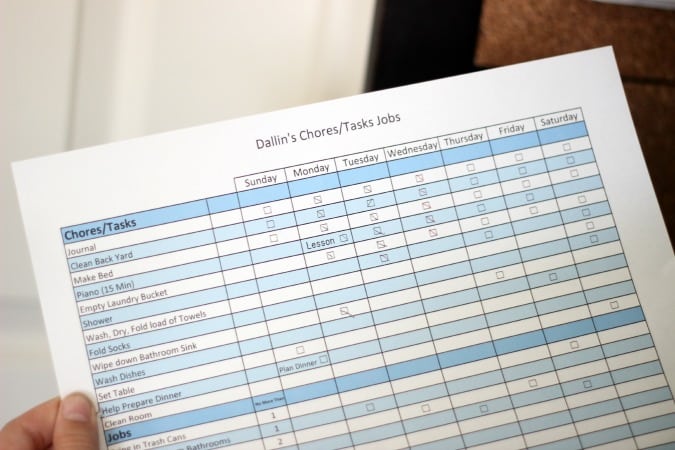 Derrick made these charts for the boys. They've been using them for about a year now. The Chores and Tasks are things they have to do every day. The Jobs are things that they can do to earn extra money after the regular chores are done. They really seem to work well for them.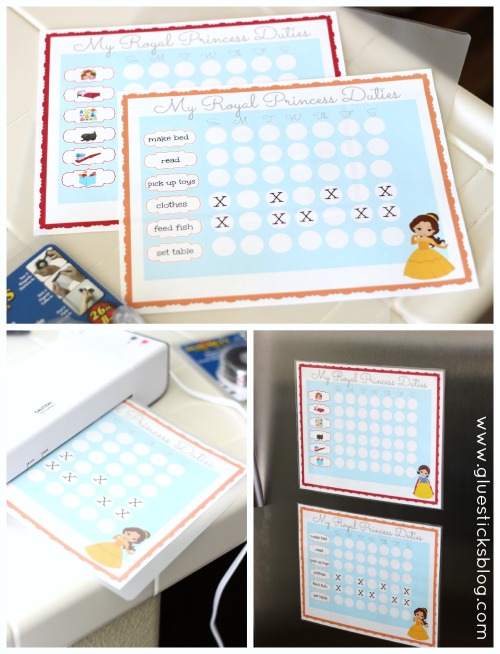 I took care of the chore charts for the girls. A bit easier for our early and non-reader. I shared these a couple of weeks ago, but in case you missed that post you can download your free chore chart here! 6 princesses to choose from, just print and laminate for endless dry-erase uses.