An adaptation of everyone's favorite cookie recipe. With pecans, a heavy dose of chocolate chips, and a punch of kosher salt, these NYT chocolate chip cookies are truly amazing and come together in a fraction of the time.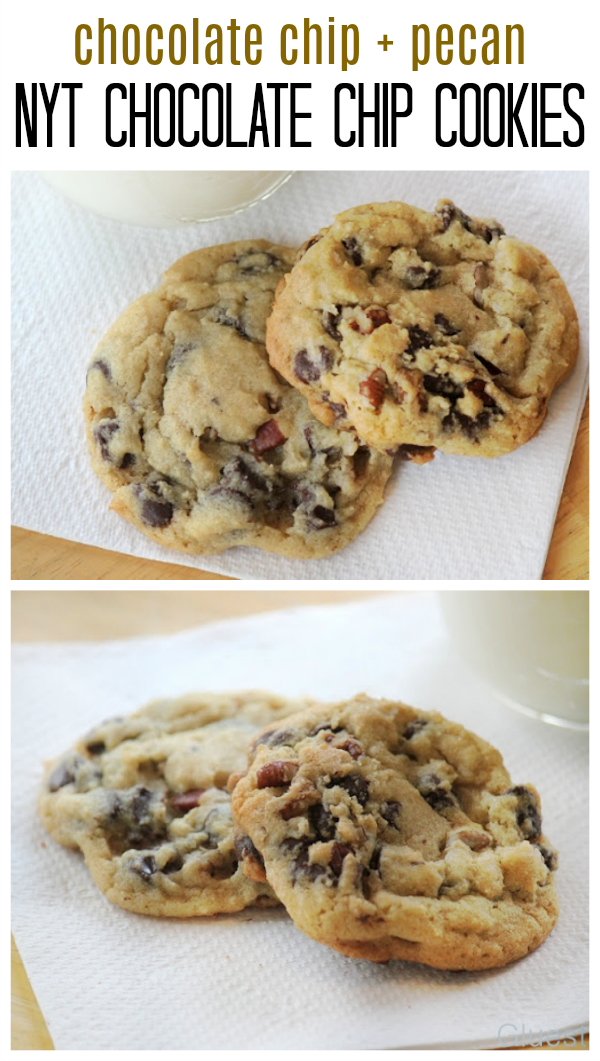 These NYT chocolate chip cookies are SERIOUSLY good.  I stumbled across this recipe in the early 2000's when it literally took the internet by storm. It is from the New York Times and I couldn't wait to try it.
Adapted NYT Chocolate Chip Cookie Recipe
The cookies were fantastic, but a bit high maintenance. Did you know that the traditional NYT recipe calls for refrigerating the dough at least 24 hours (preferably 72)? When I make cookies, it's usually a family affair with my kids helping, and they want to eat the cookies that they make the same day. These cookies are a good lesson on patience and reaping the delicious reward of that, but honestly, we only refrigerated the dough that long ONCE. If you're looking for another cheater recipe, try our
bakery style sugar cookies
that don't require refrigeration either.
Here are our tips on making the same delicious cookies in a fraction of the time!
USE kosher salt: I always bake with salted butter, so I rarely add salt to my cookie recipes, but 1/2 tsp. of kosher salt really takes these up a notch and gives them that delicious refrigerated cookie dough flavor.
Add a bit of extra vanilla. Most recipes call for 1 tsp. of vanilla. Go ahead and add 1 T. Especially if you have natural vanilla. It makes the dough even richer.
Here is our version of these delicious cookies! For impatient bakers.
Chocolate Chip + Pecan NYT Chocolate Chip Cookies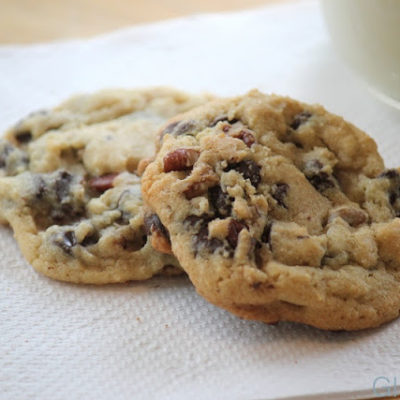 Chocolate Chip and Pecan NYT Chocolate Chip Cookies
An adaptation of everyone's favorite New York Times Chocolate Chip Cookies. With pecans and a heavy dose of chocolate chips they are truly amazing.
Print
Pin
Rate
Ingredients
3 1/2

cups

all purpose flour

1 1/2

teaspoon

baking powder

1/2

teaspoon

kosher salt

1

cup

butter

1 1/4

cup

light brown sugar

1

cup

white sugar

2

large eggs

1

Tbsp.

vanilla extract

2

cup

chocolate chips

1 1/2 

cup

chopped pecans
Instructions
Sift flours, baking soda, baking powder and salt into a bowl. Set aside.

Using a mixer fitted with paddle attachment, cream butter and sugars together until very light, about 5 minutes. Add eggs, one at a time, mixing well after each addition. Stir in the vanilla. Reduce speed to low, add dry ingredients and mix until just combined, 5 to 10 seconds. Drop chocolate chips and nuts in and incorporate them.

Preheat  oven to 350 degrees. Line a baking sheet with parchment paper or a nonstick baking mat.

Using a medium cookie scoop, drop dough balls on baking sheet and sprinkle with coarse salt. Bake for 10-12 minutes.

Cool 2-3 minutes on sheet and transfer to cooking rack.
Notes
Tips: use kosher salt. When it comes to baking, especially cookies, the flavor that comes from kosher salt can't be beat.
Classic NYT chocolate chip cookies require refrigerating the dough 24-72 hours. Refrigerate tightly wrapped in plastic if you choose to do this. The longer the dough sits, the longer the flavors have a chance to meld.
Nutrition
Can this dough be refrigerated?
Yes, and according to the original recipe it should be refrigerated 24-72 hours. Wrap tightly in plastic and set in the refrigerator until ready to bake.
Can these be made into jumbo chocolate chip cookies?
Our deep dish chocolate chip cookies use 1/2 c. portions of dough and make 10 giant cookies. Definitely worth making (bonus, they are made out of this dough!)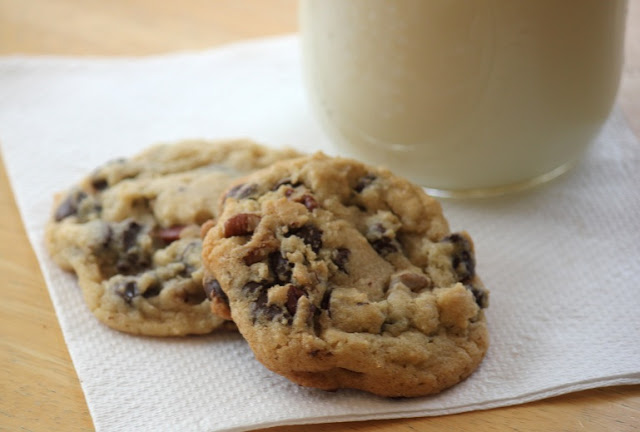 This is a refresh of a post originally shared in 2012.