Make Flavorful and CRISPY fried chicken at home with my perfect
fried chicken recipe
! You'll be surprised by the ingredient list! I have a love-hate relationship with fried chicken. I LOVE eating it, but I HATE making it. If you've made fried chicken in the past, only to have it fail (or anything fried only to have it fail), you will understand where I'm coming from. You will also understand my excitement for a delicious recipe like this that actually turns out great every time.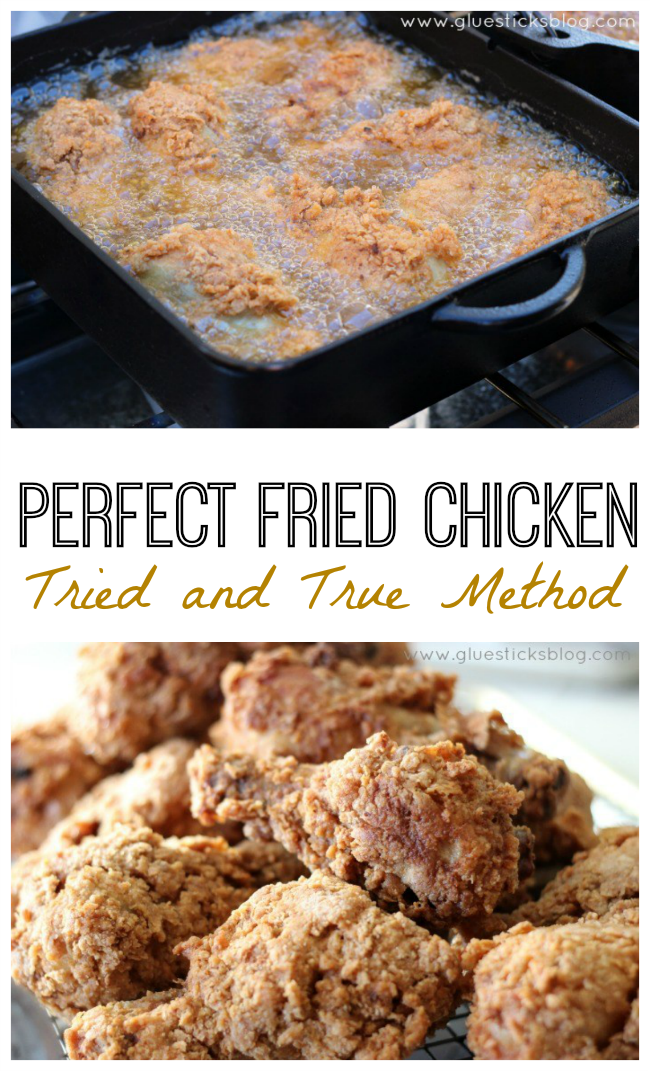 I promise this is the most foolproof fried chicken recipe I've ever made.
I've made fried chicken in the past only to have it end up bland, burned, and all of the coating falling off in the oil. I've also had it look perfect on the outside, but raw on the inside. Medium rare chicken? No thanks, but not with this recipe. Is it the soup? The cornstarch? I'm not sure, but it is crispy, light, and has great flavor.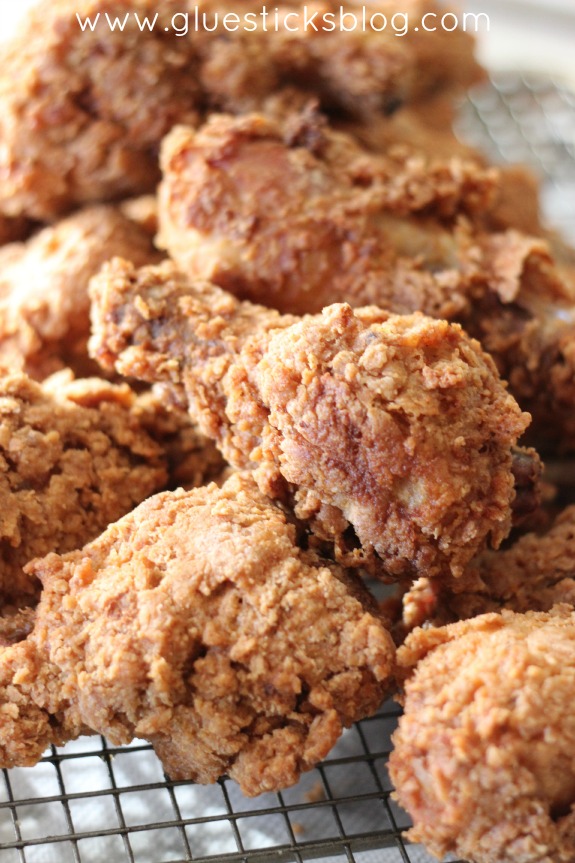 This is a very messy fried chicken recipe, but really what fried chicken recipe isn't?
First, I lay out a baking rack on top of a cookie rack that has paper towels under it for draining the chicken once it was done as well as another one to hold my raw, dredged chicken. That way I'm not dipping chicken and frying, then dipping again. Then I dip them all at the same time, wash my hands REALLY good, then begin the frying process.
I've tried this with legs and chicken breast tenders. Both turned out fabulous. Just make sure to adjust your cooking time for the tenders. Without a bone, they will cook a lot quicker than the legs.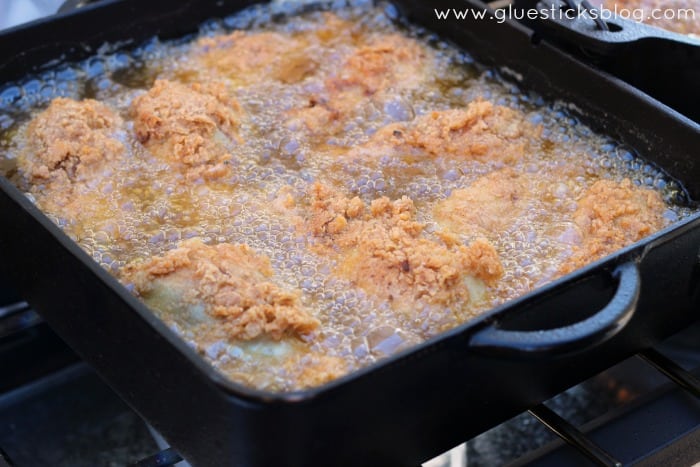 This fried chicken recipe is adaptedÂ
via a recipe on allrecipes.com
 (the basic recipe here is great, just lacked seasoning. I quadrupled the seasoning and added a measurement for seasoning salt and thought that it gave it much more flavor.)
Perfect Fried Chicken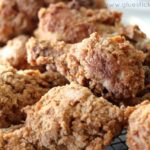 8 chicken leg drumsticks
1 ounce can condensed cream of chicken or mushroom soup (10.75)
1 1/2 tsp . seasoning salt
1 egg
1/2 cup all-purpose flour
1/2 cup cornstarch
2 teaspoons garlic powder
2 teaspoons paprika
3/4 tsp . seasoning salt
pepper to taste
oil for frying
In a shallow dish or bowl combine the soup, egg and seasoning salt (be careful, as soup is already salted); mix together. Dip chicken in mixture and turn to coat completely. Set aside.
In a resealable plastic bag mix together the flour, cornstarch, garlic powder, paprika, salt and pepper.
One at a time, place chicken pieces in bag, seal and shake to coat. Add more flour and/or cornstarch as necessary, but add them in equal parts (there should be an equal amount of each in the mixture).
Heat oil in a deep-fryer or large saucepan to 375 degrees F. Be sure to use enough oil to cover chicken pieces.
Place coated chicken on a baking sheet or platter and allow to sit until it becomes moist/doughy (this ensures nice and crispy chicken)
Fry chicken pieces in oil for about 10-12 minutes, or until cooked through and juices run clear.
Drain on baking rack or paper towels and serve.
This post contains affiliate links.
Welcome! I'm Brandy, mother to 5 darling kiddos and a cute black lab named Toby. My husband is in the Coast Guard so we've lived all over the place, turning each house into a home. I love baking, sewing, making cute things with my kids, and sharing what I've learned with all of you!