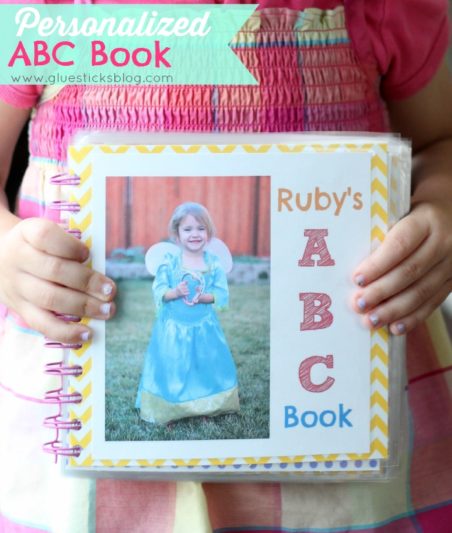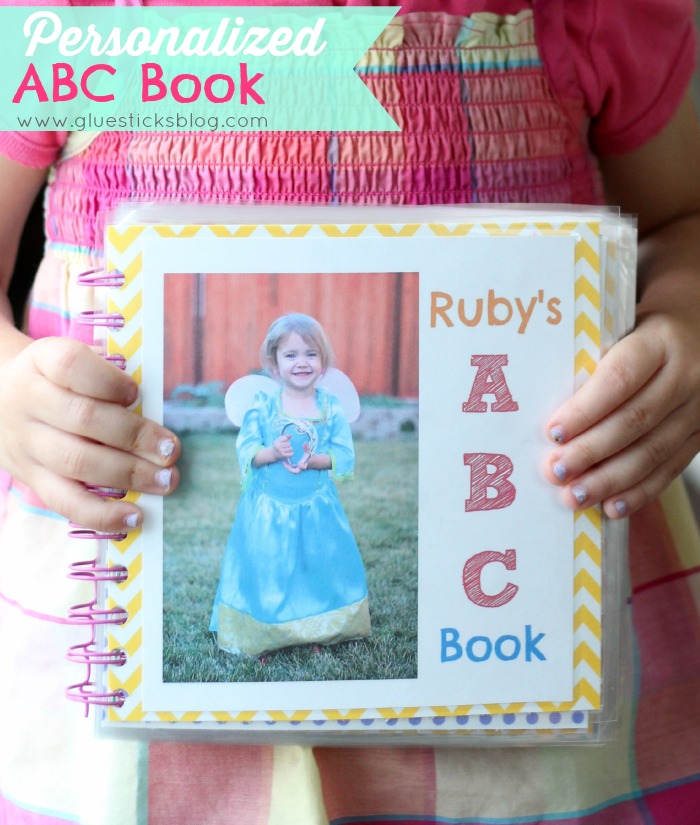 This little gal loves photo albums. She found her baby book and was just giddy, sitting on my lap, going through the pages. I don't mind her looking at her scrapbook, but I wanted something that was durable and that she could carry around with her. And so I made her a Personalized ABC Book filled with photos of the people and things she loves!  It was so fun and she was a great helper with the photos.
I am going to show you how to make and print out one of these fun books at home!  I am also participating in a blog hop in honor of National Scrapbook Day! Be sure to check out the other amazing projects being shared today! The links are at the bottom of my post.
Personalized ABC Book
First off you'll need your photos. I was able to get some just by looking through the files on my computer, but a lot of them had to be taken specifically for this book.
I saved each photo by the letter name (A, B, C) so that it would be easy to see which ones I had and which ones I needed.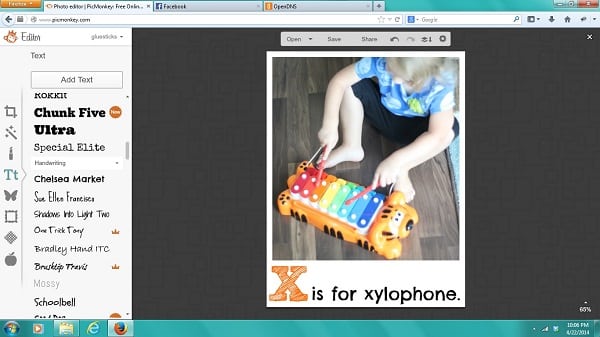 Then I used picmonkey's collage feature (it's a free online photo editing program!) to add text below each photo. Crop and style your photos, fonts, and colors however you'd like!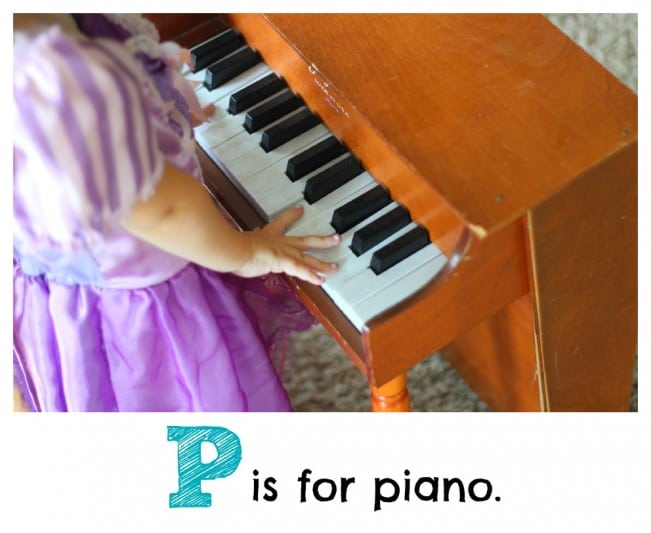 When it came to printing, I just used card stock. Since I was going to laminate my book, I didn't need to use photo paper or anything durable or fancy. I printed 4 to a sheet from my home computer (3.5×5″) sized.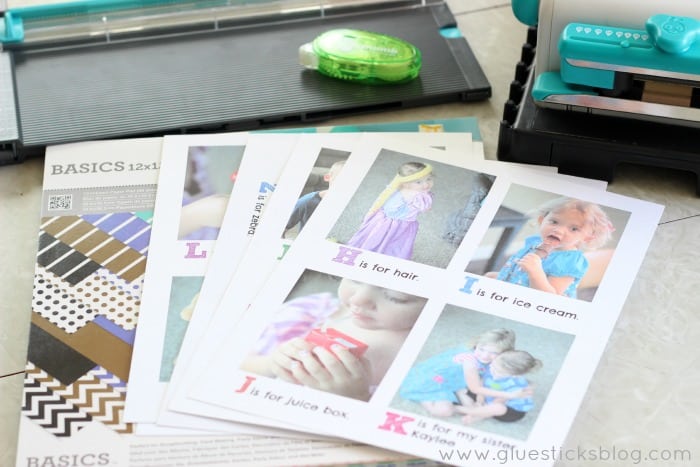 To put the book together I used the following supplies:
Printed photo alphabet sheets
Laminator and Laminating sheets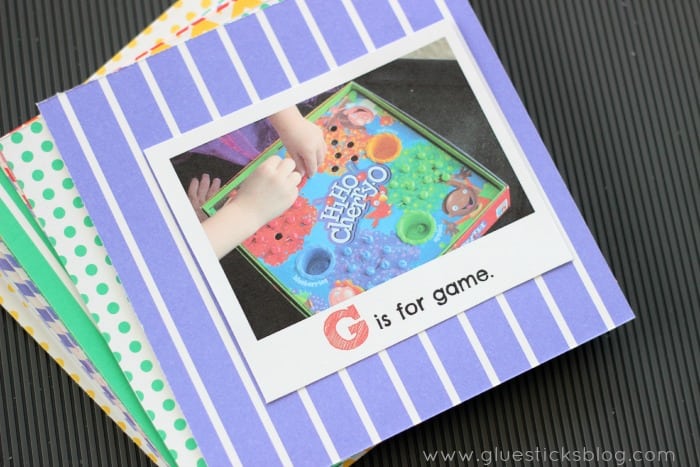 Each cardstock sheet was cut into 4 (6×6″) squares.  I adhered the photos to each card and ran them through my laminator. If you don't have a laminator you can purchase peel and stick laminating sheets or take them to a teacher's supply store or office supply store to have them laminated for you!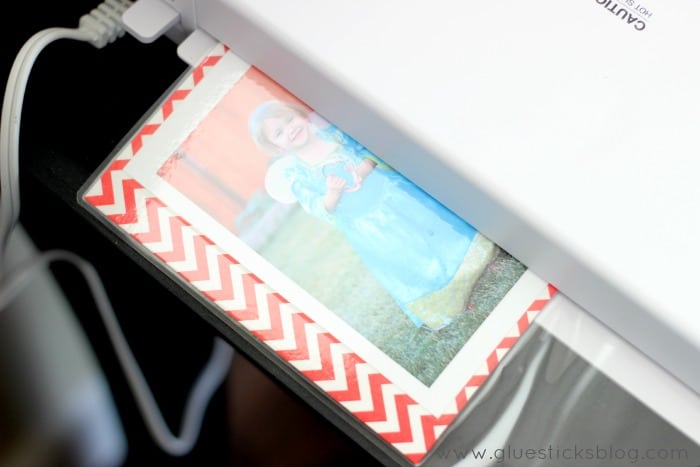 Now for the fun part. I used my binding tool, The Cinch, that I absolutely love. If you don't have a binding tool, that's totally fine! Just hole punch your pages and use a ring to hold them together! 2 rings (one on the top and one on the bottom) would hold it nice and secure.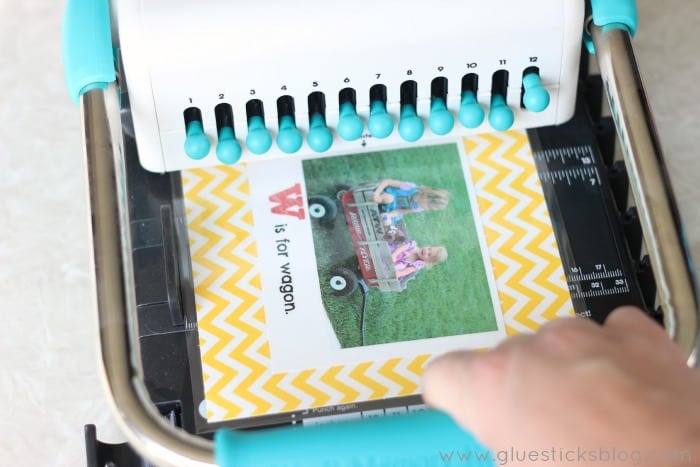 The Cinch makes it nice and easy. It punches the holes for me, the pages easily slide into the binding wires, and then clamp down to secure. It really is as simple as that.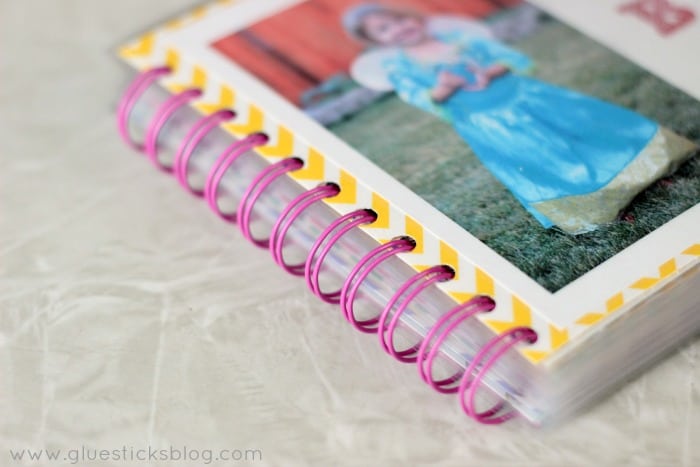 Ruby was right there as I finished the book and squealed, "It's me!"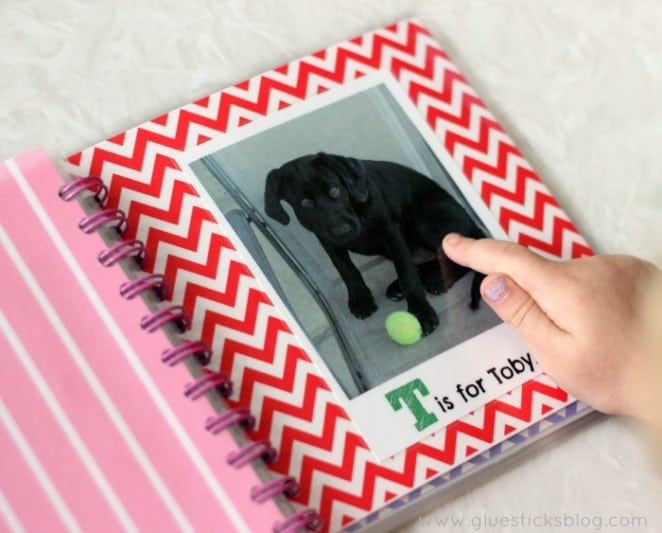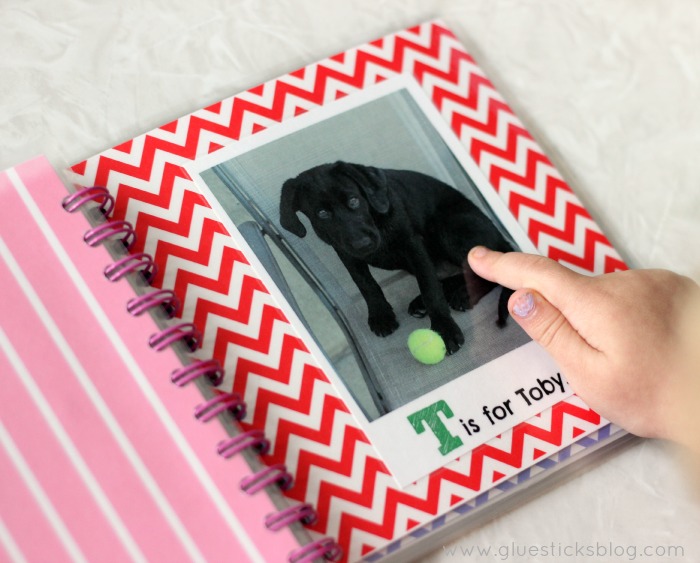 This page is her favorite. When she finished looking at her book, she took it to Daddy to read to her again and she said, "It's my favorite book!"
I love going through it too. I made one online at Christmas time for my 5 year old and formatting it was a nightmare. Maybe it was the company I used, but it just wasn't fun to make at all! Then I misplaced it in the house and can't find it. I was so disappointed on Christmas morning to not have the book to give to her so I am going to make her one like I did for Ruby.
I made one just like this (except with the rings binding it) for my oldest son 7 years ago and we still like looking through it!