This post was most recently updated on November 15th, 2021
This shop has been compensated by Collective Bias, Inc. and its advertiser. All opinions are mine alone. #PoweredByRayovac #SureThing #CollectiveBias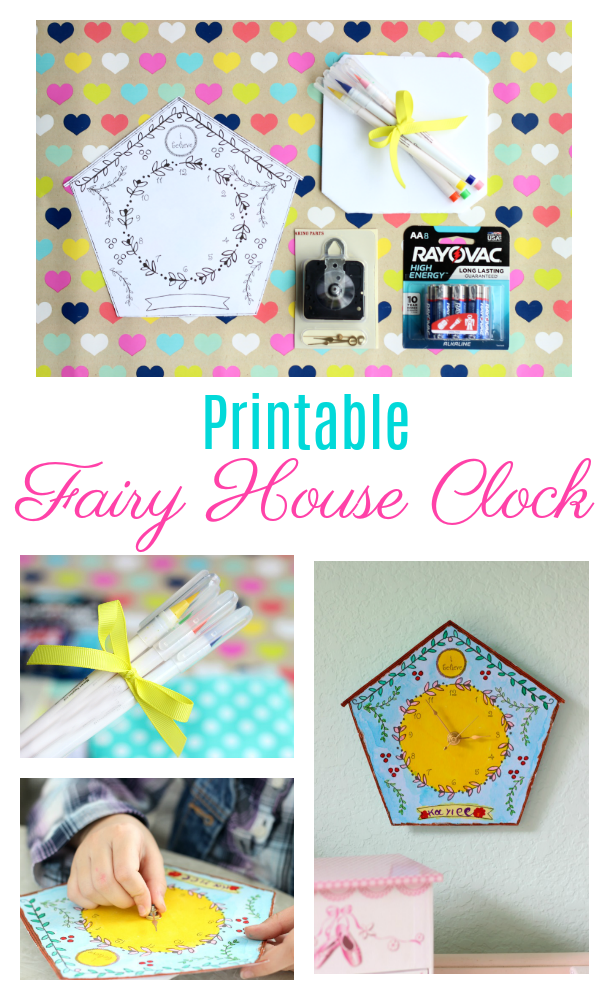 Making your own clock is easier than you might think! Today we are sharing a darling Fairy House clock that you can print, color, and add a clock kit to!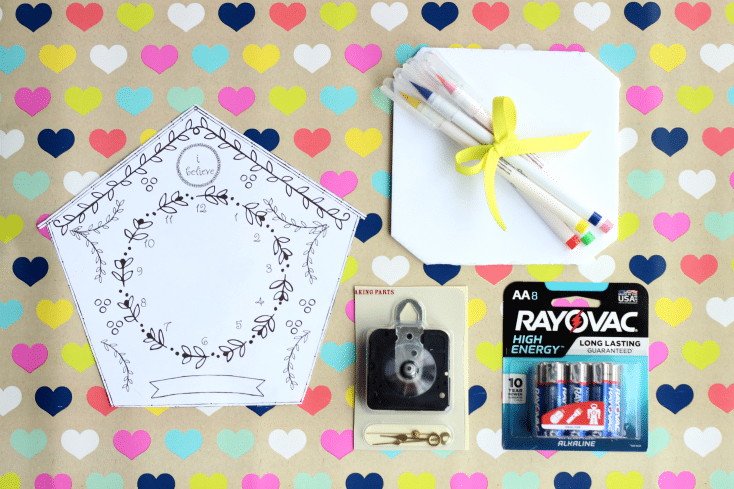 My girls are always excited to receive a gift, but when the gift is a DIY craft kit—they are in heaven. Kaylee recently had a birthday and I wanted to create something special for her. She loves fairies and coloring so I put both of her loves into this fun little kit.  It was such a hit, and we had a lot of fun putting it together and hanging it on her bedroom wall.
Printable Fairy House Clock
Supplies: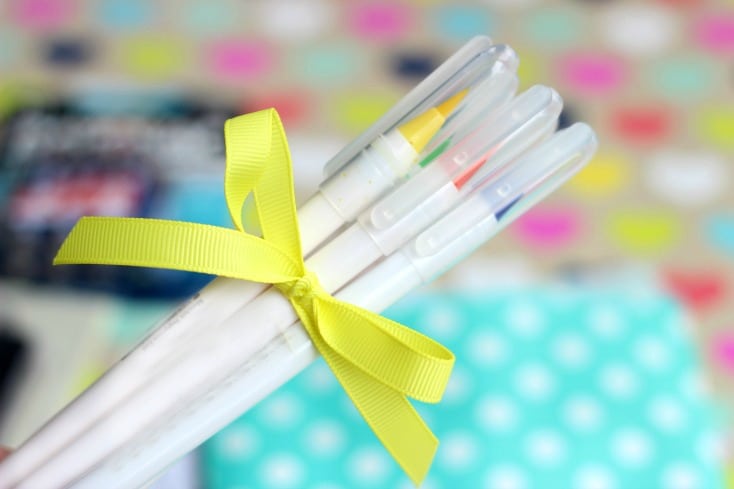 Markers
: You can use WHATEVER you'd like to color the clock. Since we had watercolor markers I printed our template on watercolor paper, but cardstock works great and you can use crayons, colored pencils, or markers.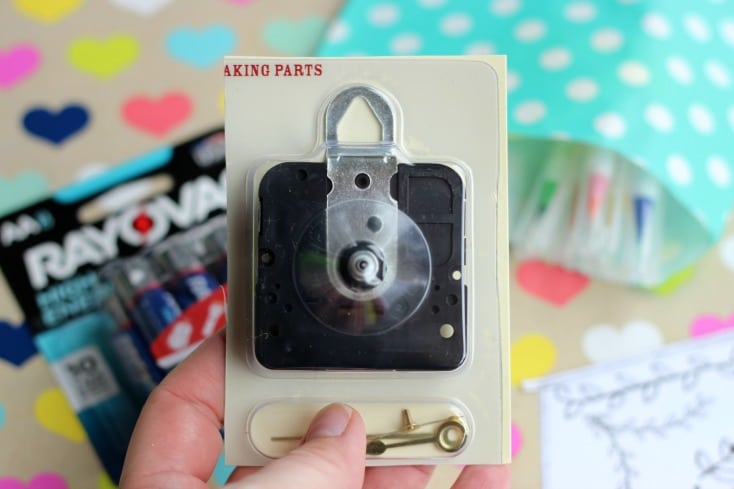 Mini Clock Kit:
I found a small 1/4″ mount clock kit at our local craft store. It came in a package of 4 so we have extras to make more kits for friends! 1/4″ means that the surface you attach it to can not be thicker than 1/4″. We glued our paper on foam board for stability and it was just the right thickness. The hands on the mini clock kit are 1.5″-1.75″ and are just right for this size of clock.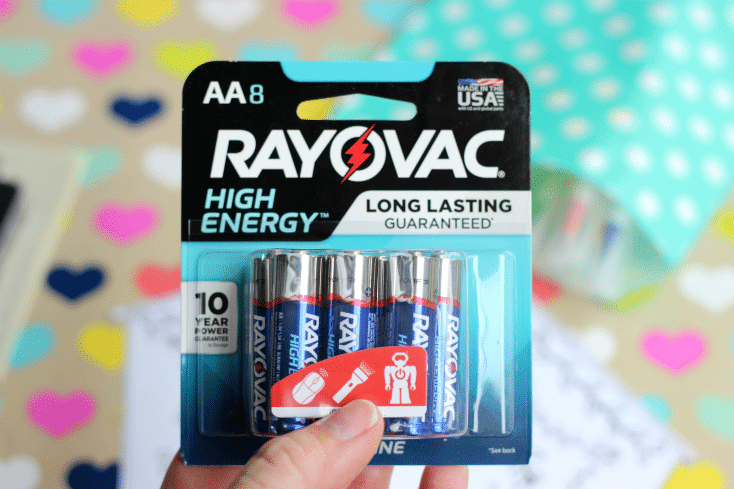 Batteries:
Unless you have a wind up clock, you'll need AA batteries. I picked up a package of
RAYOVAC® High Energy
AA batteries at Walmart. Enough to make several clock kits and have a couple of extras on hand.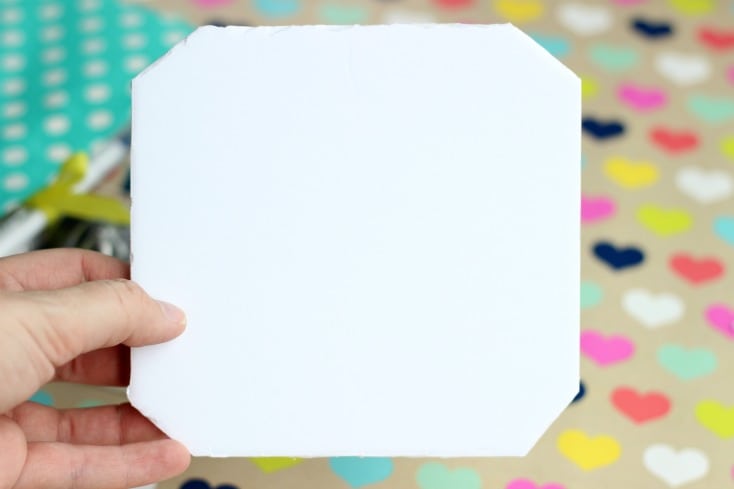 Small square of foam board:
Cut out a piece of foam board or cardboard to fit the back of your clock. I didn't worry about having it be the exact shape. It just needs to add stability so that you can mount your clock kit to it.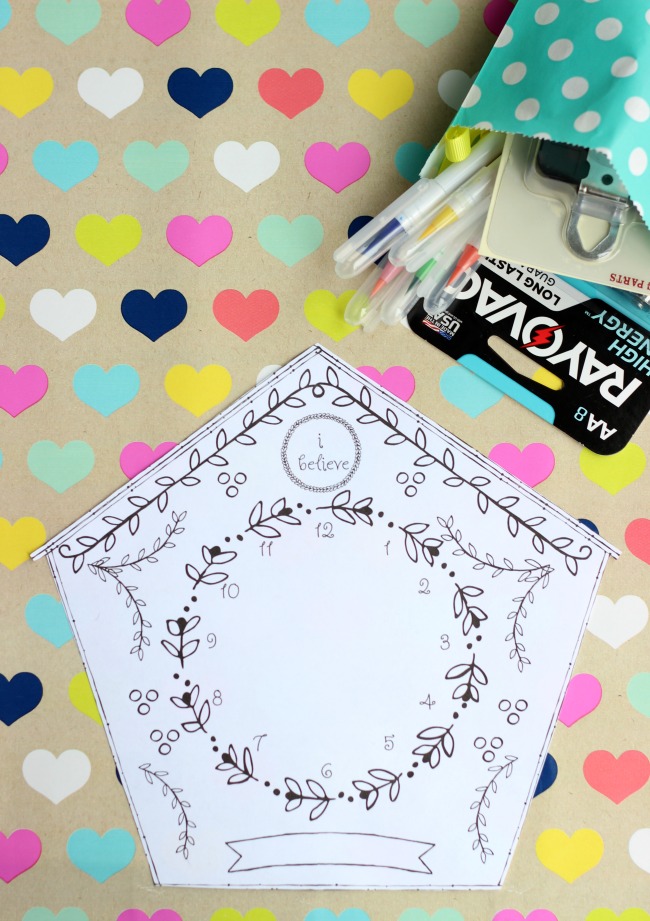 Fairy House Clock Printable:
You can
download my free printable
here! Be sure to download it to your computer instead of printing straight from the browser to ensure proper layout and size. It should print in landscape.
Put everything into a small bag and gift it to a crafty little gal in your life! Every clock kit from the craft store comes with instructions, but I'll give a quick rundown on how to assemble the clock from start to finish.
To assemble: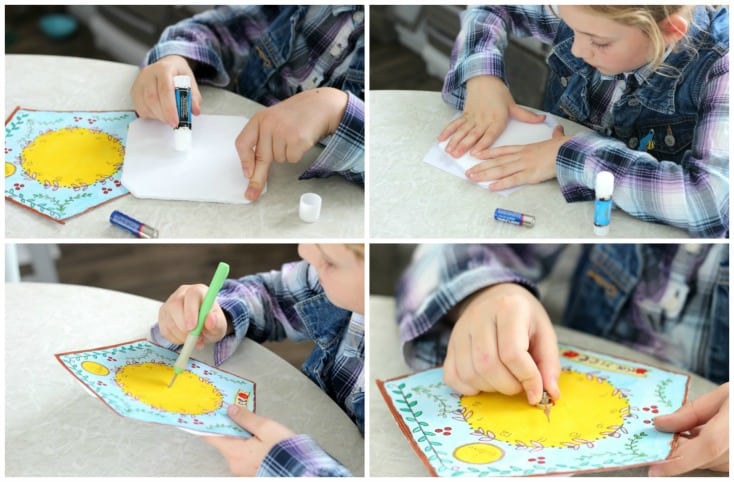 Color or paint the clock template.
Glue foam board to the back of the clock template.
Poke a small hole in the center of the clock face to mark the middle and give a starting point for making a larger hole. Gently push a pencil or pen all the way through to the other side to create a hole big enough for the clock kit.
Poke clock kit through the center, from the back.
Add the correct washers, clock hands, and nut. Add second hand and finish off with any other caps or hardware.
Move the hands to the correct time.
Add 1 AA battery. The RAYOVAC® High Energy batteries are guaranteed to provide long lasting power in high use devices. One battery will keep this little clock powered for a very long time.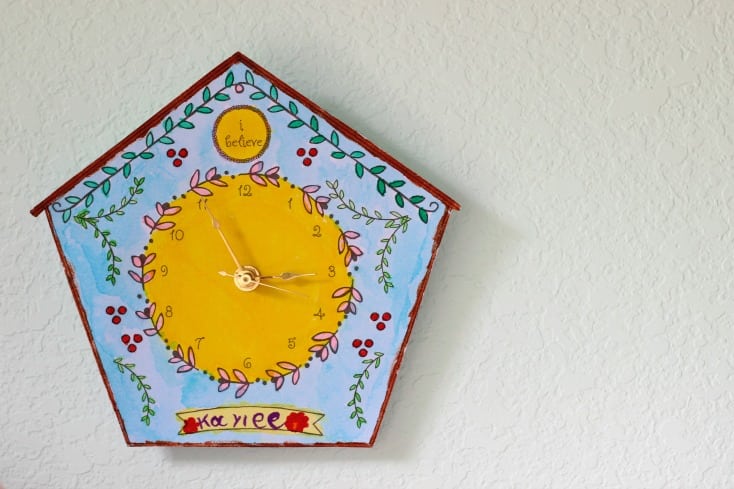 The kits come with a hanger so all you have to do is find a place to display the new clock!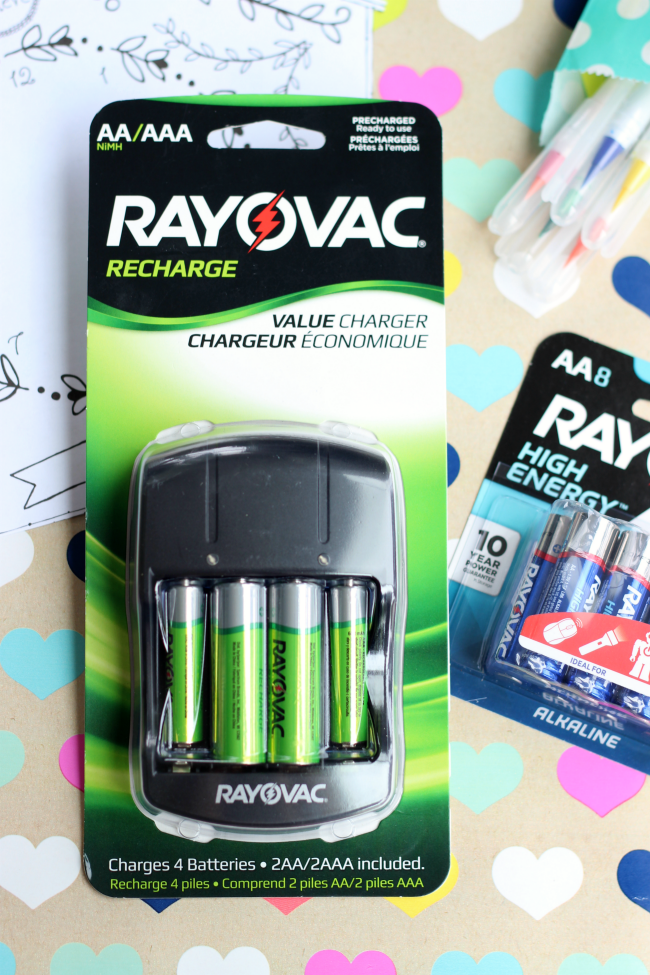 We like having a collection of batteries on hand for all of the toys and devices we have in our home. Nothing is worse than searching the house for a battery and coming up short! This is why we also keep rechargeable batteries around. I use these for my speed light flash for my camera because it burns through batteries so quickly!
Dad is always the hero when he enters the room with a freshly charged battery or a pack that he had stashed somewhere in the house and RAYOVAC® batteries last up to 10 years in storage (5 years for 9v) and they last just as long as the leading competitors, but at a lower price point!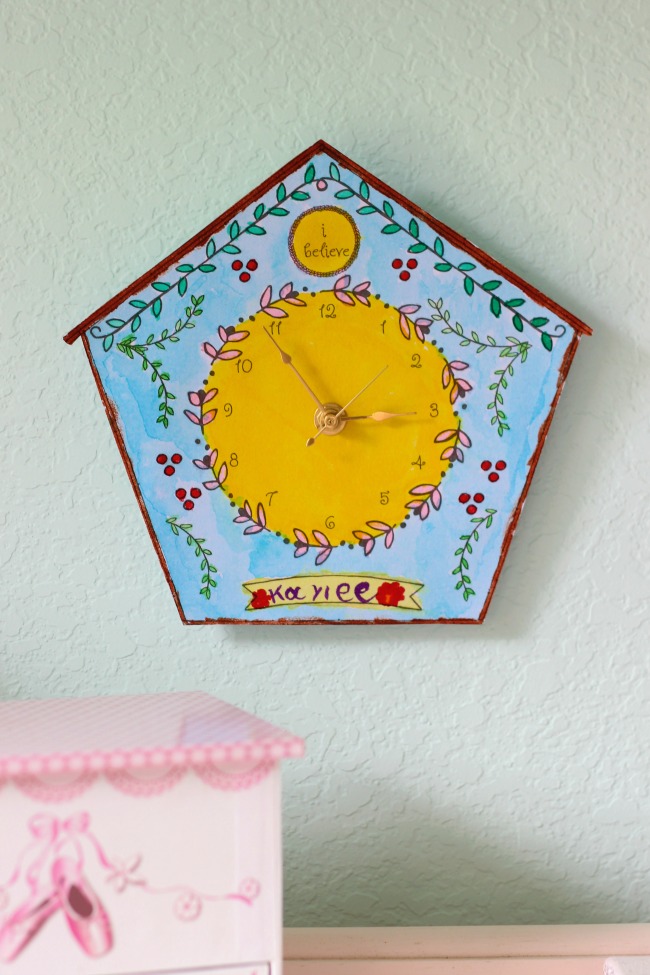 You can turn pretty much ANYTHING into a clock. Just find the right sized clock kit and battery for your project! The possibilities are endless.