How to reupholster vintage diner chairs, step by step! A labor of love and a simple way to preserve this 67-year-old family heirloom. Scroll to the end of the post for a fun update!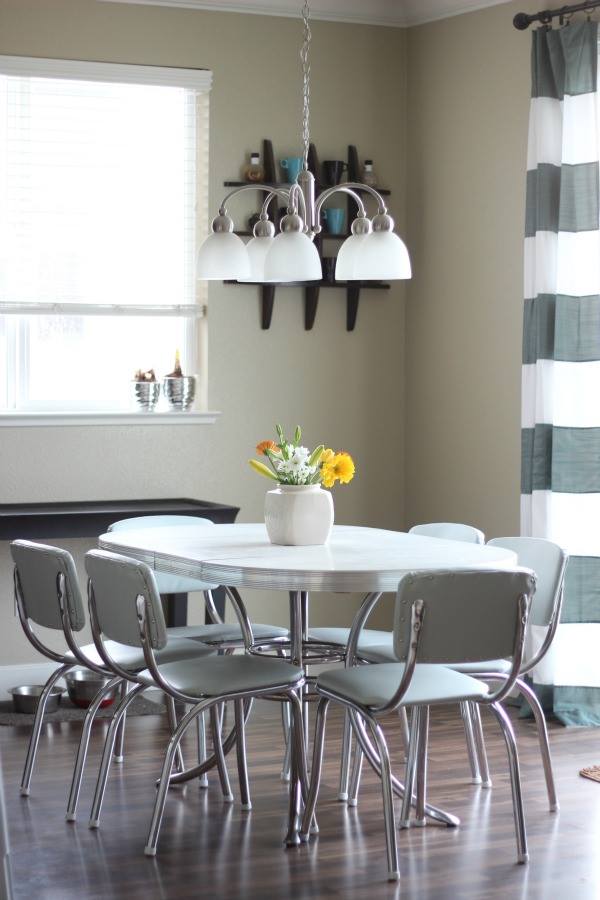 This project was an absolute labor of love, but I love how it turned out! This vintage dinette set belonged to my grandparents. They bought it over 60 years ago and raised 7 daughters around that table! It's hard to find high quality like this—furniture meant to last a lifetime. When my grandmother passed away I received the set to use in my own home.
The original vinyl color of the vintage 1950s chairs was a dark blue, but my grandfather reupholstered them to a mustard yellow in the 1970s, and that is the color that I remember the set being. We would sit around this table and kitchen chairs and play games and have family meals. My grandma had a couple of table cloths that fit this table that she'd use every night for dinner. I have them in my linen closet and love using them!
My grandma also cut out her sewing patterns on this table, paid bills, and wrote letters. She wrote many many letters and was a big fan of "snail mail".  There are so many memories associated with this set, not just from me, but from all of the family members on that side of the family!
How to Reupholster 50s Vintage Diner Chairs Step by Step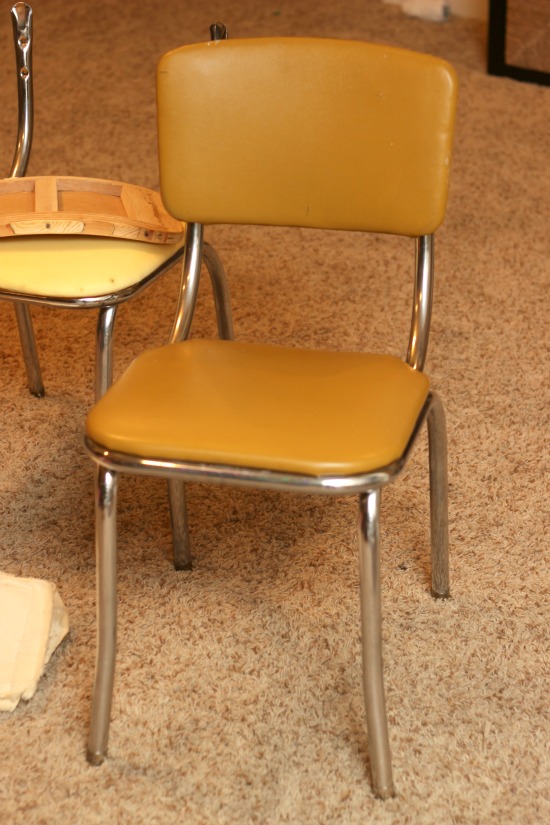 When I received the set 4 years ago it was in great shape overall. The chrome was shiny and the frame of each chair was sturdy, but I could see a few areas that would need attention down the road. There were a few nails popping out of the top of the chairs and one chair had a tiny rip in the seat. There were also a few stripped screws on a couple of the chair backs. I tapped the nails back into place and that bought us time as I decided how to approach restoring them again. One chair has two legs that are bending in, so that will need to be addressed, but for being 67 years old you won't find a set of chrome diner chairs more cared for than this one.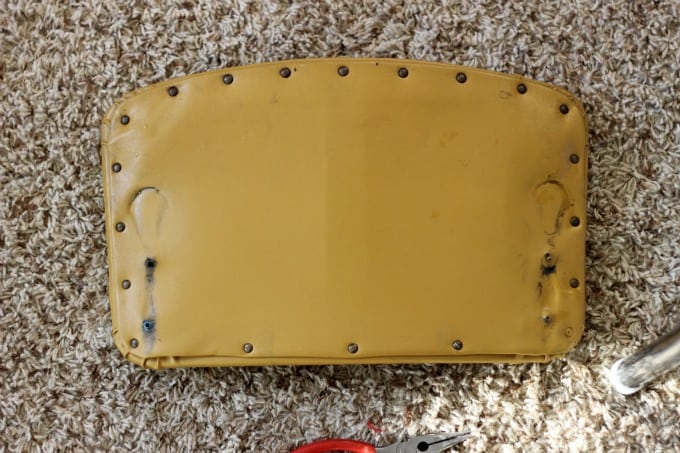 When I was ready to take the plunge I started by taking each chair apart, removing the upholstery tacks, and examining the wood underneath.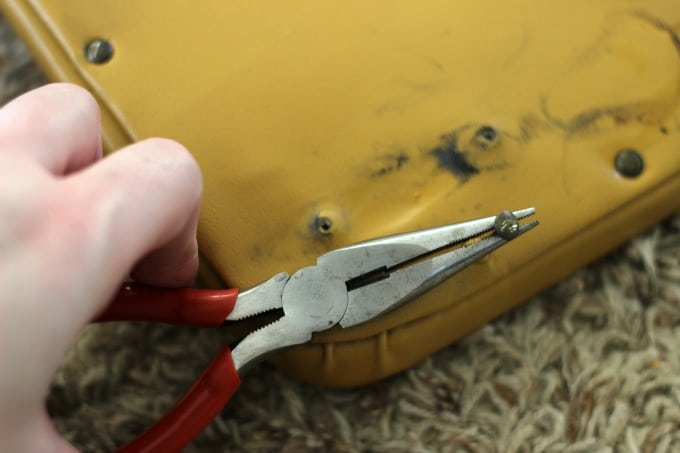 It was tedious, but not hard.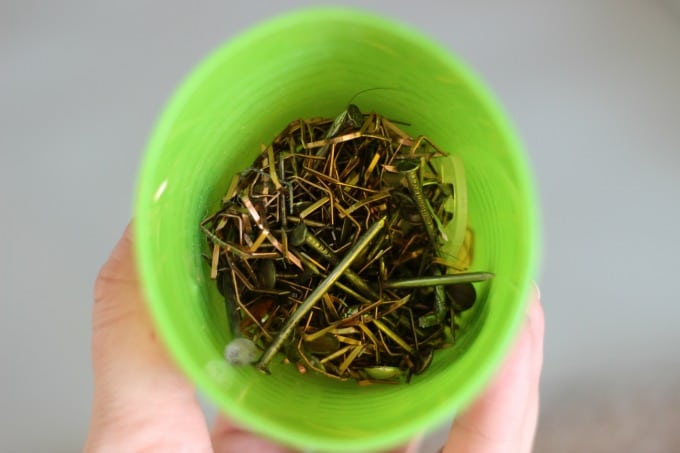 We fixed any areas that were stripped and replaced all of the screws.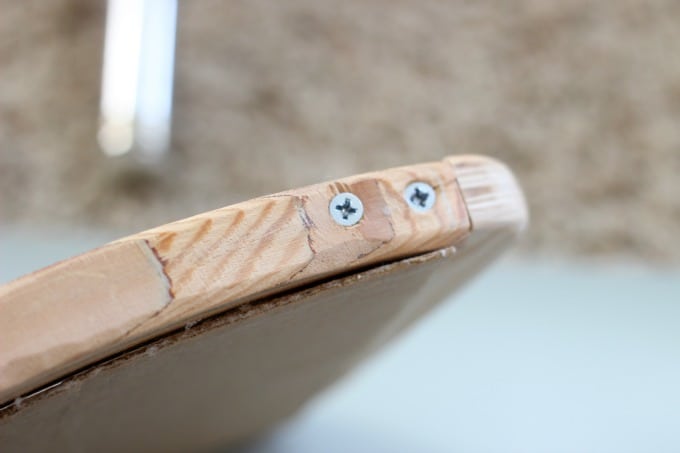 We also replaced all of the nails with screws so that they wouldn't work their way out of the tops of the chair backs in the future.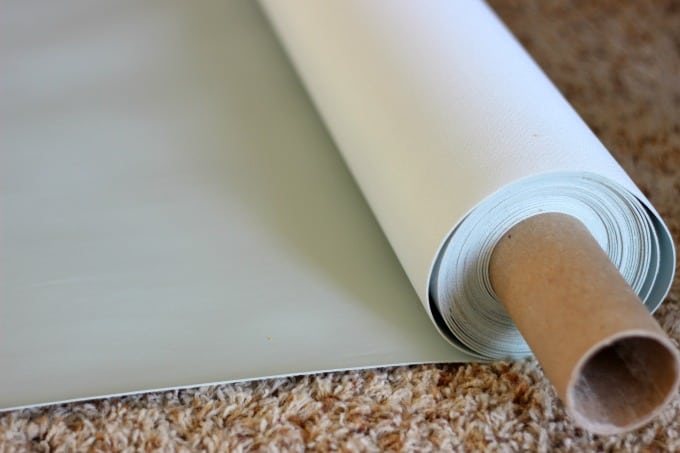 The HARDEST part was deciding on a color for the new vinyl! I liked the mustard color, but couldn't find any vinyl that was the same shade. I ordered a bunch of samples, and would definitely recommend doing that before purchasing 10 yards of fabric or vinyl online. None of the samples looked like they did online! I contemplated a bunch of different types of retro vinyl including red, gray, and even some sparkly hues and ice vinyl but in the end, I settled on a beautiful seafoam shade. I ordered 10 yards from Fabric.com for about $8/ yard.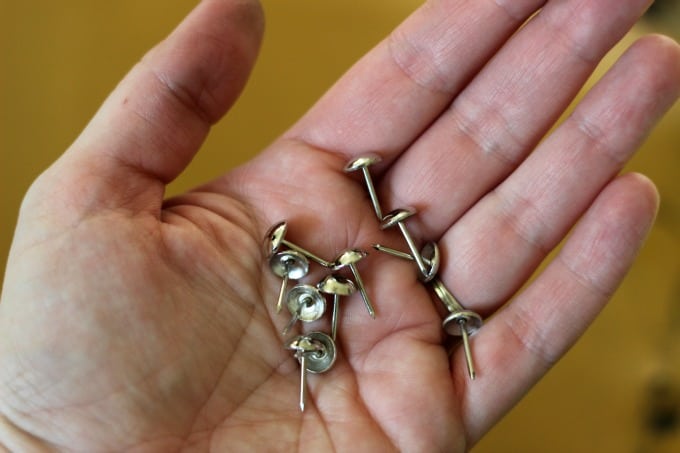 After fabric, new upholstery nails and screws, and chair leg caps, I ended up spending just over $100 to cover 7 retro chairs and a booster seat!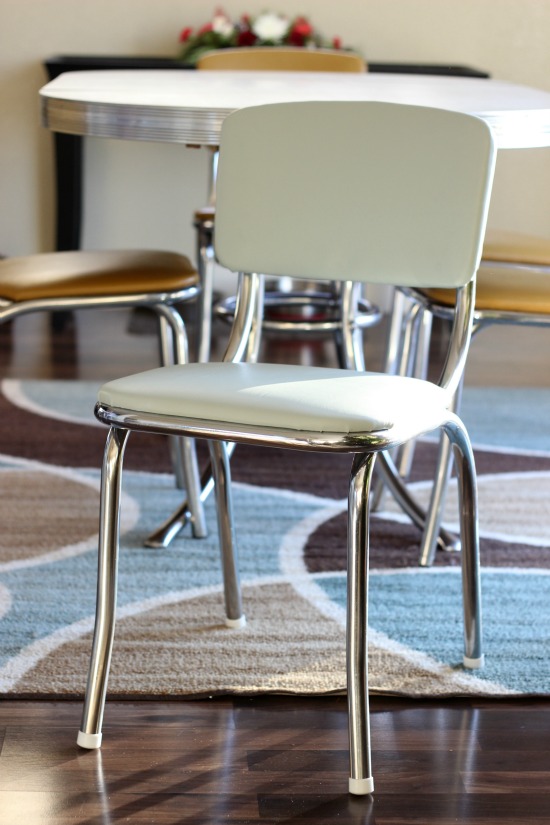 Each chair took me about an hour and a half to do. If I didn't run into wrist problems I could have set aside a couple of days and finished them all, but all of the time spent pulling out nails and tacks took a toll on my hands and wrist. I ended up being in a lot of pain and even had a hard time sleeping through it! So I slowed down and worked on one or two chairs a week.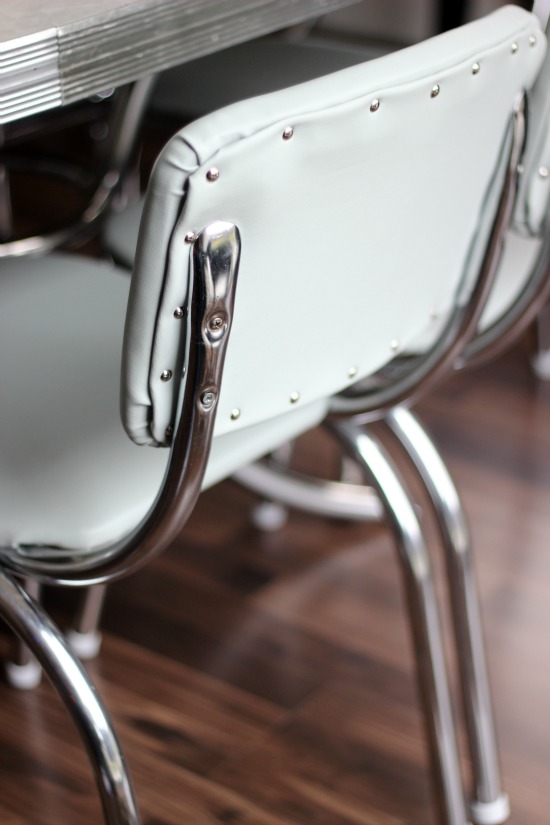 It was all worth it though, just look at the shiny vintage diner chair!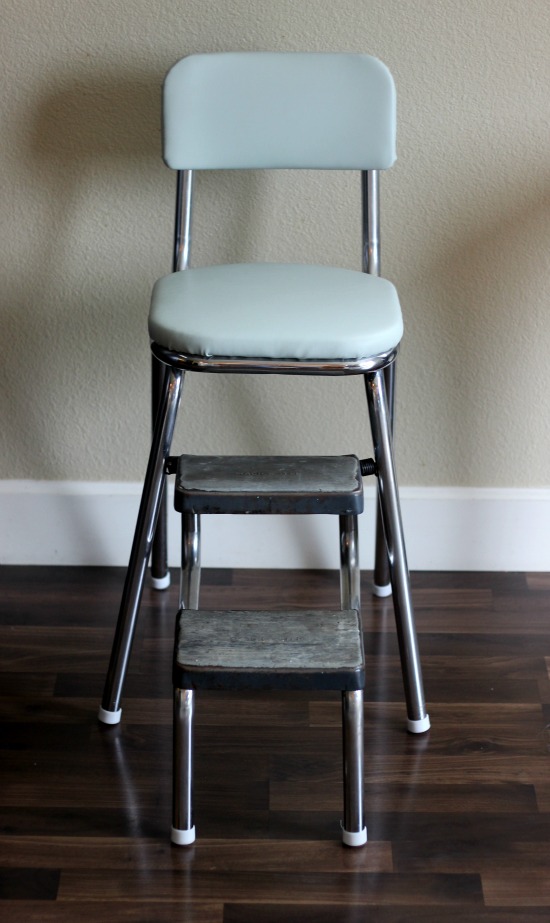 THIS STOOL! Such a favorite of mine as a child, and all of the grandkids. Many fights were fought over who got to sit on the stool during mealtime. Ruby has now claimed it for herself and since everyone else is too big to sit in it, she doesn't have to share.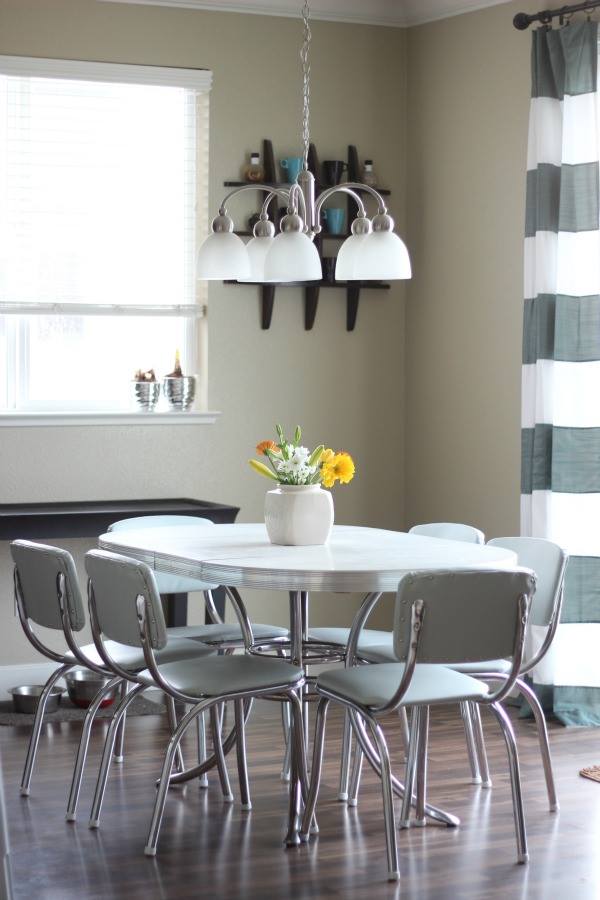 I think of my grandma every time I see this table. It is truly a family heirloom and I hope that I can keep it in the family for at least another 60 years.
2019 UPDATE!
It's been a few years since I reupholstered my retro diner chairs and they are still in GREAT shape! We couldn't love them more. Two chairs had legs that were starting to bend in. My husband, who can fix anything, wasn't sure what to do and didn't want to make them worse. After all, they are 70 years old. It was stressing me out to have the kids sit on them so he suggested that I order replicas and store the originals until the kids are older. We bring them out as extra seating for guests and use some in our home office.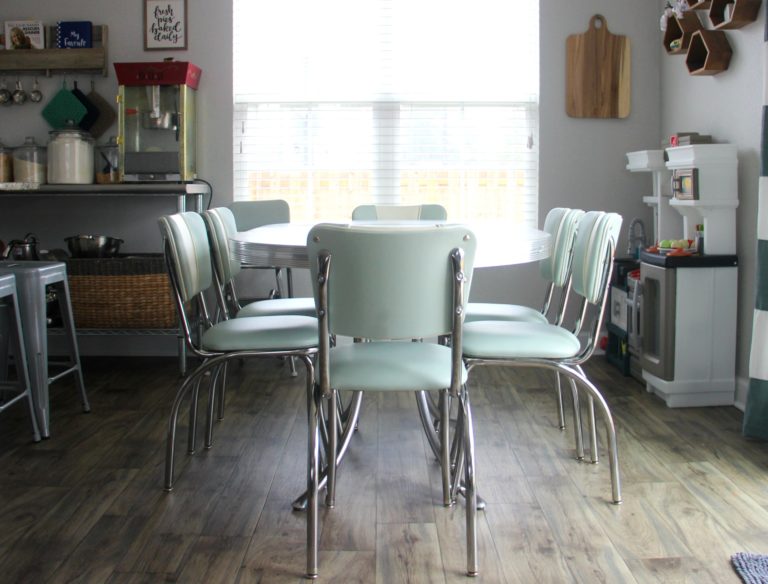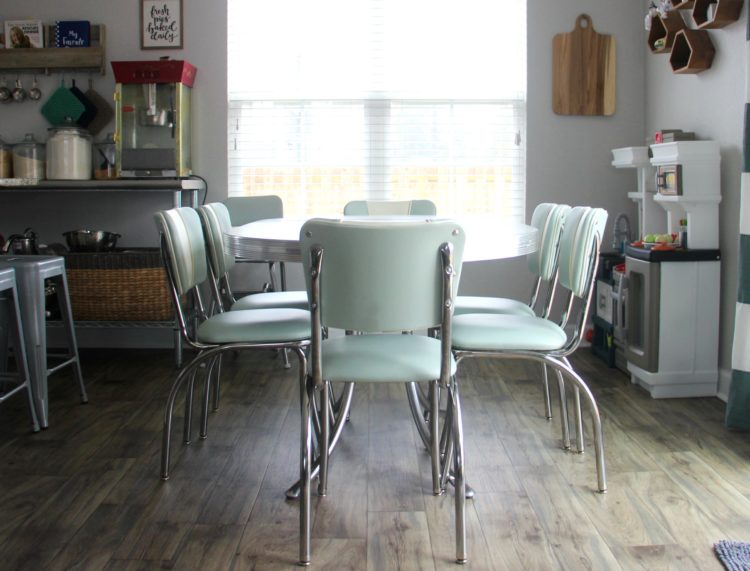 Friends, this was my Christmas gift and I couldn't be happier with the results. I shopped around and decided to go with Heffron's. Their site is just so fun to browse. So many options for 1950s retro furniture, diner booths, and chairs.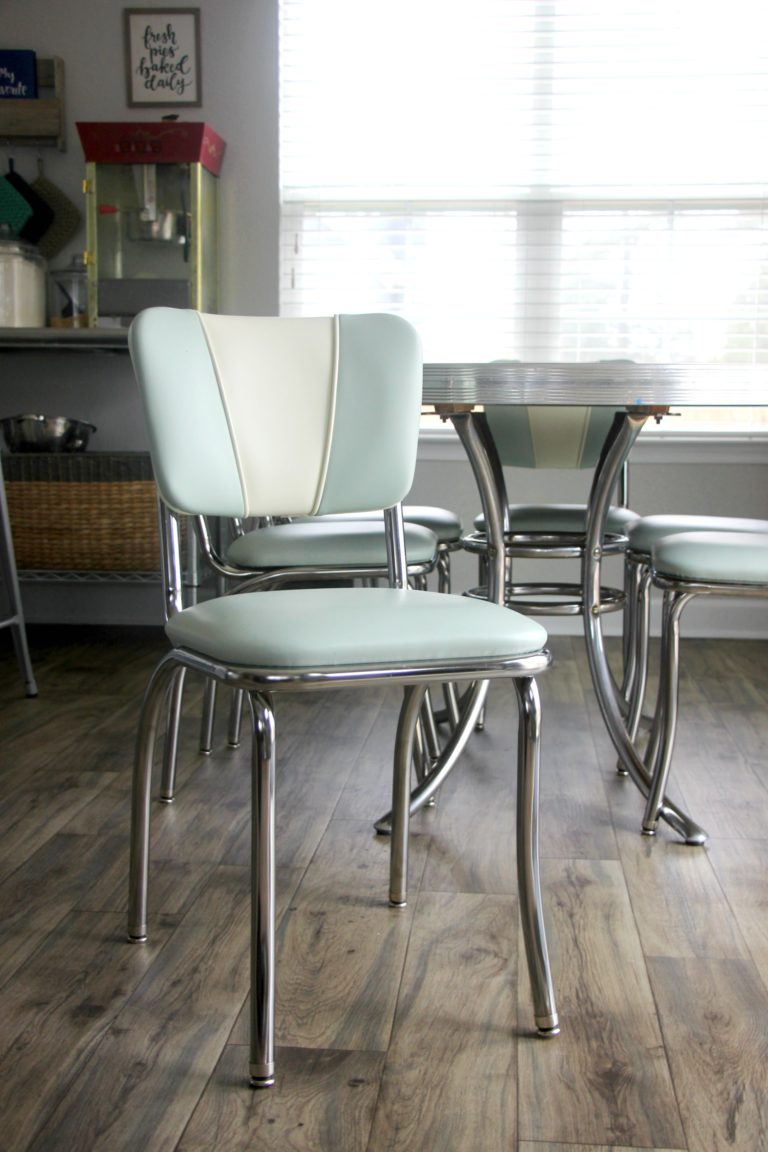 They did a fantastic job and designed 6 new heavy duty chairs for our dining set that will last a lifetime and shipped them right to my door. The color is exactly the same as the ones above, with the addition of a two-toned seat back and contrasting piping. You can't even tell that they aren't vintage chairs because these are made exactly how the first set was made and they work perfectly with Grandma's table. Restaurant quality gorgeous design. Our booster chair/step stool is the only seating that isn't being stored right now. That thing will never break, it's so sturdy! This is not sponsored. I was just so happy with the entire process and they had so many different styles!
You might also like…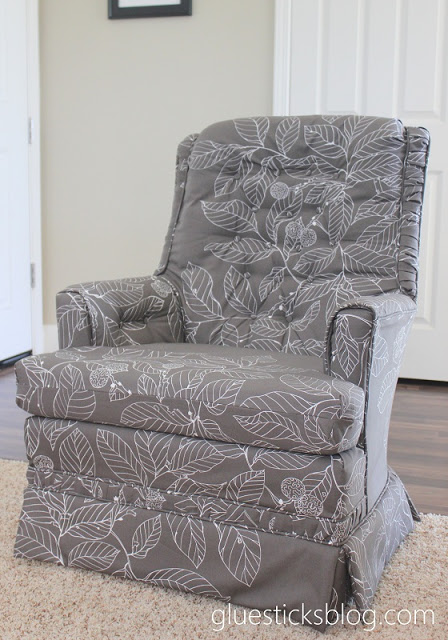 How to reupholster a Swivel Rocker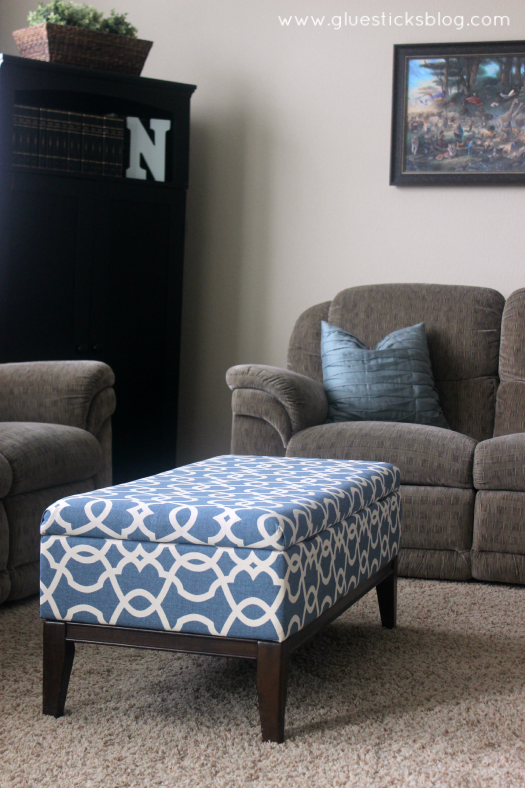 How to Reupholster a Storage Ottoman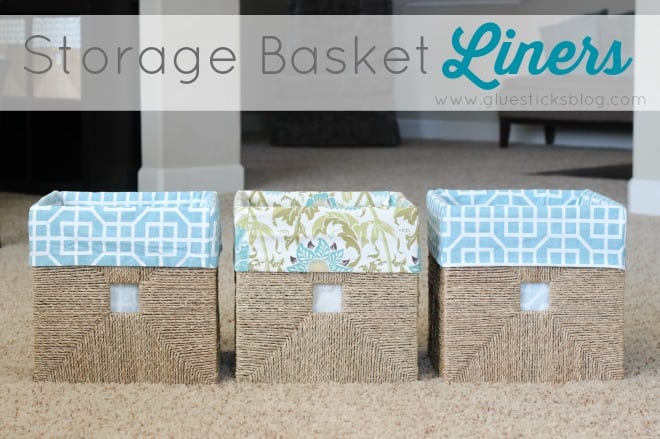 DIY Storage Cube Fabric Liners
Welcome! I'm Brandy, mother to 5 darling kiddos and a cute black lab named Toby. My husband is in the Coast Guard so we've lived all over the place, turning each house into a home. I love baking, sewing, making cute things with my kids, and sharing what I've learned with all of you!