Don't even think about going on your next road trip without a road trip binder for the kids! Filled with road trip games, activities, maps, and fun printables! The kids won't mind taking a  break from their electronics to have some good old fashioned fun!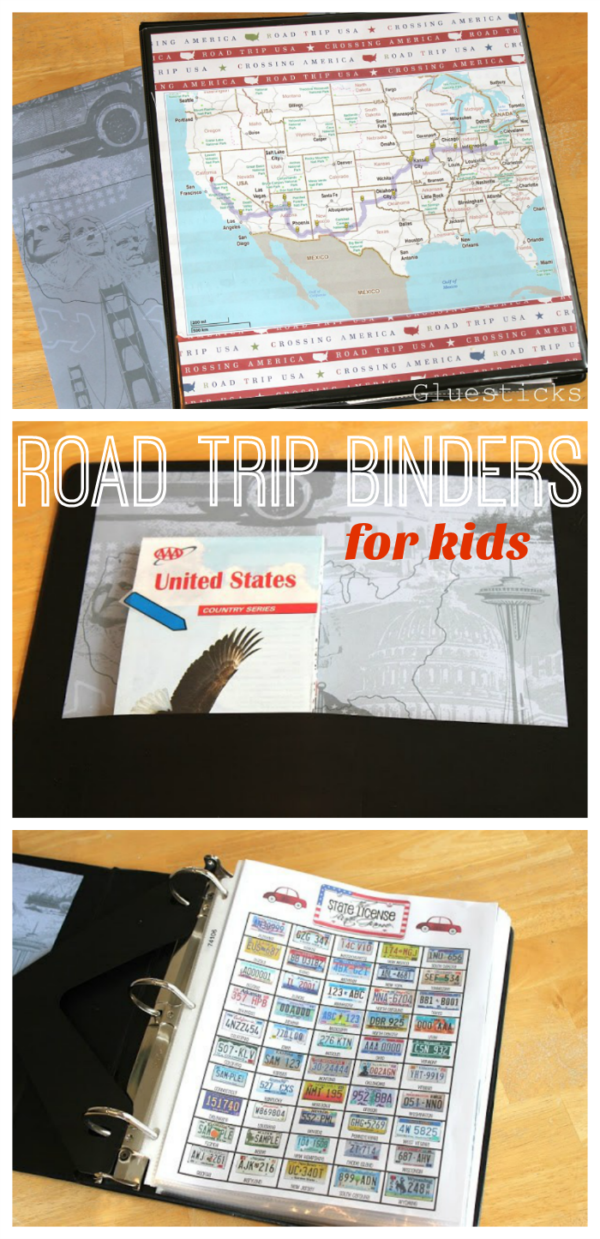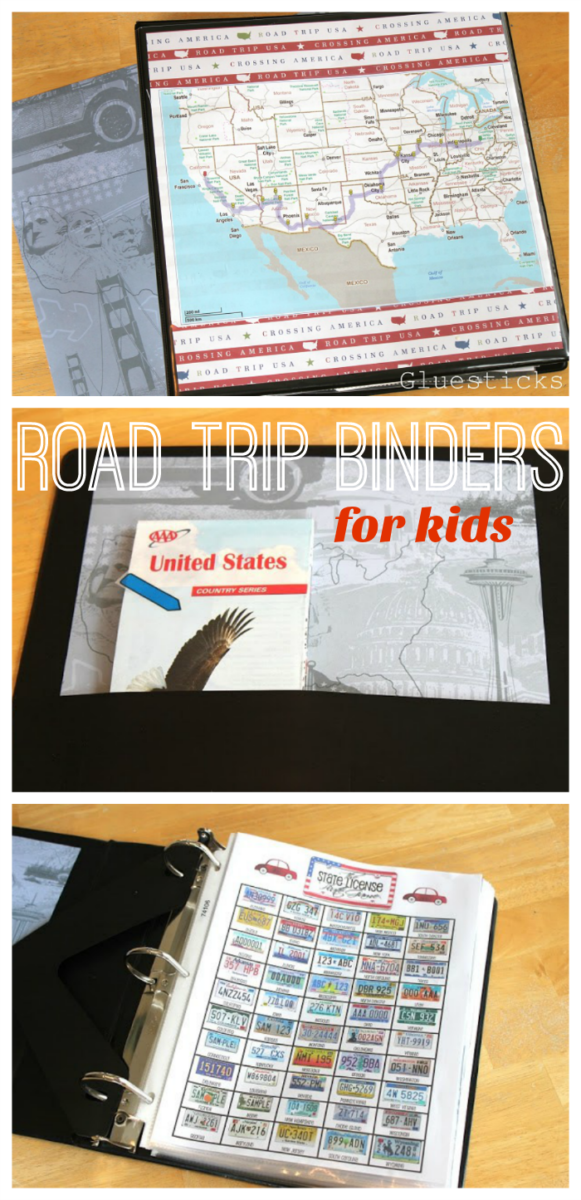 One thing that we don't have to worry about anymore is keeping the kids busy on our trip. It's crazy how road trips have changed from when I was a kid! Holy cow! My parents never went out of state, we usually just stuck within a 1-2 hour radius from our house and I still remember being BORED to tears!Our kids are spoiled, but they've also been across so much more territory than I ever did as a child. We've driven from California to Alaska. From Alaska to Ohio and from Ohio to Utah (twice) on top of trips to Niagara Falls, Pennsylvania, etc. So I guess a bit of extra effort is required since we drag our kids all over the country! With a portable DVD player, books on tape, a new DS (ugh…yes, we caved and finally let our children get one to share on the trip), toys, new chapter books, and these new travel binders that I made, I think they will have fun!
Road Trip Binder for Kids: Road Trip Games, Map Activities and More!
The boys' binders are identical. Kaylee's is a scaled down version with lots of coloring pages and stickers instead of educational worksheets.
Each binder has a map of the US that they can check out and follow along. The front of each binder has our trip mapped out for them as well. They can follow along with little post-it flags.
The first several pages are road-trip games. Links to any printable I show can be found at the bottom of the post. Yay for free printables! What a time saver! The first is a state licence plate game. Both of our cars have Alaska plates so they can check those off….or should we make them find other cars with Alaska plates? Probably!
Next is an I-Spy game. I put post-it tabs and flags inside the binders to use as markers for games like bingo and to mark what they found.
A slug bug game (although I think we'll just look for cars in these colors too) and an Alphabet game. Those two are games we always played as kids, while traveling, and I play them with my kids now. I never thought of putting them on a printable to mark off though. Genius!
Another version of the I-Spy game with things to find.
I have a section for them to keep their ticket stubs and brochures from the attractions that we visit.
Also a place for them to keep their bonus travel tickets. The kids can earn tickets by catching Derrick or I saying the "Word of the Day". For example, if the word of the day is "Car", anytime we say it, and they catch it, they earn a travel ticket. Tickets are worth money and can be used to buy souvenirs along the way!
There is also an itinerary packet for each day of the trip in its own page protector. It tells them where we will end up each day, has a list of things to look for, tells them what the word of the day is, and includes a joke as well. The jokes are all different so they can share them with each other.
Each packet also includes a journal page for them to write or draw on.
There is also a math worksheet to do daily.
And a fun worksheet, like this hidden picture page. I found these books at Joann's awhile ago and the kids love them. There are word search, hidden pictures, mazes, educational worksheets that correlate with their grade level, etc.
I know that we could just give them snacks and a ton of movies and they would be happy (we've done it before and we will still do that this time too), but we would also like to create memories, and have them and interact with each other. So hopefully these games will help with that!
Since Derrick and I are driving in separate vehicles and I will be the one primarily driving with the children, we can use all of the fun interactive, and boredom buster ideas we can get!
3500 miles and 18 Days on the road, then another 2 months of hotel living before our house is finished……BRING IT. 😉
2016 Update! I've added more pages! These seek and find pages are so fun and the kids love them. Put them in page protectors and use a dry erase marker to mark off each picture! I've included the links at the bottom of the post with the rest of the free printables. Enjoy!
Links to Printables