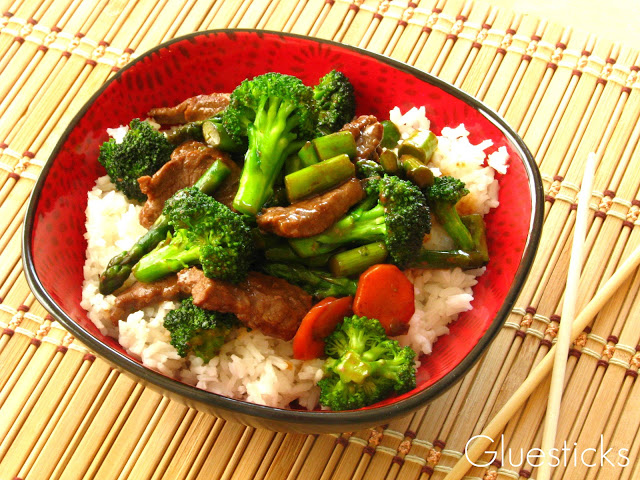 I absolutely love Chinese food and definitely have my favorite dishes. All which seem to be soy sauce based. The Beef/Broccoli, Lo Mein, Chicken/Cashew ones. So those are the ones I try to replicate at home. Here is one of our favorites. I like using a large amount of vegetables in my stir fry to make it go further and spare some calories. Especially when using beef, which I only cook with every few months or so. So this dish was a treat for us!
Steak & Vegetable Stir Fry
1 lb. sirloin steak, sliced on the grain
2 T. vegetable oil
Marinade:
2 T. soy sauce
1 T. white wine
1 tsp. corn starch
dash of pepper
1 T. vegetable oil
1 carrot, peeled and sliced
1 bunch asparagus, chopped into bite size pieces
2 c. broccoli florets
Stir Fry Sauce:
2 T. white wine
2 T. soy sauce
1/2 c. chicken broth
1/4 tsp. ground ginger
1 T. corn starch
3 T. oyster sauce
Marinate the steak in the marinade while you prepare your veggies. Heat 2 T. of oil in pan (I use a large skillet) on HIGH HEAT. When you pan is piping hot*, add your steak, in a single layer. Let it sit there for 2 minutes before messing with it. Check to make sure it isn't burning, but you want it nice and golden before stirring it up. Once it has browned nicely, stir it up for another 1-2 minutes. Until it is cooked through.  Remove from heat and set aside.
In the same pan on MED-HIGH heat, heat 1 T. oil and add your vegetables. Cook  for 3-4 minutes (stirring constantly) or until the broccoli is slightly tender.
Combine your sauce ingredients, mix well to incorporate the corn starch. Add sauce and meat back into your vegetable pan and remove from heat. Stir well. Since the pan is super hot, the sauce should thicken very quickly.
Serve over steamed rice.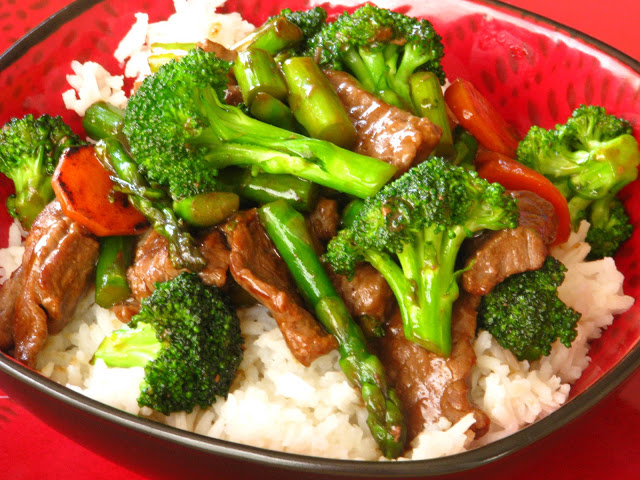 For more homemade Chinese dishes, scroll to the bottom of the post. I hope your family enjoys these as much as ours does!*The key to stir fry is keeping your pan HOT, giving it time to heat up before adding your meat and veggies, and cooking quickly. This keeps your meat tender and juicy inside and seared on the outside without getting tough. It also keep your veggies crisp and colorful vs. soggy.