Help your little ones stay hydrated with a bright and bold color block water bottle holder that they can carry on their own. A great option for field trips and summer activities! This post contains an affiliate link and has been compensated by Collective Bias, Inc. and its advertiser.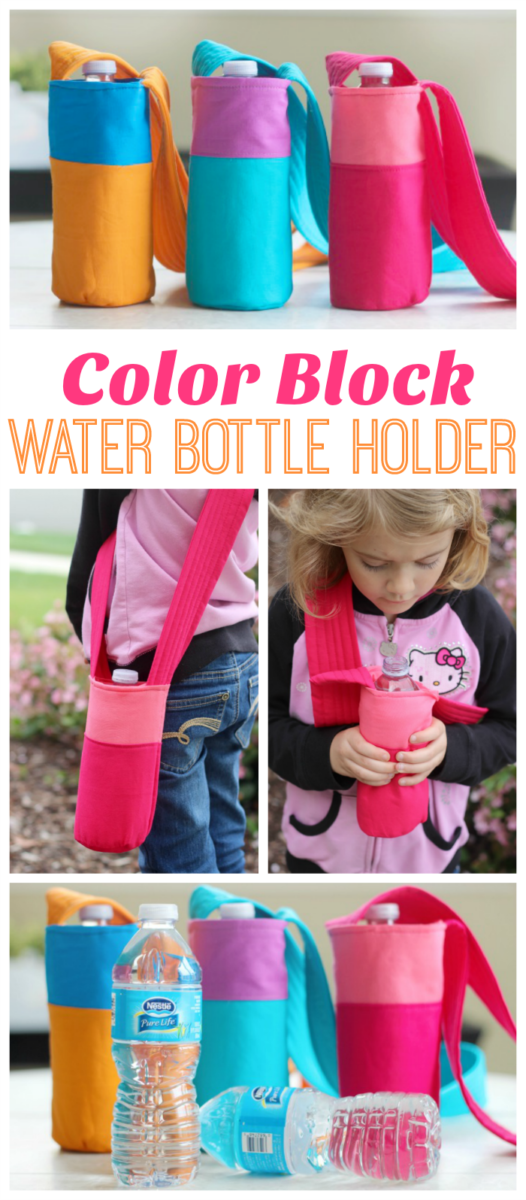 As the school year is coming to a close, our lives are busier than ever! Field trips, track meets, the school jog-a-thon, swim parties, and let's not forget our road trip this summer from California to Virginia. Since a water bottle is always on the packing list for school field trips, I decided to make the kids a water bottle holder to carry over their shoulder. This will make keeping those little bodies hydrated a breeze! As an added bonus: I won't end up having to carry all of their water this summer when we're hiking in Southern Utah!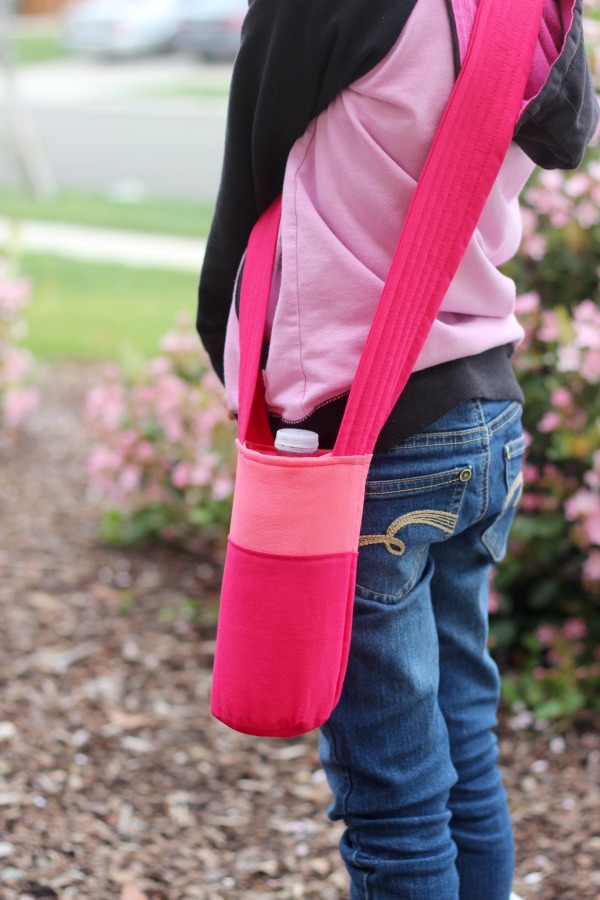 I finished these off before we moved out of our house because I wasn't sure if I wanted to bring my sewing machine with me while living in our RV for three months. But guess what? I'm crazy like that and totally found a spot for it under the bed. I love my
sewing machine,
it has a hard cover on it so it was completely safe under there.
This water bottle holder comes together in less than an hour and is just the right size to hold a 12 oz. bottle of water.
I found a 35 pack of water bottles at Walmart and purchased two for our spring and summer activities.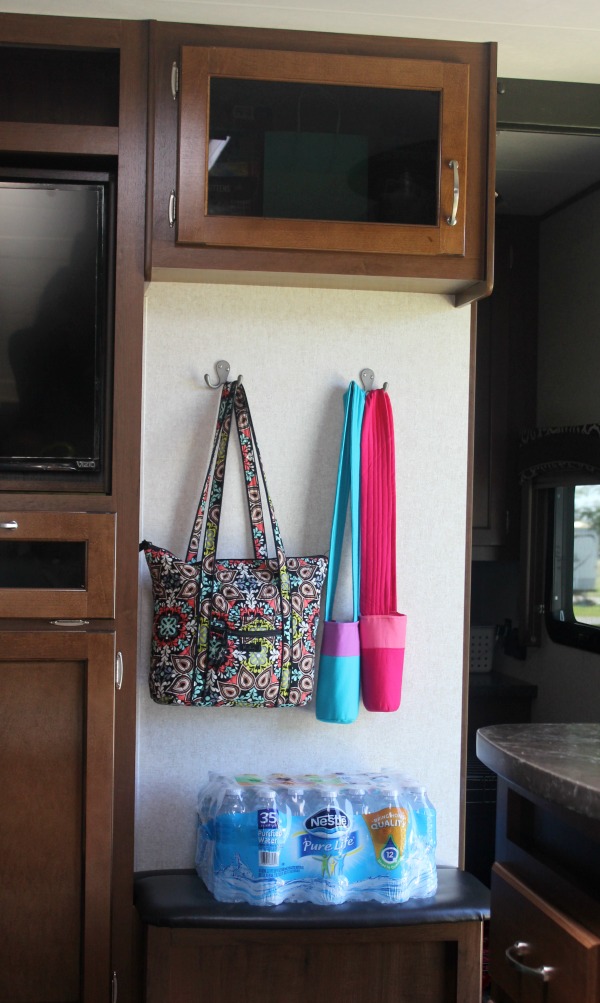 I keep one in the back of the minivan and one in our RV.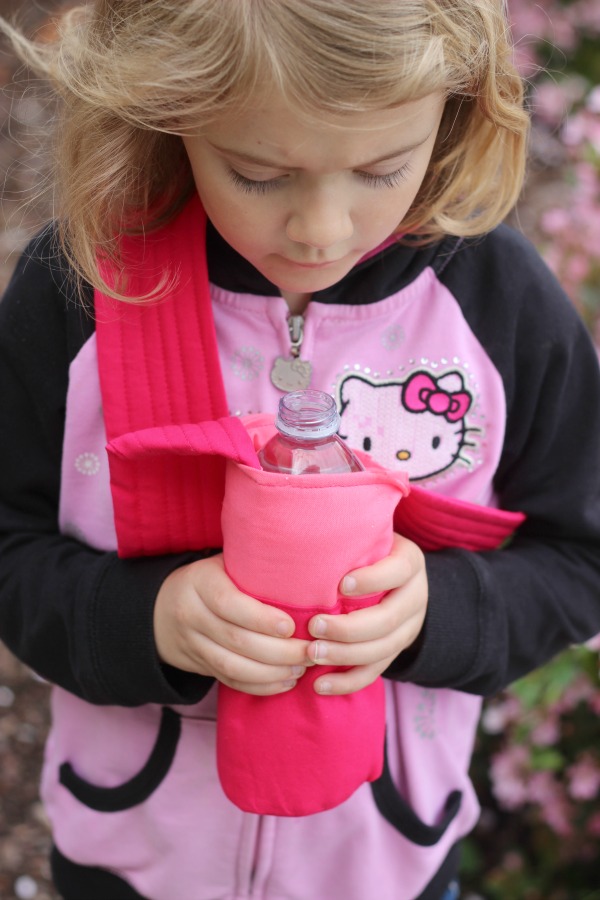 Ruby is taking her water bottle holder to the zoo tomorrow and is SO excited to try it out for the first time. Aaron brought his with him to San Francisco last week with his 5th grade class and it worked out great not having to pull out his backpack every time he wanted a sip of water.
For 60 more sewing projects, check out my sewing book for kids!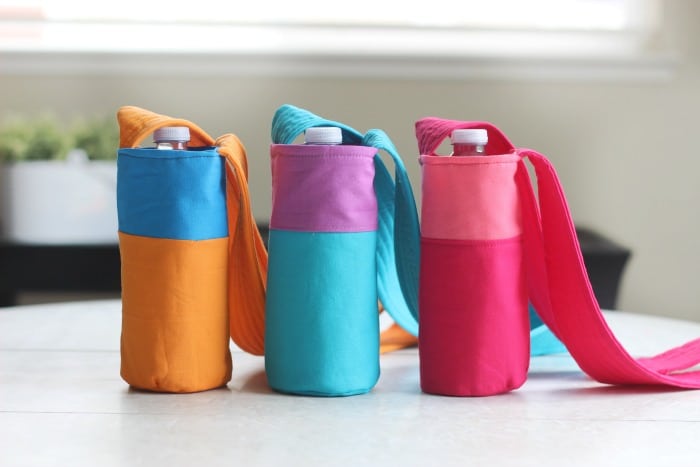 Color Block Fabric Water Bottle Holder Tutorial
Time: 30-45 minutes
Skill Level: some sewing experience
Seam allowance 3/8″ unless noted otherwise.
Materials:
Cotton fabric 1/3 yard each in 2 coordinating colors
Fusible fleece interfacing 1/3 yard
Coordinating thread
Sewing Machine
Scissors
Pins
Cut out the fabric and interfacing for your water bottle holder using the above guide. Measurements are marked width-x-height.
You'll need two pieces for the outer fabric. They will be sewn together to form the color block.
You'll also need a lining piece and a piece of interfacing the same size.
You'll need 3 circles. One from each fabric and also one from the fleece interfacing.
You'll need 2 strap pieces that are 3″ x the length suggested in the guide and a matching piece of interfacing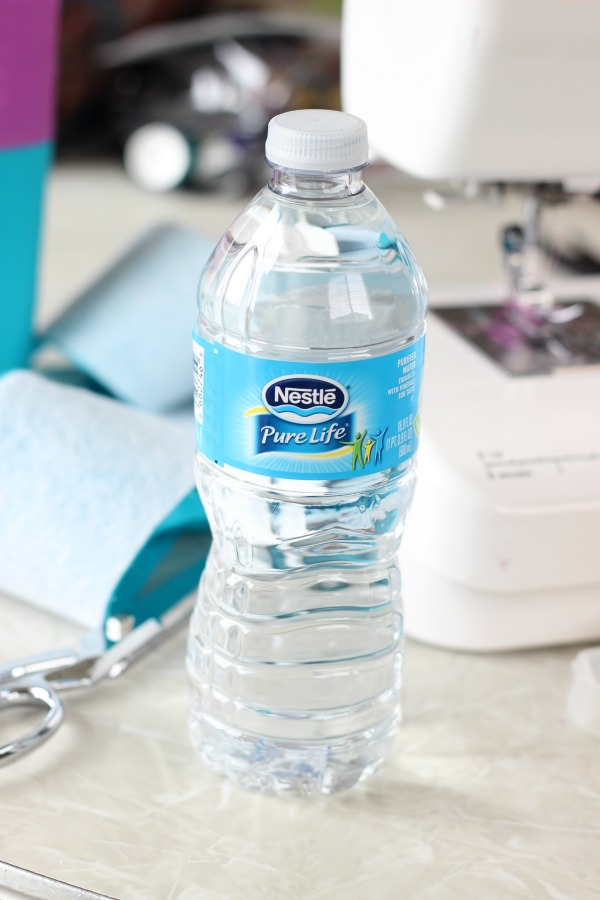 This water bottle holder will fit any 12 oz. disposable water bottle.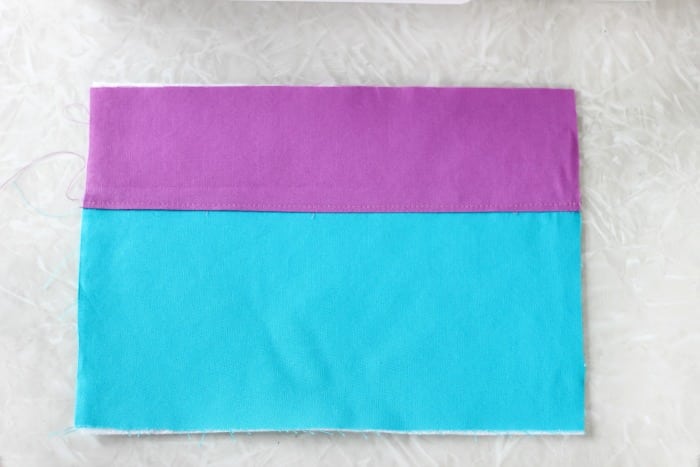 Sew the 3.25″ band and 5.25″ piece together using a 1/4″ seam allowance.
Press seam open.
Fuse (iron) the 11″ x 8″ piece of interfacing to the back of the outer piece.
Top stitch across the 3.25″ band.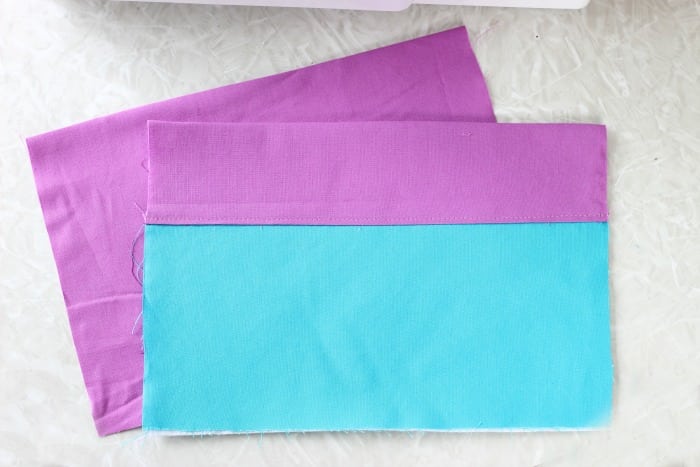 Fold both the lining piece and outer piece over 1/2″ on the top edge (folding toward the back).
Iron.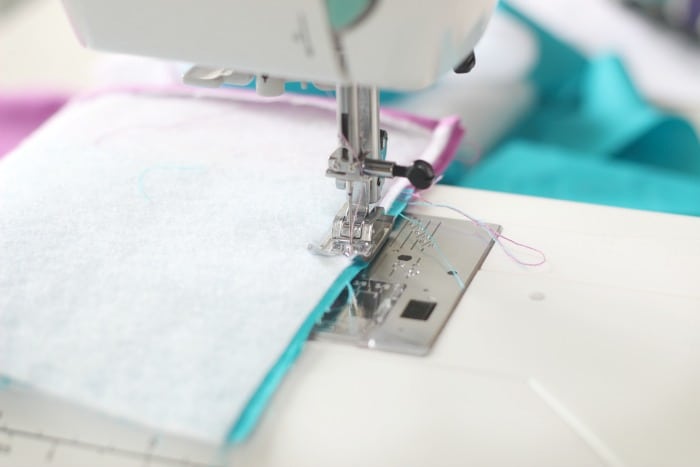 Fold your outer piece in half and stitch the side seam.
Repeat for lining piece.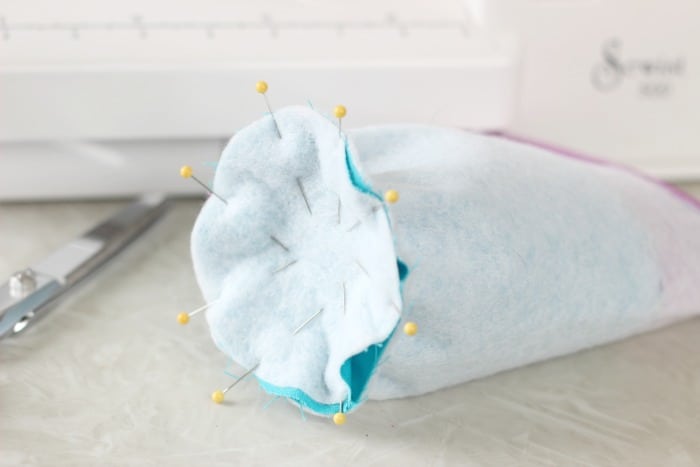 Fuse circle of interfacing to the bottom of your outer circle fabric (turquoise, in this case).
Line up and pin to the bottom of your outer piece.
Repeat for lining piece.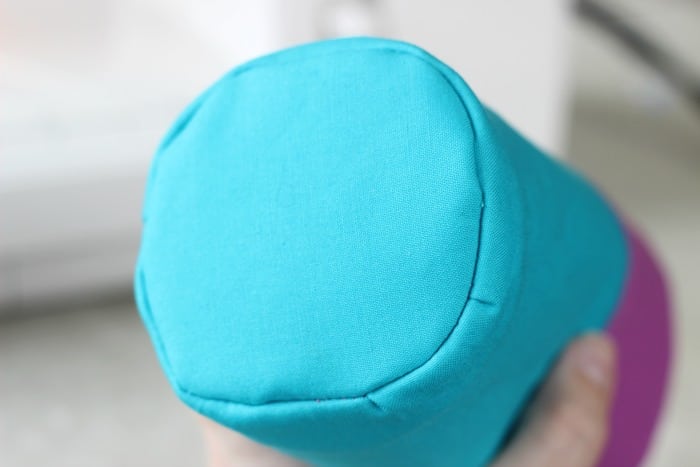 Turn outer piece right side out.
Leave lining inside out.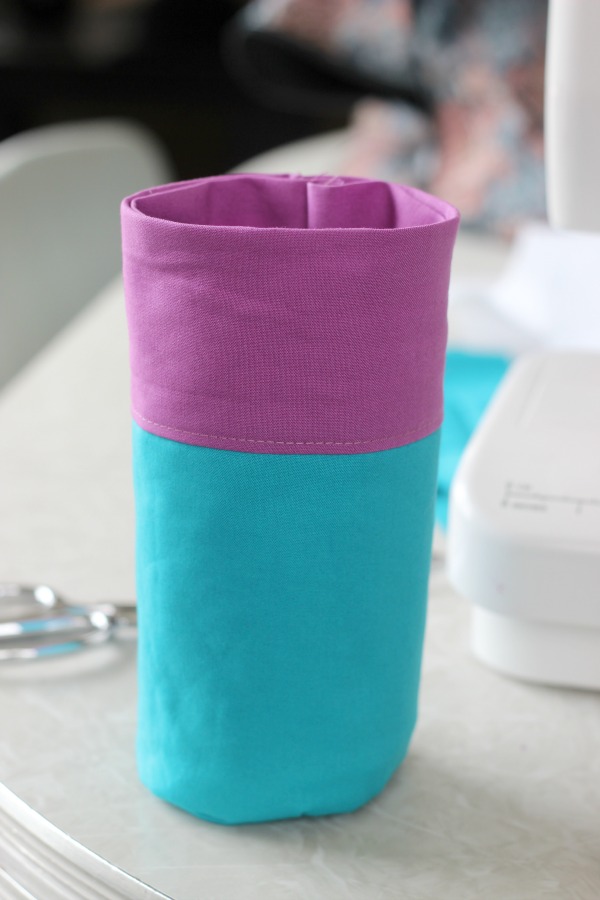 Place your lining section inside the outer section, lining up side seams.
Set aside.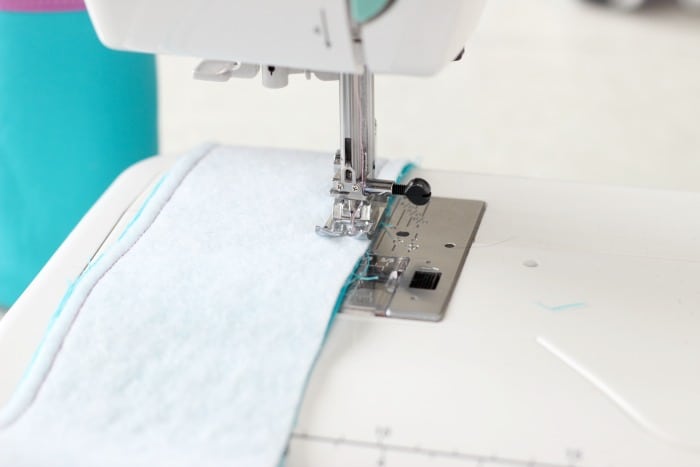 Fuse (iron) interfacing to the back of one of the strap sections.
With right sides together, and the interfacing on top, stitch side seams, leaving ends open.
Turn right side out.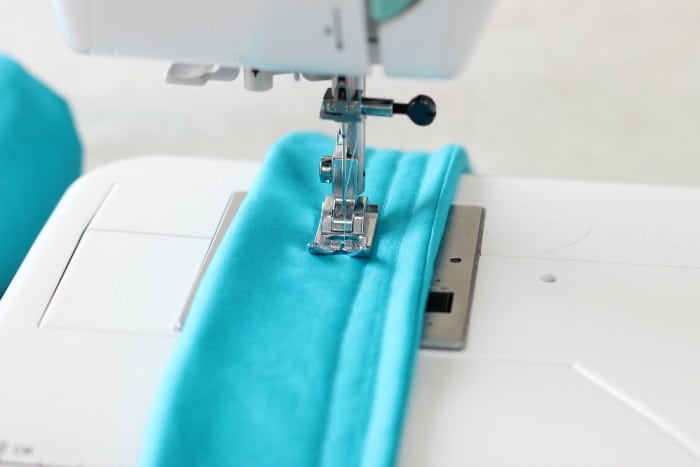 Top stitch down the length of the strap several times for stability. I lined up my pressure foot to the edge and used that as a guide.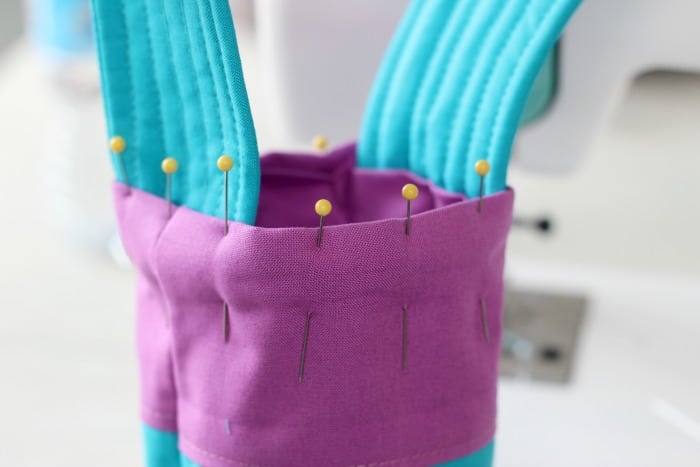 Slide straps in-between outer and lining sections. Pin in place.
Pin all the way around, lining outer and lining sections a that top.
Top stitch all the way around the top.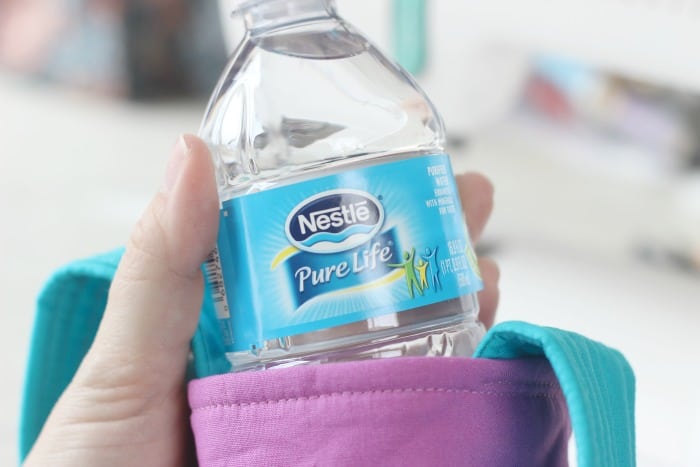 Slide a water bottle inside and you are all set!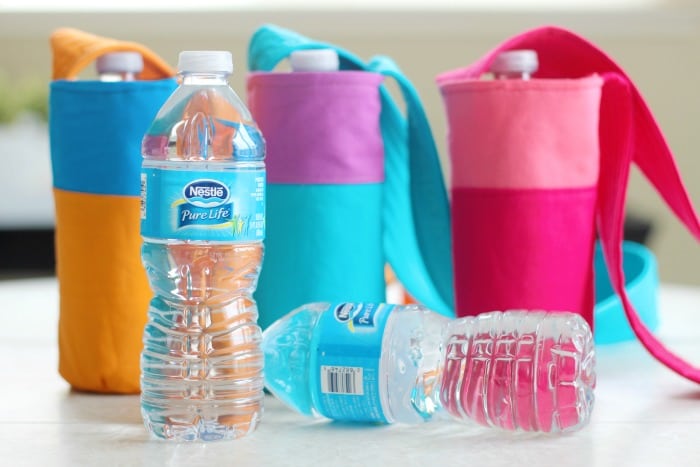 If you are planning on doing some traveling this summer and taking photos you might also want to whip up this fun and comfortable
camera strap cover
!