Last week I made the most delicious Verde Chicken Enchiladas.   I really wish I could take all of the credit for them, but I have to hand the praise over to
Kraft Recipe Makers
!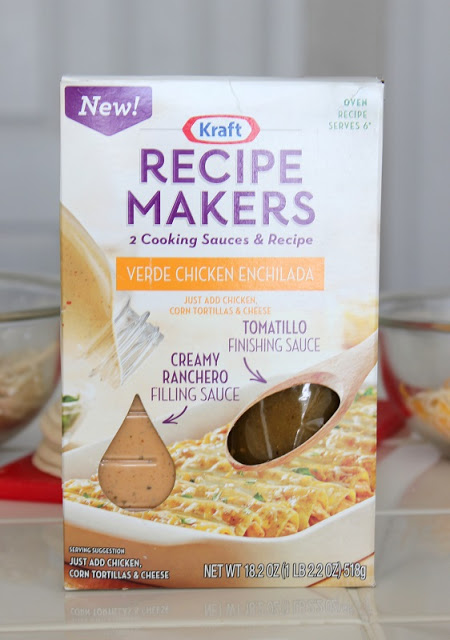 Have you heard of this new line of meal starters?
Kraft Recipe Makers
are combinations of two savory sauces that along with your fresh ingredients make one of three fabulous dishes.  Kraft Recipe Makers can be prepared in a variety of ways, depending on the Recipe Maker you choose: slow cooker, oven, or skillet. With a variety of flavors and dishes, you're bound to find one to fit the cooking method you are looking for. I found them at my local Safeway in the soup aisle, near the other brands or meal starters. I chose the Verde Chicken Enchiladas
Recipe Maker
 to cook in the oven.  The box gives you a recipe on the back. You just grab a few ingredients from your refrigerator and add them to the delicious sauces they have prepared for you. Here is how my dinner prep went.
I prepared 4 cups of shredded chicken in my pressure cooker, measured out a cup of cheese, and set out 12 corn tortillas.
I dumped the entire bottle into my shredded chicken and mixed it up.
Then I spooned 1/4 c. of chicken into each tortilla and placed them in the casserole dish that had a nice layer of verde sauce already in it.
I added the shredded cheese on top and baked it for 20 minutes.
We paired it with a fresh green salad and dinner was done. My husband said he enjoyed it, but I didn't just enjoy it. I LOVED it! I've tried meal starters from other brands or boxed dinner short cuts and haven't been impressed. I like a fresh taste, not a processed or high sodium one. This was just that. A fresh, homemade flavor that we all enjoyed.
 Look at these goody kids. They were leery of "the green stuff in the sauce", but all finished their plates, with the exception of Ruby, who rarely eats her dinner.
I will be making these again.