This cherry pie recipe is delicious and a show stopper with its lattice crust. I'll share two methods for making homemade cherry pie filling, both are equally delicious! This post contains affiliate links.

Is there anything better than fresh fruit from the tree? It's cherry season here and that is my favorite time of year! Last year I made countless stops to roadside fruit stands to get baskets of sweet cherries. I was so fortunate this year to be able to pick my own from the most beautiful 35 year old cherry tree. It produces thousands of cherries each year. In order to reach them we had to climb up ladders and reach way up into the tree. Derrick and I enjoyed an impromptu date night and went to visit our friend, Lamarr, and help him pick some cherries. He said he would be so sad if any went to waste so I am very glad we could help him out and bring home a bucket for our family. We passed them out to the kids' teachers at school and family, and still had so many to enjoy.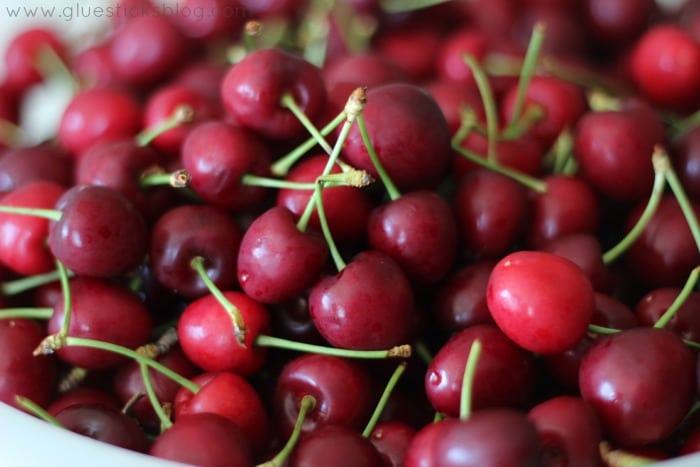 Usually the cherries we bring home don't last long enough to do anything else but eat them fresh. Since we picked a large bucket of them I made some pies. Lamarr said that most people say not to use bing cherries because they are too sweet, but if you lower the sugar content in the recipe they are just fine. He showed me his favorite pie containers that he buys at Walmart. They are just disposable aluminum pans with a top and bottom plastic cover so that you can stack and freeze them. I picked up a couple of packages of them at the store and was ready to get to pitting all of those cherries!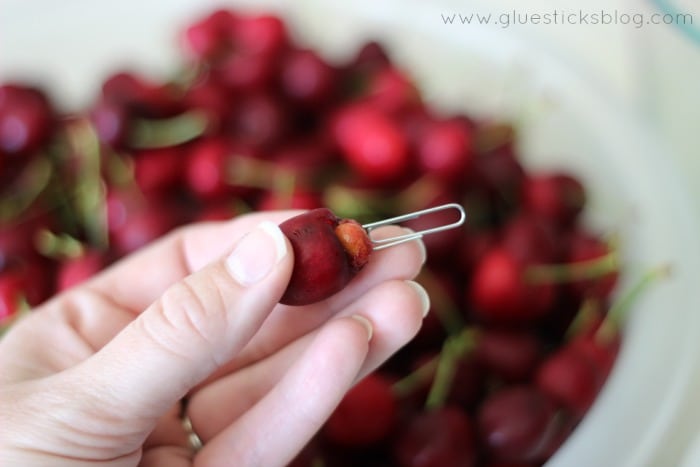 To easily pit a cherry, use a small paper clip!
Pull out the stem and poke the paper clip inside and it will loosen the pit. The pit falls right out. It still takes awhile to get enough for two pies, but it wasn't hard. Gloves are a good idea unless you want your hands to look like you smeared self tanner on them. Cherry juice stains them brown.
After I posted this my cousin told me about a method she uses to pit cherries and so I tried it! I took a frosting tip and sat it on top of a cutting board and pushed the cherries onto it. As the frosting tip pressed against the bottom of the cherry, the pit popped right out. There was a little juice spraying out so just make sure to wear an apron, but it was very fast. Probably faster than the paper clip method.
So now there are two quick and easy techniques for ya!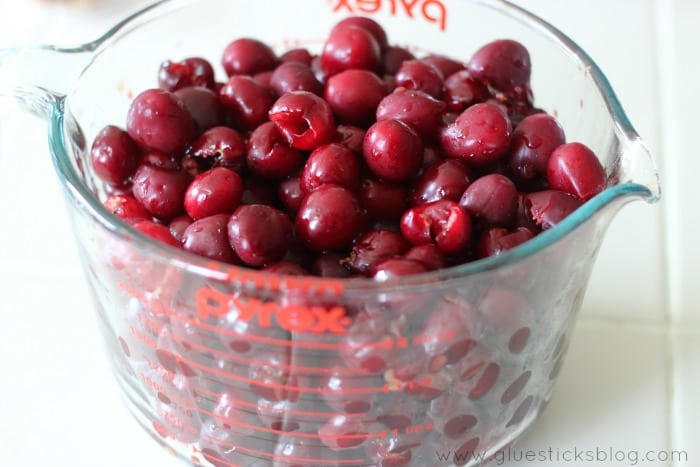 8 cups of fresh pitted bing cherries, enough for two pies! Alternatively, you can use a cherry pitting tool. Done and done!
Fresh Cherry Pie Recipe Made 2 Ways!
This is my favorite pie crust recipe because it uses both butter and shortening. The perfect, flaky, crust that is easy to work with.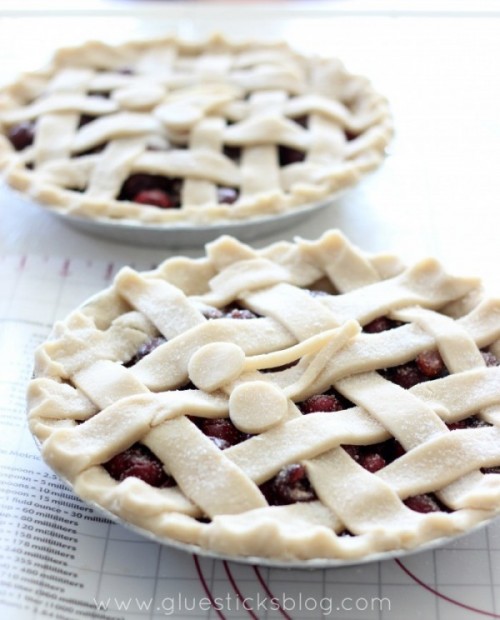 Perfect Pie Crust for Cherry Pie Recipe
adapted from my trusty Betty Crocker Cookbook
(makes 2 crusts for a double layered pie)
2 c. flour
1 tsp. salt
2/3 c. shortening
3 T. cold butter
2 tsp. canola oil
1/3 c. milk
1 T. vinegar or lemon juice
Mix flour and salt in bowl. Cut in shortening and butter with a pastry blender or two forks until it resembles coarse crumbs the size of peas.
Combine milk and vinegar in a small bowl. Add to flour mixture along with oil and mix until all flour is moistened.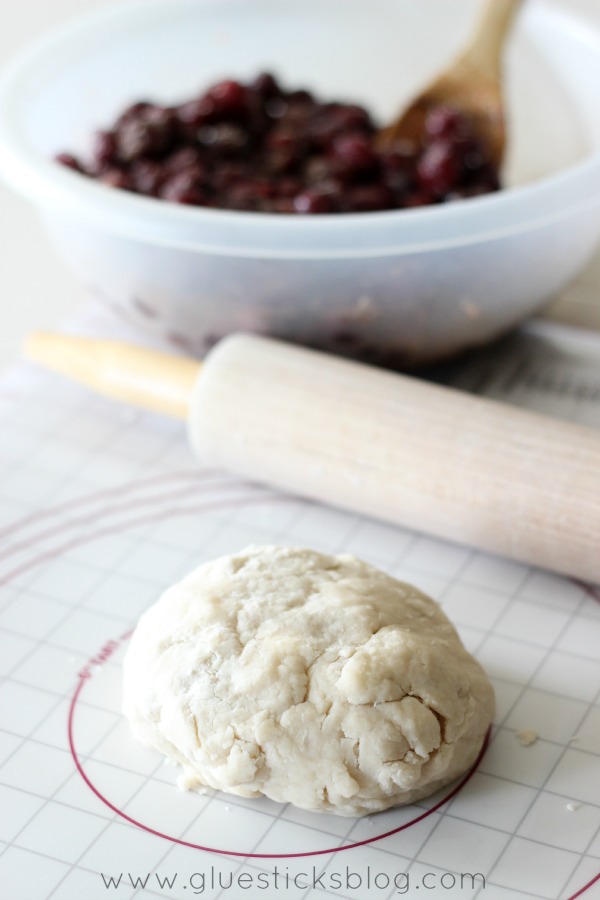 Divide dough in half and cover unused portion. Roll out the other portion and line the bottom of your pie pan.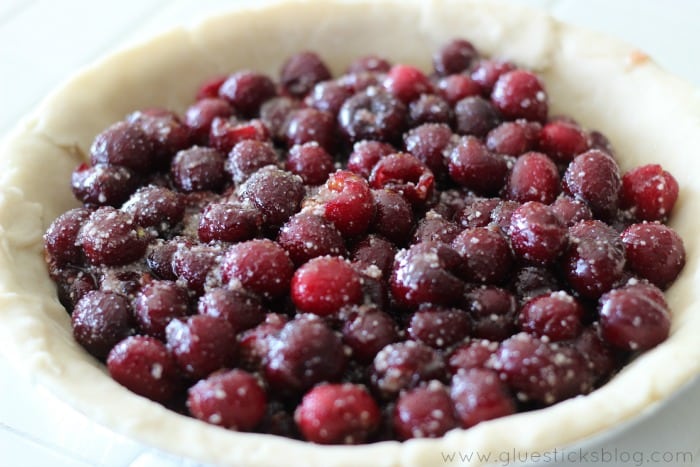 There are two ways that I like making cherry pie filling for this cherry pie recipe. I'll share both and you can decide which one to use! One is thickened with cornstarch and is very similar to what you'd purchase at the store. The other is thickened with tapioca pearls and requires no cooking.
Fresh Cherry Pie Filling (Corn Starch)
4 c. fresh cherries, pitted
1/4 c. water
1 1/2 T. lemon juice
1/3 c. sugar
3 T. corn starch
1/4 tsp. almond extract
Heat cherries and all of the filling ingredients in a medium sauce pan. Bring to a boil, while stirring. Reduce heat to low and simmer for 10 minutes, stirring frequently. Allow filling to cool before pouring into pie crust.
If you liked this filling you'll love our cherry pie cookie bars.
Fresh Cherry Pie Filling (Tapioca)
4 c. fresh pitted cherries
3/4 c. sugar
1/4 tsp. salt
1/2 tsp. vanilla
4 T. quick tapioca
2 T. butter
In a large mixing bowl sprinkle ingredients over cherries. Stir and let sit for 15 minutes. Pour into pie crust. Dot pie with butter.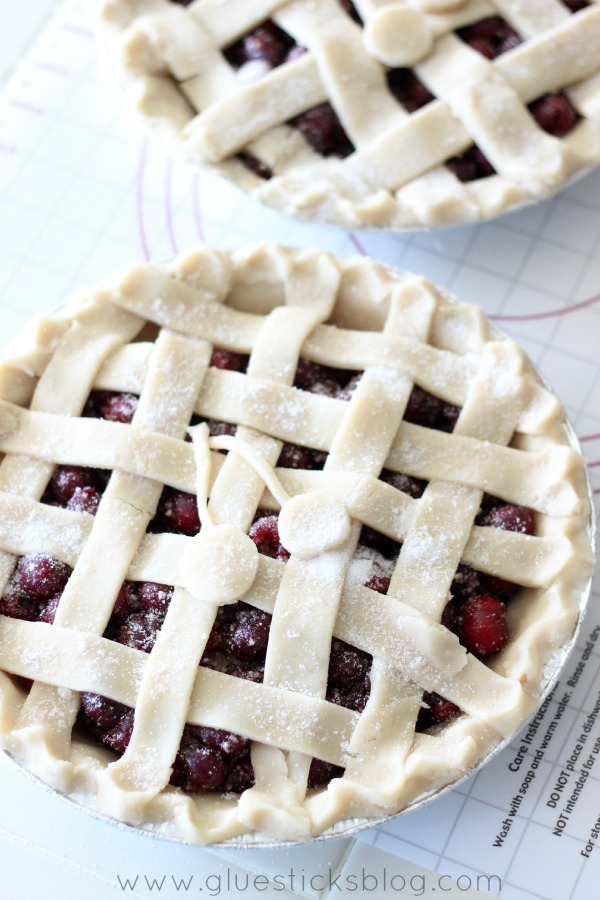 Add top layer of crust and place pie on a foil-lined baking sheet. If using a solid crust (not lattice) cut a few slits to allow venting while baking.
Sprinkle with sugar and bake at 400 degrees for 65 minutes.
Cool 1 hour before serving.
I made one to eat fresh out of the oven and froze the other uncooked pie for another time. I am going to let the kids eat cherries to their little heart's content (and do the same myself!) then finish off the rest of the cherries by making more pies to freeze.
If you liked this cherry pie recipe you might also like…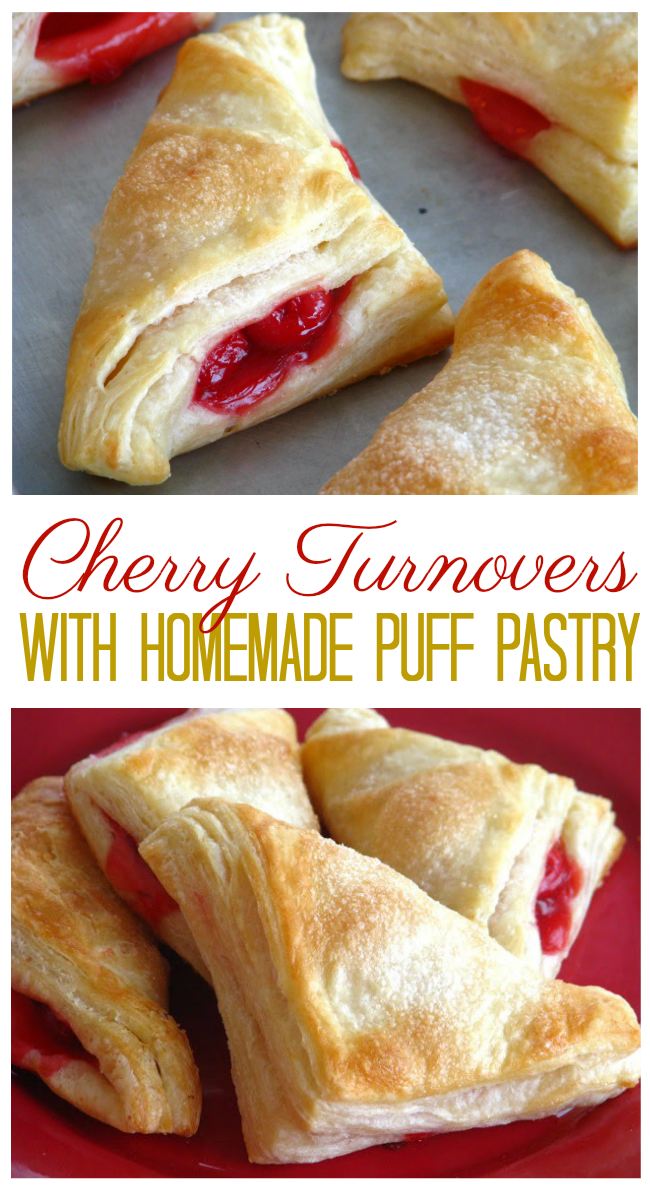 Cherry Turnovers the Old Fashioned Way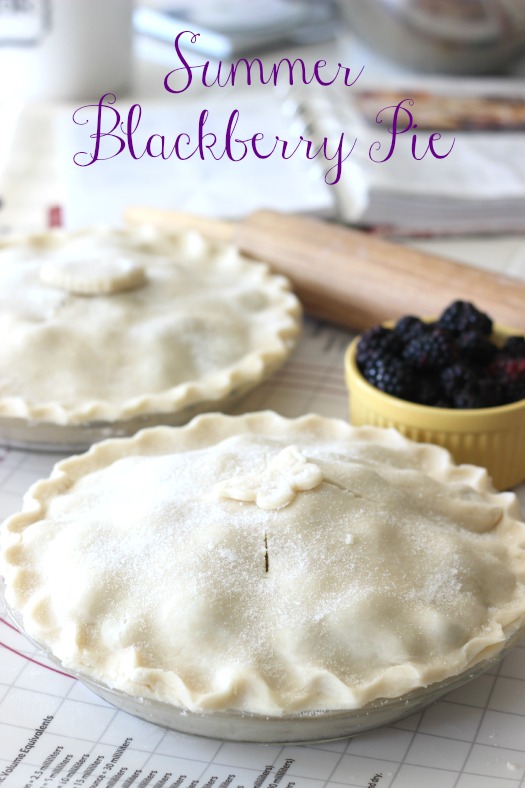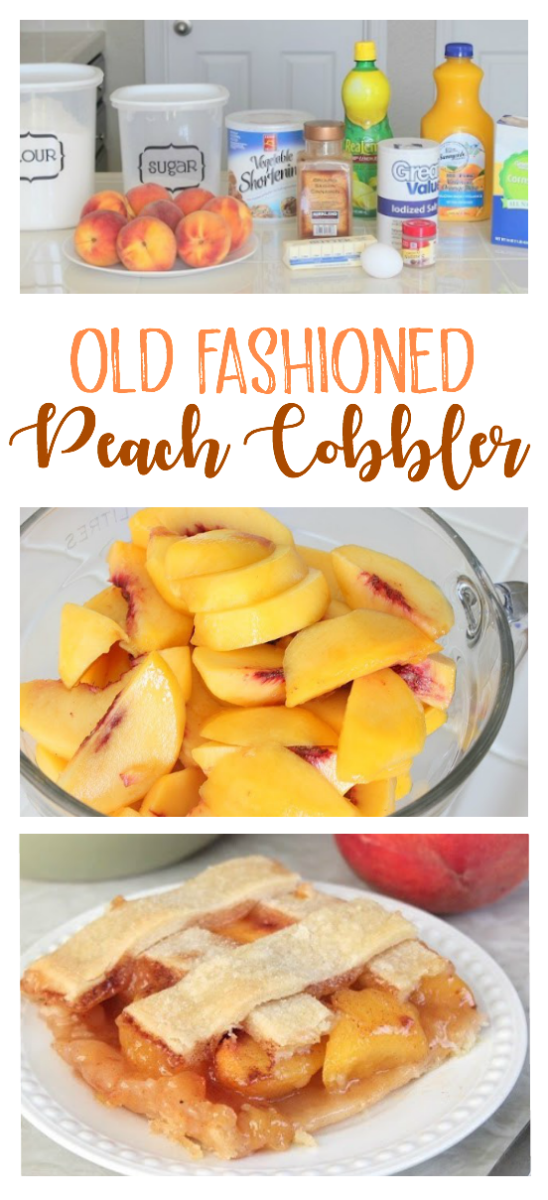 If you'd rather not heat up the house this summer try this No Bake Summer Berry Lasagna from OMG Chocolate Desserts! Relish!