I love this time of year. Everything is new and  life is beginning for the plants and flowers around us. What better theme for a baby shower? Especially for one happening in the springtime. I've created an "April Showers Bring May Flowers" mini table-scape and it was so easy to do!
There are a few  focal points, but I'd like to first draw your attention to my cloud mobile up top. It was fun to create and a very quick project that would not only work for a baby shower, but be great in a nursery too. I  have a tutorial for that and some of the other elements you see so I hope you'll come back to check those out. In the meantime, I'd love to share a few more photos and techniques with you!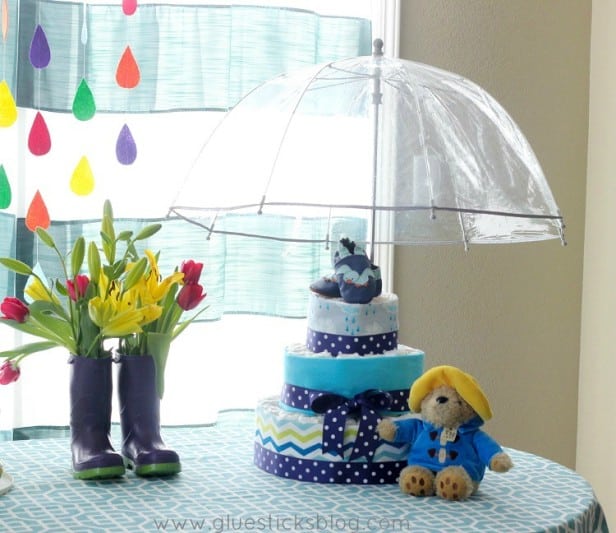 Diaper cakes have been done and over-done, but they are practical and can be a wonderful centerpiece for any baby shower tablescape. I like that they can easily be made in less than an hour. If you haven't ever made one before because you thought it would be a lot of work or intimidating, I am so happy to tell you that you have been mistaken!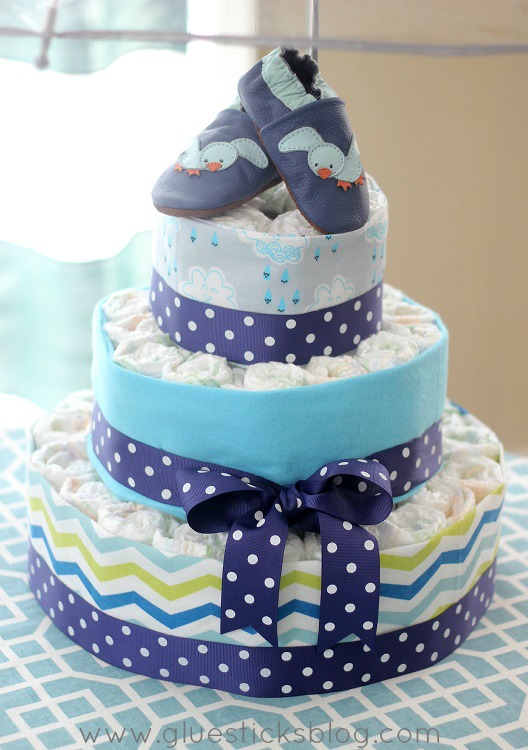 There are so many ways to embellish a diaper cake. Toys, blankets, baby care products or ribbon. I kept it simple with some nice thick grosgrain ribbon, flannel, and some soft soled baby shoes. Details on how I created this cake and where I found my supplies (and those adoreable shoes for less than $10)  are coming up!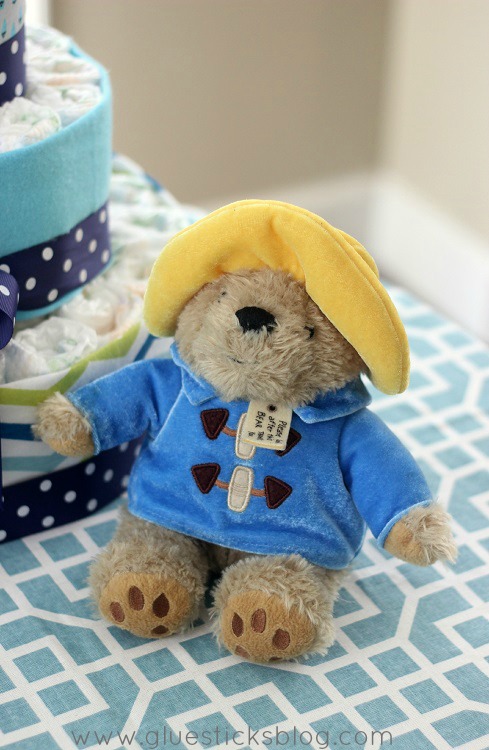 Paddington Bear is such a fun childhood book character. I thought he went nicely with the rainy April shower theme.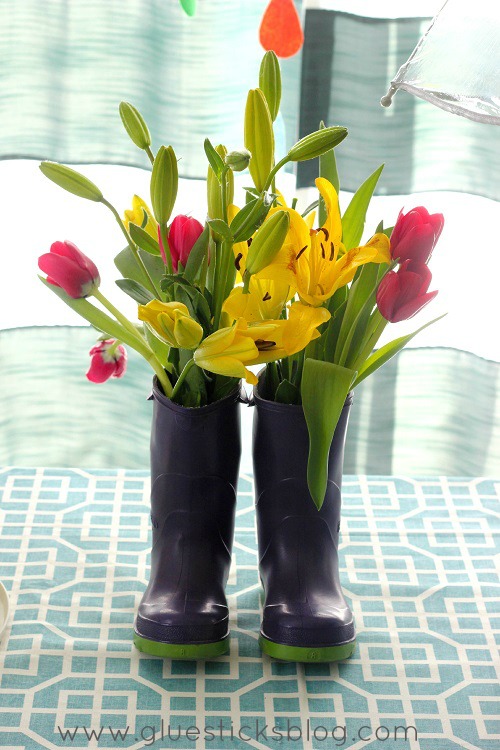 These rain boots made the perfect display for my fresh spring tulips and lillies. I put a plastic cup inside each boot, filled with water, to act as a vase. Originally I had planned to use my 5 year old daughter's new green polka dot rain boots, but she left them outside over the weekend and the puppy got to them. Such a shame! These are my 2 year old's boots and they were a great back up for my table.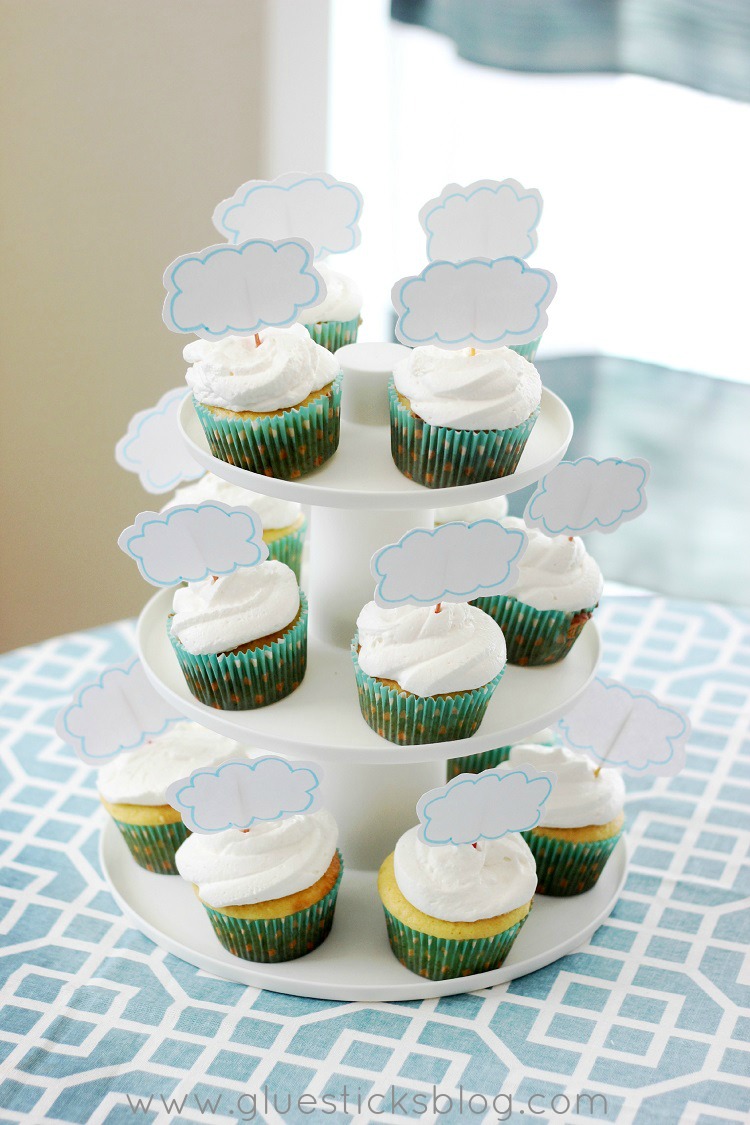 When making cloud cupcakes, a lighter-than-air frosting is a must! You won't believe how easy these lemonade cupcakes were to make and the frosting is to die for. I love all things lemon so I say that about pretty much anything that is full of that wonderful flavor. 2 ingredients is all you will need to make this light, melt-in-your-mouth, frosting.  I'll be sharing my recipe with you very soon! Card stock cut out into cloud shapes and outlined with a marker made for no-cost cupcake picks.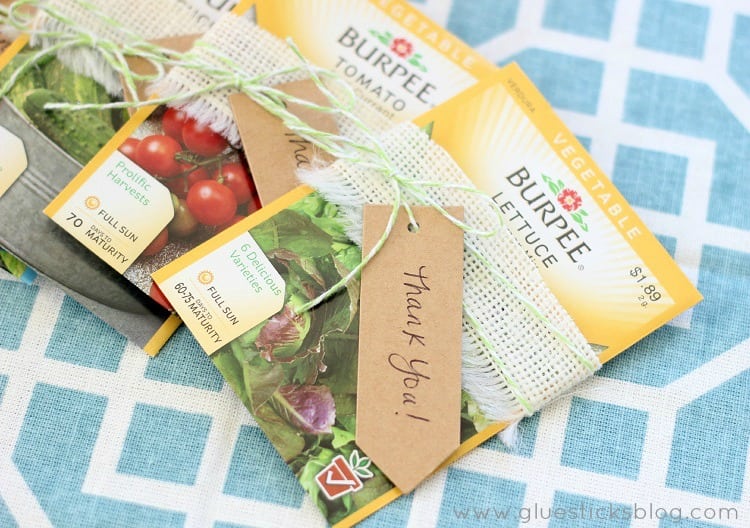 There are many fun ways to say, "Thank You!". Mini potted flowers, a carnation stem, small jars of candies, etc. I thought I'd keep it simple with seed packs. You can find these all over the place and a lot of the time for less than $1. Wrap with a small strip of burlap and attach a tag with twine and you have the perfect little appreciation gift for your guests.
This post is part of my Baby Shower Event on Gluesticks! Check back for more the tutorials for the projects highlighted above, as well as many more ideas on everything baby shower related!