This post was most recently updated on February 24th, 2020
This 10-minute teddy bear sleeping bag tutorial is a great beginning sewing project for a child and also makes a great gift. Keep teddy warm and cozy wherever you go. It will fit any 15-16″ stuffed animal. This shop has been compensated by Collective Bias, Inc. and its advertiser. This post contains affiliate links.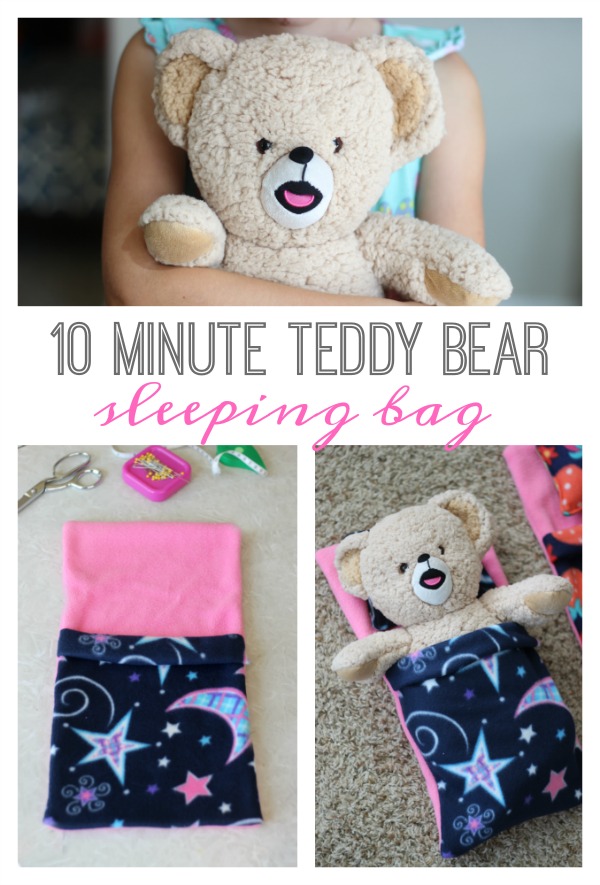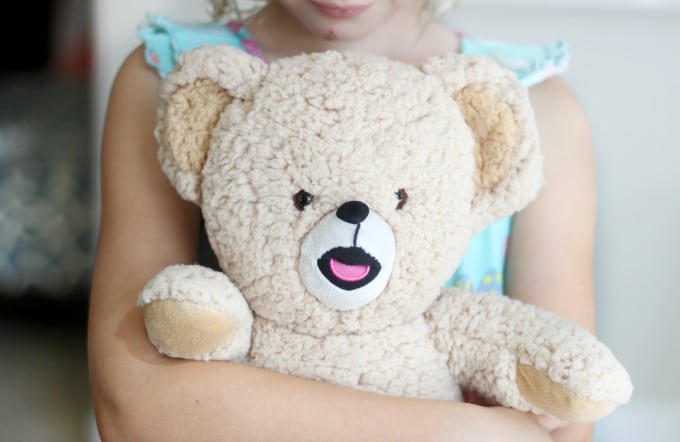 We all have that one toy that we remember above the rest from our childhood. Mine was a teddy bear that my aunt gave me. A Snuggle® bear to be exact. She gave my sister and I each our own when we were 3 and 4 years old and we adored them! We would stay up at night talking in our room and when my mom would tell us to quiet down and go to sleep we'd say, "It wasn't us talking, it was our Snuggle bears!" True story…the bears wouldn't keep it down 😉
My bear is long gone and I had no idea that Snuggle bears were still around until recently. So when I found out, I had to have one again!  My girls love having something cozy to sleep with at night and so we adopted our very own into the family. He is bigger than the one that I had but just as soft. Ruby said he feels like a lamb. And, of course, we made him a sleeping bag because every stuffed animal needs one, right?
This is such a quick project and one that is simple enough for a child to help make. Since most children have a teddy bear or other stuffed animal about this size (15″-16″), it would make a great gift to bring to a birthday party! A cozy fleece sleeping bag and pillow.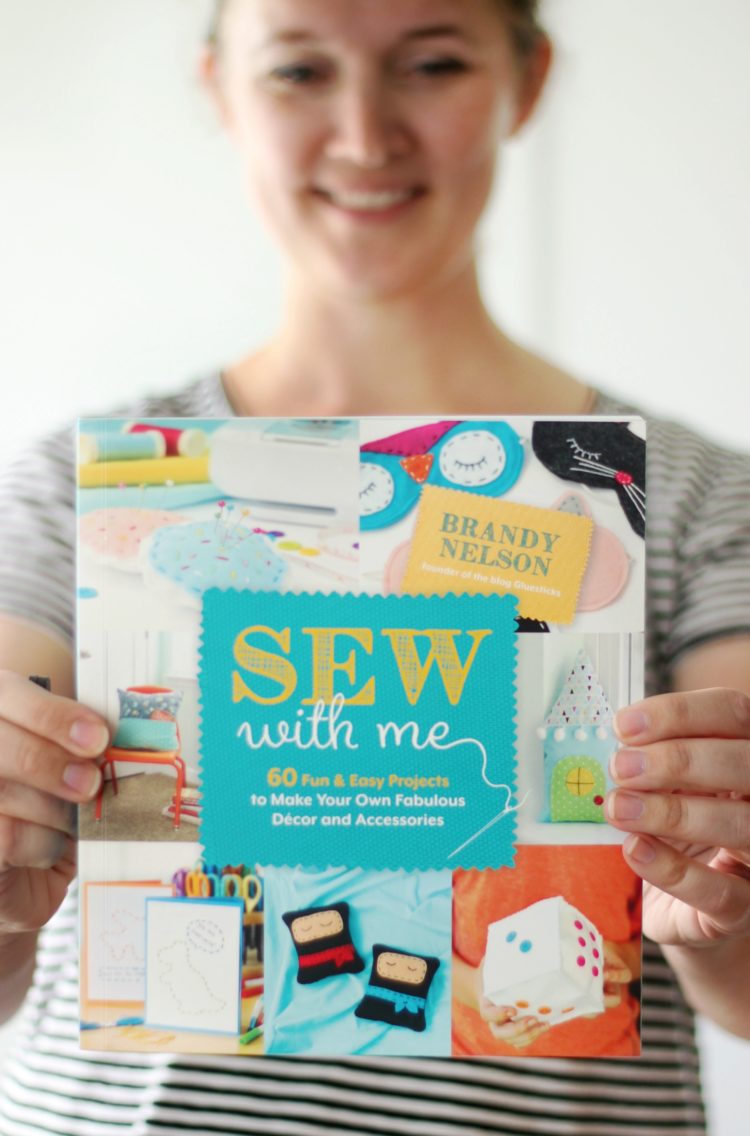 For 60 more sewing projects just like this one, check out my sewing book for kids!
3 more sewing projects for kids!
10-Minute Teddy Bear Sleeping Bag Tutorial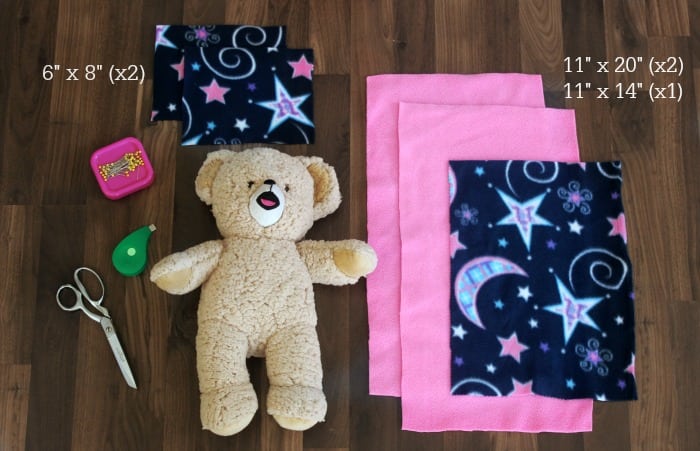 Supplies: 
11″ x 20″ rectangle of fleece (cut 2)
11″ x 14″ rectangle of fleece (cut 1)
6″ x 8″ rectangle of fleece (cut 2 for pillow)
pins
measuring tape
scissors
sewing machine
small amount of polyester fiber-fill for pillow
Before you begin your project, make sure to prewash your fabric to prevent shrinkage. The only time that I don't prewash my fabrics is when I am making a quilt and actually want it to shrink down a bit in the dryer when completed.  For every other project, a quick wash is all you need. And since this is a project that you want to be soft and cozy, add a bit of Snuggle® fabric softener (according to the package instructions) to your load. 
Lay one of the longer pieces of fleece on your work surface, right side up. Place your shorter piece (11″ x 14″) on top, matching edges. Fold shorter piece over 1 1/2″. Fold over again. Pin. This makes it look like the sleeping bag is rolled down a bit. (I'll refer to this section as the "folded edge" in this tutorial.)
Place the 2nd longer piece of fleece on top, sandwiching the shorter one inside. Pin all the way around, leaving the bottom open.
Sew sides and top, leaving bottom edge completely open. Trim corners. Turn right side out. The folded edge should be inside out.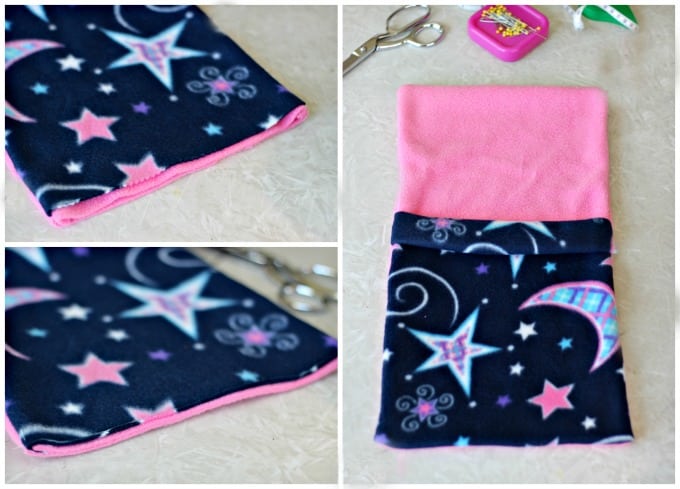 Sew the bottom seam. Trim seam.
Fold your sleeping bag again so that the folded edge is now facing out.
Now for the pillow: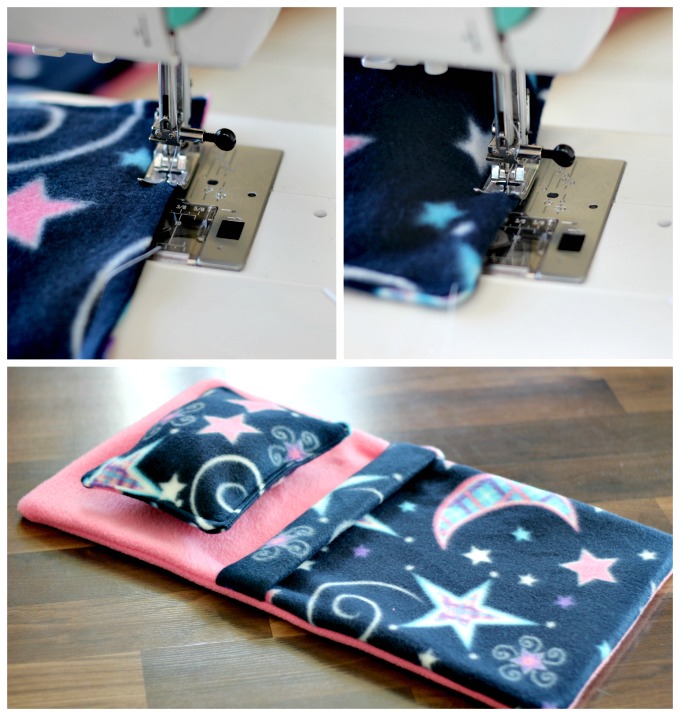 With right sides facing, sew all for sides of the fleece, leaving an opening to turn right side out. Clip corners, turn right side out and fill with polyester fiber-fill. Top stitch around the entire pillow, catching the seam of the opening as you go.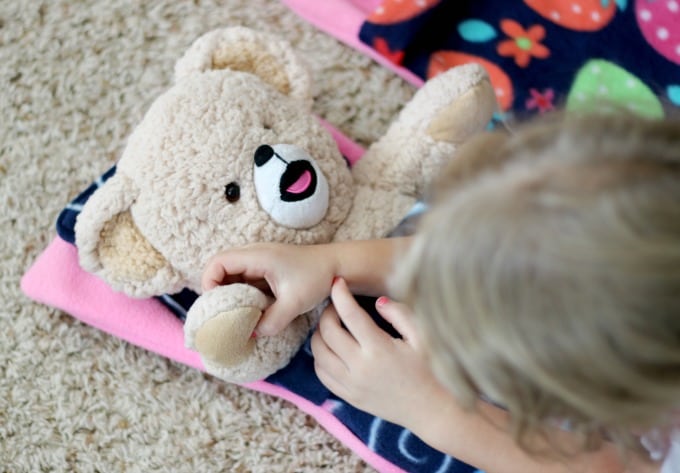 We made a sleeping bag for each of the girls' teddy bears for bedtime snuggles.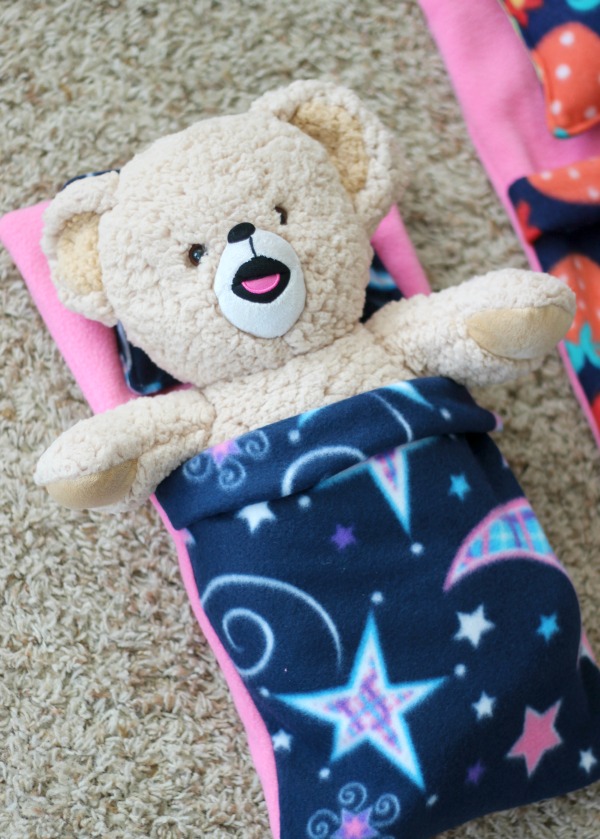 Did you have a special teddy bear when you were a child? What is your favorite memory with him/her?
Looking for some fun outfits to make for your teddy bear? Check out these cute DIY teddy bear clothes!