A quick and easy easy teddy bear pattern in two sizes! A great sewing project to make with kids, and perfect for Operation Christmas Child shoe boxes, too! This post contains affiliate links.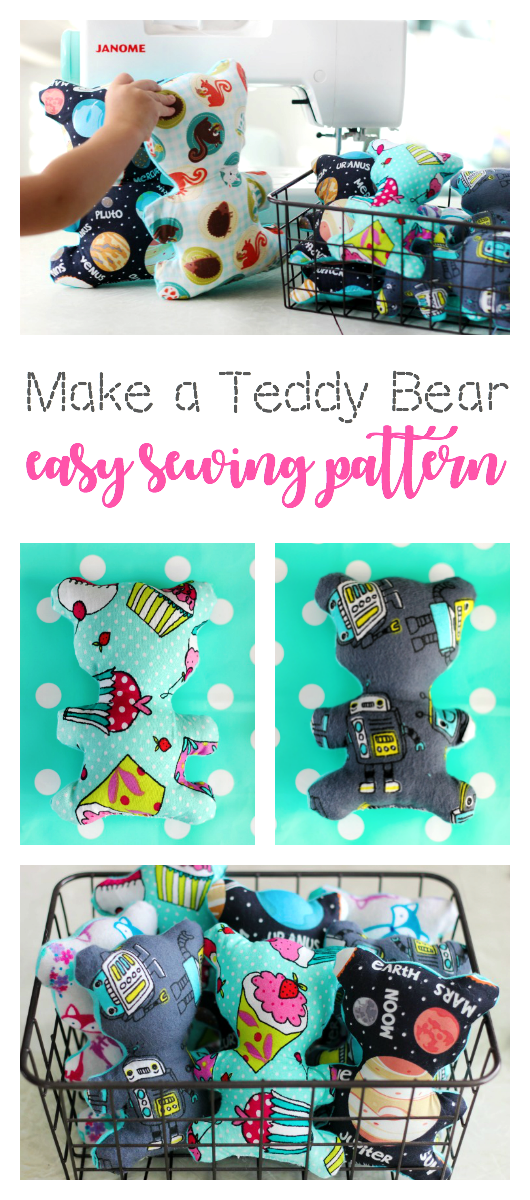 Recently the ladies at church made 100 teddy bears to donate to the local hospital. I brought Kaylee with me and she helped stuff the bears while I sewed them up!  She even asked the gal in charge if she could bring a teddy bear pattern home to make her own. The ones we made for the hospital were 10″ tall. Super fluffy and cozy and made form the cutest fabrics! I knew they'd be such a great sewing project for kids to make as gifts. Think birthdays, Christmas or Operation Christmas Child shoe boxes!
I reduced the teddy bear pattern down to make smaller 6″ bears for our shoebox donations this year. Scroll down to download the pattern for both sizes!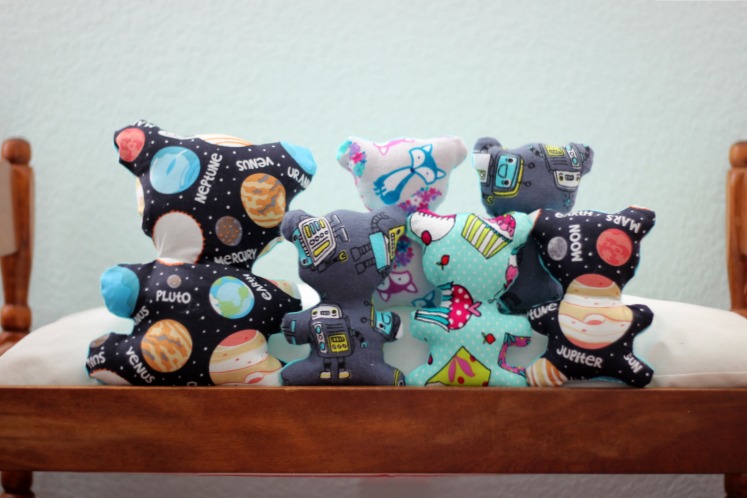 I made one for Mac and he wasn't sure that he liked it sitting on the table for the photo. Right as I snapped the photo his cute arm reached up and snatched up his bear, haha! He's been sleeping with every night for the past two weeks.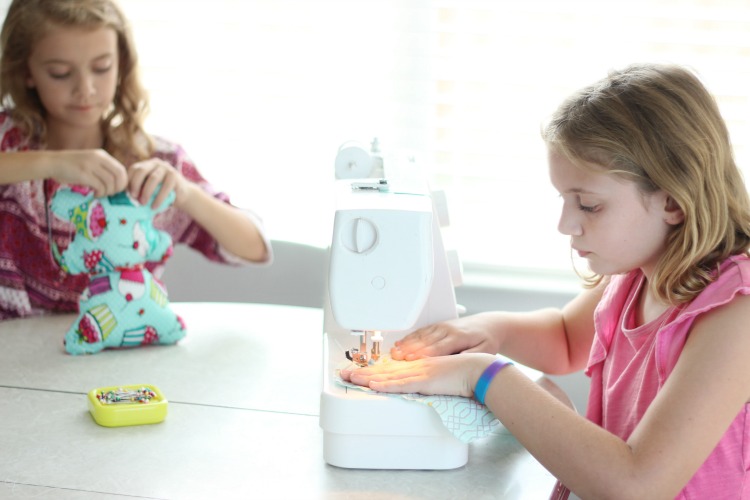 Kaylee made her bear all on her own, from start to finish!
Both sizes of teddy bears are darling, but for a kid's sewing project the 10″ bears are easier to stitch up. Simply because the curves aren't quite as tight to sew around.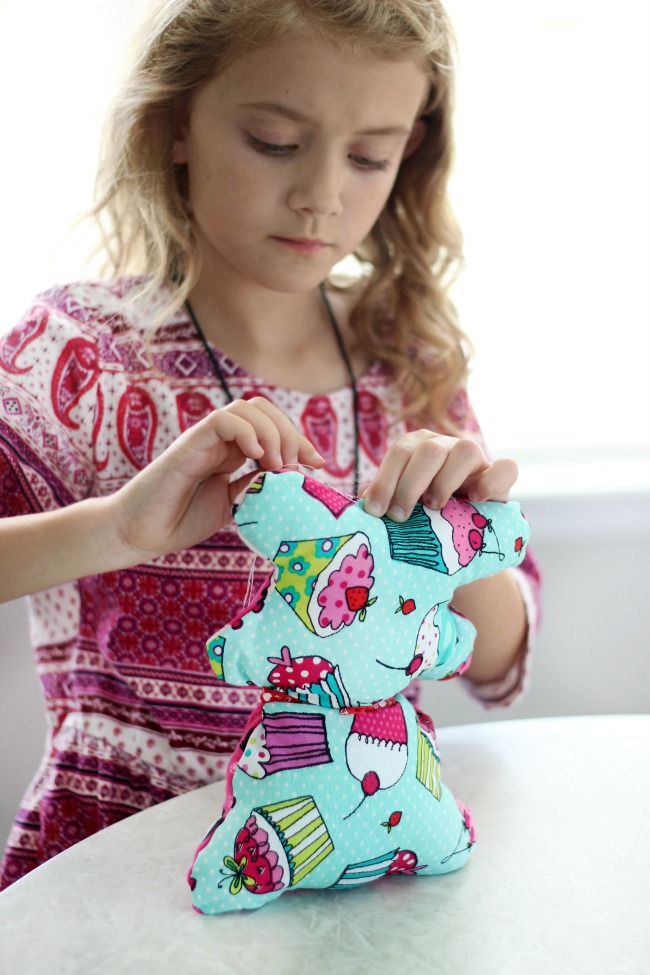 Ruby sat on my lap while we sewed her bear, then she hand-stitched it closed all by herself. She was so proud of her bear and wants to make more to give to her friends.
For more easy sewing projects for kids be sure to check out Sew With Me! My kids' sewing book with 60 step-by-step sewing projects to make with your kids! There are 3 different skill levels so there is something for everyone. Here are a few of the projects that you'll find inside Sew With Me!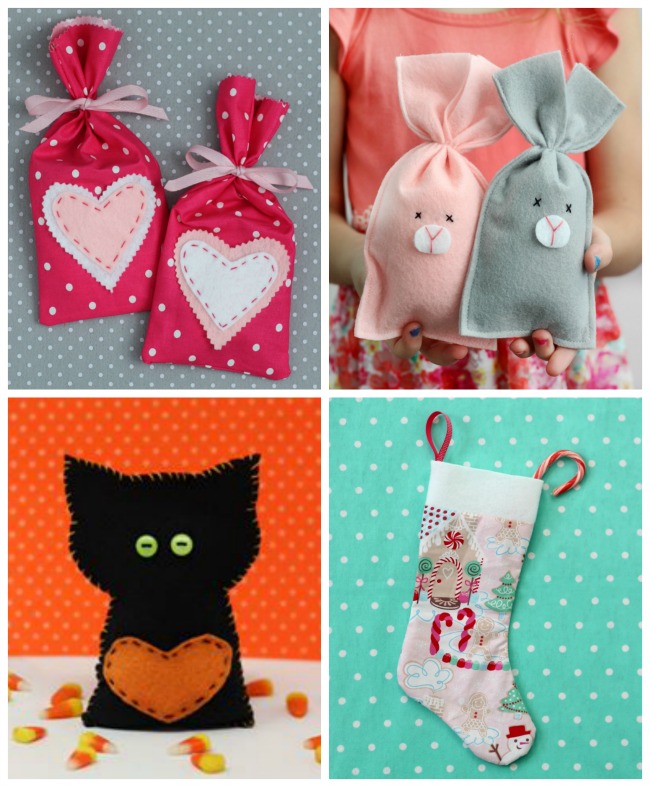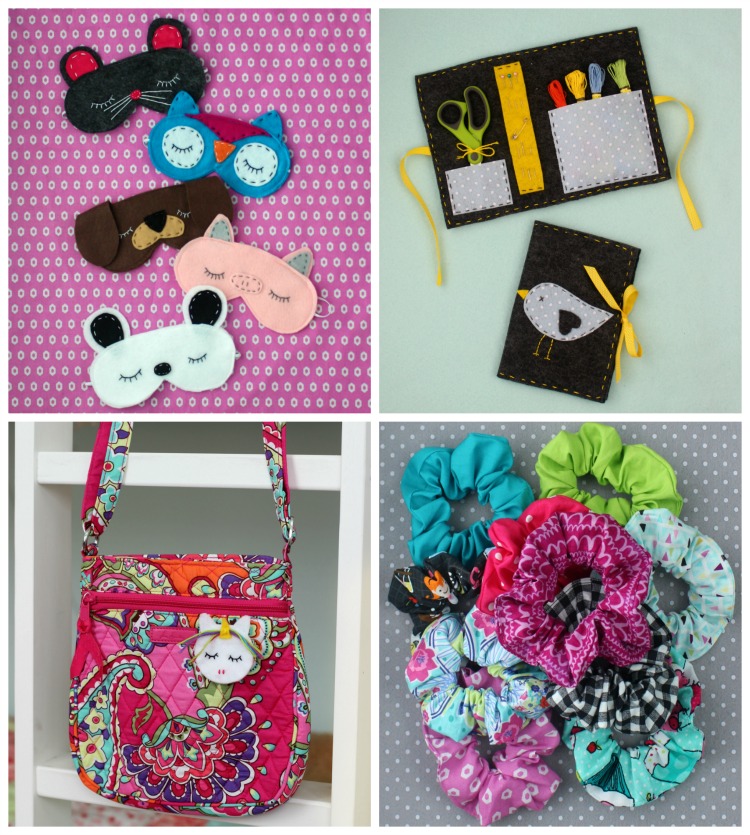 Easy Teddy Bear Pattern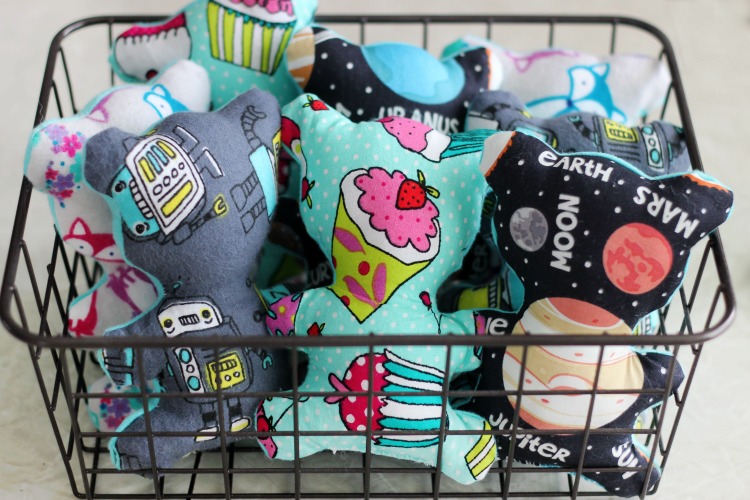 Ready to make a basket of bears? Let's get started!
Easy Teddy Bear Pattern Supplies
Cutting Template (click to download)
Fabric (printed for the front, and solid for the back)
Scissors
Pins
Sewing machine
Thread
Stuffing
Needle
Instructions: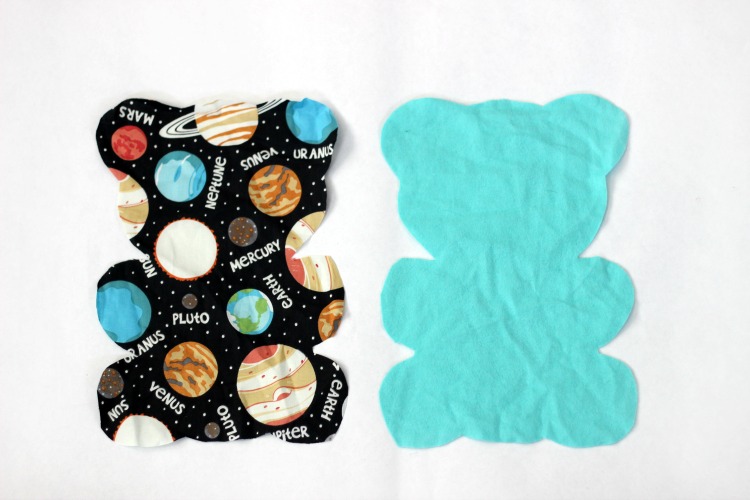 Cut out two teddy bear shapes from fabric. Cotton and flannel are great options.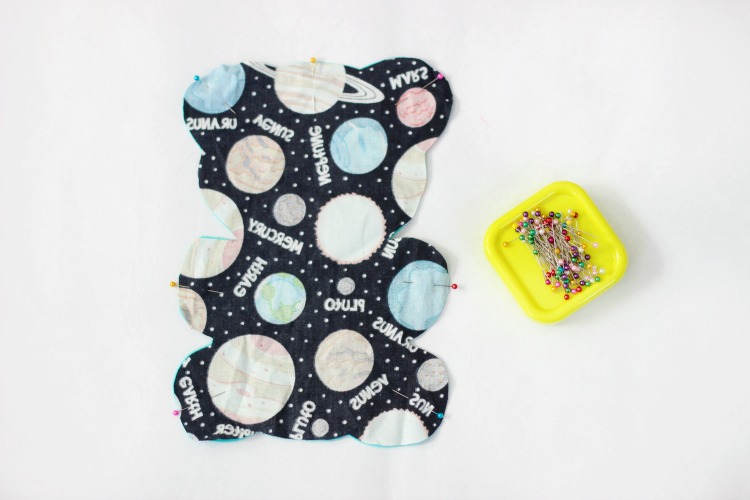 2. Pin the two teddy shapes together, with the right sides of the fabric facing each other. Leave the area between the legs open.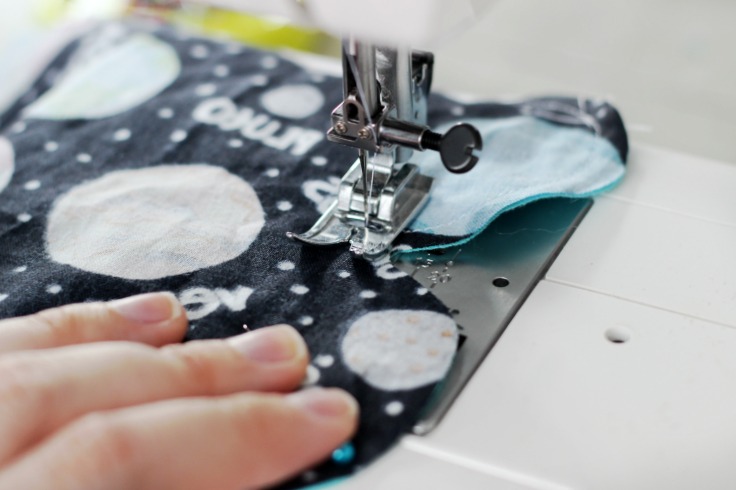 3. Sew, using a 1/4″ or 3/8″ seam allowance.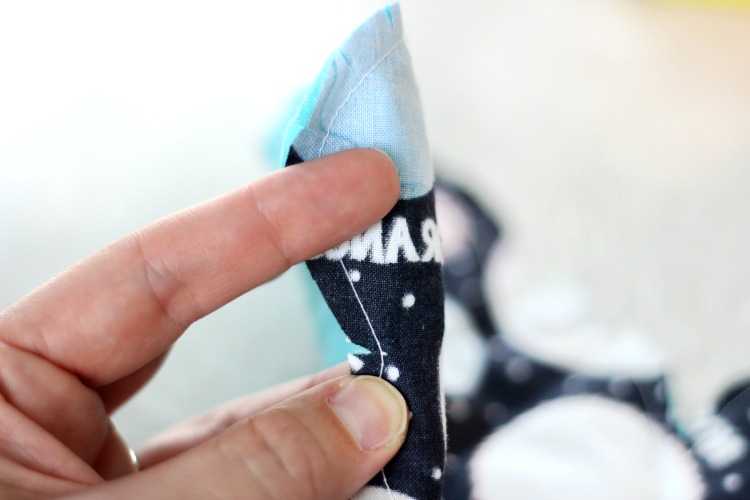 4. Clip the corners and curves close to the stitching, but do not clip your stitches! This will make smooth curves and pointy corners when you turn the bear right side out. This is such an important step to make sure that the bears don't have a wonky shape to them! 🙂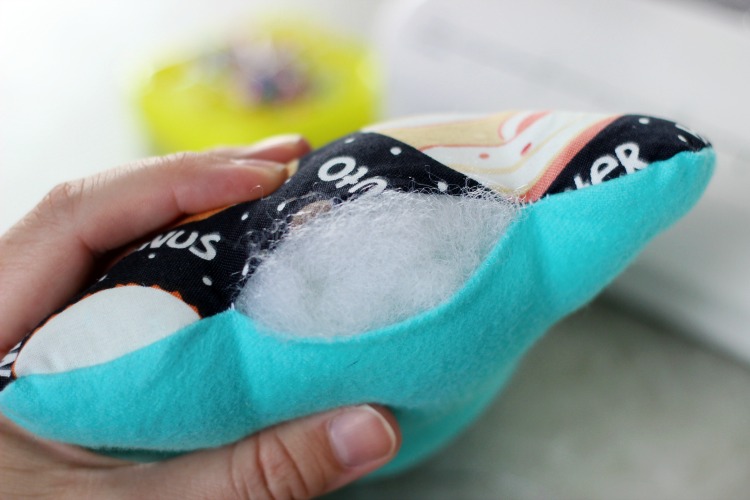 5. Turn the bear right side out.
6. Fill with stuffing, nice and tight!
7. Hand stitch closed. A whipstitch is a simple stitch for kids!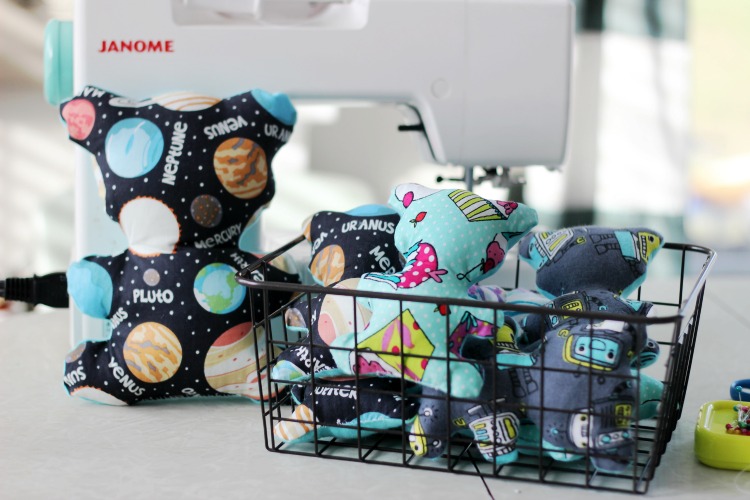 I hope our little shoebox recipients love their bears this year!