Acid Etched Jars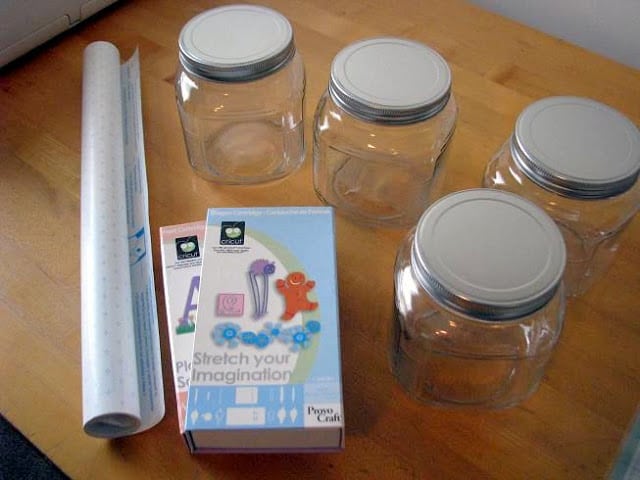 (jars purchased at Walmart for $2.97/each)
I remember making acid etched mirrors in high school and it was quite the labor intensive project. However, making acid etched projects with a cricut is so simple! The Young Women at our church recently did a Girl's Camp fundraiser and made acid etched plates to sell. They were a hit. My friend, Tanya, let me use a little bit of her acid etching to make a casserole dish for a wedding gift and these little jars. A little bit goes a long way. I hardly used anything and was able to make several fun gifts. Now I wish I had a bottle of my own so that I can make things for myself. Casserole dishes, jars….it's a bit addicting. I'll have to print out a 40% off coupon to Hobby Lobby and grab a bottle sometime.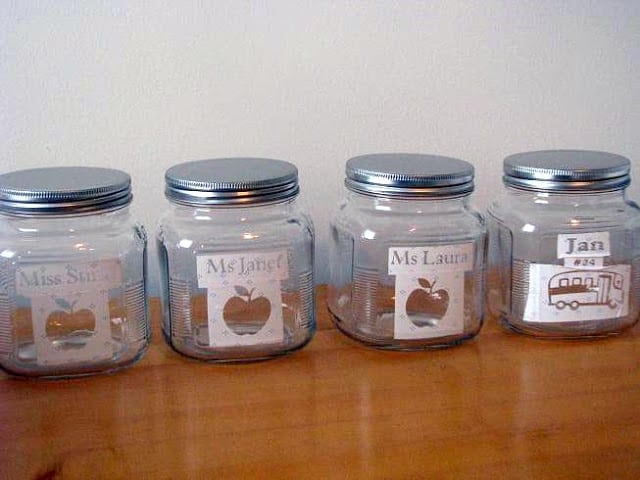 It is much cheaper to go to the Dollar Store or Walmart and buy shelf contact paper vs. buying a roll of white contact paper. It doesn't matter how it looks. You are just making your stencil from it. I used my cricut and cut out the letters and shapes, then placed them on my jars. Blade pressure was set to low. It can be a little tricky to make sure it goes on straight, but since the contact paper is reposition-able, you can do it over a few times until you get it right. Make sure there aren't any air bubbles and press it on tight. And make sure to leave a border of contact paper. You don't want your stencil to be too close to the edge of the paper. This allows enough room for you to apply your etching cream without it smearing or leaking over onto other areas of glass.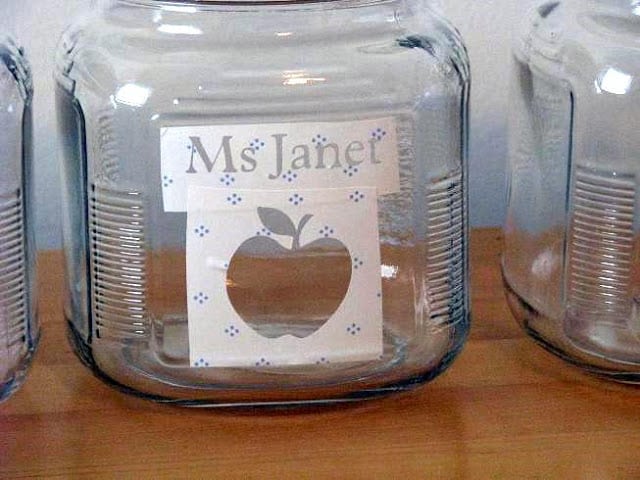 Generously apply the
acid etching cream
to the glass with a small paint brush. Covering the opening of your contact stencil entirely. I made one before and just brushed it on like I would paint. It didn't come out very solid, but very streaky. So pile it on there so that you can't see any glass through  it AT ALL.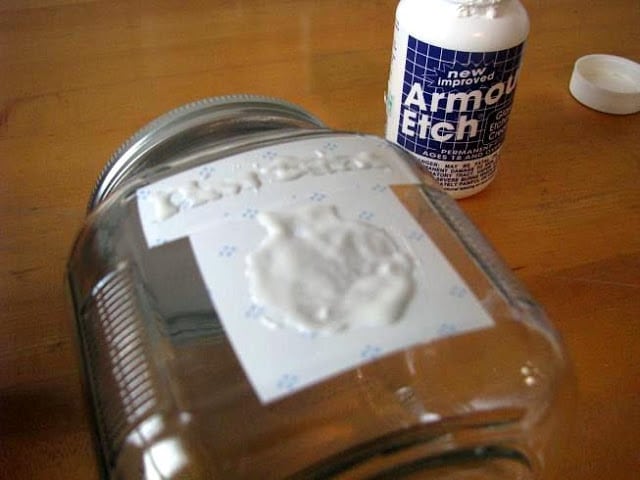 Allow to sit for about 10 minutes (just follow the directions on your bottle) and then, using your brush, remove the excess cream and put it back into your bottle. You don't have to do this, but it sure makes the cream last longer. I was able to pretty much save all of it. Then run under water until rinsed completely. Take the contact paper off while running under the water and keep rinsing until you can't see or feel any of the grainy texture. Towel dry.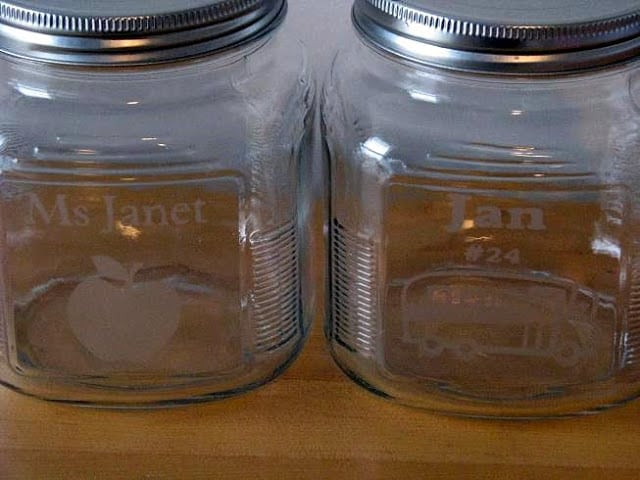 These were hard to photograph, but turned out perfect.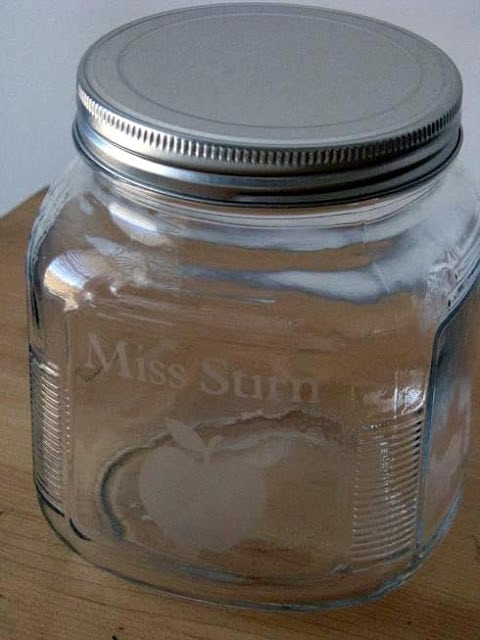 For jars, you etch on the FRONT so it goes left to right. No alterations needed. But if you would like to etch a glass plate that will be used for food or the bottom of a casserole dish, you can make a reversed stencil that will go on the BACK of the glass. To do this on your Cricut, use the "flip" feature. Then key in your lettering in reverse. For example, our name would go as follows:
"FLIP" "NOSLEN" (for Nelson)
Then you would apply your stencil to the back of the dish. This way, your dish will always have a smooth perfect finish on the front for serving and baking food on.
Now back to the jars…
I went to Target and picked up a bunch of 50% off chocolate bags. Kisses, PB Cups, and mini candy bars. They were in fall colors, but for $1 bag, I couldn't beat that. I put a small piece of black construction paper behind the etching so that it stood out and didn't blend in with the candy. It also looks like a little chalkboard! Perfect for a teacher's gift!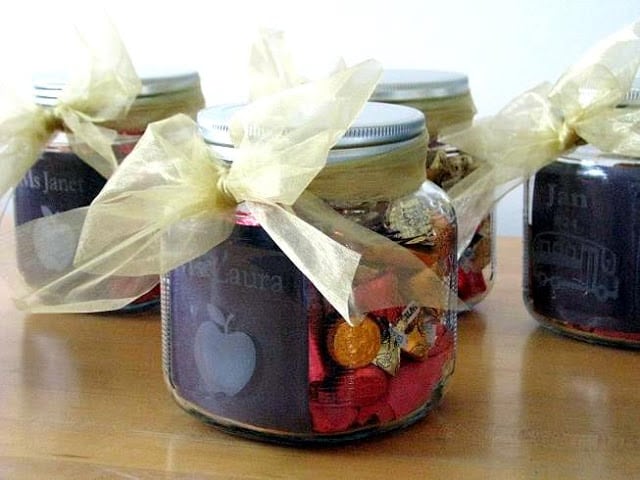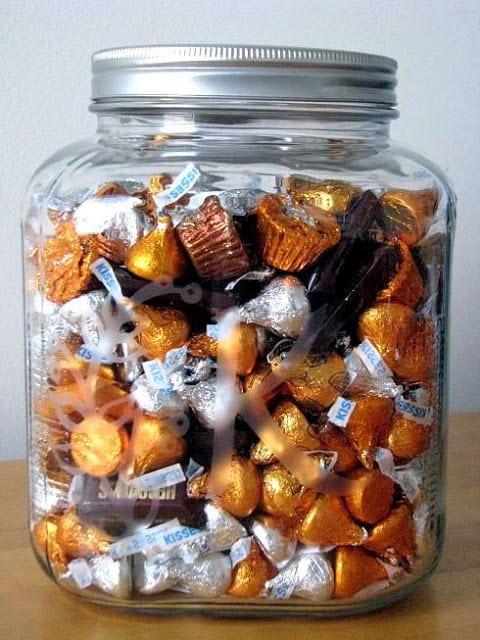 This one is for my brother, who is getting married in December. I made this along with an etched casserole dish which I will post later in December when I finish everything for their wedding gift. It didn't photograph well, but it is a "K" with a fern/berry branch to the left. I love how it turned out!
If you don't have a Cricut or a Silhouette, you can still do this. When I made my mirror in high school, I adhered  the contact paper to my mirror, transferred my images onto the contact paper using carbon paper (or you could just free hand), then cut out the contact paper using an exacto knife, taking out the centers and leaving the stencil.