These flag sugar cookies are so easy to make with rectangle cookies and red licorice! Planning a BBQ for Memorial Day or the 4th of July? Don't forget a sugar cookies station for the kids!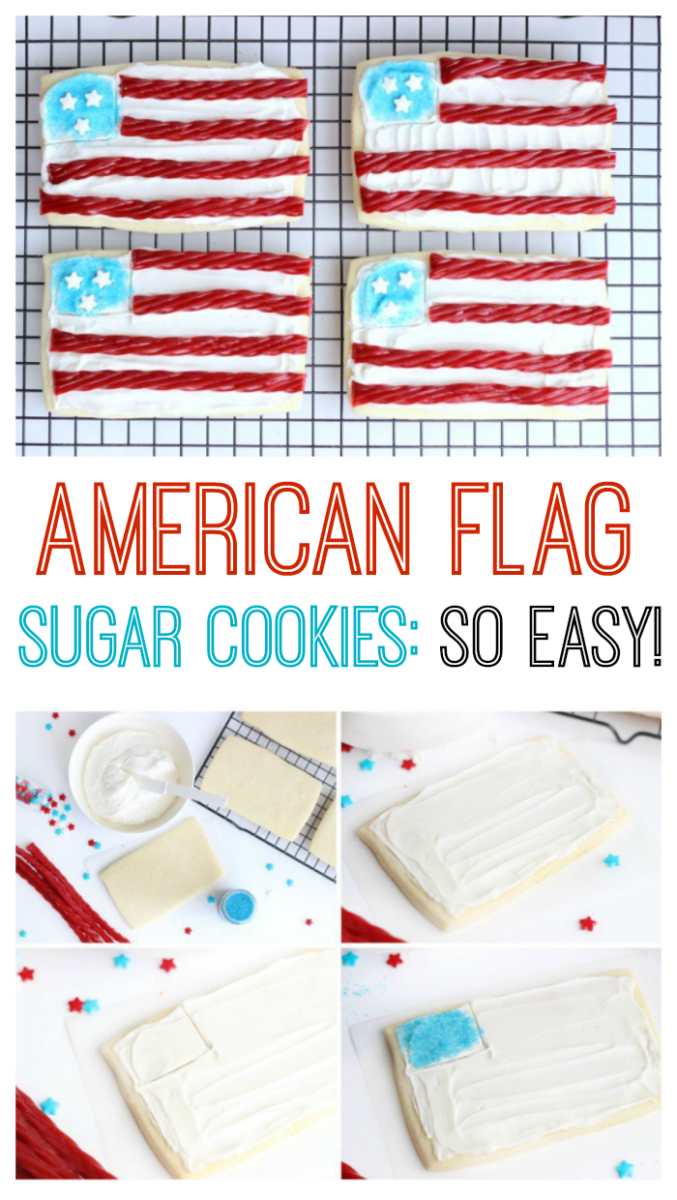 We made these flag sugar cookies for a backyard BBQ that we had a couple of years ago and they were so easy!
My kids love helping me in the kitchen so I try to include them as much as possible when it comes to meal and party planning. You can make them ahead of time or set out a sugar cookie station for the kids to use during the BBQ. The best part is that you don't have to worry about a sprinkle mess when you are outside! Just brush the sprinkles off of the table and onto the grass. And you don't have to stop at BBQ get togethers, these would be great for classroom parties and preschool activities too!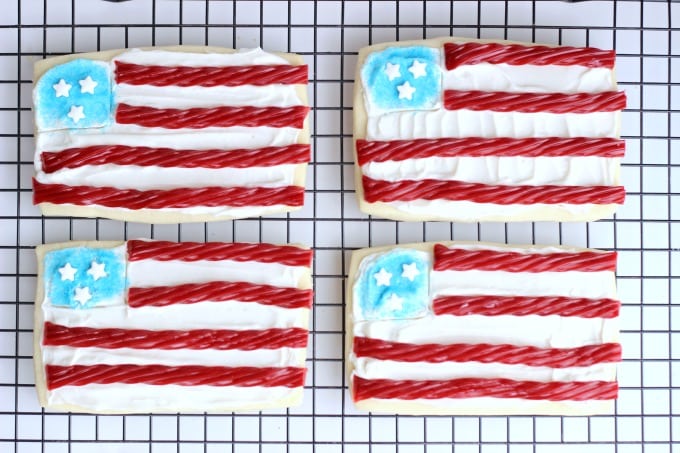 American Flag Sugar Cookies
Supplies:
1 batch of sugar cookies (recipe here)
1 container of vanilla frosting (you can use either homemade or store-bought. We used store bought)
blue sugar and star sprinkles
Red licorice  (4 per cookie)
If you use my sugar cookie recipe it will yield just over a dozen 3.5 x 5″ cookies.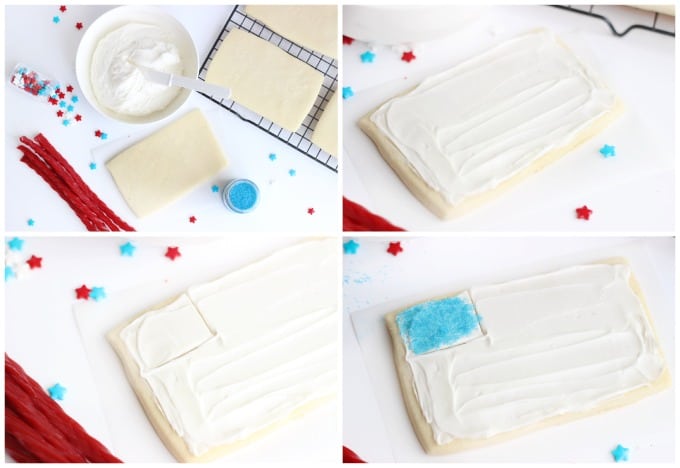 Spread cookies with a layer of vanilla frosting.
With a toothpick, mark off a small rectangle in the corner as a guide for sprinkling the blue sugar.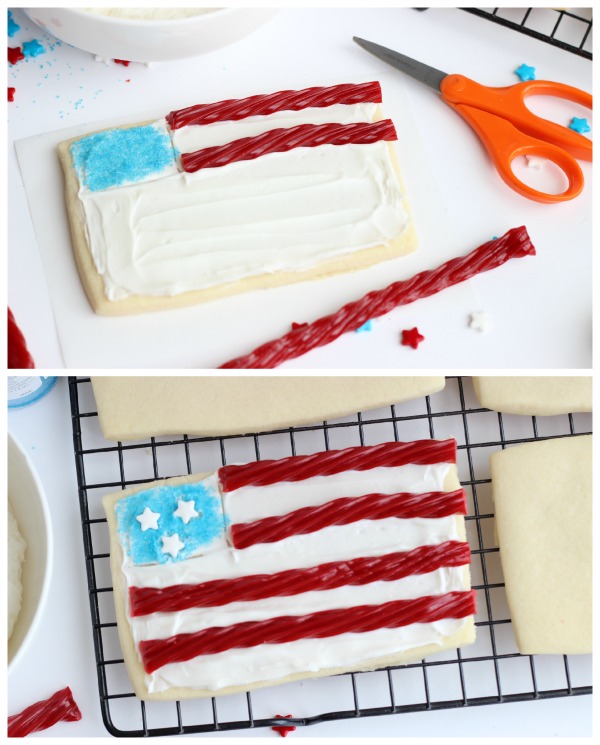 Add sugar and star sprinkles.
Cut licorice pieces to size (it will take 4 per cookie) for the stripes.
So cute, right? These flag sugar cookies are perfect kids activity for your next patriotic party!
Looking for more ideas for Memorial Day, Labor Day, Veteran's Day, or the 4th of July? You might also like…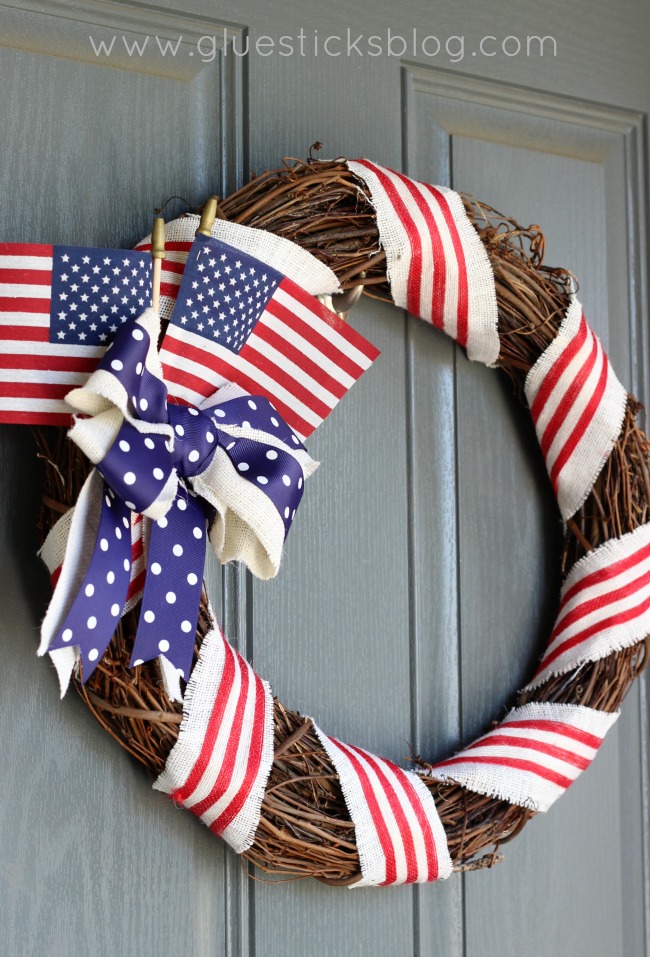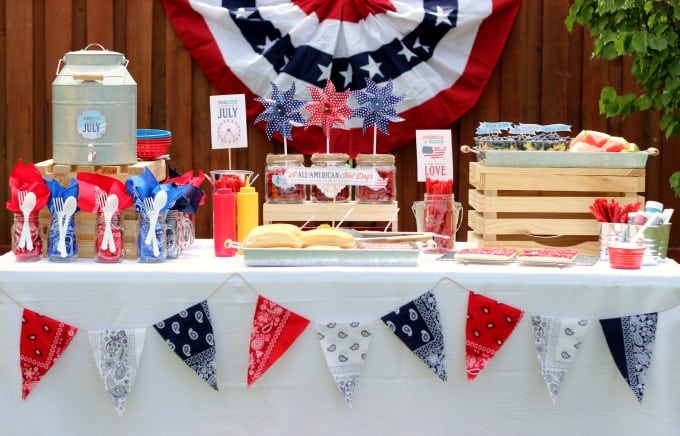 County Fair Backyard BBQ: Tips, tricks, free printables AND recipes!

American Flag Popsicle Stick Craft from a Pumpkin and a Princess