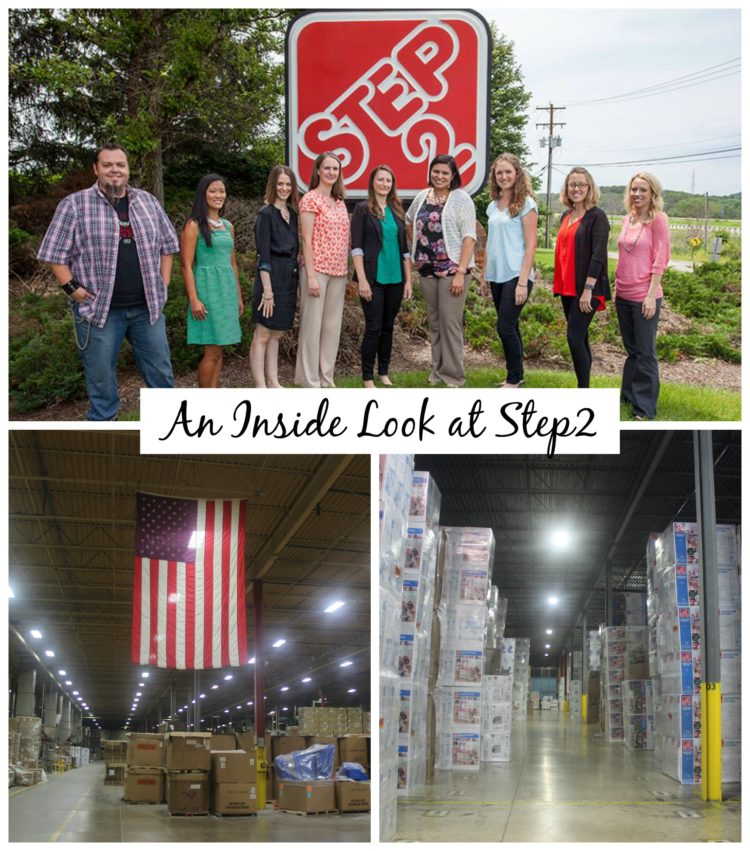 Anyone who knows me knows that I am the biggest homebody around. I don't like to leave my family or the comforts of my own home. So the fact that I packed up and went to Cleveland for 3 days meant that it was for something pretty important to me. I've been a fan of Step2 products ever since I became a parent. I love the durability and the hours of imaginative play that each item has brought into our home. This is why I was so excited to become a Step2 ambassador. It's a company that I can completely get behind and love. My favorite part of the time I spent in Ohio was visiting with the employees, especially the marketing team, and getting a first hand look at the Step2 headquarters.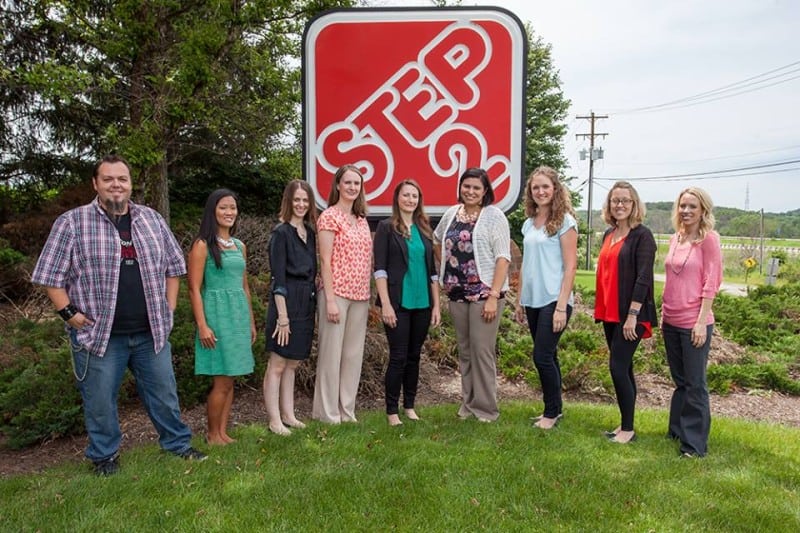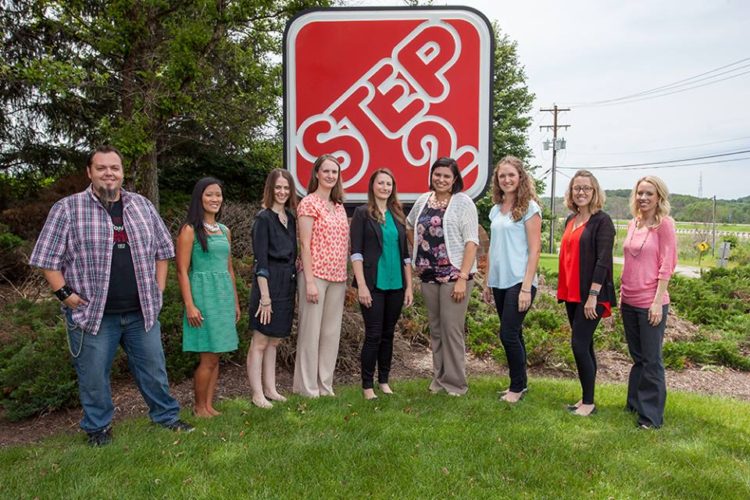 (The 2015 Step2 Brand Ambassadors)
The first day we met with members of the marketing team. They were very attentive and genuinely interested in any feedback we had on future licensing opportunities they were exploring as well as new products. I felt very flattered and unqualified to give them any constructive criticism, because I think they are amazing at their job and had such great ideas! The entire meeting was completely fascinating to me.
If you were at this meeting and were asked what your favorite Step2 product is or what kind of product you would like to see them create, what would you say? I'd love to know! And I'll pass the info along! 
Chris, the CEO of Step2, joined us for almost every meeting and even went out to dinner with us. He was very personable and down to earth. Everyone was! I think what surprised me the most about a company as big as Step2 was how SMALL it actually felt. It didn't have a corporate feel at all. There were real people, some who have worked there for over 20 years, who truly love the company and what they do. They are parents who have designed the products for their own children. It was easy to visit and get to know the entire team, including Chris, and I think it would be a great place to work.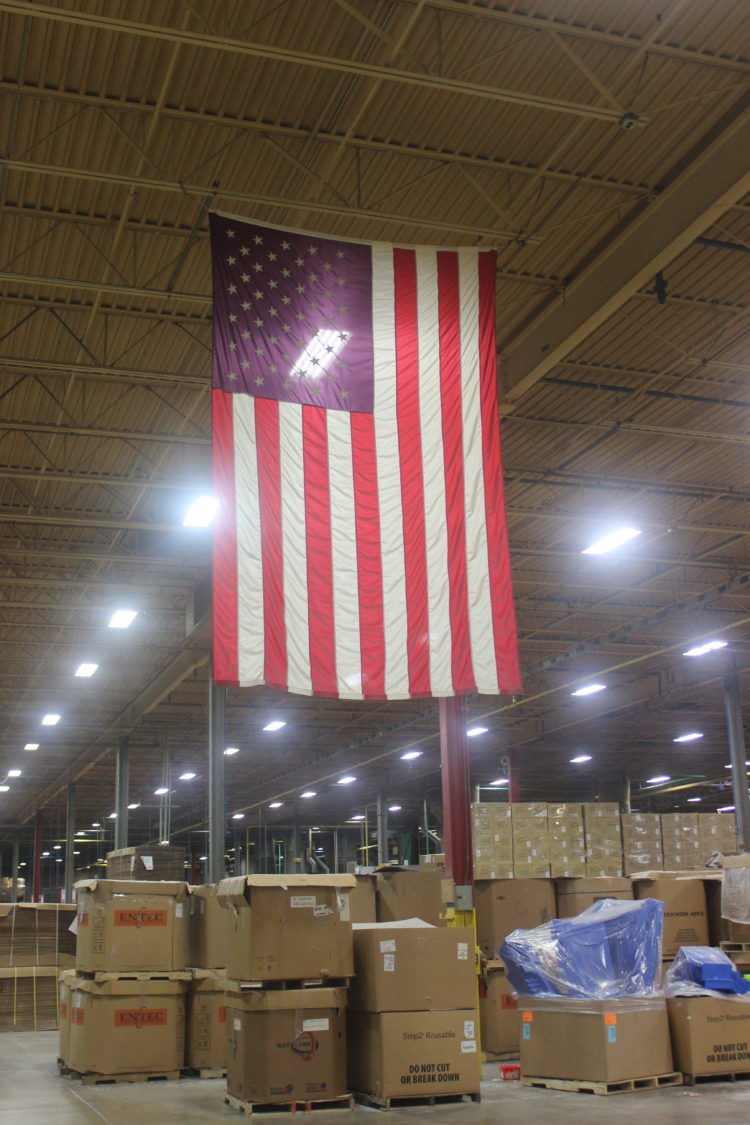 Did you know that the Step2 products are designed and manufactured right here in the United States? They have two sites in Ohio with over 700 employees. With an average 4 and 5 star rating for all products, their attention to quality and detail has made them a leader in the toy industry.
Earlier in the year several brand ambassadors shared their concerns with the way the instructions were drawn up and the quality of one of the new products. Within a few days Step2 had opened up a bunch of them and were in the process of redoing the instructions and fixing the product itself. That was a testimony to me that our opinion matters and they listen!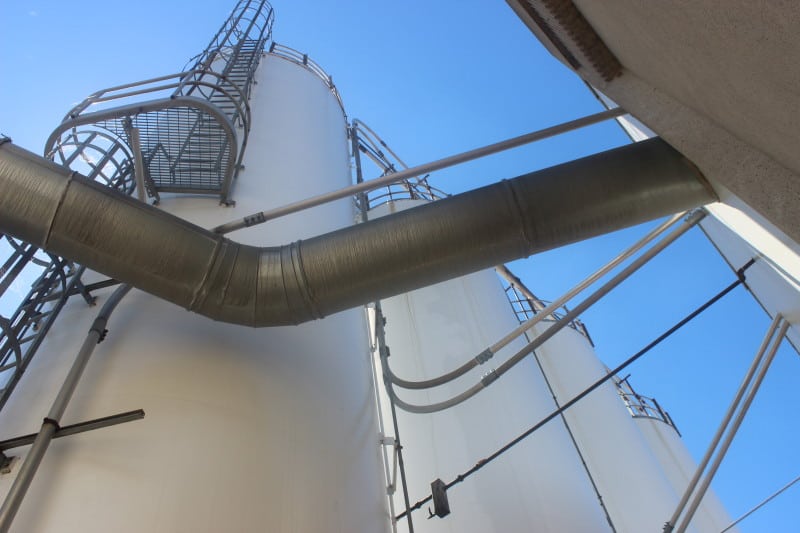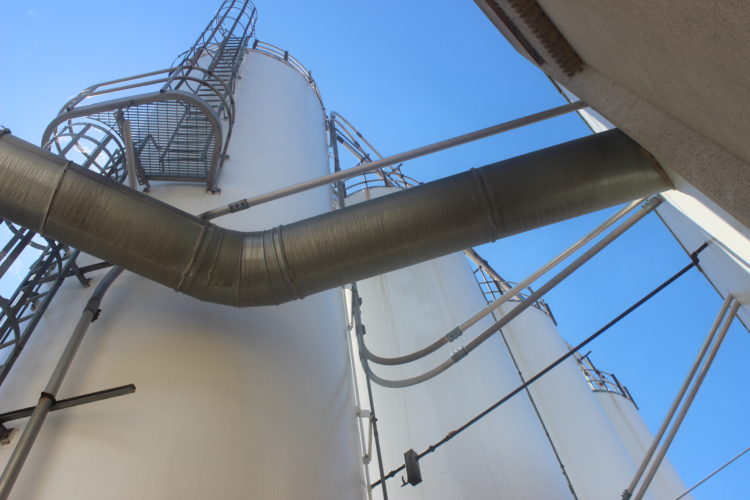 These giant silos store the resin (plastic pellets) that are ground and melted down to create the Step2 products. They are rotationally molded with a double wall design (you'll notice that Step2 products are hollow instead of a thin solid layer of plastic).  There is a feature video coming out soon sharing an inside look on how one of their beds is made. It reminded me of the "how it's made" videos that Mr. Rogers used to make. You remember those too, right? My favorite was the crayon video! It's so fascinating to see the entire process from a concept, to a design, to the final product.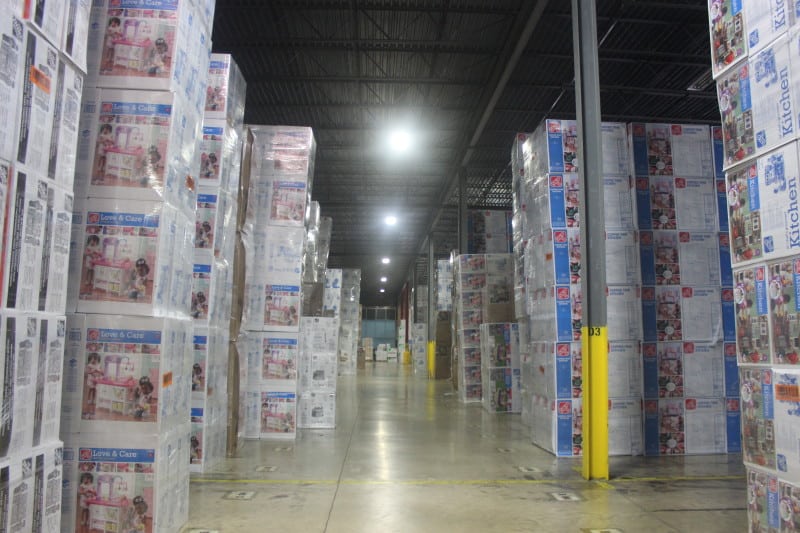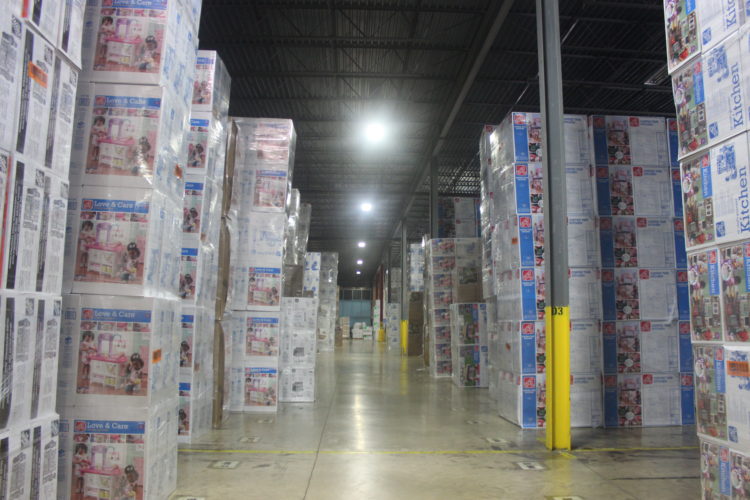 As we walked around I couldn't help but notice how many of the products we already own (or have owned) throughout the years.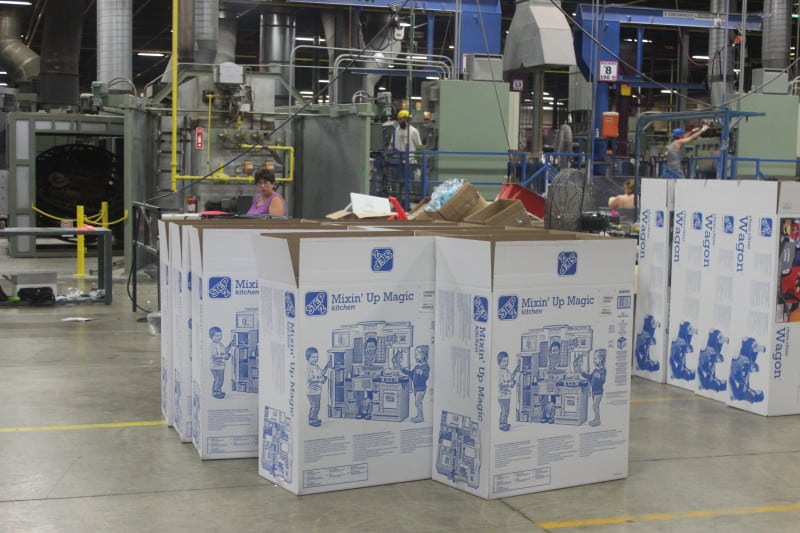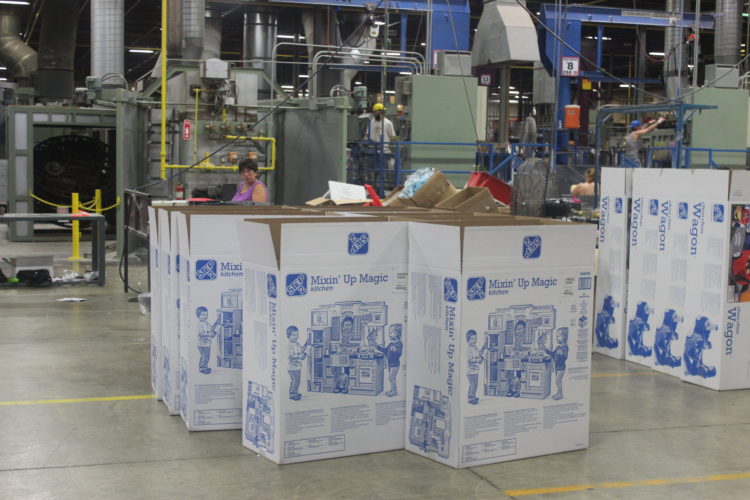 Right here they are boxing up brand new Mixin' Up Magic kitchens. I hope the children receiving these love theirs as much as we love ours!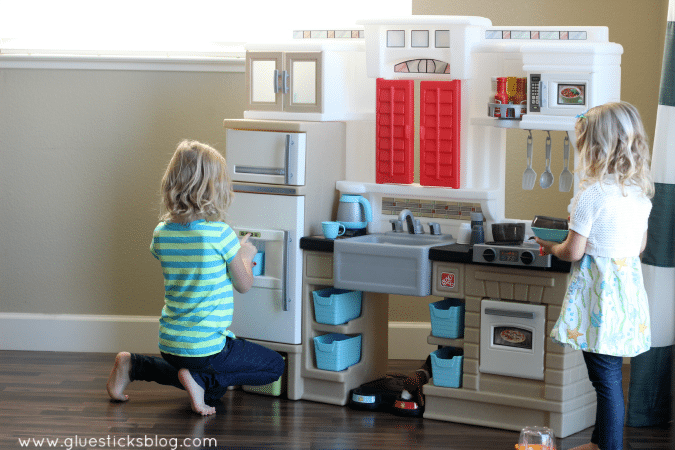 I was able to see a lot of the kitchens that Step2 has made and still think that this one is my favorite. The color scheme is bright and cheerful, and the storage. I LOVE the storage.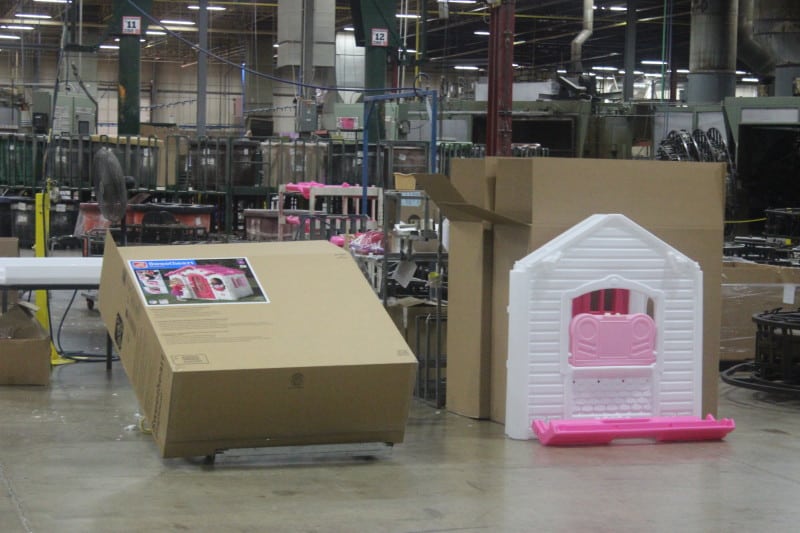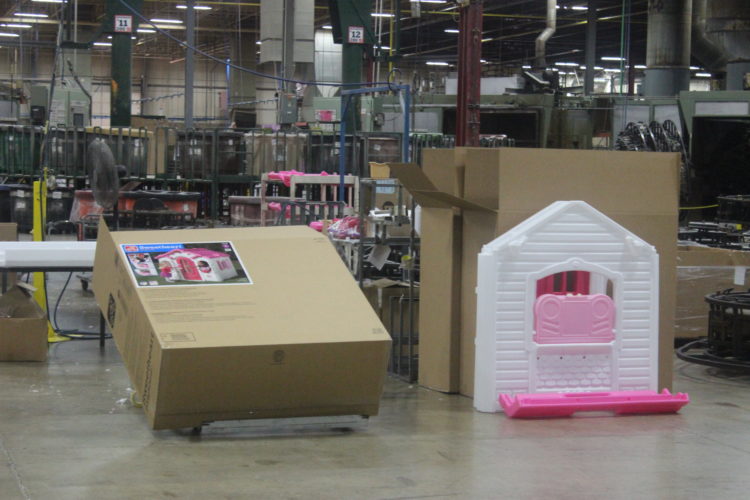 And here is our Sweetheart Playhouse sticking out with it's perfectly pink folding table and roof.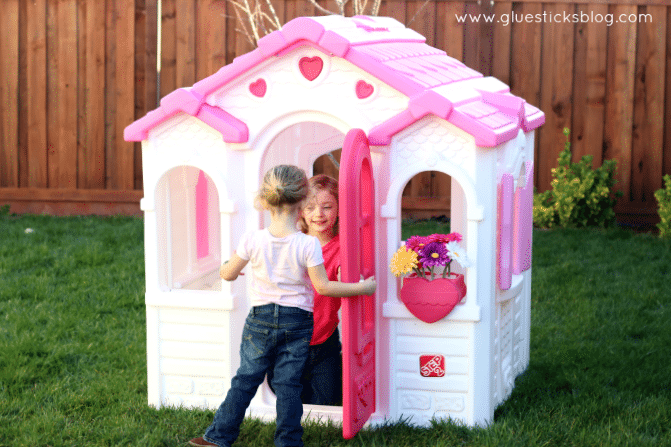 Seeing the safety measures that they take and the design behind each product makes me appreciate them even more.
I enjoyed visiting with Matt, one of the designers, and finding out that he was the one who came up with the concept for the Igloo wagon!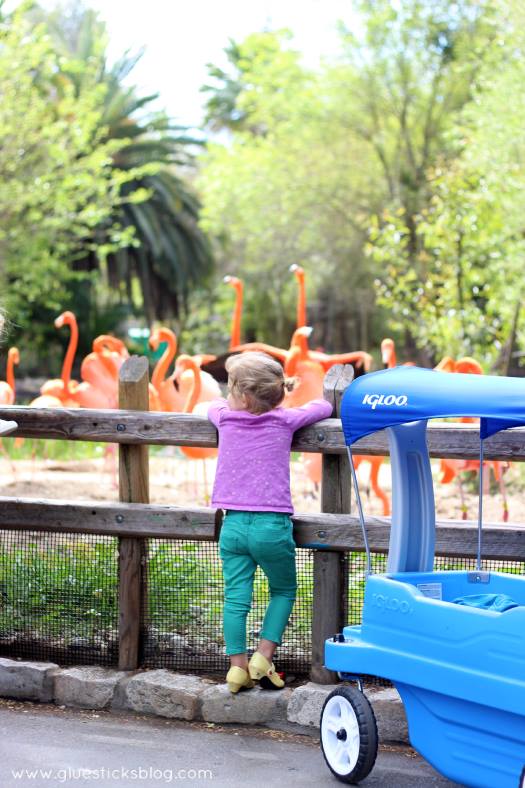 I told him how much we liked ours and that we use it often. My favorite feature? It's lightweight and fits perfectly into the back of our Odyssey minivan.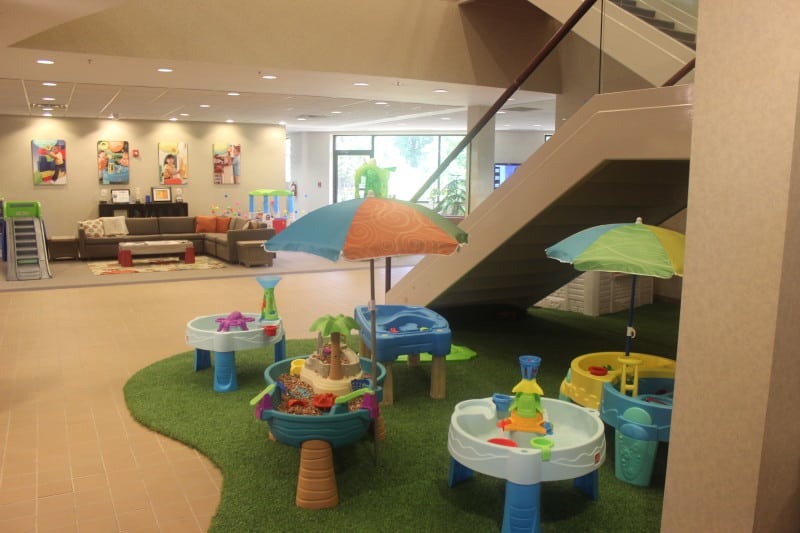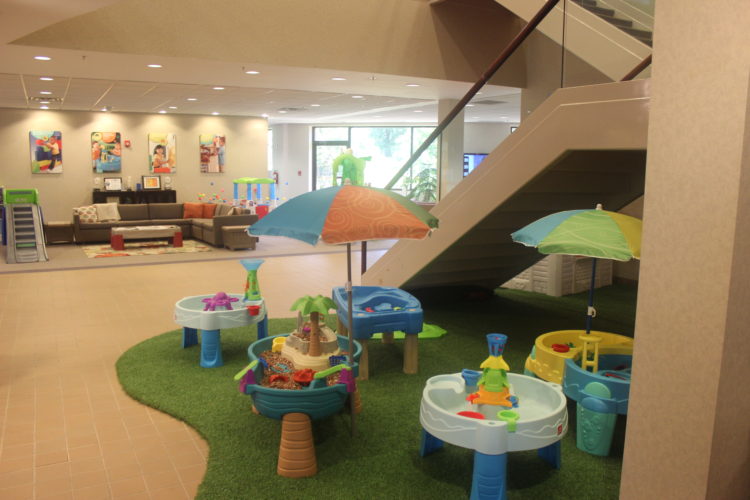 The only thing that would have been better about visiting Step2 would have been to have had my family there with me. I couldn't help but think "Oh, Ruby would love this!" or "I can totally see Kaylee playing with that." when I walked around the showroom.
Besides being able to attend meetings with the marketing and design teams, and touring the Step2 headquarters, we also did a little sightseeing!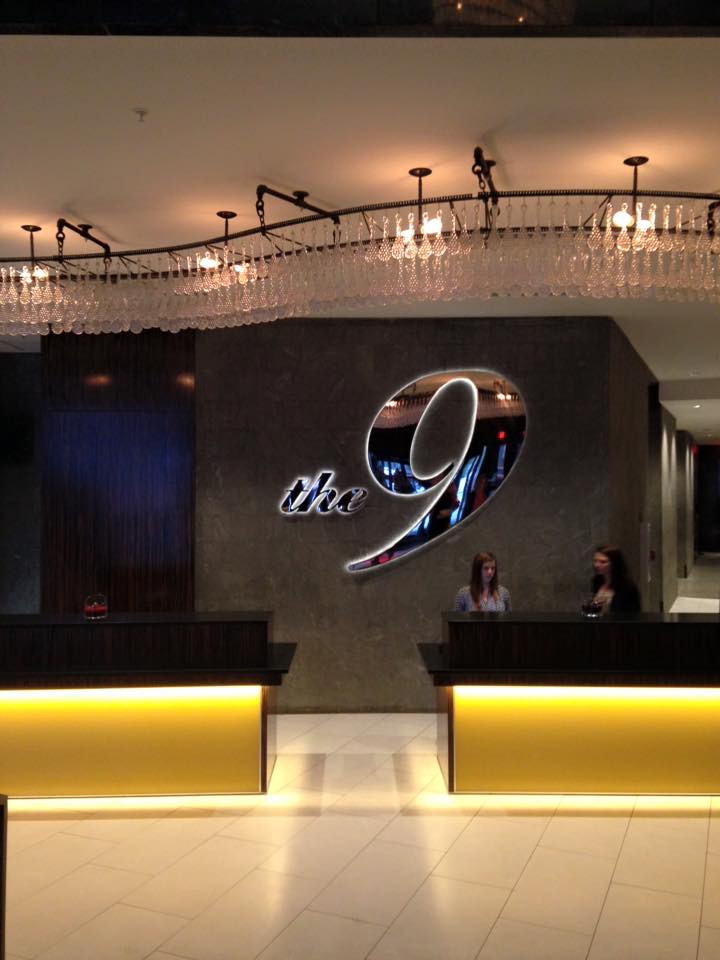 Our beautiful hotel was in downtown Cleveland, within walking distance to Progressive Field. We went to an Indians game and ate at some pretty fantastic restaurants. Our last night we went further out from Cleveland and dined at Melt. If you live in Ohio and haven't been there—-GO. The Lake Erie Monster (grilled cheese) was amazing.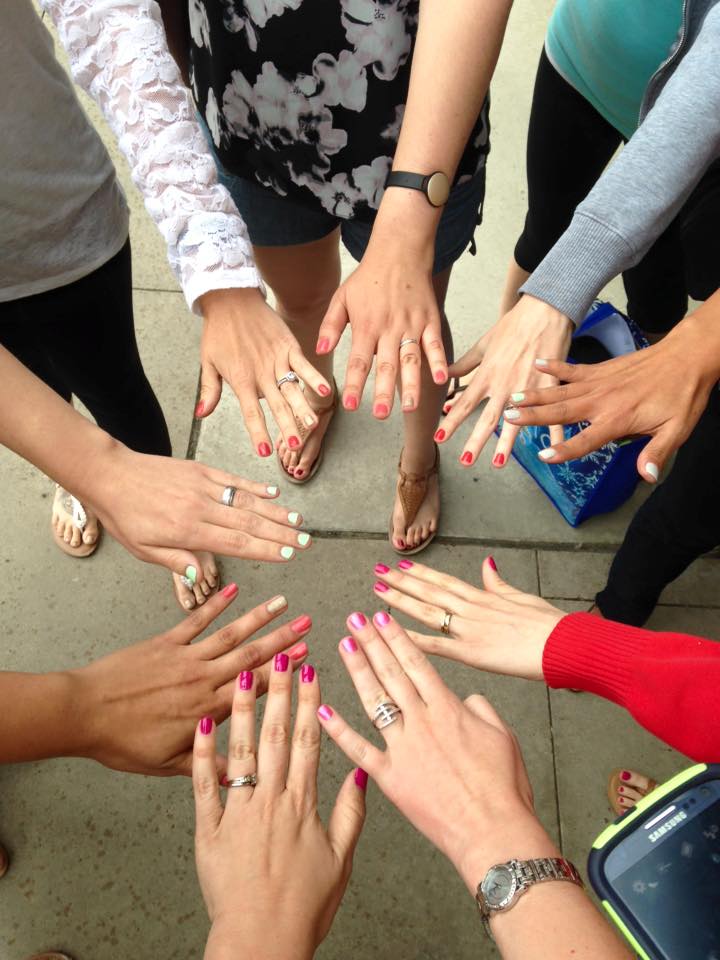 Before catching my flight back home to California, we were pampered with a spa day. This is something I would never treat myself to, but thoroughly enjoyed! It was fun to visit with the other brand ambassadors and our friends, Ashley and Tena, who
spoiled
took care of us the entire trip.
Being a brand ambassador for Step2 has been an amazing experience. It feels great to be a part of something that benefits to many families and brings joy to so many children!