This post was most recently updated on February 13th, 2023
See's chocolate chip cookies are soft, buttery, and chocolatey. Based on the recipe from the back of the See's chocolate chips bag. Did you know that See's Candies sells chocolate chips? I did a side-by-side comparison with another popular brand. Someone had to do it, right?
You might also like our Copycat Chick-fil-a chocolate Chunk cookies, our deep dish chocolate chip cookies, or our irresistible peanut butter chocolate chip cookies.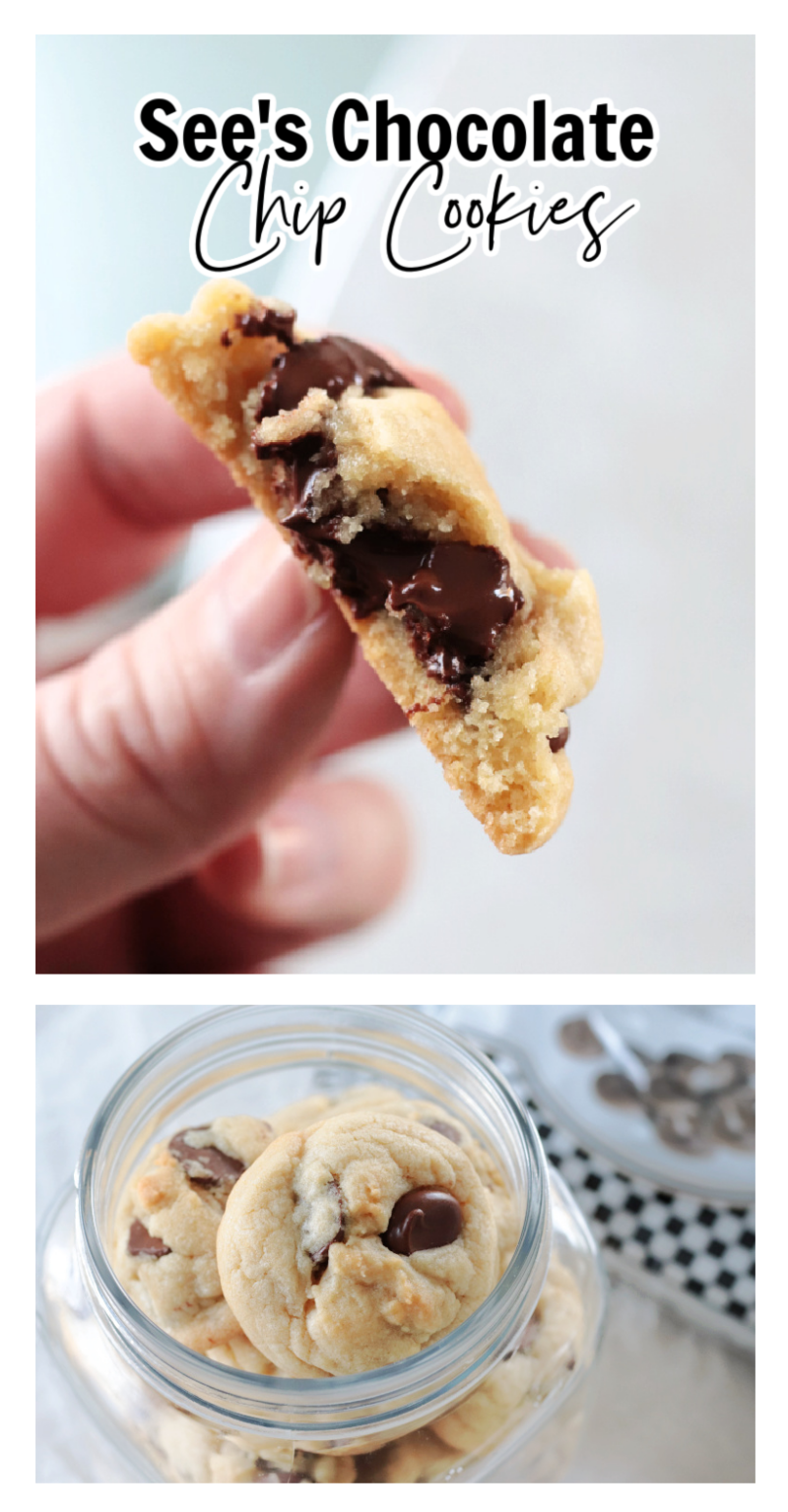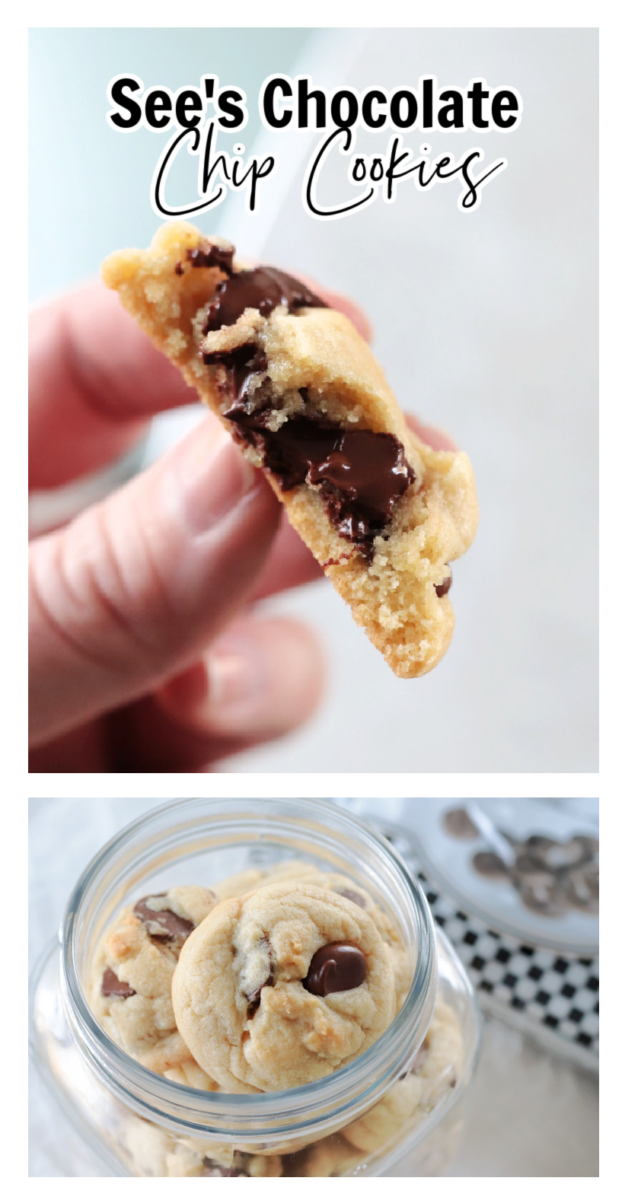 Watch our step by step video!
See's Chocolate Chips
I grew up in California where See's stores are plentiful. When I worked in the mall during high school and would occasionally stop by for a free sample and pick up a few chocolates for myself. See's Candies was my kids' favorite thing about going to the Galleria Mall in Roseville when we moved back to California for a few years. Their nuts and chews are our favorite! Long story short, See's is all about nostalgia for me. When I found out that See's sold bags of chocolate chips I had to order a couple. If you live near a See's Candies store you can pick them up in person, but alas, I live on the East Coast so shipping is my only option. How do they measure up?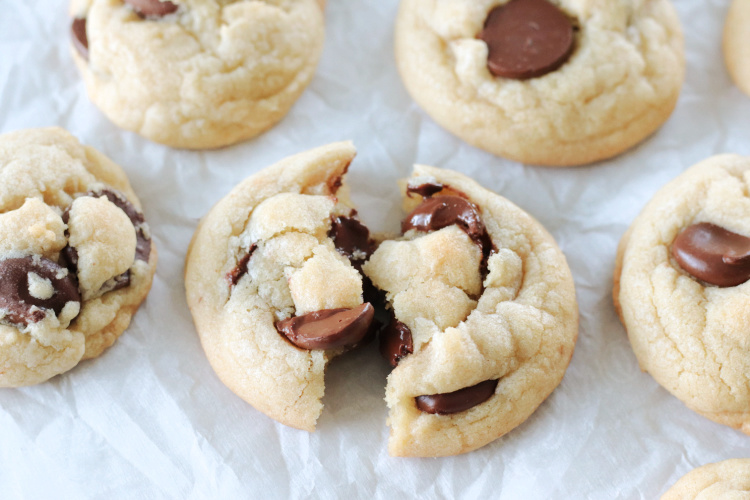 Like every chocolate chip bag, this one also came with a chocolate chip cookie recipe. I decided to follow it and the cookies were absolutely delicious. Very buttery with the addition of a few tablespoons of brown butter. Definitely worth the extra few minutes that it took to do that. You might be asking what makes See's chocolate chips different than other brands like Guittard which is known for its chocolate chips.
See's Chocolate Chips Vs. Guittard Chocolate Chips
Stopping by Ghirardelli Square is a must when visiting San Francisco. Guittard is another San Francisco-based chocolate company that has been operating for over 150 years. What does this have to do with See's Candies? Well, they are one of Guittard's customers. See's uses Guittard chocolate to make their signature candies.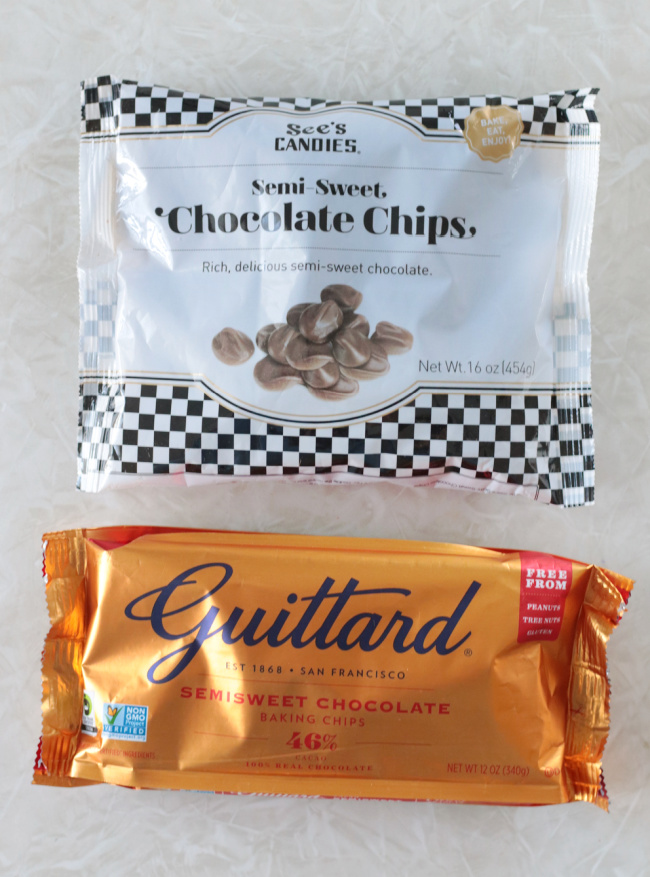 I picked up a bag of Guittard chocolate chips and decided to do a taste test. It was a tough job, but someone had to do it. Here are a few things that I noticed:
Price
Guittard chocolate chips are $4.80 for a 12-ounce bag. See's chocolate chips are $7.50 for a 16-ounce bag. Obviously, the 16-ounce bag is larger, but overall still more expensive.
Size
As you can see (photo below) the Guittard chocolate chips are regular size and the See's chocolate chips are jumbo sized. About the size of 3 regular chocolate chips. This is bound to yield different results when baking. Instead of chocolate being evenly dispersed throughout the cookie you'll likely have bursts of melted chocolate goodness.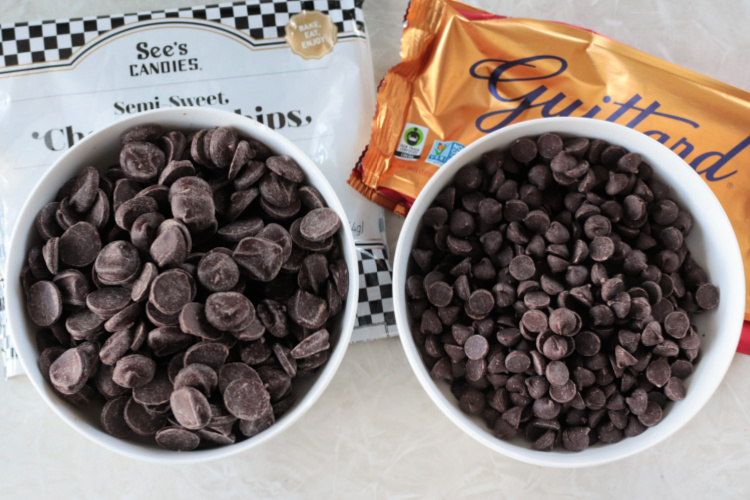 Taste
When I found out that See's uses Guittard chocolate for their chocolates I had a feeling that the two brands of chocolate chips would taste similar and I was right. I honestly couldn't tell a difference. Someone with a more refined taste than mine might notice more of a sweetness in one over the other, but I couldn't. I found out today that Guittard sells "super chips" that are similar in size to the jumbo ones from See's. Overall I think the See's chocolate chips are nostalgic and delicious and I loved the size of them.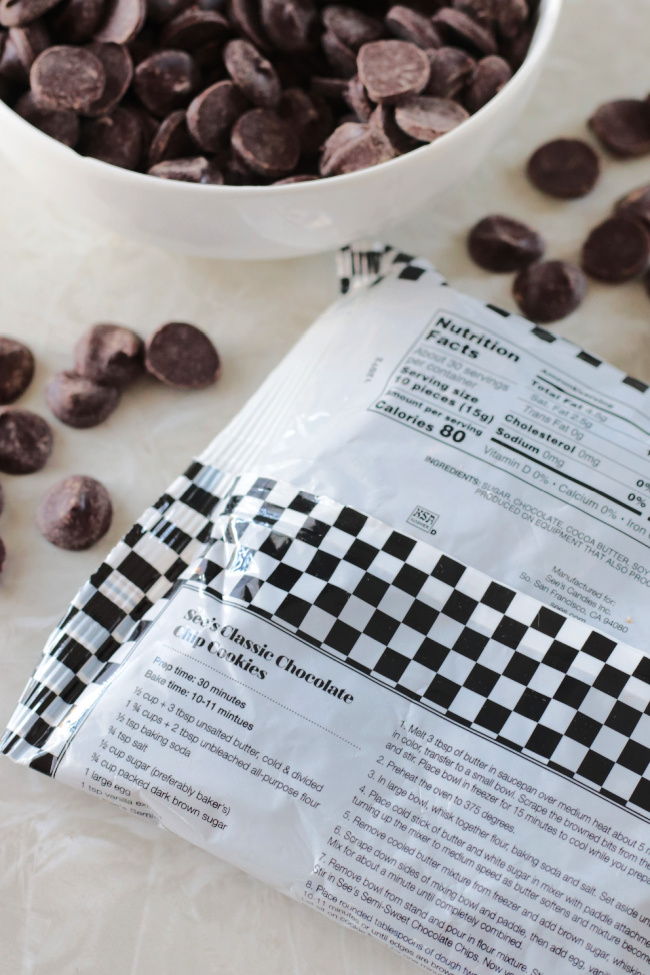 See's Chocolate Chip Cookies
Like most bags of chocolate chips, this one came with a recipe on the back. See's Classic Chocolate Chip Cookies. They are bite-sized, buttery, and full of bursts of jumbo chocolate chips.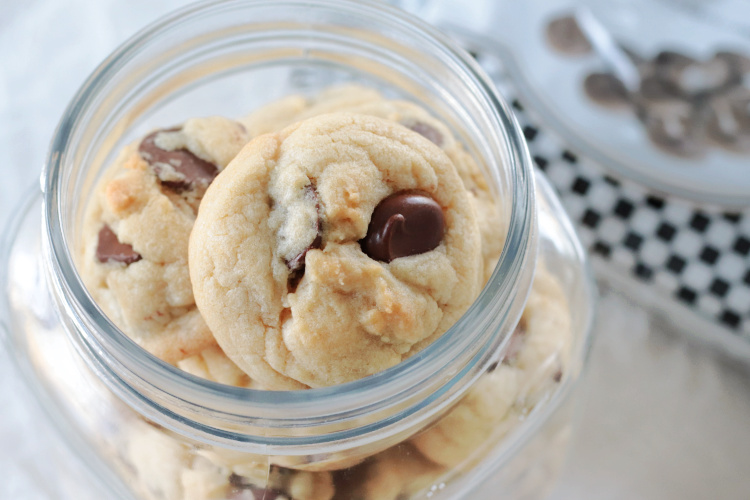 One batch makes 3 dozen cookies, but can easily be doubled. They are scooped using asmall scoop (tablespoon-sized). Normally I use a medium scoop for my cookies. You can do that and make 18 cookies if you'd like.
This recipe was created by See's. I'll share any modifications that I made (which aren't many) to the ingredients below. The directions are also in my own wording. You can find the original recipe and wording from See's. I loved the recipe and will definitely be making it again. You can totally taste the browned butter and it gives the cookies a great depth of flavor.
See's Chocolate Chip Cookie Ingredients
Butter: this recipe uses a combination of COLD butter and browned butter. It calls for unsalted butter, but I always bake with salted butter so that's what I used.
Sugar: white sugar and dark brown sugar. I used light brown sugar.
Those are the only ingredient modifications that I made. You'll also need flour, baking soda, salt, vanilla, an egg, and 6 ounces of chocolate chips.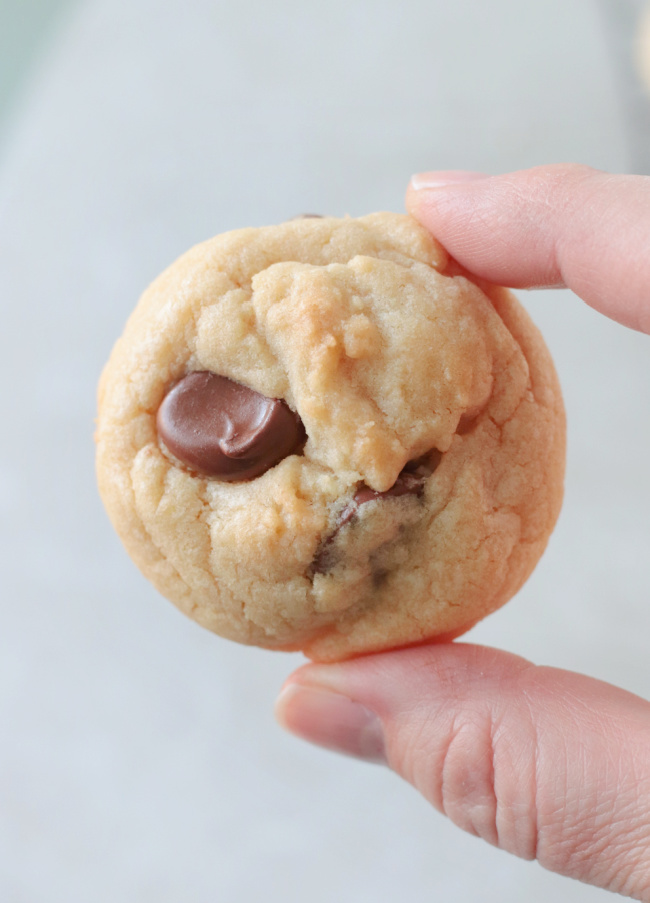 How to Make See's Chocolate Cookies
You'll start out by browning a few tablespoons of butter and then freezing it for 15 minutes or so. While the browned butter is freezing you'll make the rest of the dough by combining the flour, baking soda, and salt together and in a separate bowl beating the cold butter with the white sugar until it is soft and creamy.
Note: I generally use softened butter so using cold butter was a change from the norm. It took a little while for it to mix with the sugar, but worked perfectly in the end. You can use a paddle attachment on a stand mixer or an electric hand-held mixer.
Once the browned butter is solid, mix it with the brown sugar and then add that mixture to the cold butter/sugar mixture along with an egg and vanilla.
Stir in the flour mixture by hand then stir in the chocolate chips.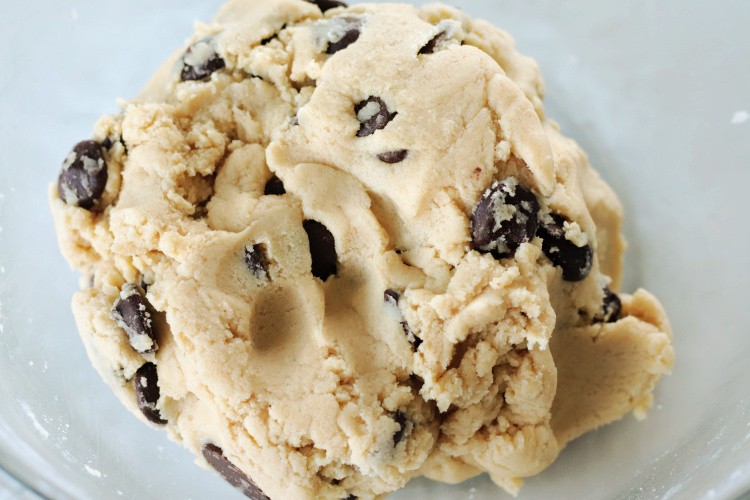 Preheat the oven to 375 degrees and scoop cookies using a tablespoon-sized scoop (or roll them into balls) and place 2″ apart on a parchment-lined baking sheet.
Bake for 10 minutes then allow cookies to stand for a minute or two on the baking sheet before transferring to a wire cooling rack.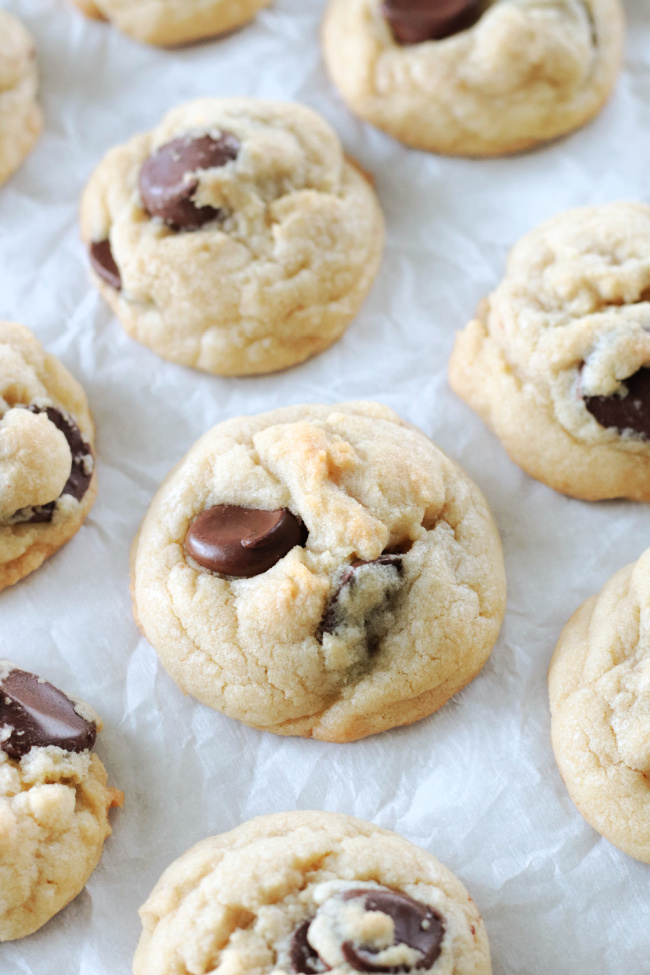 See's Chocolate Chip Cookies Recipe
Adapted from the original recipe on the back of the bag.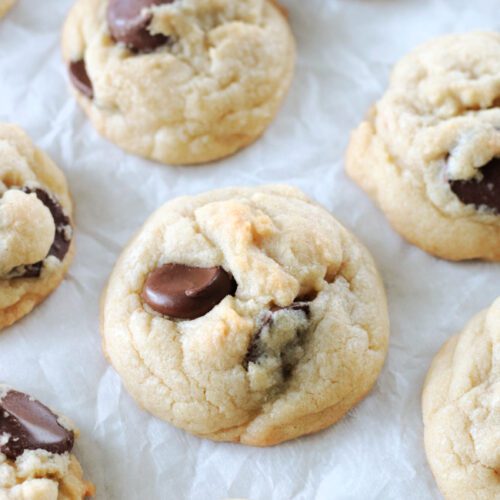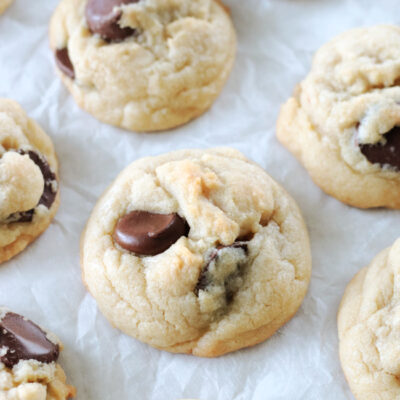 See's Chocolate Chip Cookies
See's chocolate chip cookies are soft, buttery, and chocolatey. Based on the recipe from the back of the See's chocolate chips bag!
Print
Pin
Rate
Ingredients
3

Tbsp.

butter

browned

1/2

cup

butter

cold

1 3/4

flour

1/2

teaspoon

baking soda

3/4

teaspoon

salt

1/2

cup

sugar

3/4

cup

brown sugar

1

large egg

1

teaspoon

vanilla extract

6

oz.

semisweet chocolate chips
Instructions
Brown 3 tablespoons of butter in a small pan. Heat until bubbly, foamy, and brown specks appear. Remove from heat and pour into a small bowl, scraping the browned bits from the pan into the bowl as well. Add a teaspoon of water and stir.

Freeze for 15 minutes.

Preheat oven to 375 degrees.

While the butter freezes, mix flour, baking soda and salt together in a bowl. Set aside.

In a separate bowl beat a stick of cold butter with sugar using an electric mixer. Beat until smooth and creamy. Because the butter is cold it will take longer, but it will come together. Promise!

Now let's go back to that browned butter in the freezer. Pull it out and mix with brown sugar until it clumps together.

Add the browned butter/brown sugar mixture to the butter and white sugar mixture along with an egg and vanilla extract. Beat until completely combined.

Stir in flour with a Danish dough whisk or wooden spoon.

Stir in chocolate chips.

Place rounded tablespoons of cookie dough onto parchment lined baking sheets.

Bake for 10 minutes. Allow cookies to sit on baking sheets for 1-2 minutes before transferring to a wire cooling rack.
Notes
The recipe can easily be doubled.
Store cookies in an airtight container.
Nutrition