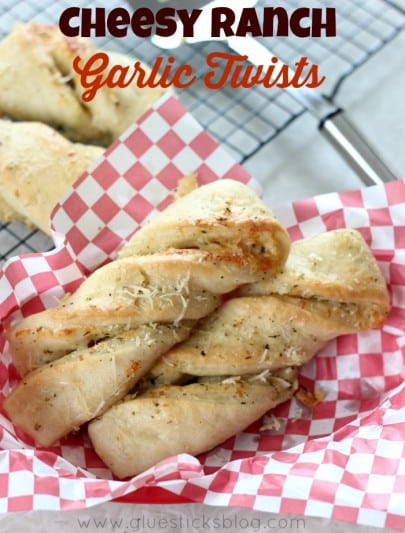 My kids love pizza. Me? I could go either way. What I much more prefer is ordering the garlic twists at our favorite pizzeria! Cheesy, loaded with garlic, and sometimes they have bacon or ranch. They are so good!
I came up with my own version that our family really enjoys. And they are so much more affordable too.
I love a lot of garlic flavor so I use both fresh garlic, and my favorite pizza ranch sauce from Winco. It is a strong ranch garlic white sauce, but ranch salad dressing works great too. Mixed into a garlic butter spread and topped with shredded cheese, these bread sticks rival those from the pizzeria!
Cheesy Ranch Garlic Twists
gluesticksblog.com
1  batch Bobby Flay's Pizza Dough  (this is a fantastic recipe!)
3/4 c. (1 1/2 sticks) butter, softened
6 cloves of garlic, minced
1 tsp. dry Italian seasoning
1/2 c. ranch dressing
3/4 c. shredded mozzarella cheese
1/2 c. shredded parmesan cheese, divided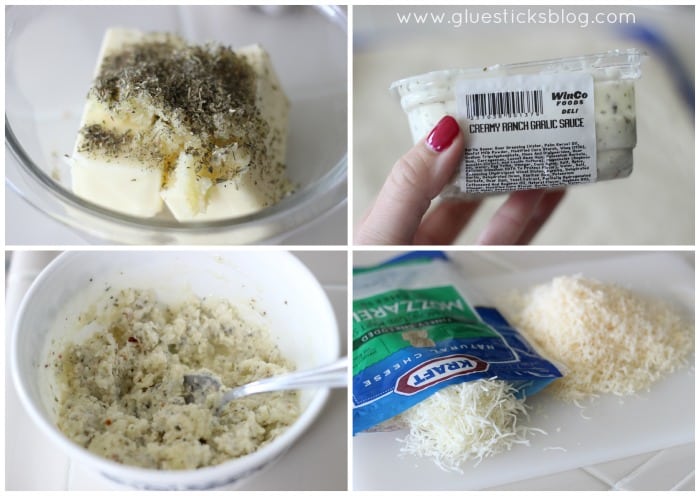 Mix softened butter, Italian seasoning, and garlic in a small bowl. Divide in half, spooning out half into another bowl. Set aside. Stir in ranch dressing to the first bowl. That will be your spread for the garlic sticks.
Heat oven to 400 degrees.
On a lightly floured surface, roll out dough into a 14×16″ rectangle.
Spread your garlic/ranch/butter mixture evenly across dough.
Sprinkle with mozzarella cheese and 1/4 c. Parmesan cheese.
Using a pizza cutter, cut dough into 8 or 9 strips.
Lift one side of each strip and bring it down to meet the bottom. Pinch to close off.
Pick up each breadstick with one hand on the top and one hand on the bottom and give it a twist. Set on a lightly greased baking sheet.
Remember that bowl of butter mixture that you set aside? Go ahead and microwave it until it is melted. Brush on breadsticks.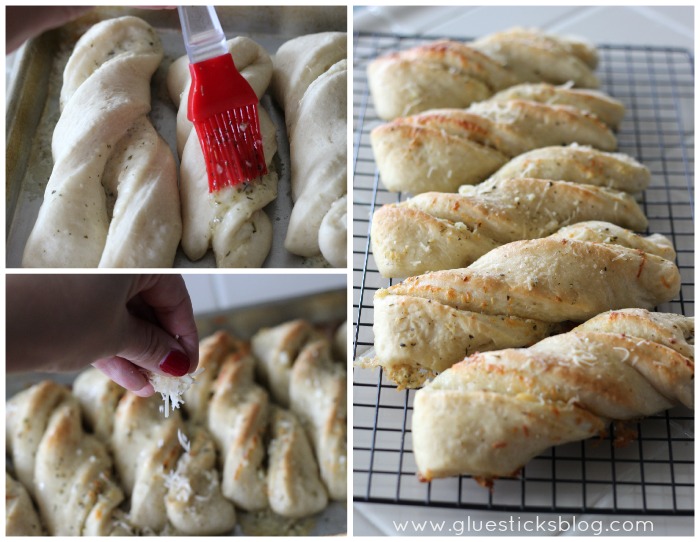 Bake for 12 minutes. Brush again with melted butter mixture. Bake another 12-15 minutes or until golden brown. Brush again with butter mixture and sprinkle with parmesan cheese. Serve warm.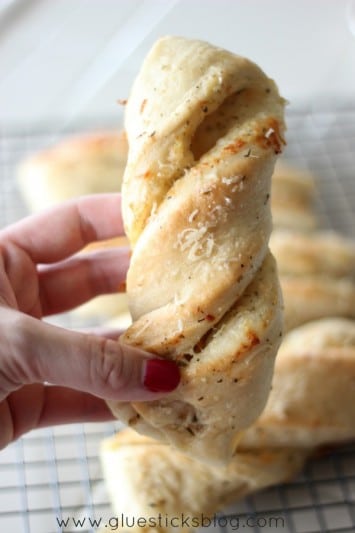 Serve with ranch or marinara, or just eat them plain. That's how we enjoy them.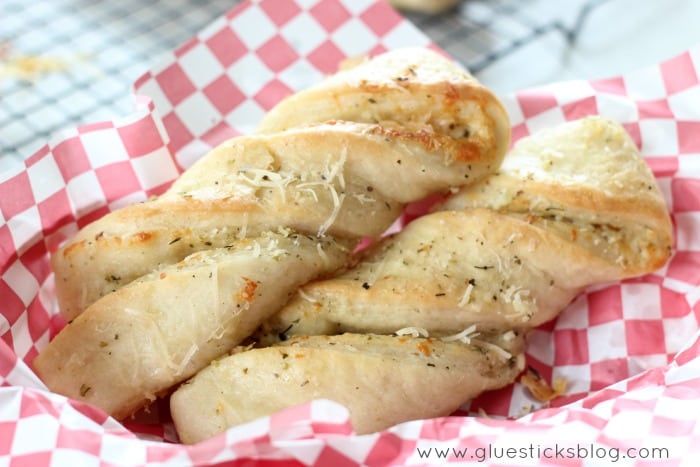 If you enjoyed this post, you may want to check out my STAPLE breadstick recipe! I make this one much more often because it only needs to raise for 20 minutes.