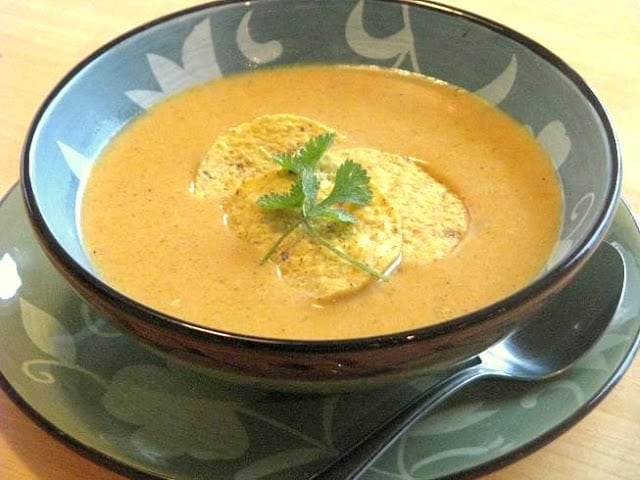 This soup quickly became a favorite of ours over here after trying the Enchilada Soup at Chili's. I searched for a recipe similar, but nothing ever turned out just right. This recipe isn't exactly like Chili's, but we LOVED it just as much!  Enchilada soup is not the same thing as your basic Taco Soup. It is rich and creamy. Definitely a comfort food.
The recipe for this comes from a cookbook that my mom gave me a year ago called, "Worldwide Ward Cookbook", and the lady who submitted the recipe happens to be from Galloway, Ohio….just 45 minutes from me. So it had to be good! 😉 This recipe calls for Masa (Mexican corn flour). I already had some from a tamale casserole that I made awhile ago. Be sure to use Masa and not cornmeal, they are very different. The Masa adds great flavor and a creamy texture to this soup.

I just love my little helper! She always insists on wearing her "woof woof"…(apron with puppies on it). This time she stuffed her little front pocket with peanut butter m&ms to snack on during the process. Smart girl.
3-4 boneless, skinless chicken breasts
1 T. olive oil
1-3 tsp. seasoned salt
1/2 c. chopped onion
1 clove garlic, minced
4 c. chicken broth
1 c. masa harina
3 c. water
1 15 oz. can red enchilada sauce
1 15 oz. can green enchilada sauce
16 oz. processed American cheese loaf (Velveeta)
1 tsp. salt
1 tsp. chili powder
1/2 tsp. cumin
Toppings for garnishing: tortilla chips, sour cream, cheese, green onions
In a large stockpot, saute chicken in olive oil and seasoned salt on medium or med-high heat until cooked thoroughly and lightly browned on both sides.  Remove chicken from pot, but do not drain the pot; shred chicken and set aside. 
Add onions and garlic to remaining drippings in pot.  Saute for about 2 minutes on med-low to medium heat, taking care to not burn the garlic or onions.  Add chicken broth to pot. 
In a separate small bowl, whisk masa harina with 2 c. cold water until mixture is smooth.  Add flour mixture to pot; stir.  Add remaining 1 c. water, enchilada sauces, cheese, salt, chili powder, and cumin.  Stir mixture constantly with wire whisk until cheese is melted and mixture comes to a boil.  Add chicken to pot, reduce heat, and simmer 30-40 minutes, stirring occasionally. 
Serve soup warm garnished with toppings.  Makes 8 servings.