Eggshell seed starters are perfect for a kids garden!  Plant a sampling of seeds inside of eggshells and when the weather warms up plant the entire thing into your garden! A fun lesson on composting and reusing everyday products for a new purpose.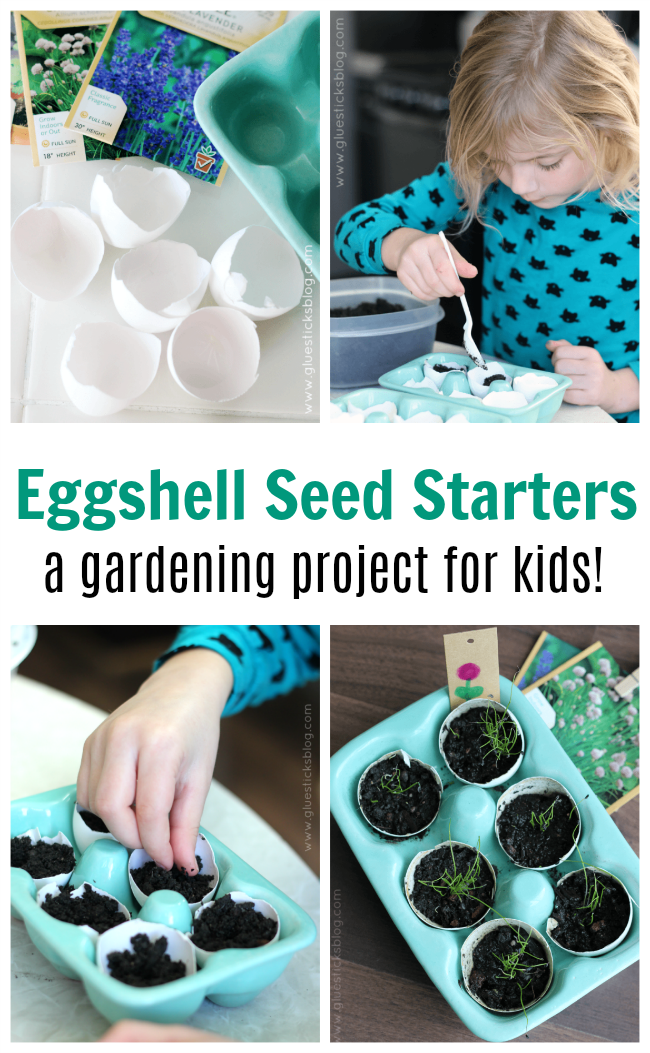 I just love spring! Thinking about making a trip to our local nursery makes me giddy. Flowers, newly sprouted seeds, fruit trees— I love it all! My love of flowers must be hereditary because Kaylee has the gene too. She loves going to the nursery with me and picking up all of the flower buds and petals that have fallen on the ground. Wilted or not. Then she brings them home and puts them in a bowl of water for a "decoration".  Last year we created a kids garden for growing her own poppies. She was happy to see that they came back again this year! We've also been slightly obsessed with making our own fairy gardens. 
I saw an article on apartment therapy awhile back about using eggshells as seed starters. What a great idea! Many people compost their eggshells, so we know that they break down well. We don't have to worry about frost in Northern California right now, but we still decided to plant some seeds indoors and watch them grow. These eggshell seed starters are great for transitioning into a garden because when you are ready to plant the eggshell goes into the ground too!
How to Make Eggshell Seed Starters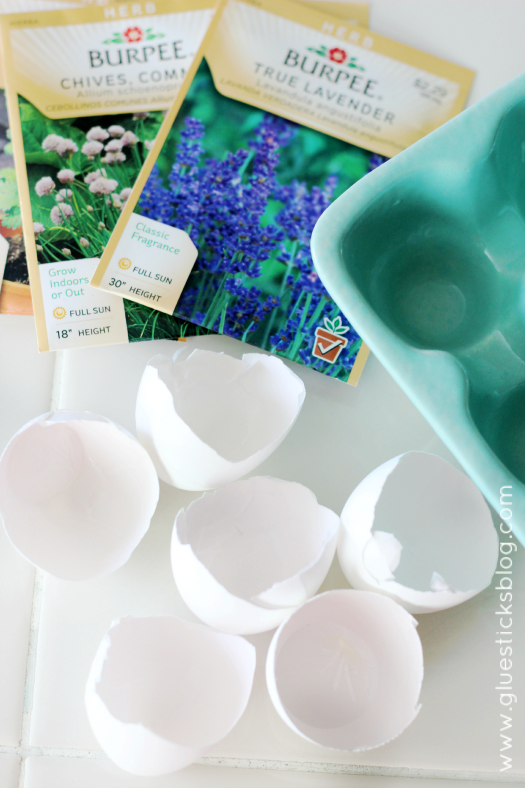 Every time I used an egg I'd rinse out the shells and set it aside. Pretty soon we had enough to start a dozen seedlings—the perfect amount for a sample starter pack for a kids garden. Grow a dozen different little plants of a few of each, it's up to you!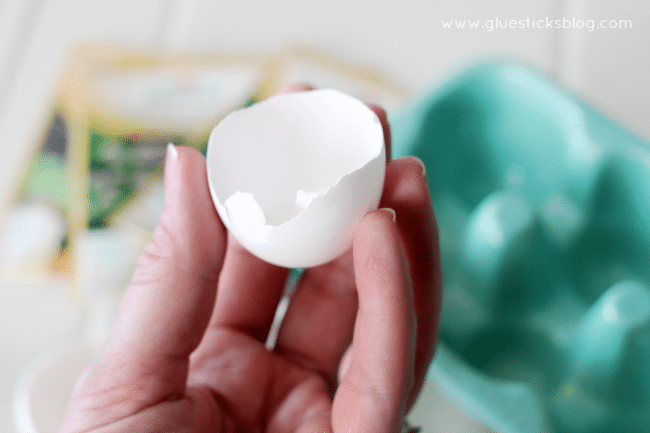 You can use an egg carton to hold your seed starts and toss it in the recycle bin when you are ready to plant your shells, but I chose to use one of my ceramic egg cartons…that will not be recycled later 😉
Fill each shell with potting soil.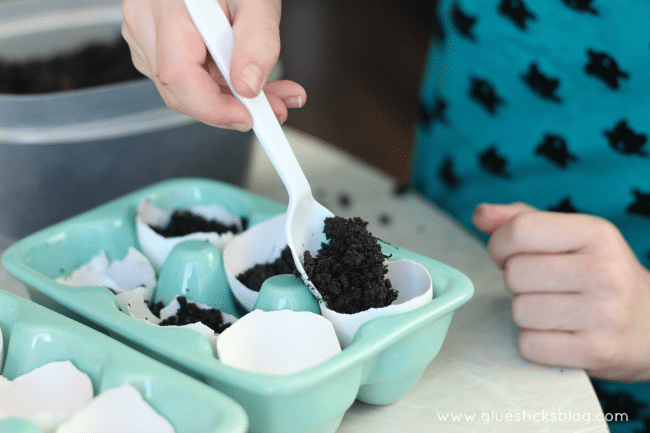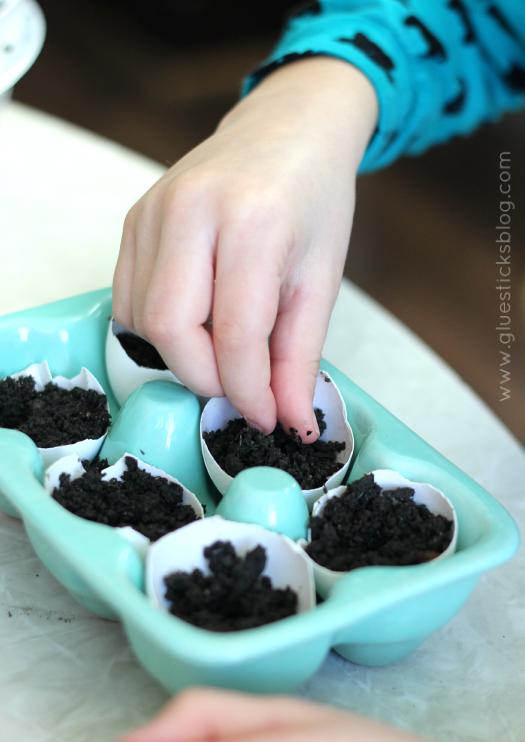 Add your seeds and cover lightly with soil. Kaylee chose chives. She plans on letting them flower instead of eating them.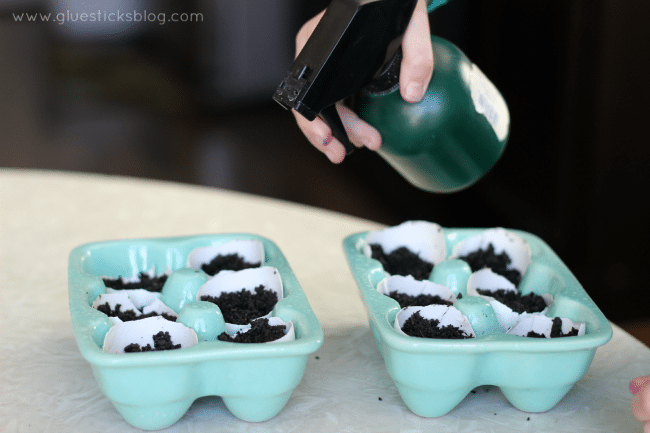 Spritz with water and place them in a sunny location. You can cover them with a piece of plastic wrap until they start to sprout to hold in moisture too. We found it easier to spray them with water when they needed moisture vs. trying to pour water into each shell.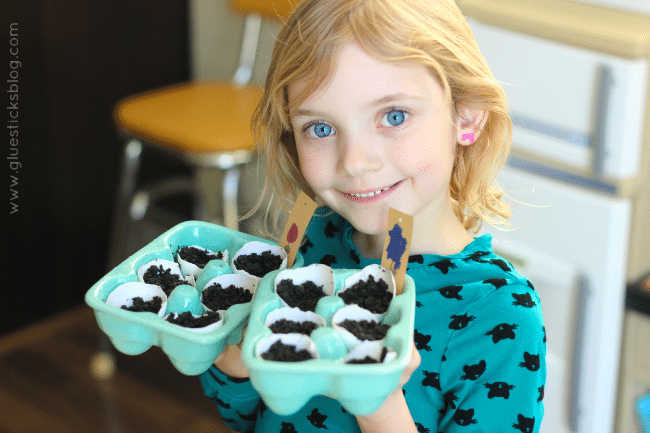 She had a great time tending to her seeds, and it is always rewarding when they actually sprout!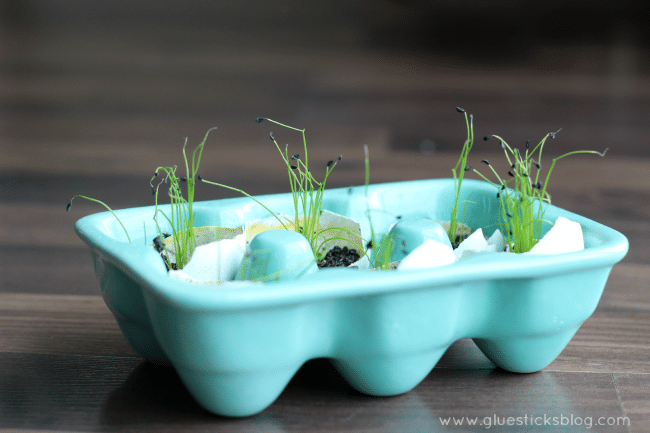 One carton fell off of the window sill and we lost those starts, but this carton is thriving and will go into our outside garden soon!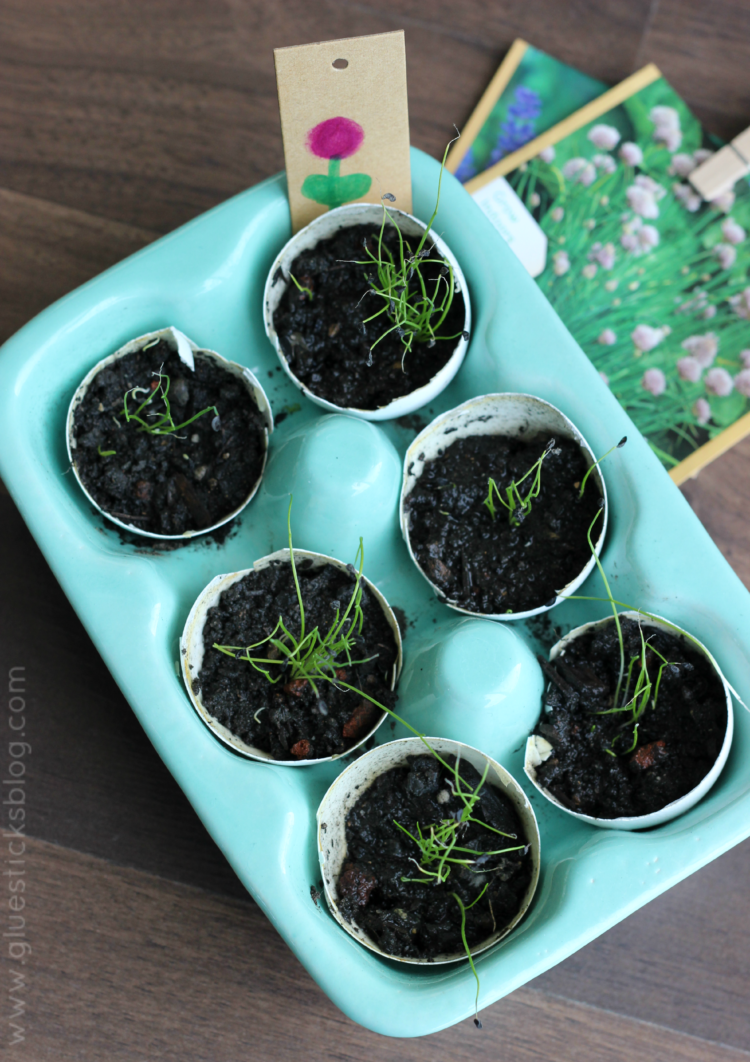 What a fun little project and a great way to re-use something that we usually just throw out! Not only are the little shells practical, but they are good for our plants too.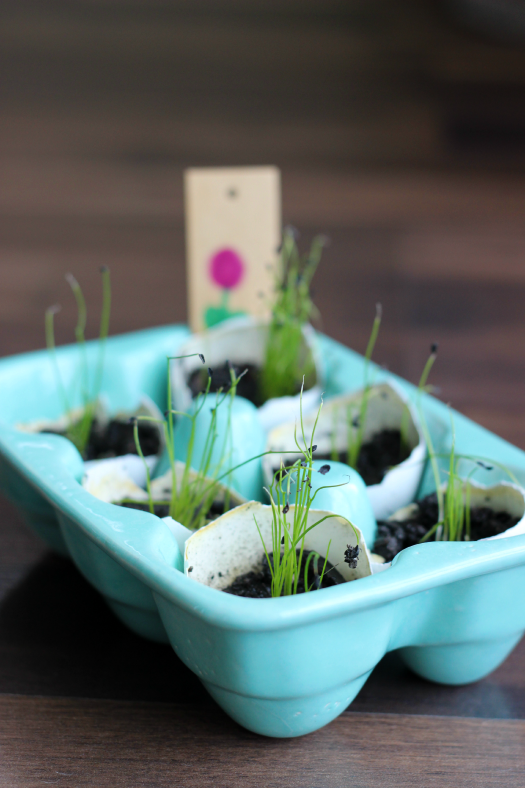 There are many things that we throw out without really thinking about reusing. I really need to get better about that. My inlaws live in a very remote area of Alaska and do a great job of recycling and composting. They take their trash to the dump or into town only a couple of times a year because they are able to re-use, compost, or burn so many things.
What is the best potting mixture to use for eggshell seed starters?
I used potting soil, but the ideal mixture would be a seed starter mix that does not contain soil. You can buy this at your local gardening store.
Can I use an egg carton instead of eggshells for starting seeds?
Yep! Egg cartons are biodegradable. You can do the same exact thing as you do with the eggshell. Cut out a section of the egg carton after the seeds have sprouted and plant the entire section in your garden. Source.
Are there other ways to use eggshells in a garden?
Eggshells are a great way to add minerals into your garden. You can till them into your garden, add them to the bottom of a hole before adding a plant or sprinkle them liberally across the top. They take a while to break down so you can add them in the fall and again in the spring for year-round results.
This post has been compensated by Collective Bias and its advertiser.
If you liked these eggshell seed starters you might also like…