Chocolate covered toasted coconut combines with a creamy coconut ice cream. Inspired by Perry's toasted coconut ice cream in Upstate New York.
If you like coconut you'll love our crispy coconut cookies with chocolate drizzle.

We spent a week in Upstate New York over the summer. The scenery was gorgeous and we had a great time visiting friends. We also spent time touring church history sites and spent a day at Niagara Falls. While staying near Palmyra we stopped at the Old Mill Hot Dog Stand. It was a mom and pop shop restaurant that had the best food around. And not just food, they also sold Perry's Ice Cream.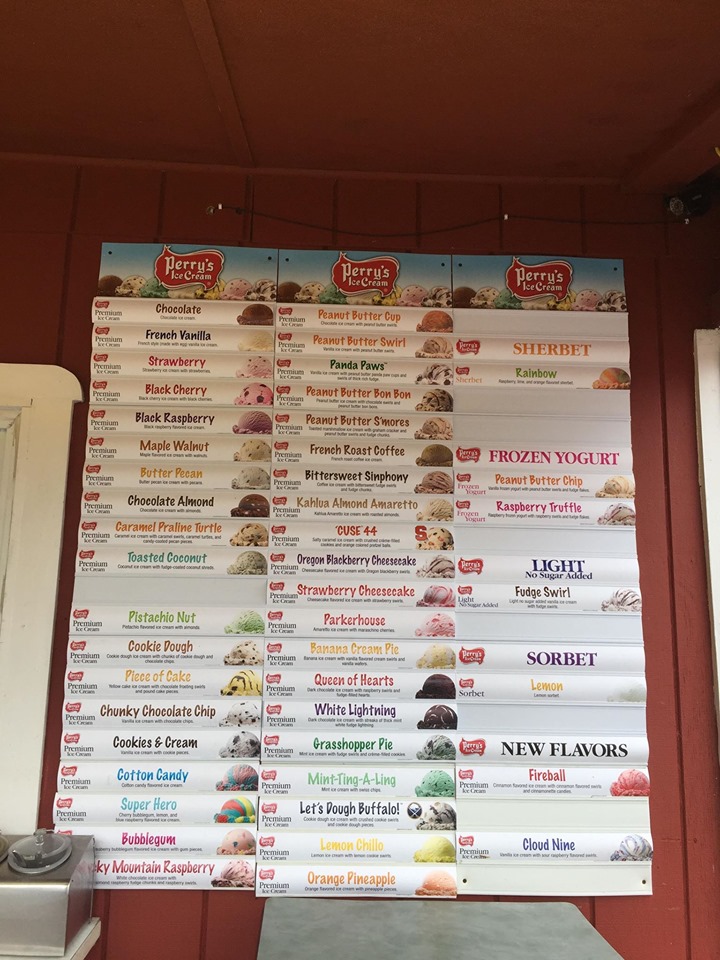 We may have stopped multiple times for ice cream cones with our friends because the flavors were so original! We tried Lemon Chillo, Mint-Ting-A-Ling, White Lightning, Fireball, Cookie Dough, Chocolate Almond, Peanut Butter Cup and Peanut Butter Swirl, but my FAVORITE was the Toasted Coconut. Unfortunately, Perry's Ice Cream is a regional thing and isn't sold near us. Maybe that's a good thing?? Regardless, I set out to recreate their toasted coconut ice cream because it was SO GOOD. I basically went off of their description, "Toast to summer as you indulge in milky coconut ice cream flaked with chocolate flavored coated coconut shreds."
Done and done. I am excited to share my version with you today! It's close. REEEEEEAL close. Most of the coconut flavor comes from the chocolate covered toasted coconut, so if you get that right you're golden.
Chocolate Covered Toasted Coconut Ice Cream Recipe
I started with a no churn vanilla base and added a bit of coconut extract to it.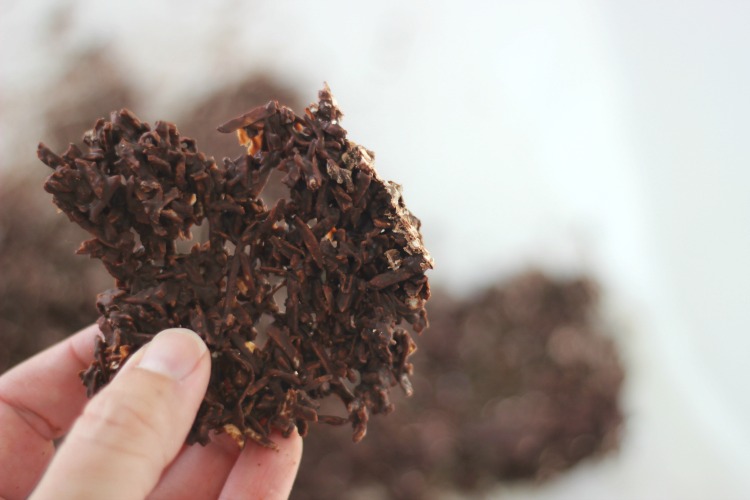 Then I added chocolate covered toasted coconut.
To make the coconut I toasted the coconut in the oven, put it in a bowl, poured melted dark chocolate over it and gave it a stir. Then I spread it on a baking sheet, covered in parchment paper, and let it chill until hardened. To break it up into shreds, I put it in a food processor and pulsed it (you can also cut it into shreds with a knife) until it looked shredded once more.
After that I folded it into the ice cream base and froze it for 5 hours.
Tip: It's always a good idea to go in and give your ice cream a stir an hour or two in so that any chunks that may have fallen to the bottom get mixed in again.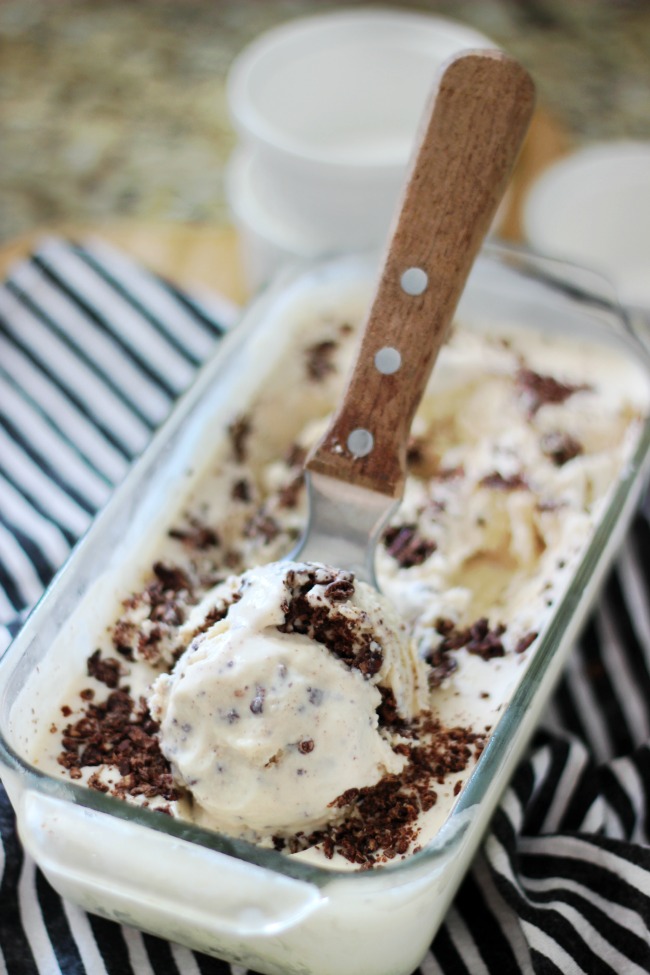 4 More No Churn Ice Cream Recipes You NEED to Try!
Cake Batter Ice Cream RecipeBubble Gum Ice Cream Recipe
Buckeye Peanut Butter Ice Cream
How many servings does this recipe make?
12 1/2 c. servings
How long does no churn ice cream need to freeze?
Freeze for 5-6 hours.
Can you make this recipe without coconut extract?
Since most of the flavor comes from the toasted coconut, you can omit the extract if you don't have any. I think fold a bit of coconut milk (1/2-3/4 c.) into the ice cream mixture would be delicious, too.
Chocolate Covered Toasted Coconut Ice Cream (Printable Recipe)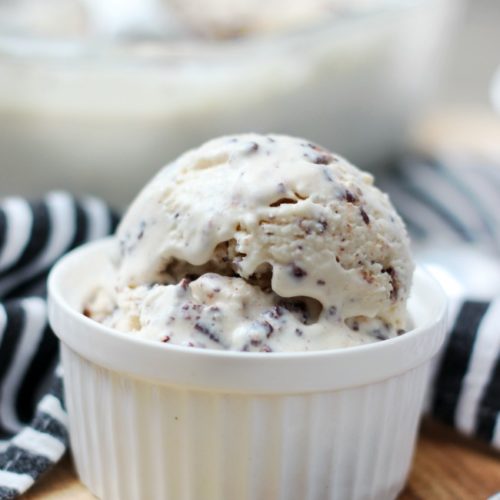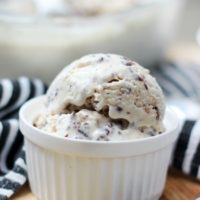 Chocolate Covered Toasted Coconut Ice Cream
Chocolate covered toasted coconut combine with a creamy coconut ice cream. Inspired by Perry's toasted coconut ice cream in Upstate New York.
Print
Pin
Rate
Ingredients
2

cup

heavy whipping cream

1

14. oz. can

sweetened condensed milk

1

teaspoon

vanilla

1-1/2

teaspoon

coconut extract

1-1/2

cup

shredded coconut

2/3

cup

dark chocolate chips or melting chocolate

melted
Instructions
Spread shredded coconut onto a baking sheet and toast at 375 degrees. Watch closely and stir after 5 minutes because it will brown quickly. Remove from oven.

Place coconut into a bowl and pour melted chocolate over it. Stir.

Cover a baking sheet with parchment paper and spread chocolate covered coconut onto baking sheet. Freeze until hardened.

Break chocolate coconut into chunks. Place chunks into food processor and pulse until shredded/finely chopped. Set aside.

In a large mixing bowl beat heavy whipping cream until stiff peaks form.

Fold in sweetened condensed milk, vanilla, and coconut extract.

Fold in chocolate covered coconut.

Pour mixture into a loaf pan, or 2-quart dish.

Freeze for 1-2 hours then give the mixture a stir. This will help the coconut from falling to the bottom of the dish.

Freeze an additional 4 hours.
Notes
To make in a traditional ice cream maker, place mixture in bowl and follow manufacturer's instructions.
Nutrition