Buckeyes and peanut butter combine with a delicious creamy base to create this delicious buckeye peanut butter no churn ice cream. No ice cream maker necessary!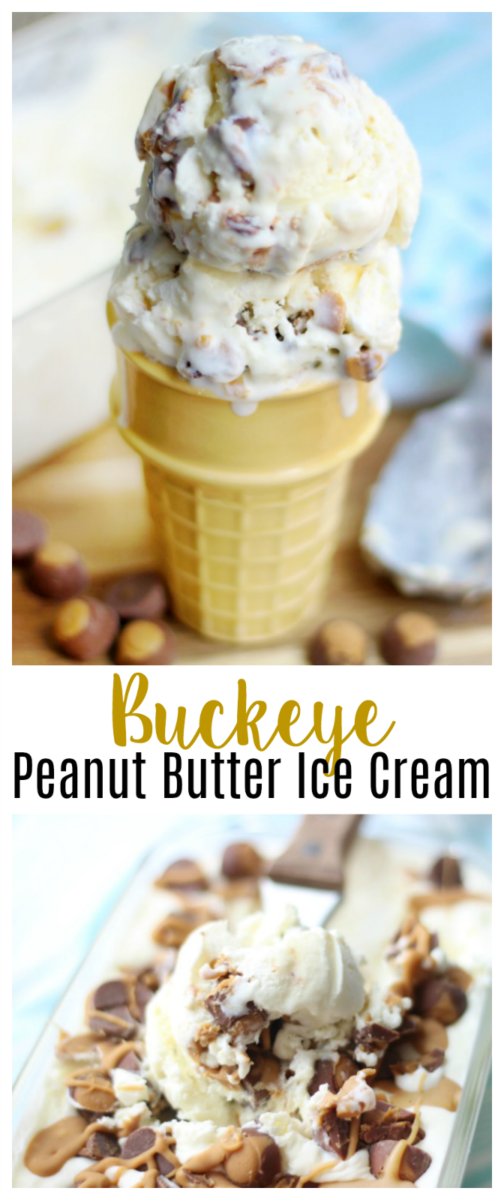 Hi, my name is Brandy and I have an ice cream problem. As in, I eat way too much ice cream, and I make way too much ice cream. In my defense, when you have an awesome no-churn base that turns out fantastic every time it only makes sense to keep going with it, am I right?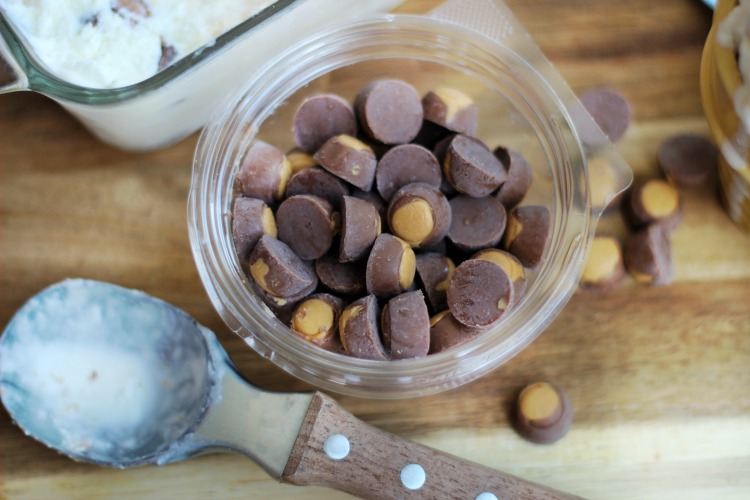 I had two containers of these mini buckeyes and couldn't let them go to waste! Now to decide what to do with the last package. Decisions, decisions. I'll probably just make another batch of ice cream.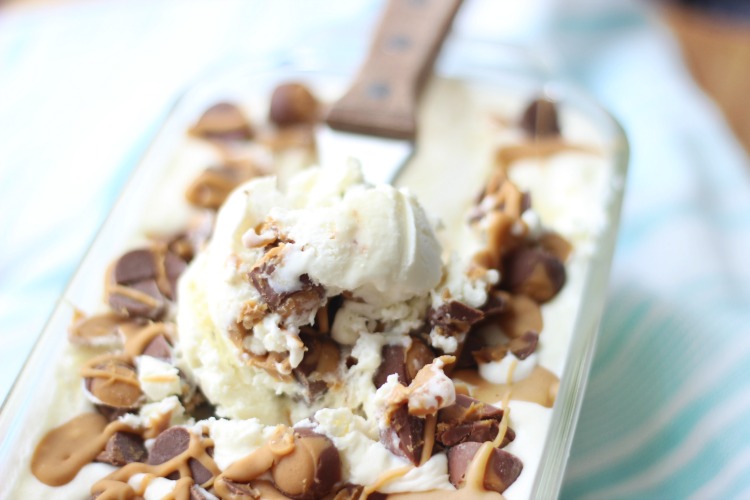 Out of all of the no churn ice cream variations that we have made, this one has been my kids' favorite. Mac couldn't stop stealing the buckeye candies from the top.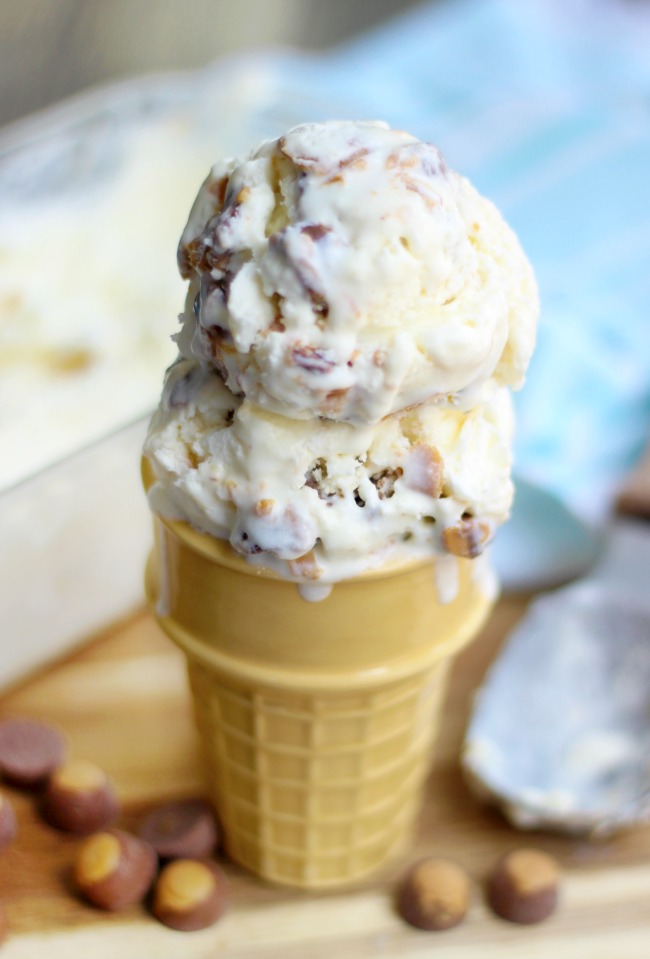 How many people will this batch of no churn ice cream serve?
One batch will make 10-12 (1/2 c.) servings
What kind of equipment do you need to make ice cream?
No churn ice cream recipes are very versatile. You can use a plastic container or a bread pan. Glass, plastic or metal.
Will the toppings sink to the bottom while they freeze?
For this recipe, the pieces of chocolate were chopped small so they didn't sink to the bottom of the pan. If you use heavier toppings like big chunks of chocolate or fruit, give your ice cream a mixture a stir after it has been freezing for an hour or two. As the cream thickens, the fruit and chocolate will stay evenly dispersed instead of falling to the bottom.
What other no churn ice cream recipes should I try?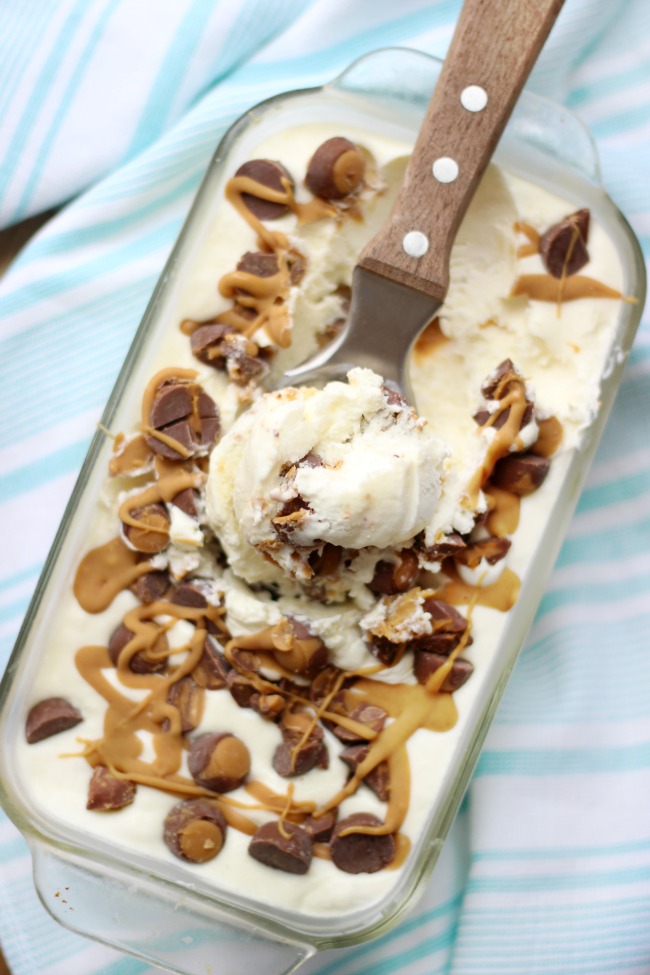 Note: If you can't find mini buckeyes in your area, mini Reese's (that come in a resealable bag in the candy aisle at your local grocery store) work too!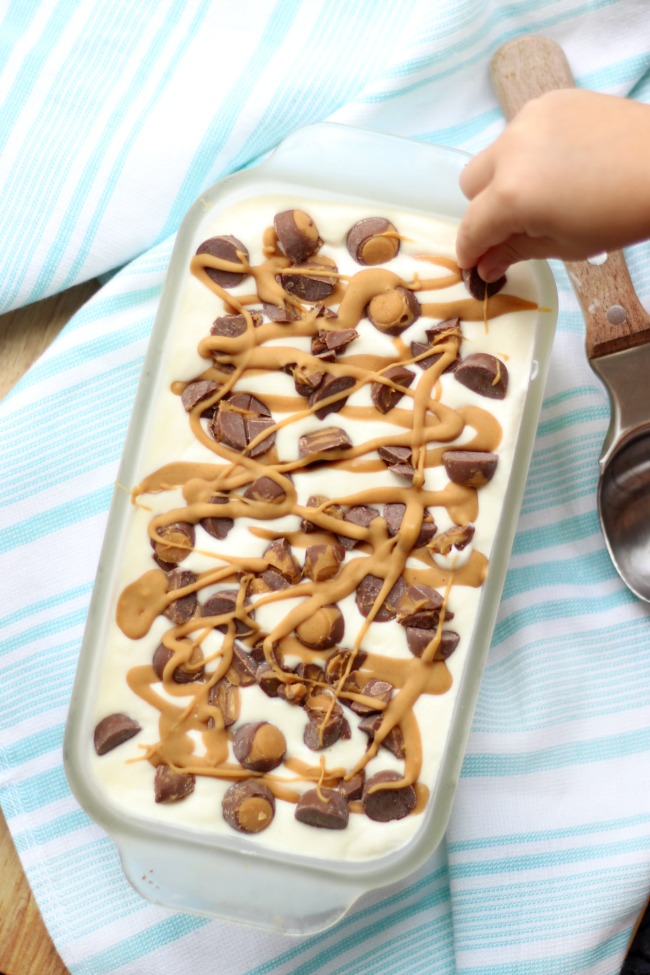 Buckeye Peanut Butter No Churn Ice Cream Printable Recipe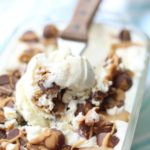 Buckeye Peanut Butter No Churn Ice Cream
Buckeyes and peanut butter combine with a creamy base to create this delicious buckeye peanut butter no churn ice cream.
Total Time
6
hours
10
minutes
Ingredients
2

c.

heavy whipping cream

1

14. oz. can

sweetened condensed milk

1

tsp.

vanilla

1/3

c.

creamy peanut butter

1

c.

chocolate peanut butter candy

chopped
Instructions
Beat whipping cream until stiff peaks appear using a hand mixer or stand mixer.

Fold in sweetened condensed milk and vanilla.

Warm peanut butter in microwave until runny, 20-30 seconds.

Pour 1/3 of the ice cream mixture into a loaf pan.

Drizzle 1/3 of the peanut butter over the ice cream mixture.

Sprinkle 1/3 of the chocolate peanut butter candy over the peanut butter.

Repeat with the cream mixture, peanut butter and chocolate candy until you have 3 layers of each.

Freeze for 5-6 hours, until set.
Recipe Notes
To make in traditional ice cream maker, place mixture in bowl and follow manufacturer's instructions.