A mini cream pie in a cup that come together in just minutes! A layer of graham crackers, a layer of Greek yogurt and whipped cream! Perfect for parties. This post contains affiliate links. Refer to my disclosure on the bottom of my home page for more details.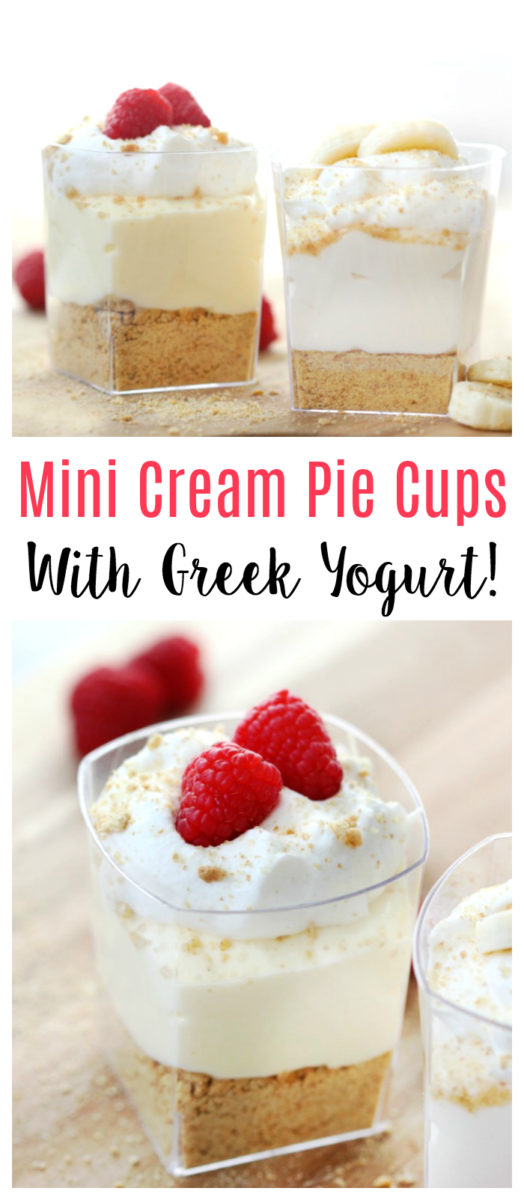 I have SUCH a huge sweet tooth in the afternoons. I can't be alone here. It's so hard to not just grab a handful of cookies or chocolate! I love yogurt though, and generally don't think of it as a dessert…unless it's in one of these mini cream pie cups. Aren't they cute? I had a bunch of these plastic cups leftover from a party and they are just the right size for an individual portion.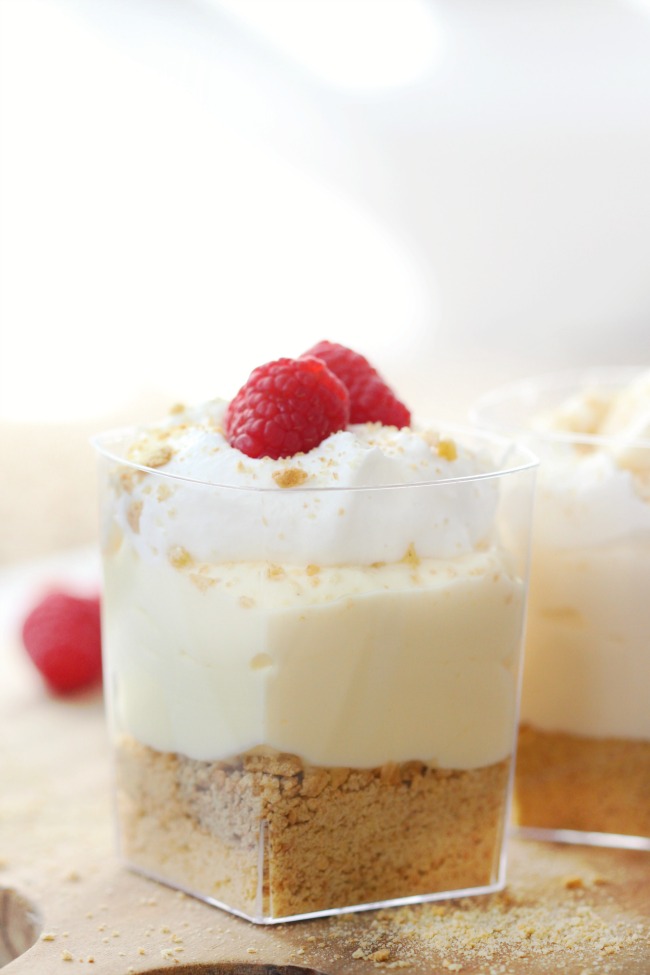 These mini cream pie cups would be the perfect dessert to serve at a shower or afternoon luncheon. They are simple, but so pretty at the same time. You can use whatever flavor of yogurt you'd like, but I like sticking with the pie flavors: banana cream, key lime, and lemon meringue. The tart from the lemon and lime flavors blend perfectly with the sweetness of the whipped cream.
I asked my son what he'd like for dessert for his birthday recently (my kids aren't huge fans of cake) and he said, "Can you make a pie?" I asked him what kind and he asked for key lime. I told him I hadn't ever made key lime pie before and he said, "How about those mini ones you made?" Haha, he was referring to these. I made them with key lime yogurt a few years back and he loved them. Using yogurt is a heck of a lot easier than making the real deal, but it's best to make mini pies vs. a large one unless you plan on serving it frozen so that the slices keep their shape.
Mini Cream Pie in a Cup
Each mini cream pie cup will need:
2 crushed graham crackers
1 (5.3 oz) container of Greek Yogurt
3 T. whipped cream
fruit for a garnish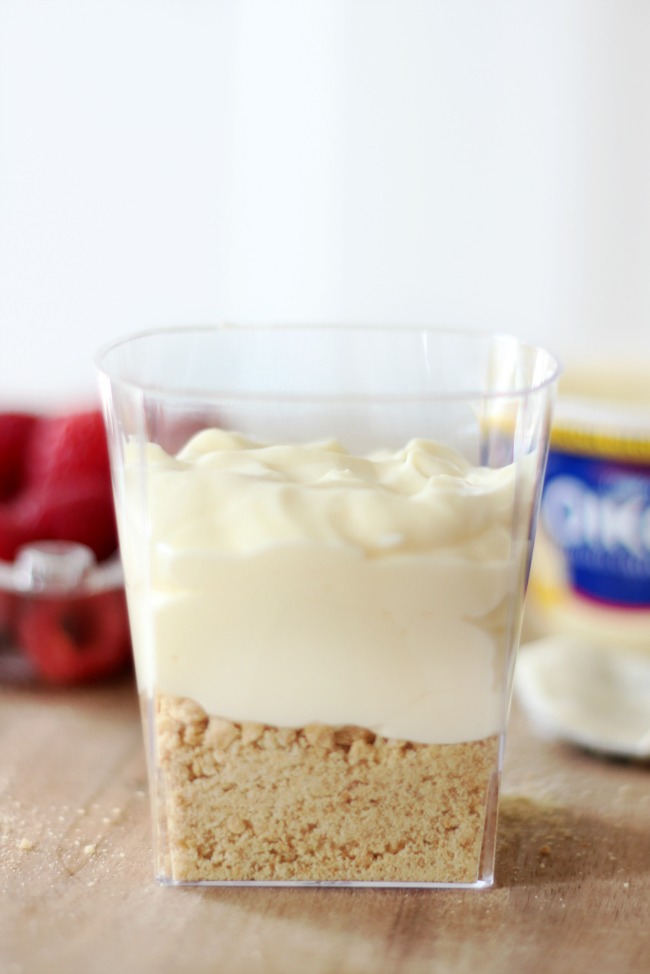 Add a layer of graham cracker crumbs to the bottom of the cup followed by a container of yogurt.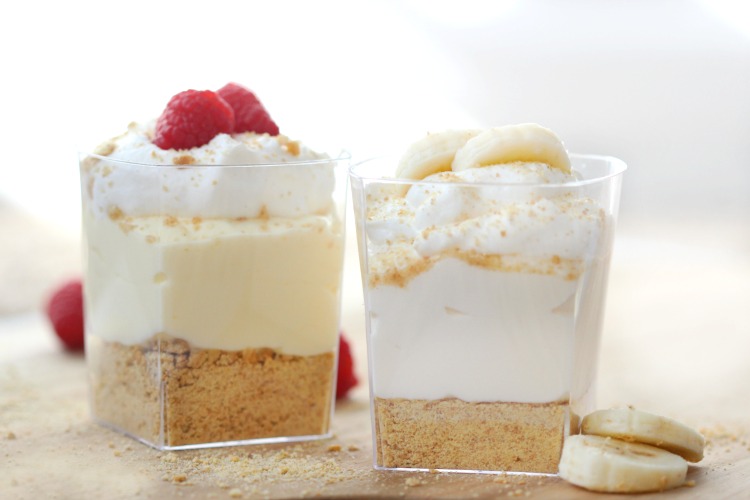 Add whipped cream, fruit, and sprinkle with extra graham cracker crumbs.
May be made an hour or two ahead of time and stored in the refrigerator.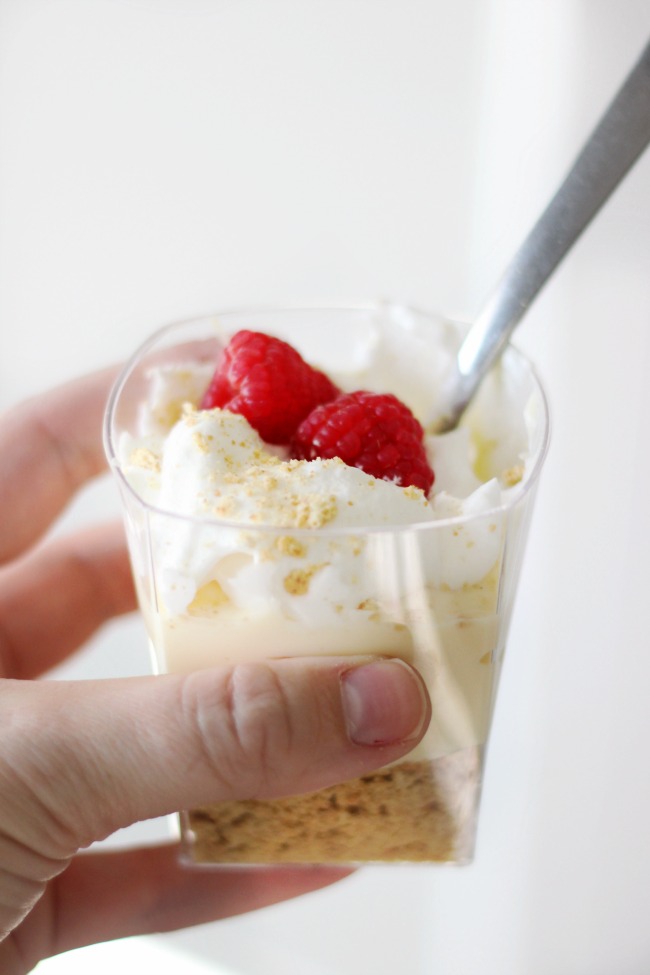 The perfect mid-afternoon snack and SO easy to make!
You might also like…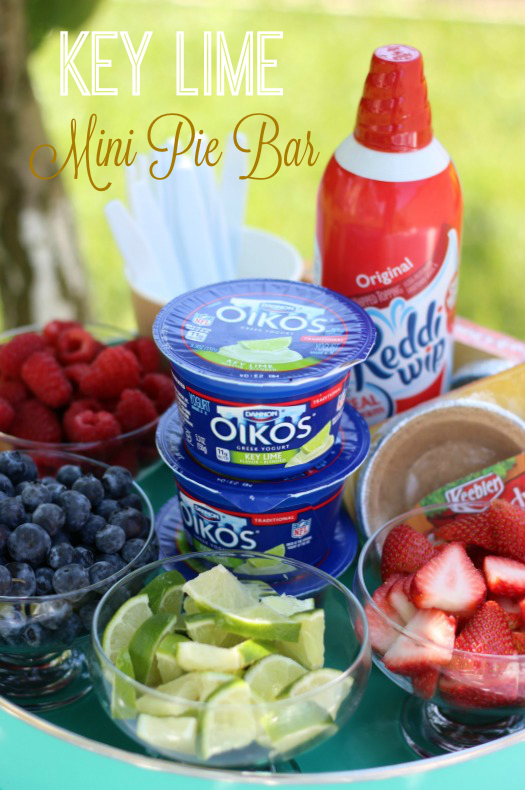 When it comes to making a pie, it doesn't get any more effortless than our 5 minute Key Lime Pie Bar. Seasonal berries, Key Lime Greek Yogurt, and whipped cream layered in a mini graham cracker pie crust and sprinkled with graham cracker crumbs. These mini pies are fun to customize— and the best part? They are no bake and perfect for the summer entertaining!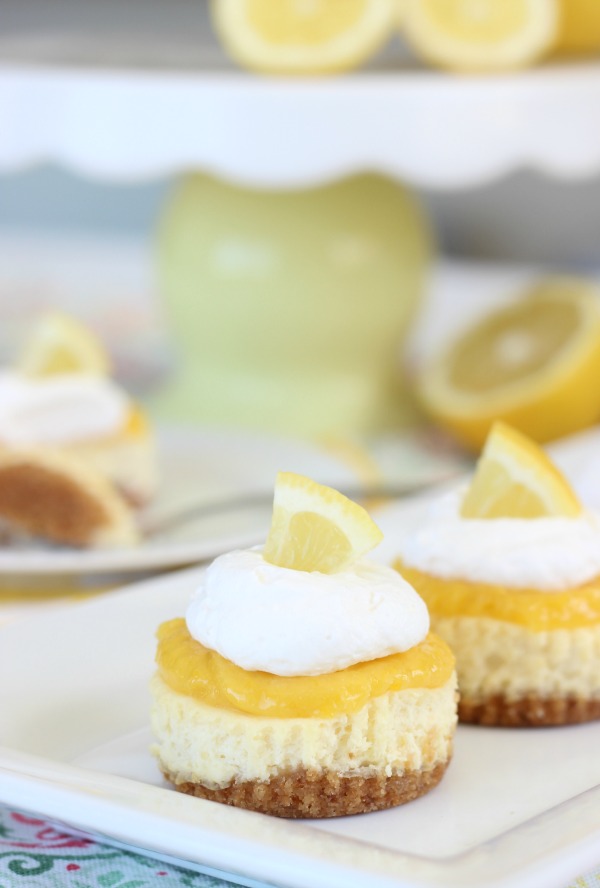 This homemade lemon curd cheesecake recipe has a sweet NILLA Wafers crust and a creamy cheesecake filling. Topped with homemade lemon curd, and whipped cream. The perfect combination of sweet and tangy, they are little in size, but huge in flavor!
How yummy do apple cinnamon mini pies sound? Find the recipe at Taste of Home!