A DIY beach bag made out of a beach towel! Grab a fun and funky towel and let's get started! The perfect bag for towels, sunscreen, and treats to share with friends at the pool this summer!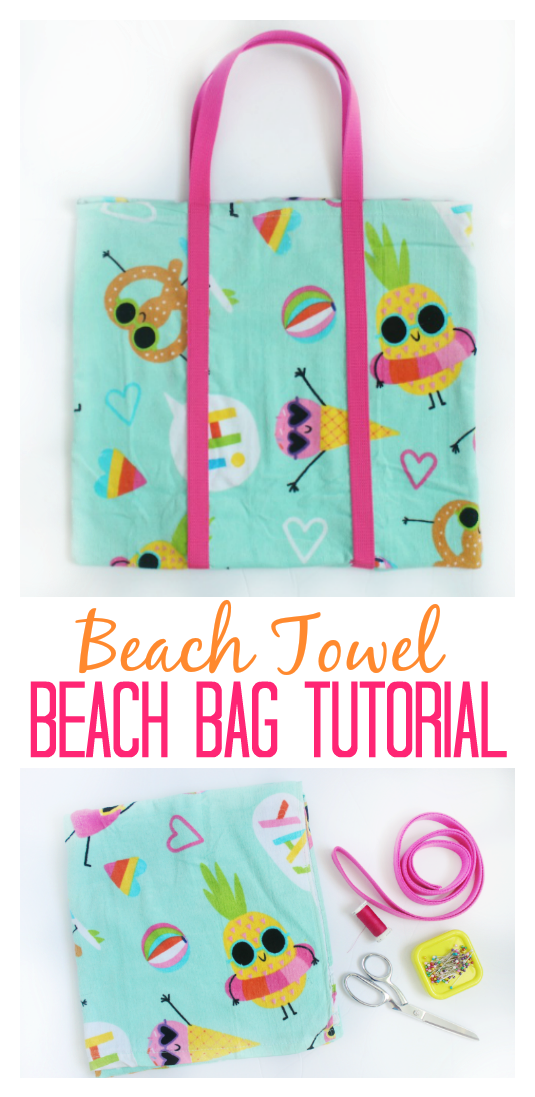 The summer heat and humidity has already arrived here in Virginia! While I'm happy to stay inside and enjoy my air conditioner when the temps heat up, the summer season is for being outside. It's for enjoying the gorgeous scenery, sun, and getting fresh air! We have plans to stay cool by hanging out in Virginia Beach, going to water parks, and playing with friends in their backyard pools.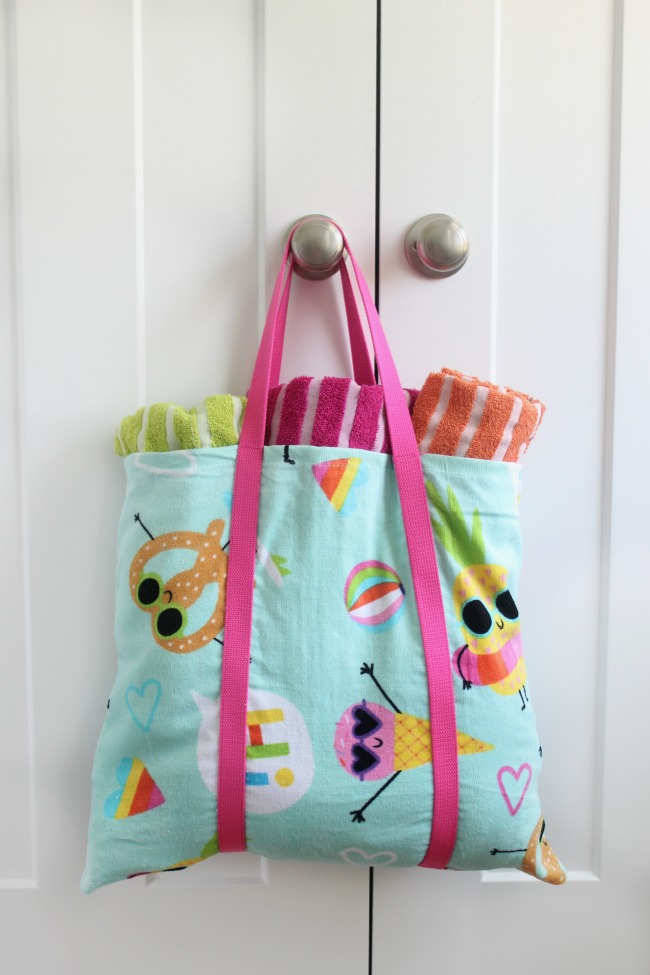 I saw these fun and funky beach towels at the store for $5 and picked one up to make a large DIY beach bag! It was a quick and easy 20 minute project, and as always, I snapped a few pictures along the way! The beauty of using a beach towel is that the top hem is already finished for you! So grab a towel and let's get started!
For 60 more sewing projects just like this one, check out my sewing book for kids!
DIY Beach Bag Made out of a Beach Towel
Makes 1 beach bag (20″ w x 18″ h)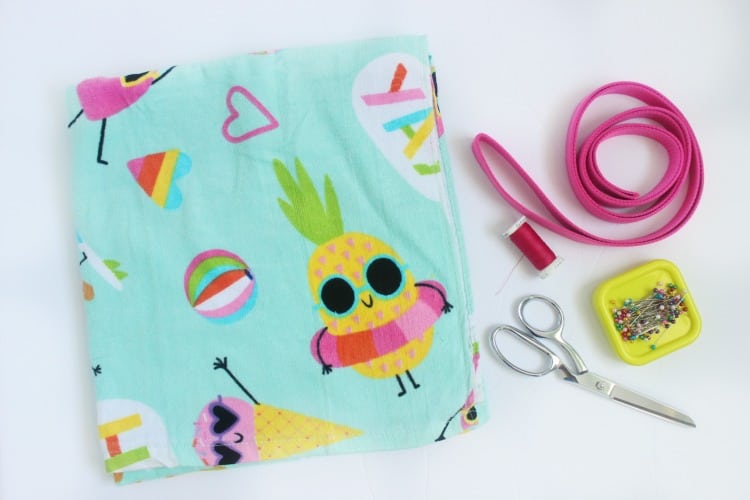 Supplies:
1 beach towel
measuring tape
scissors
pins
2 (56″) pieces of 1″ wide cotton webbing (medium weight)*
thread
sewing machine
*You can find cotton webbing at your local fabric store or online. It comes in many fun colors.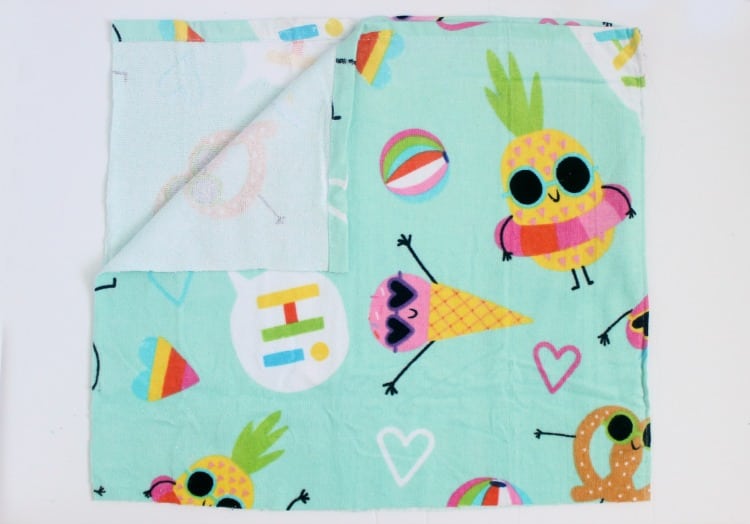 Fold the beach towel in half so that the finished hems are together on the top, and the fold is on the bottom.
Cut 2 rectangles that are  20″ wide and 18″ tall. (Cut through both thicknesses of the towel so that you only have to cut out one rectangle).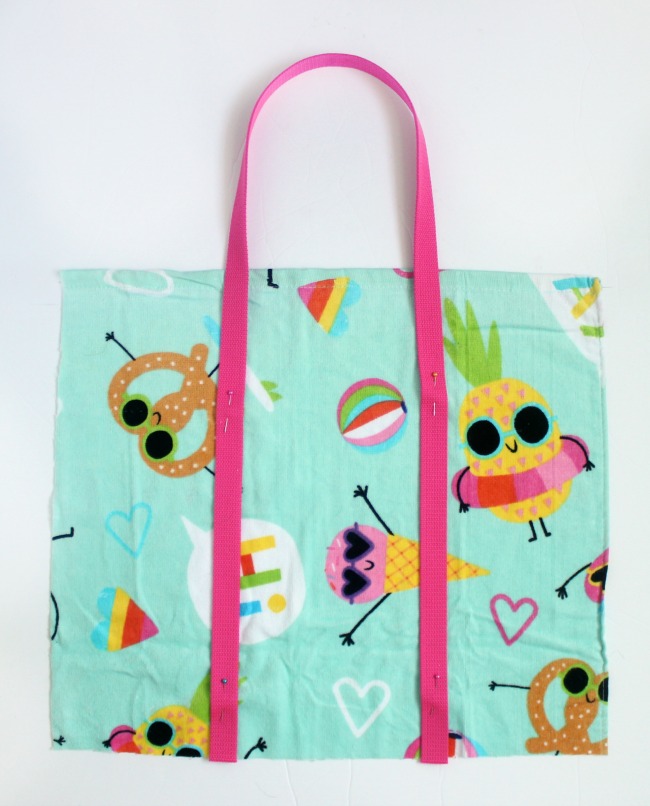 Place one rectangle onto your work surface. Align both ends of one of the pieces of wedding along the bottom edge, 6″ from each side. Pin into place.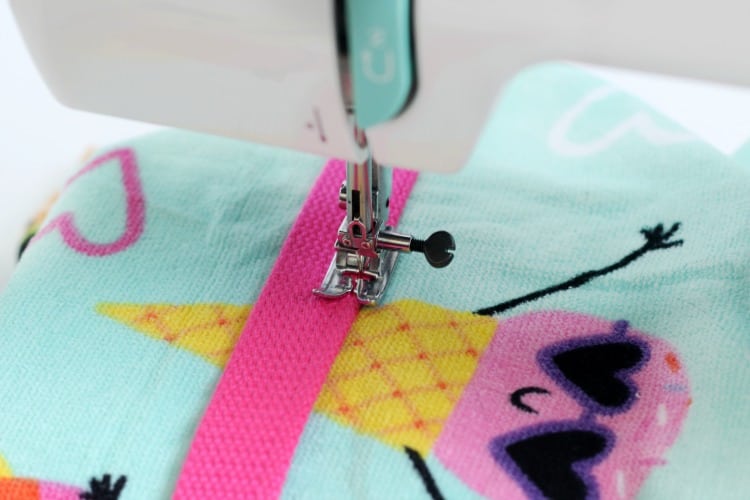 Sew close to the edge of the webbing, up the entire side, across the top and down the other side of each strap.
Repeat with the other rectangle and piece of webbing.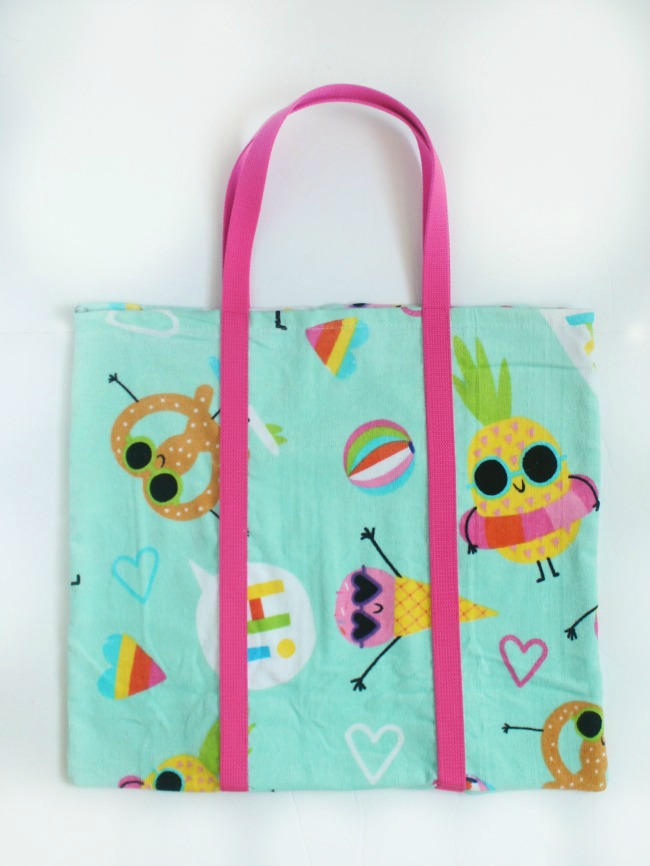 Lay both rectangles onto you work surface with the right sides facing each other, lining up handles. Sew along the sides and bottom using a 3/8″ hem. Clip corners close to the stitching, but do not cut the stitches!
Note: If you don't own a serger (I don't own one) you can zig zag around the sides and bottom to keep the edges from fraying.
Turn your bag right side out.
I made it large enough to hold at least 4 beach towels and a few accessories like sunscreen or a box of ice cream bars!
If you liked this DIY beach bag you might also like:
Minion Tote Bag Tutorial: Make a DIY Minion Tote Bag that is perfect for trips to the pool, a library tote, or even a preschool book bag.
Sunglasses Case Tutorial: Make a sunglasses case sewing tutorial in 15 minutes to keep in your pool bag or purse this summer! A great use of scrap fabric and a practical way to keep sunglasses scratch-free!
Fluffy Flip Flops: Decorate flip flops with scrap fabric to make these fun and funky "Fluffy Flip Flops". A quick and easy summer camp project for girls and a great way to use up fabric scraps.