A 15 minute sunglasses case sewing tutorial! A great use of scrap fabric and a practical way to keep sunglasses scratch-free! What's in your pool bag? This post contains affiliate links. This shop has been compensated by Collective Bias, Inc. and its advertiser. All opinions are mine alone.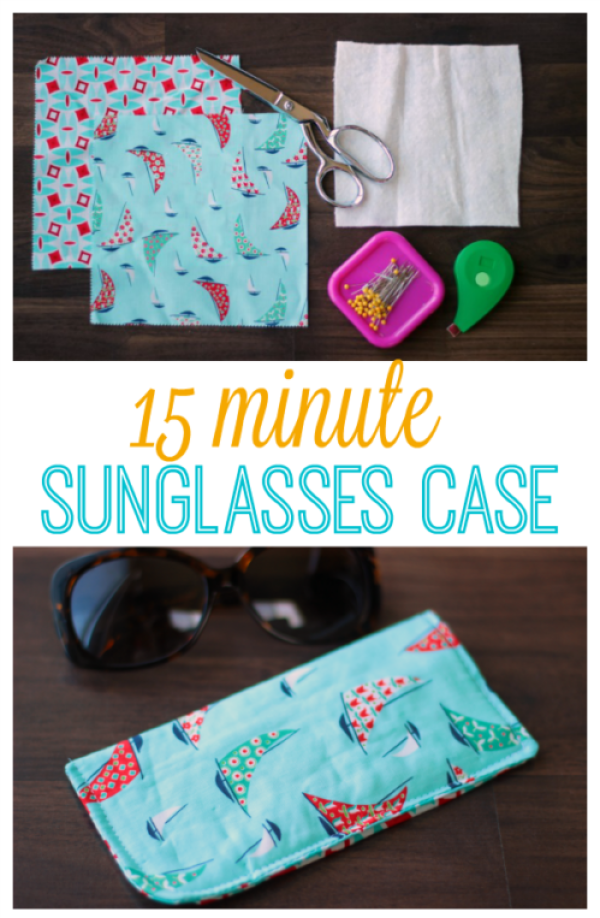 I'd like to think that I do a great job at taking care of the things that own, with one exception: my sunglasses. I'm not sure why! They are one of the most important things to me in my purse and beach bag! I've grown so accustomed to wearing them that if I walk outside without them, I feel like I'm being blinded. Yet, I carelessly toss them into my purse to battle it out with my keys and they end up with tiny scratches on the lenses.
This summer we are spending a lot of time outside on a trip to Alaska, a family reunion in Idaho, the beach, camping, and swim lessons. All 4 of the kids are in swim lessons this year so I will be poolside quite a bit. Having a stocked pool bag is essential to keep hydrated and protected from the sun's rays.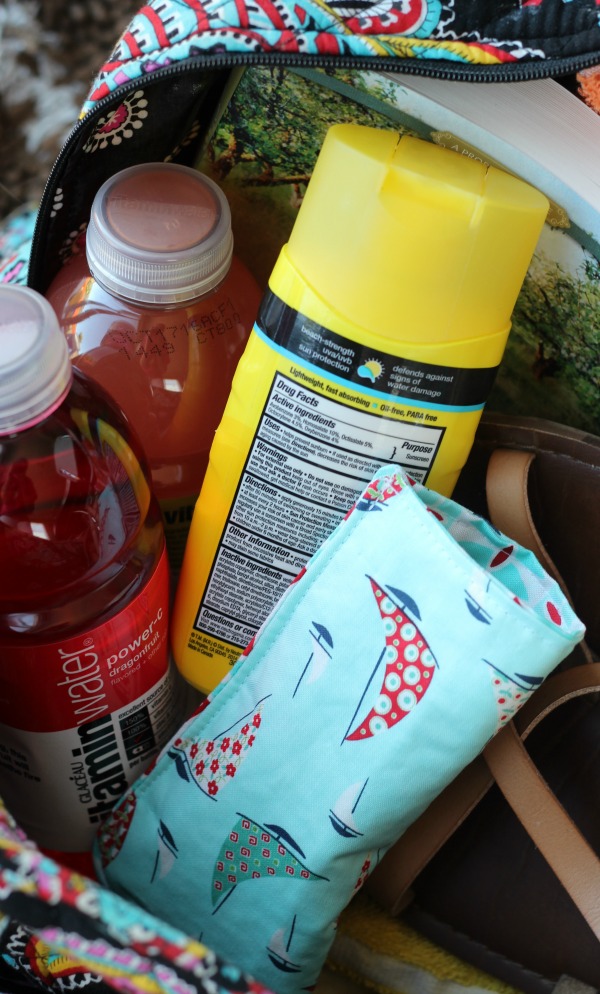 I made a sunglasses case in less than 15 minutes and then sat there wondering why it's taken me decades to do so.
For 60 more sewing projects, check out my sewing book for kids!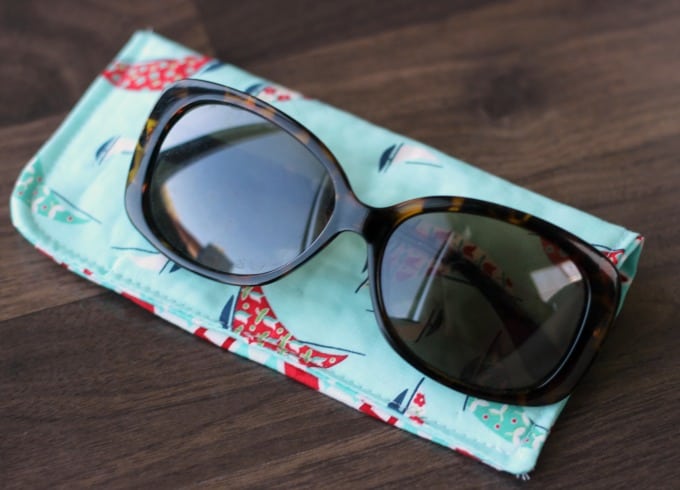 This 15-minute sewing project would also make a great gift for a friend or teacher!
15-Minute Sunglasses Case Sewing Tutorial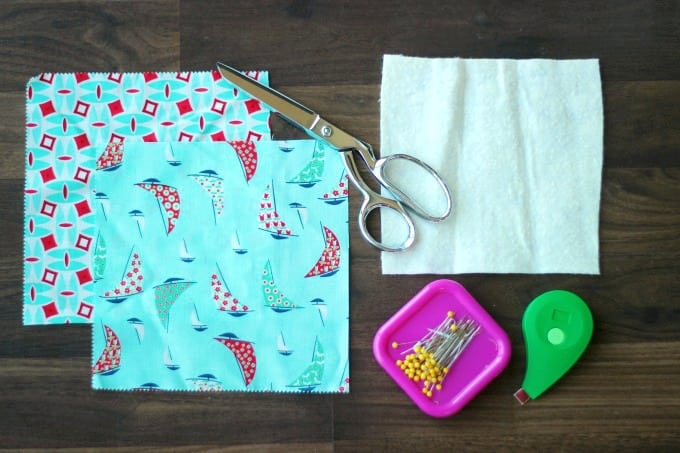 Supplies you'll need to make a sunglasses case:
2 (7.5″ x 7.5″) squares of fabric
1 (6.5″ x 6.5″) square fusible interfacing or batting
scissors
pins
sewing machine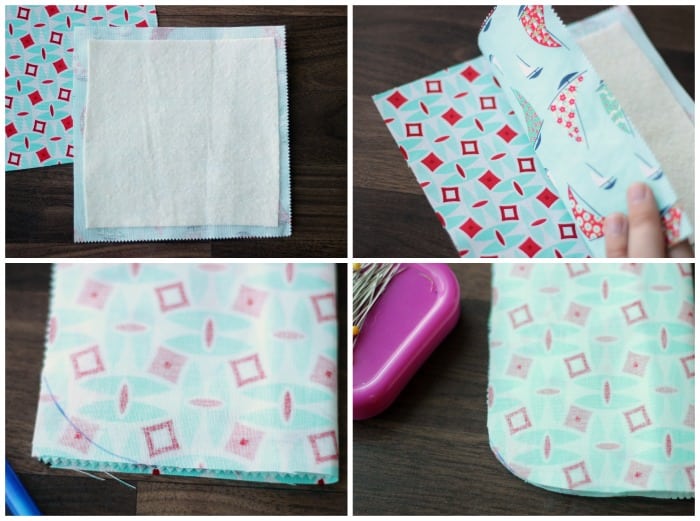 Fuse your interfacing/batting to the back of one piece of fabric. I am a quilter and have basting spray around so that's what I used, but using an iron-on interfacing/batting works great.
With right sides together, place the lining and outer fabrics together.
Fold in half and sketch a curve with a pen to one of the corners (NOT ON THE FOLD). You can use a glass or small bowl to help you get the perfect curve.
Cut out the curve.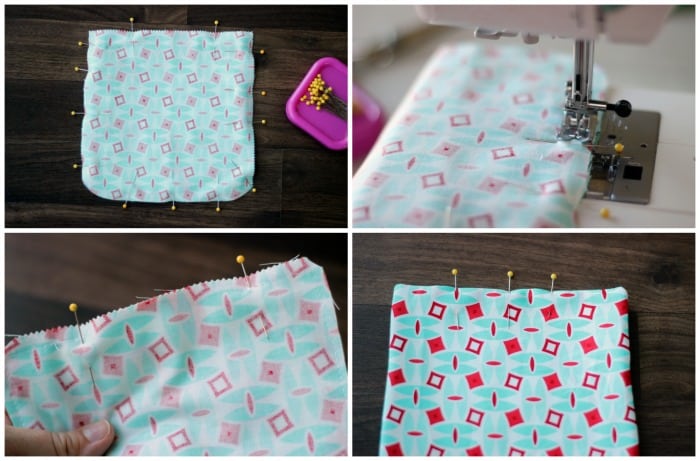 5. Open the fold and pin around all 4 edges, leaving a 3-4″ gap across the top to be used for turning right-side-out later.
6. Stitch around (leaving a gap for turning right-side-out) with a 3/8″ seam.
7. Trim seams and clip curves. Turn right-side out.
8. Tuck raw edges from gap inward and pin.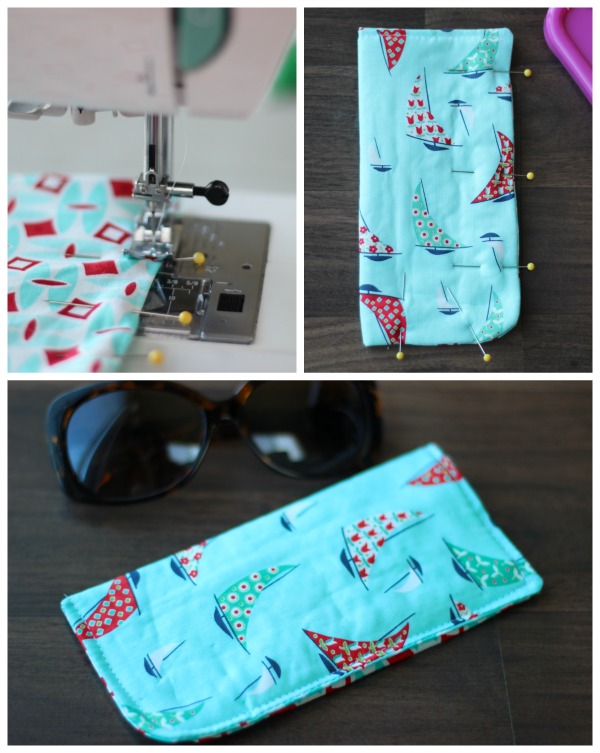 9. Top stitch across using a 1/8″ seam.
10. Fold fabric in half, having curved edges lined up. Stitch sides and bottom using a 1//8″ top stitch.
That's it!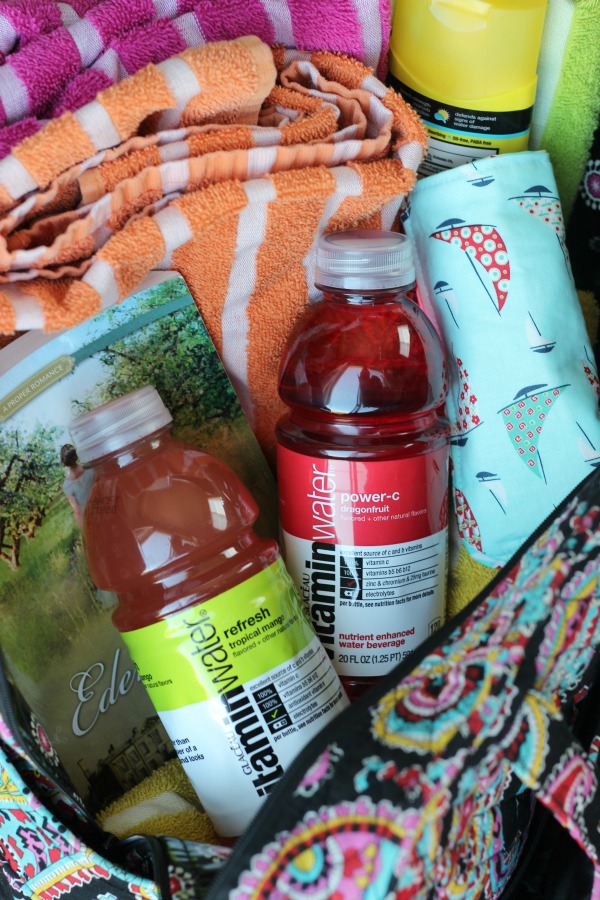 Now I can put my sunglasses into this sunglasses case and toss them in my pool bag without worrying about them getting scratched or dirty! With temps being well into the triple digits all summer long, I've been a stickler about remembering to bring extra drinks in my bag for hydration as well.
If you liked this sunglasses case sewing tutorial you might also like:
Kids Laundry Bag Sewing Tutorial To Hang On a Door
Welcome! I'm Brandy, mother to 5 darling kiddos and a cute black lab named Toby. My husband is in the Coast Guard so we've lived all over the place, turning each house into a home. I love baking, sewing, making cute things with my kids, and sharing what I've learned with all of you!