This shop has been compensated by Collective Bias, Inc. and its advertiser. All opinions are mine alone. #Prep4Gathering #CollectiveBias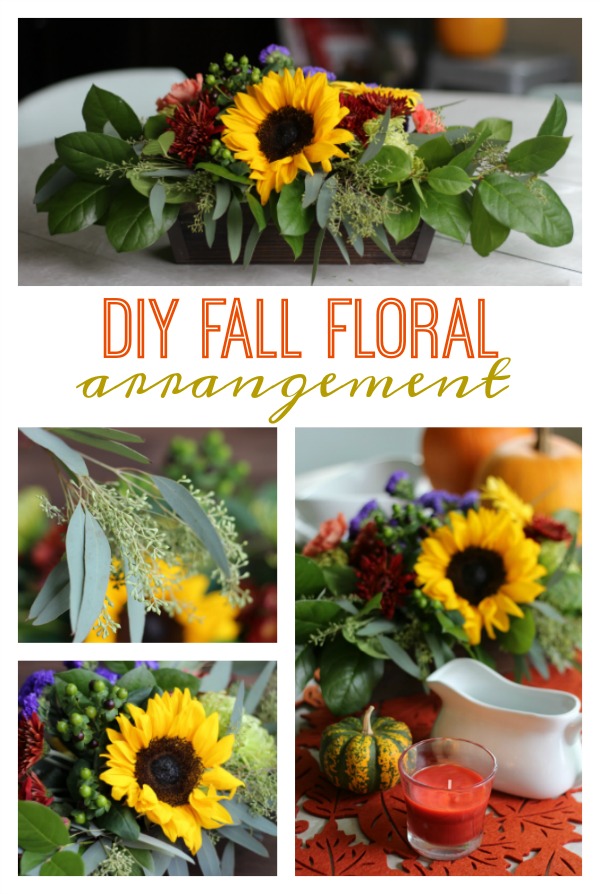 A beautiful fall floral arrangement that YOU can put together for your Thanksgiving table! I'll share tips and tricks to make arranging these stems a snap!
Our baby is due on Black Friday. This means that I could very well be in the hospital on Thanksgiving Day this year, although we really hope he comes early and we are able to have Thanksgiving at home as a family. My to-do list is about a mile long, cleaning and nesting, but I am still creating a menu for Thanksgiving day. We're keeping it simple, but are still looking forward to spending the day together as a family, whether it is at home or in the hospital. I am so grateful for this family of mine and this day that we have to remember how lucky we are to have each other. Even with the craziness that sometimes comes with it. Like spills and stains!
I remember my uncle showing me how to make my crystal goblet make a ringing noise by running my finger around the rim of it at the Thanksgiving table when I was 12 years old. My cousin tried it on his glass and it broke, spilling cranberry juice all over the white tablecloth and ME! Luckily my aunt had a change of clothes for me to borrow while she washed mine. Ahh…Thanksgiving- a time for family gatherings, and all of the crazy entertainment that comes with it!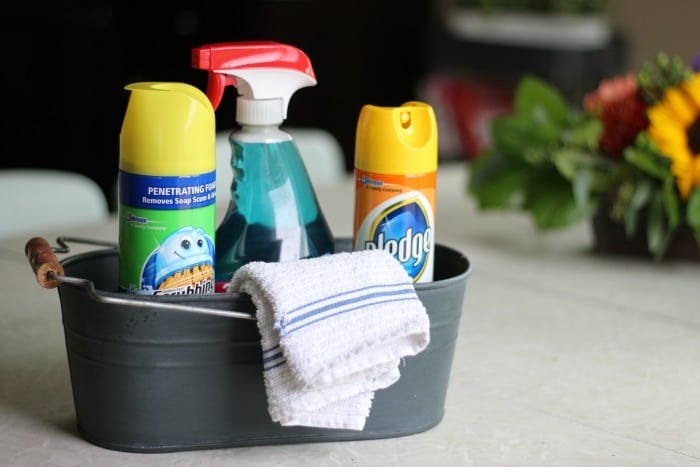 I like preparing a cleaning caddy to make cleaning several rooms easier before company comes and to tackle any spills that may come while they are here. When it comes to buying
cleaning products,
I like ones that can multitask. That way I can get more done with less bottles of cleaner.
I use Windex® Original Glass Cleaner for windows, mirrors, my tile counters, my kitchen table, and stainless steel. Scrubbing Bubbles® Lemon Scent Bathroom Cleaner works great for the three bathrooms by tackling my shower door, fixtures, tubs, fiberglass, and porcelain surfaces (toilets). Then I turn to Pledge® Spray products for all of the wood furniture in our main living area. It cleans, polishes, and protects all at the same time. I especially like the orange scent that it leaves behind.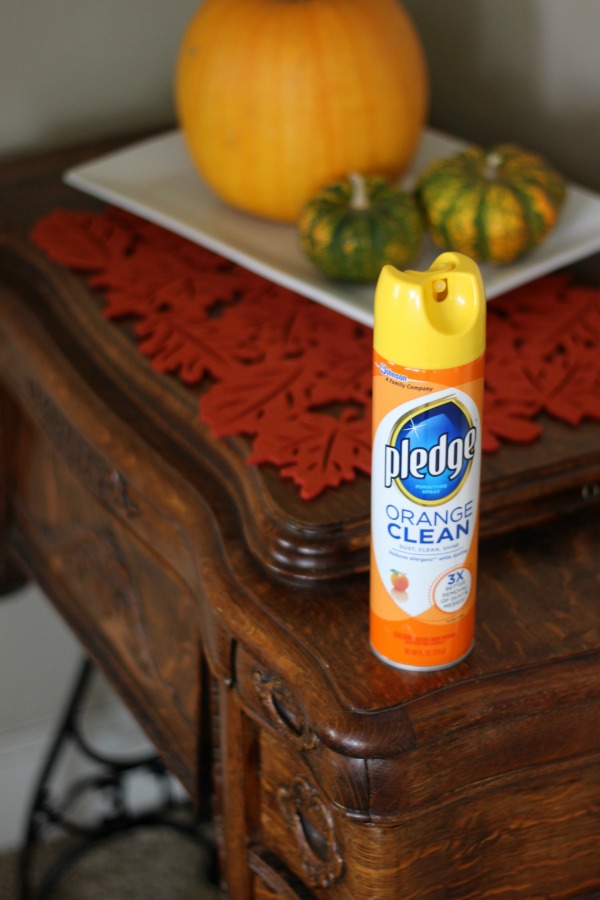 I rarely do a deep cleaning of my home because I find that if I do a few quick power cleaning sessions, that the house really doesn't need it. It is so much less overwhelming this way as well. Just a quick clean up as needed or before guests arrive is all that is usually necessary, and I can always plan on cleaning up a few messes while company is here. It's all part of the process!
With the house smelling fresh and clean, it was time to add the fall touches that I had picked up earlier at the store.
I love arranging flowers in my home. Usually I'll buy several types of stems, greenery, and blooms, but this time I found an inexpensive pre-arranged bouquet at the grocery store with all 0f the colors I was looking for! I simply took it apart, trimmed the stems, and added them to a wooden planter that I had.
I like the look of the horizontal arrangements. They are perfect for dining tables because they are short and don't get in the way of conversation.
DIY Fall Floral Arrangement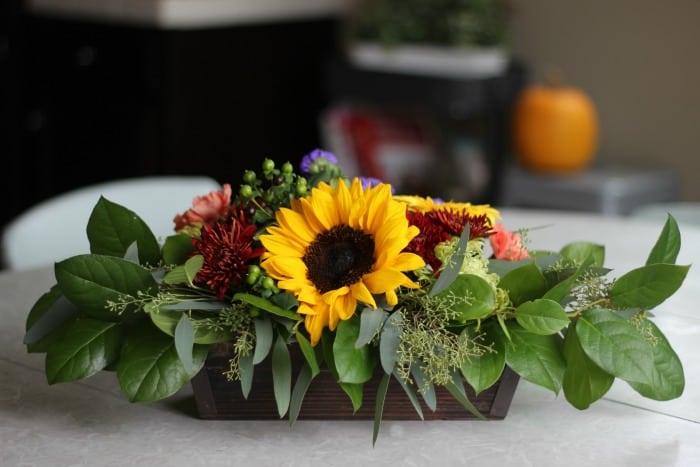 Supplies:
1 large bouquet of mixed flowers (or individual bunches of greenery leaves, large blooms, medium blooms, small blooms, berries, and other fillers).
Wooden planter box
Liner for Box (most come with one)
Waterproof floral tape
Scissors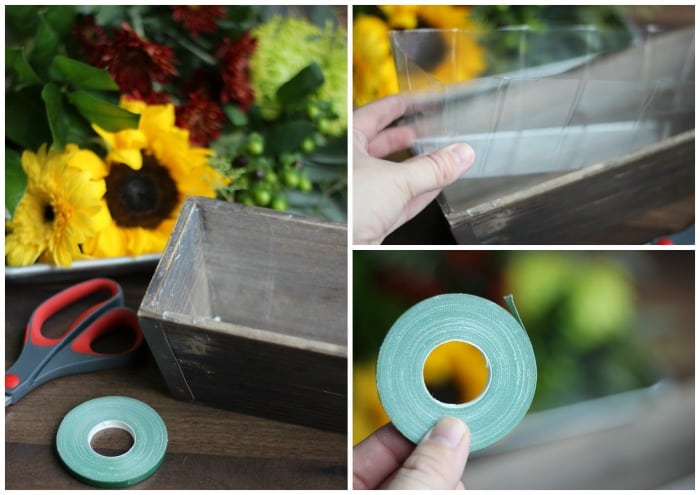 You'll want a nice variety of greenery and blooms. You might think that you bought too many, but let me tell you, there is NO SUCH THING as too many flowers. I used my entire bouquet in my small arrangement.
Most planters will come with a plastic liner. You will need one if your planter is made out of wood so that the water doesn't damage it. If you decide on a metal or plastic planter, a liner isn't necessary.
Use your floral tape to mark out a grid over the top of the planter. Cut strips to match the length and width and lay them on top.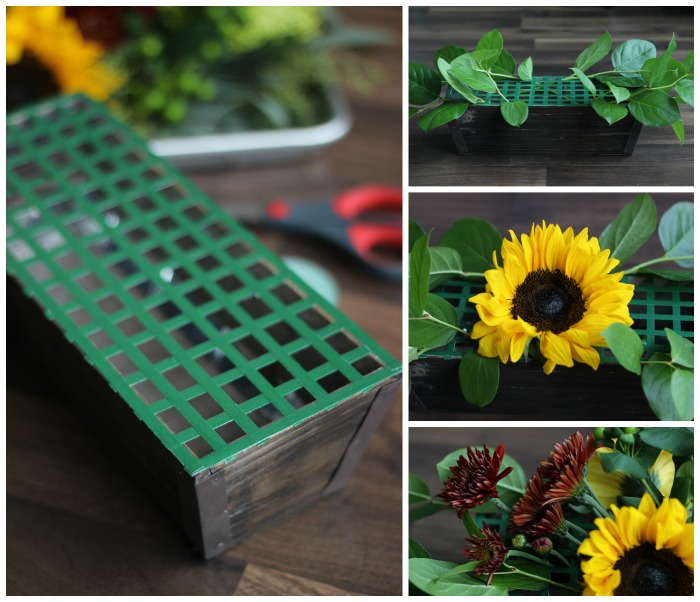 This grid will help your foliage stand up straight. It makes it easy to fill in empty areas this way and also is how I am able to get the green leaves to lay flat on the ends of my arrangement.
Begin with some leafy stems. I use these as a base around the corners of the arrangement. Instead of placing them standing straight up, lay them on an angle.
Add your focal point blooms (I used two sunflowers, one on each side so that no matter where you are sitting at the table you can see one). Trim a little off at a time from each stem until you reach the desired height.
Now add some medium blooms as a filler on each side of the focal bloom.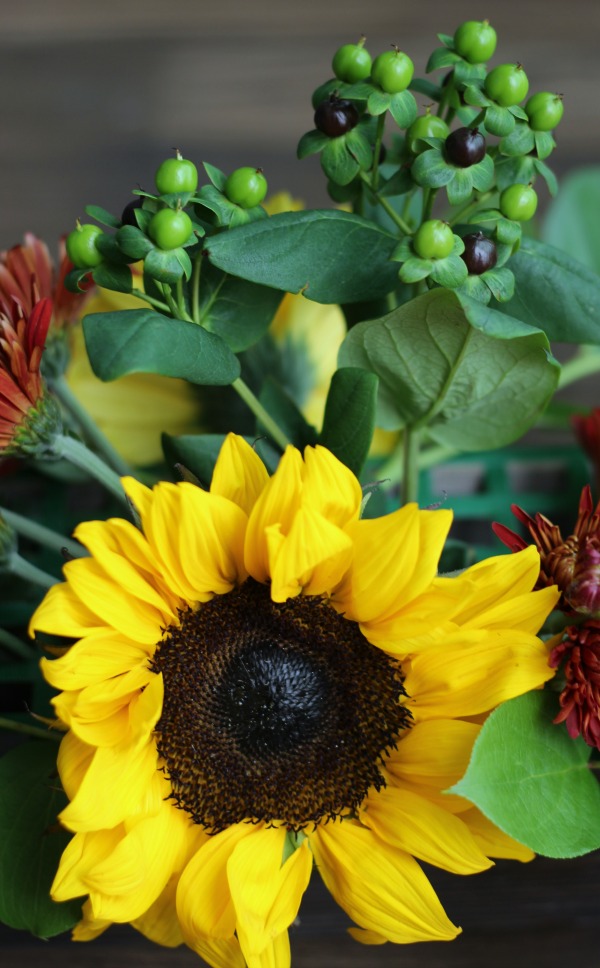 For height you can add a couple of stems of berries or other tiny blooms/filler. Fill in open areas with remaining blooms in varying heights, but not taller than your stem of berries.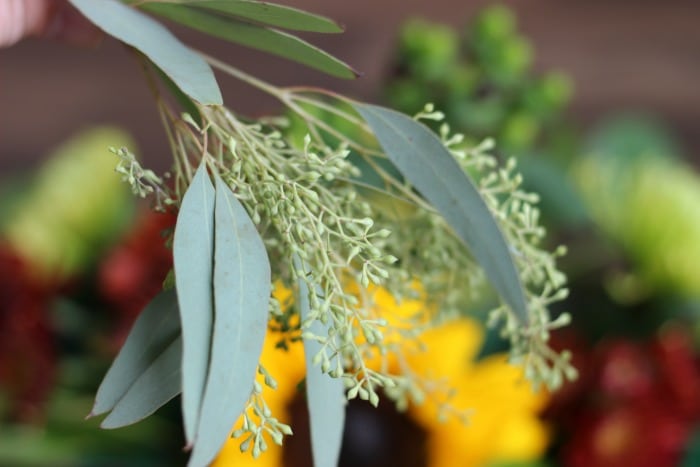 If you look down from the top of your arrangement and can still see the gridlines from the tape, fill those in with small clusters of greenery and filler. I'm not sure what this particular one is, but I love how it looks and it worked great to give the arrangement volume.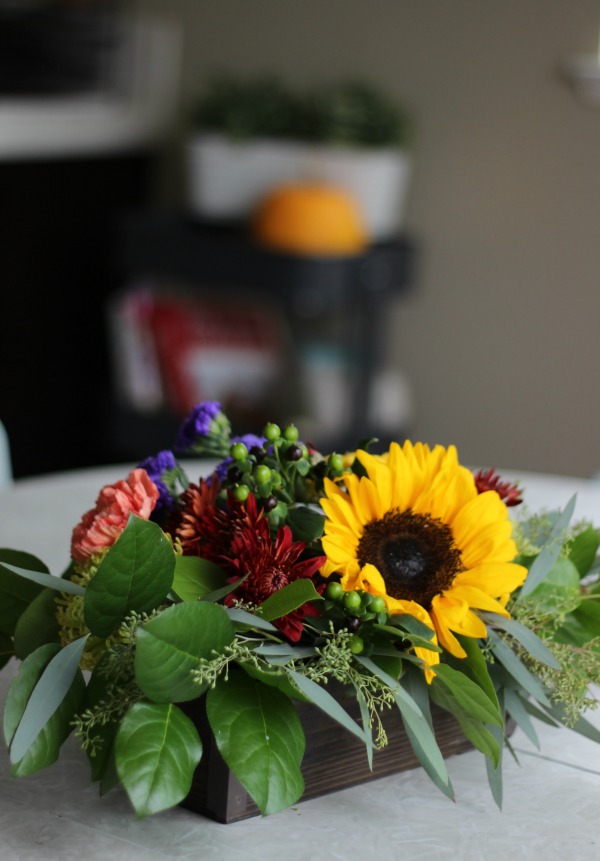 I know there are those who view cut flowers as a waste of money but to each his or her own, haha!. We all have things that we spend our money on that won't last forever and that is ok. Cut flowers are mine. If my bouquet lasts a week that is good enough for me!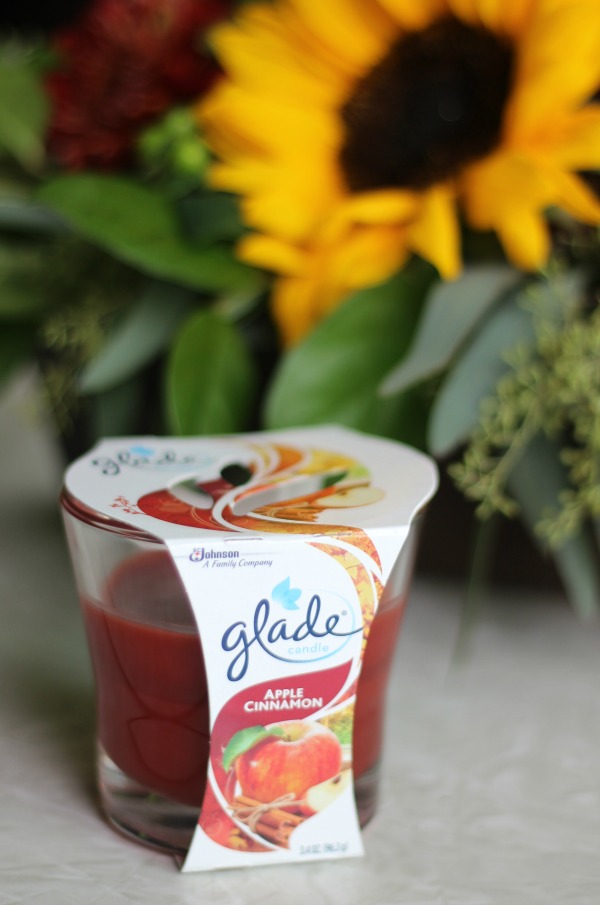 Remember how I said that a bouquet of flowers and a new candle do more to brighten a home on a rainy day than anything else? It's so true. I picked up a Glade® Apple Cinnamon Candle when I was at
Home Depot
and absolutely love it. I am very picky with the scents that I use in my home and generally stick with fruit and cinnamon/spice scents. Fall is the perfect time to find those scents.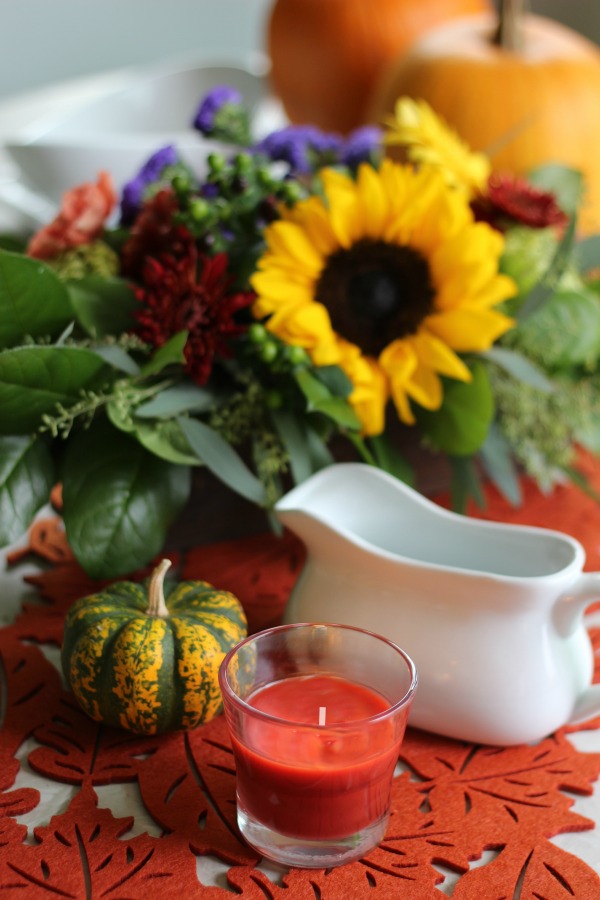 A beautiful Thanksgiving tablescape using a mixture of fresh scents and fall colors!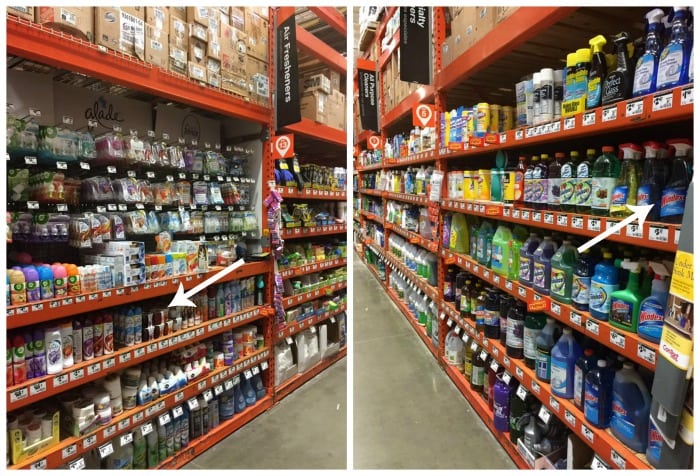 Did you know that Home Depot carries a large variety of cleaning supplies? I found everything I needed all in one place, including my Glade® Apple Cinnamon Candle.  Be sure to stop by to find everything you need to prep your home for your
"Thanksgathering"
with family and friends this year!
Welcome! I'm Brandy, mother to 5 darling kiddos and a cute black lab named Toby. My husband is in the Coast Guard so we've lived all over the place, turning each house into a home. I love baking, sewing, making cute things with my kids, and sharing what I've learned with all of you!