Have you ever done an internet search for a chow mein recipe? It will result in hundreds of variations. I had no idea there were so man ways to make it. I just knew that I always ordered it when I would go to my favorite Chinese food restaurant in California. This post contains affiliate links.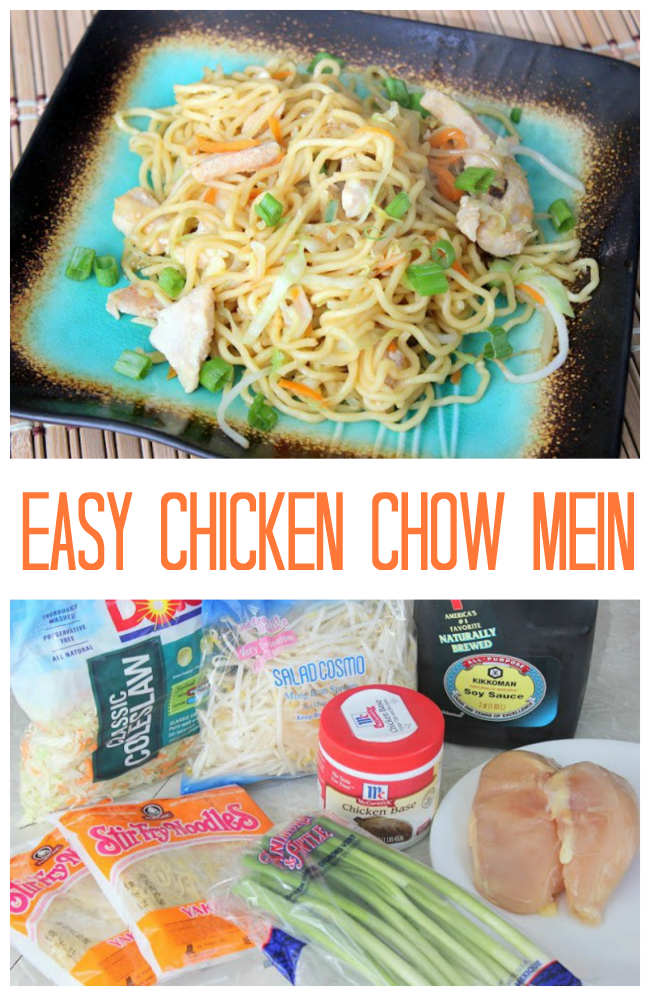 When we moved to Ohio I ordered "chow mein" at a Chinese take-out restaurant and received something completely different. The texture was so off that I couldn't even eat it. Maybe it was just that specific restaurant? I have no idea.  If I wanted what was considered "chow mein" in California, I needed to order "lo mein" in Ohio. Once I figured that out I was okay. My kids also love this chow mein recipe and these great
kids training chopsticks
make it way more fun to eat.
I've shared my
egg roll
 and
steak stir-fry
recipes on here before. Now I'm sharing my chow mein recipe. It is quick and easy to make, especially since I use coleslaw mix, like I do in the egg rolls, instead of cutting up veggies.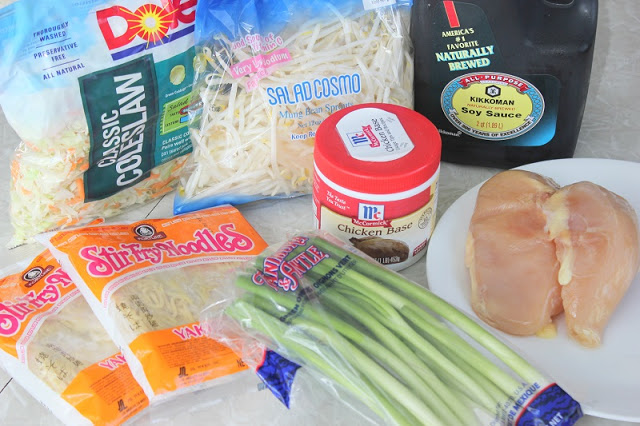 Chicken Chow Mein Recipe
Ingredients:
1 14-oz. package coleslaw mix
1 handful bean sprouts
4T vegetable oil
1 T. chicken base
3T. soy sauce
1 lb. boneless, skinless, chicken breasts, sliced into thin strips
1/2 c. green onions
2 7oz. packages Stir Fry Noodles or Chow Mein noodles (both found in the refrigerated produce section)
Here's how to make this yummy chicken chow mein recipe:
Heat a large skillet on HIGH HEAT. Add 2 T. oil. Once the oil is heated, add chicken strips in a single layer. Reduce heat to MED-HIGH. Let cook for 1-2 minutes without stirring to allow it to brown. Flip chicken strips over and cook for another minute or until golden on both sides.
Add 1 T. soy sauce. Stir. Remove chicken from heat and set aside on a plate.
In a glass measuring cup, mix 2T soy sauce, 1T chicken base, and 1/2 c. hot water.
Add 1 T. oil to the skillet and heat on MED-HIGH. Add coleslaw mix and sprouts. Fry for 1 minute, stirring constantly.
Add your soy sauce/water/chicken base mixture and cook for 1 minute. Remove veggies from heat and set aside in a bowl.
Add another tablespoon of oil to the skillet over MED-HIGH heat and heat your noodles for a minute or so. The ones I use need to be microwaved for 30 seconds or so to loosen up. Just read the back of your package to see how to use them. The refrigerated ones are so much better than the dried ones. There is no need to boil or cook these.
Turn your heat to HIGH and add veggie and sauce mixture back into the pan along with 1/4 c. green onions.
Add chicken and stir your chicken chow mein.
Top each plate with remaining green onions
This Chicken Chow Mein recipe reheats well and makes leftovers.