The easiest way to have a cute framed chalkboard menu would be to just buy a cheap chalkboard at a craft store and put it in a frame! I'm sure there is an easier way than how I did it, but this was part of my no-cost kitchen makeover that I did. So I used what I had on hand.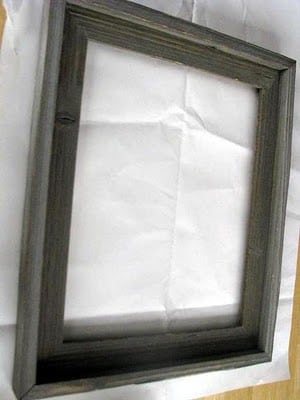 I had this old frame in our hall closet. I just painted it black to match the rest of the kitchen.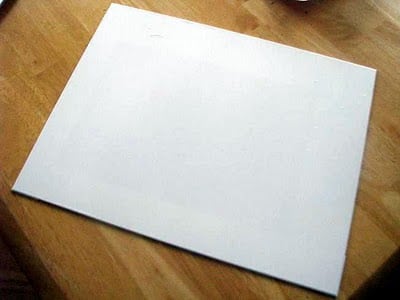 I covered the glass from the frame in white contact paper. I used contact paper vs. card stock because it would wipe clean if chalk got on it. My chalkboard paper was 8.5×11 and my frame opening was 11×13 so there was going to be a gap.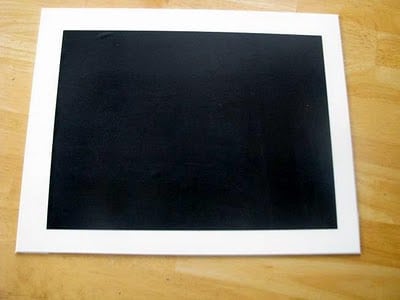 Then I attached my chalkboard sheet. I bought these a couple of years ago for the boys. They came in a 4 pack. They are 8.5×11 and are peal and stick. You can re-use them and move them over and over. I've moved them 3 times to different places in the house and they work great. The kids weren't coloring on them much anymore, so I took them off of the wall, attached them to some wax paper and put them in the craft closet for a later use. For this project, I just used 1 sheet. It feels like contact paper.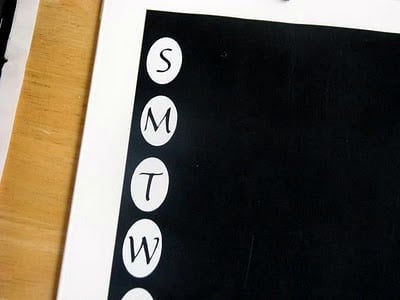 Using more white contact paper, I cut out letter decals using the Jasmin cricut cartridge and placed those on top of the chalkboard paper.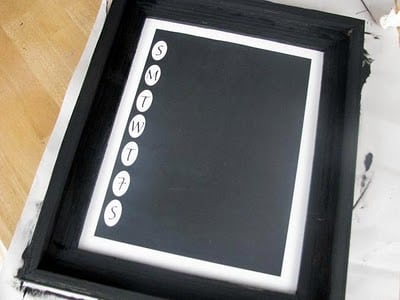 Then I put the insert back into the frame and added a wire to the back for hanging.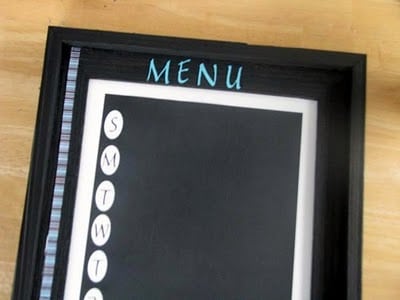 The final touch was a coordinating ribbon mod podged to the side and the MENU lettering, also using the Jasmin cartridge.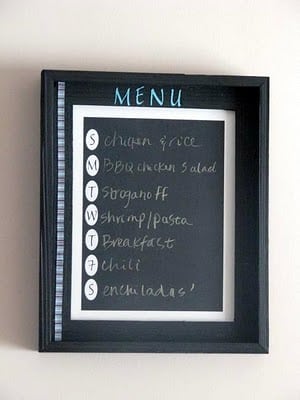 That's it! I am REALLY trying to get better about making a menu and sticking to it. I think it would help save money in groceries and would just make things easier vs. sitting with freezer open wondering what to make, what I feel like making, and scrounging to see what ingredients we even have! I have major problems with planning ahead. This WILL help. At least that's what I keep telling myself. And it looks cute 🙂