Always a crowd pleaser, this chocolate caramel popcorn is easy to make and very addicting. Make a batch for your next party. Also a simple tutorial for popcorn cones (holders). This shop has been compensated by Collective Bias, Inc. and its advertiser. All opinions are mine alone.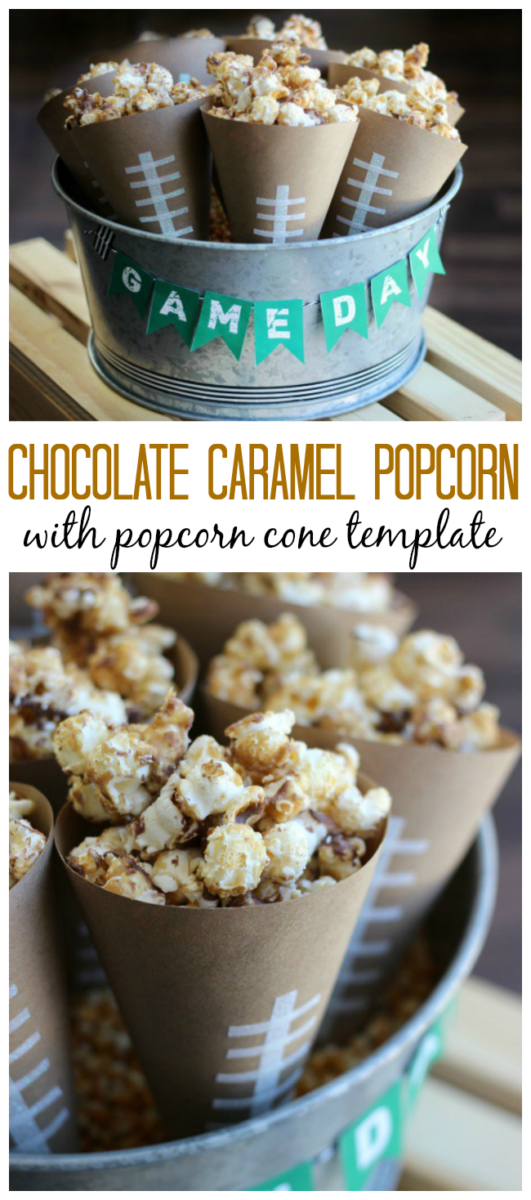 Delicious chocolate caramel popcorn served up in festive football snack cones! Make a batch (or two) to enjoy on game day!
No sports game or show is complete without snacks! Today I'm sharing the caramel corn recipe that I have used for over 12 years—with a twist! We drizzled chocolate over it and (I can't believe I'm saying this) it made it even BETTER! Served in paper cones, it is the perfect portion size for snacking on during the big game.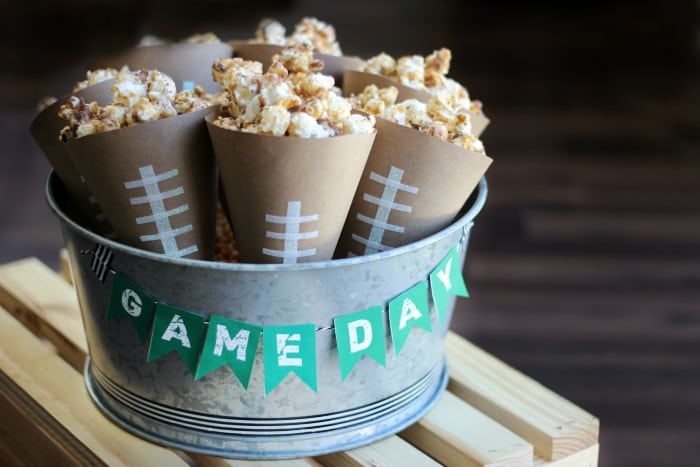 I even jazzed up a beverage bin that I had with a bit of  Washi Tape to keep the cones standing upright. Before we get to the caramel corn recipe, I'll show how to make these quick and easy snack cones. I even made a
printable template
to take all of the guess work out of it for ya!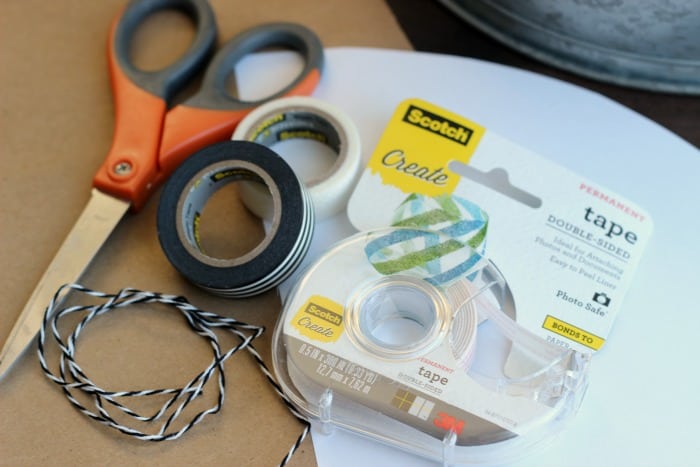 Paper Snack Cones
Brown kraft paper
Scotch® Create Double-sided Tape
Scotch® Expressions White Glitter Tape
Scissors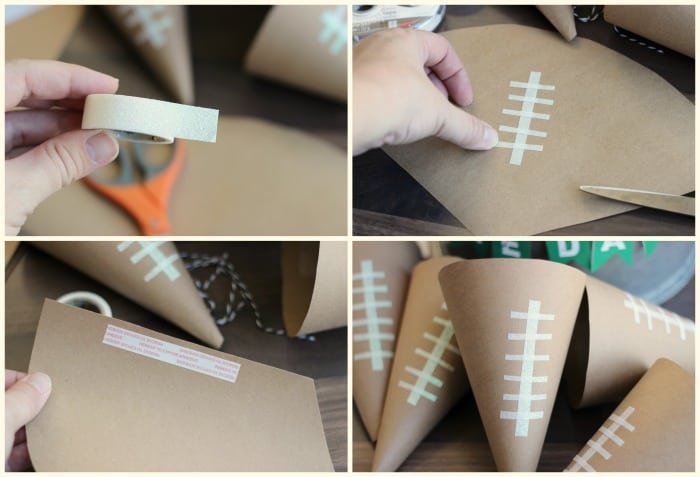 Begin by cutting out as many cones as you will need. I used brown kraft paper that you can find by the roll at Walmart near the packaging supplies. It is thick and sturdy and perfect for projects like this. If you have a bunch of brown paper bags lying around you could easily use those instead.
These cones are meant to resemble a football, so use the white glitter tape to create the stitching on the center of your paper. I love how versatile the tape is. It sticks to many different surfaces and worked great for this project!
Apply a piece of double-sided Tape to the back. I like that it has a removable adhesive backing. Peel the backing off and roll the cone so that the ends meet up and over lap about an inch. Press firmly.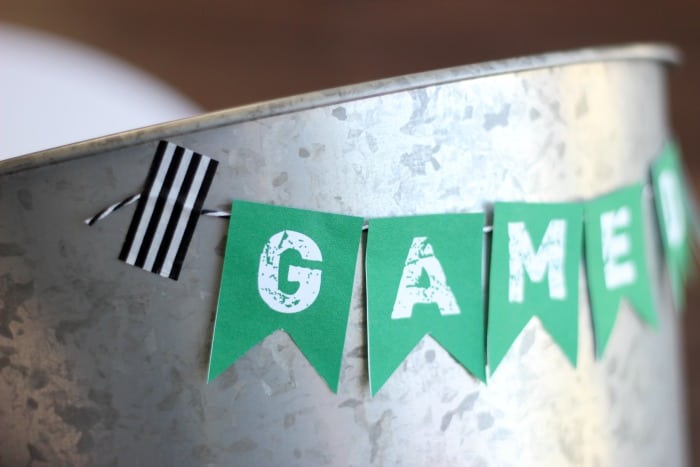 Use a roll of Washi Black Stripe tape to jazz up whatever container you want to use to hold your cones.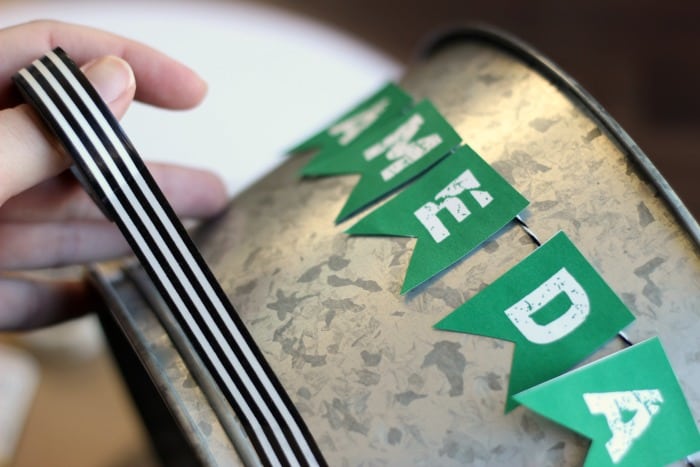 Free Game Day banner printable here. from Lillian Hope Designs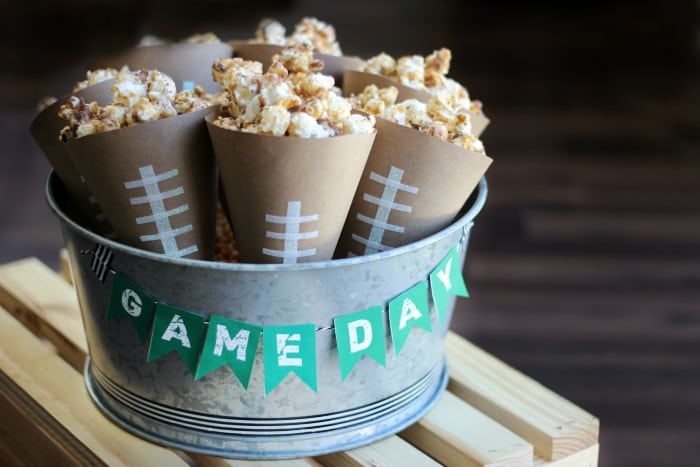 And that's it! Oh wait, you're here for the food, right? You can fill the cones with whatever snacks you'd like, but trust me, this caramel corn can't be beat. We make it with mushroom popcorn. Mushroom popcorn. Mushroom popcorn has a large, round and puffy ball shape. It is perfect for holding toppings. If you've ever purchased caramel corn from the store, chances are, it was made with mushroom popcorn kernels.
Game Day Chocolate Caramel Popcorn Recipe
6-8 quarts of air popped pop corn (2 batches)
1 c. butter
2 c. brown sugar
1/2 c. light karo syrup
1 tsp. salt
 1 tsp. baking soda
3/4 c. melting chocolate wafers or chocolate chips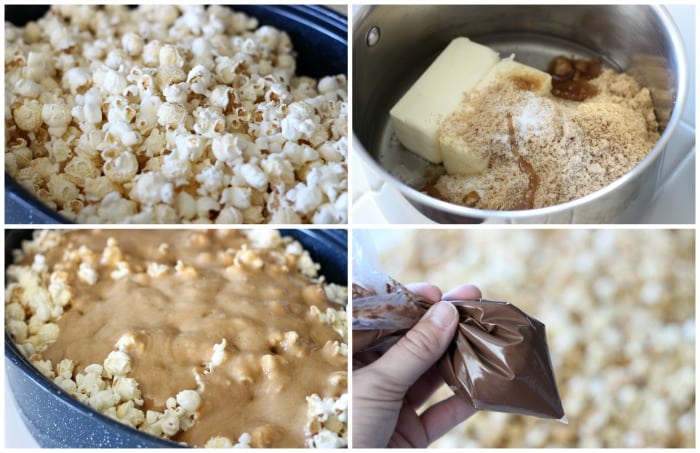 Pop popcorn and place in a large roasting pan.
Combine butter, sugar, salt and karo syrup in a medium saucepan and heat over med-high heat. When bubbly, set timer for 5 minutes and boil, stirring constantly.
Remove from heat and add baking soda. Stir.
Pour caramel mixture over popcorn in the roasting pan. Give it a nice stir to make sure the popcorn is coated evenly.
Bake at 200 degrees, stirring every 15 minutes, for 1 hour. Pour out onto waxed paper in a single layer and cool.
Melt chocolate in the microwave at 20 second intervals, stirring in between each interval, until smooth. Pour into a small plastic bag, cut off one corner, and drizzle over caramel corn. Let sit until chocolate has hardened.
Break up the chocolate caramel popcorn chunks and store in an air tight container.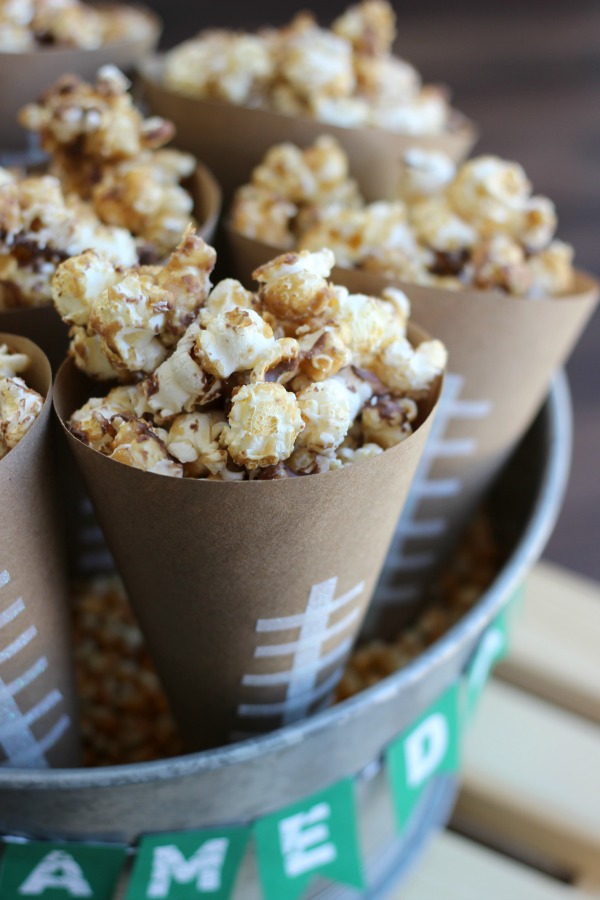 We go absolutely crazy for this stuff! It is incredibly addicting so it's a good thing that this chocolate caramel popcorn recipe makes enough for a crowd.
You might also like…