A soft fleece hand warmer muff. Perfect for cold days! A simple 30-minute sewing project. Make a matching ear warmer for a gift set! This post contains affiliate links.
If you like fleece projects you will love this collection of simple fleece sewing tutorials.

Do people use hand warmer muffs anymore? They seem like such a vintage item, usually made out of faux fur, but I had a feeling that my girls would each love to have one. Kaylee took hers to school and said that several girls asked what it was. When she showed them how it worked they said they liked it and wanted one too!
This little hand warmer muff is made out fleece so it is cozy by nature, but I also added a few layers of cotton batting. We all know that kids easily lose winter hats, gloves, and accessories so I also added a strap. When they are playing at recess and want to use their hands, the hand warmer muff easily hangs from their neck or across their body! If you are looking for another easy hand warmer for kids be sure to check out our pocket hand warmers. These are a great little sewing project for kids to make.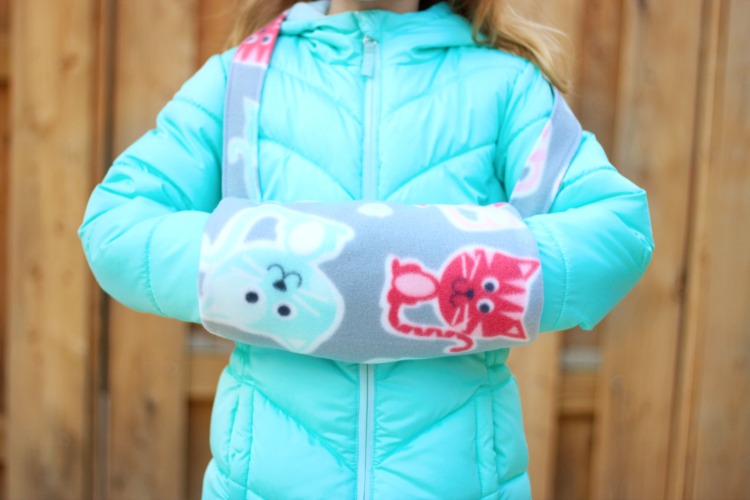 Hand Warmer Muff Tutorial
Time: 30-45 minutes
Skill Level: Confident Beginner
Size: 5-12 years (see adult size in notes)
Supplies:
1 (4″ x 33″) piece of fleece
2 (15″ x 12″) pieces of fleece
2-3 (14″ x 11″) pieces of lightweight batting
pins
scissors
sewing machine
walking food sewing machine attachment (optional)
thread
needle
Notes:
Use a zig-zag stitch for the entire project.
To make an adult size adjust the fleece strap to be 4″ x 40″, the fleece rectangles to be 18″ x 16″, and the batting to be 17″ x 15″.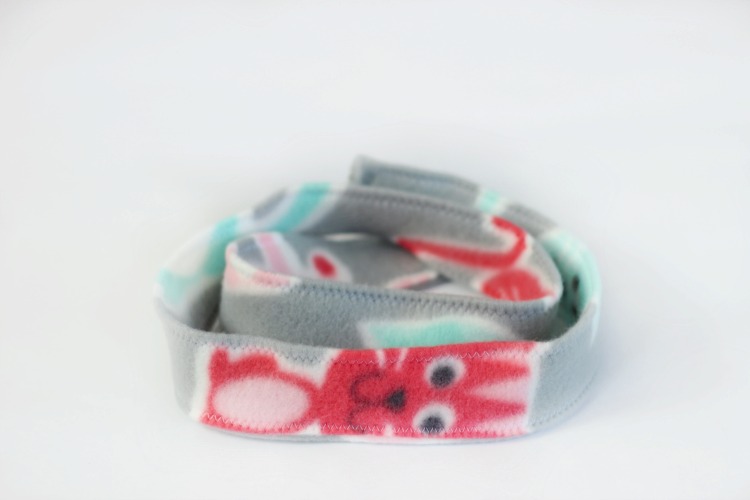 Instructions:
Fold the long piece of fleece in half so that you have a long 33″ tube with the wrong side of the fabric facing outward.
Pin along the side. Stitch along the side. Turn right side out. Top stitch along the long sides.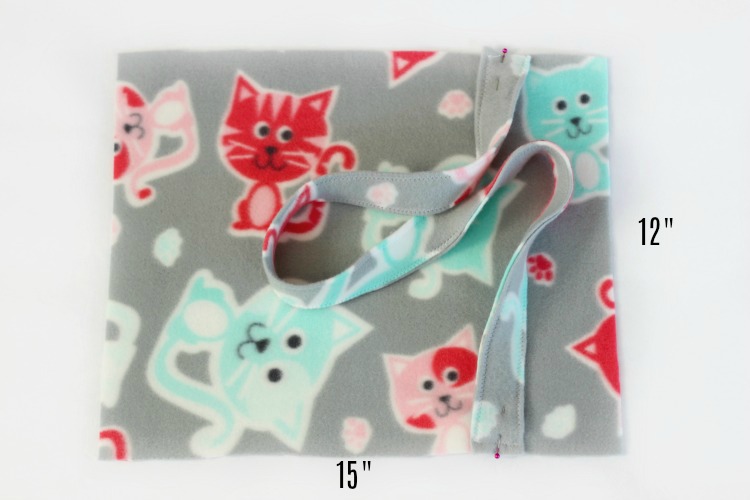 Lay one of the pieces of fleece on your work surface with the right side of the fabric facing you. Pin the strap 2 inches from the right edge on each side.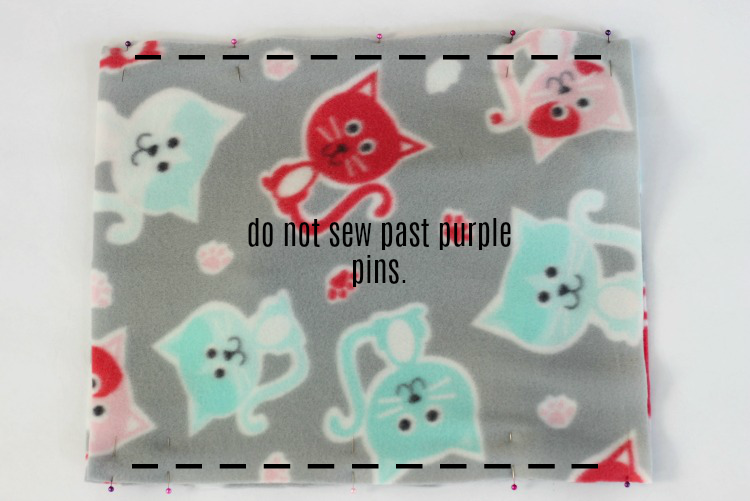 Place the other piece of fleece on top with the right side of the fabric facing down. Pin along the sides, sandwiching the ends of the strap in between the layers. Leave 1/2″ of space on each end.
Stitch along the dotted lines (shown above), but do not stitch past the purple pins.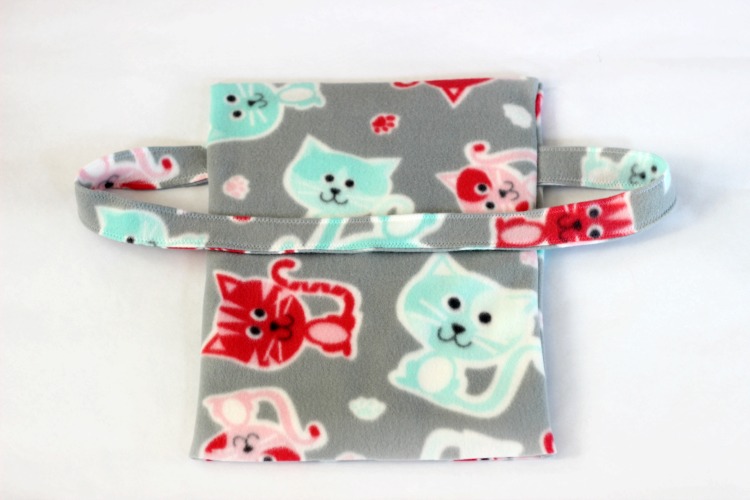 Turn the project right side out so that the strap is visible once more.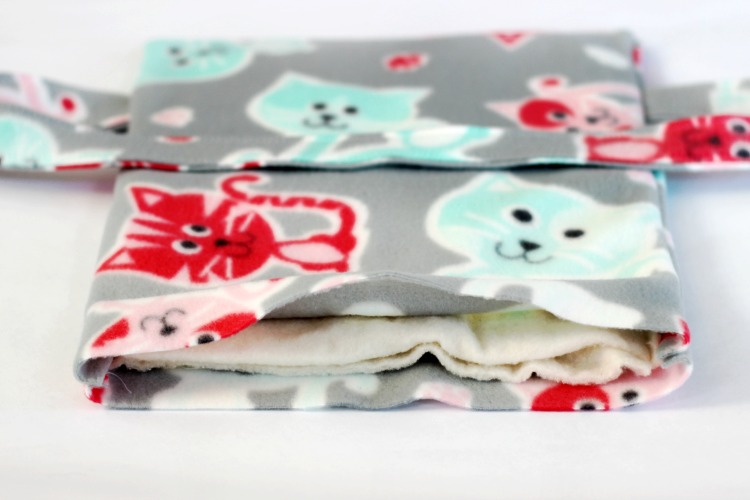 Slide the layers of batting inside.
NOTE: I used thin batting (about the thickness of fleece) so I used 3 layers. If you use a high loft batting you may only need 1 layer. It just adds a bit of warmth and coziness.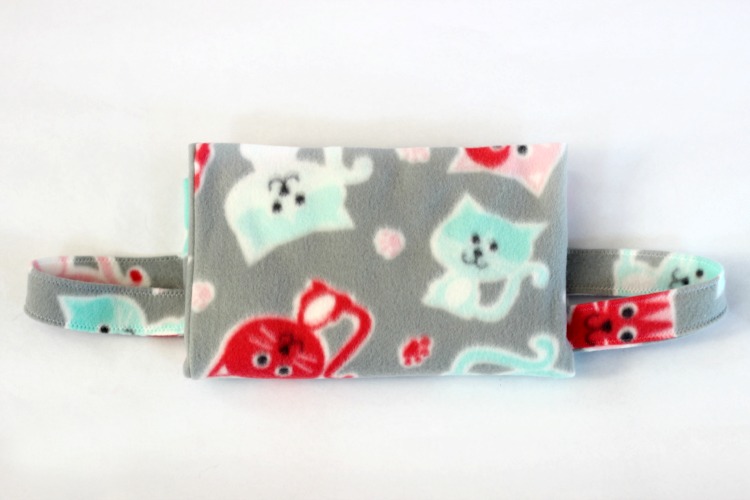 Fold the hand warmer muff in half. Make sure that the strap is in the middle.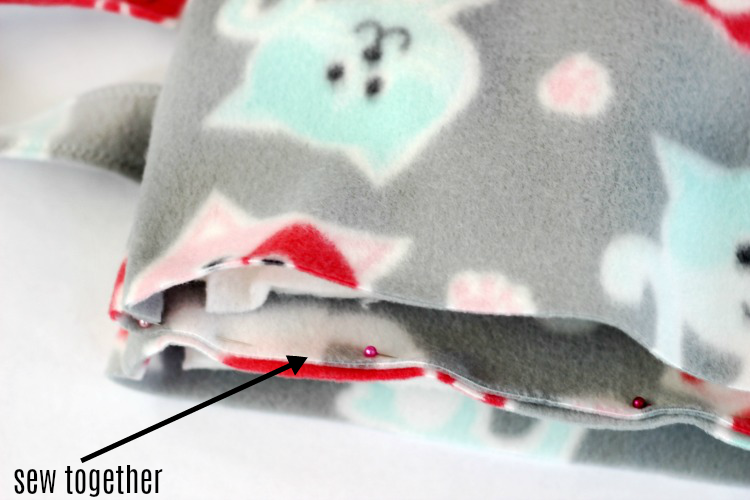 Turn it around so that the raw edges are facing you.
There will be 4 layers of fleece. Pin the 2 middle layers together.
Stitch these two pieces together.
You'll be glad that you didn't sew all the way to the edge above. Having that extra 1/2″ of space makes this step easier for a clean and finished look.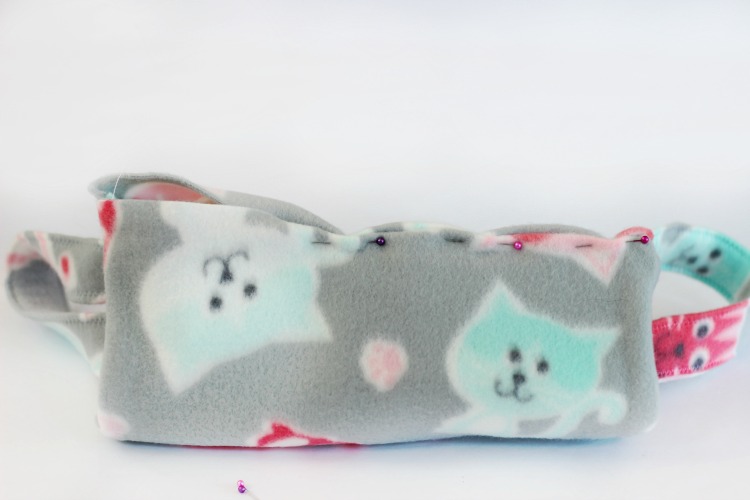 Now that the center pieces have been sewn together it's time to close up the muff!
You'll notice that there are 2 more pieces of fleece. The outer pieces. Bring them together and fold the edges over about 1/4″-1/2″. Pin as you go.
Thread a needle with coordinating thread and slip stitch this entire seam closed.
Now all that's left to do is turn your muff right side out so that the strap is on the outside!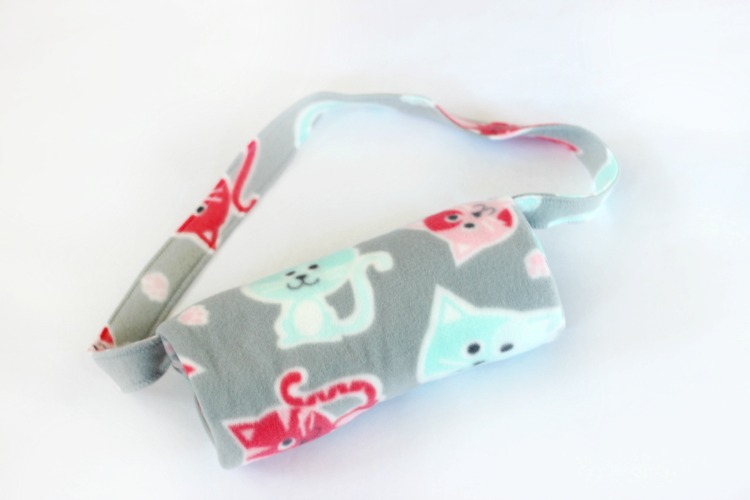 NOTE: You can top stitch around the ends (about 1/2″ or so from the edges) to keep the batting from bunching when you wash the muff in the washing machine. 
A cozy little tube to warm hands and a strap to keep it from getting lost!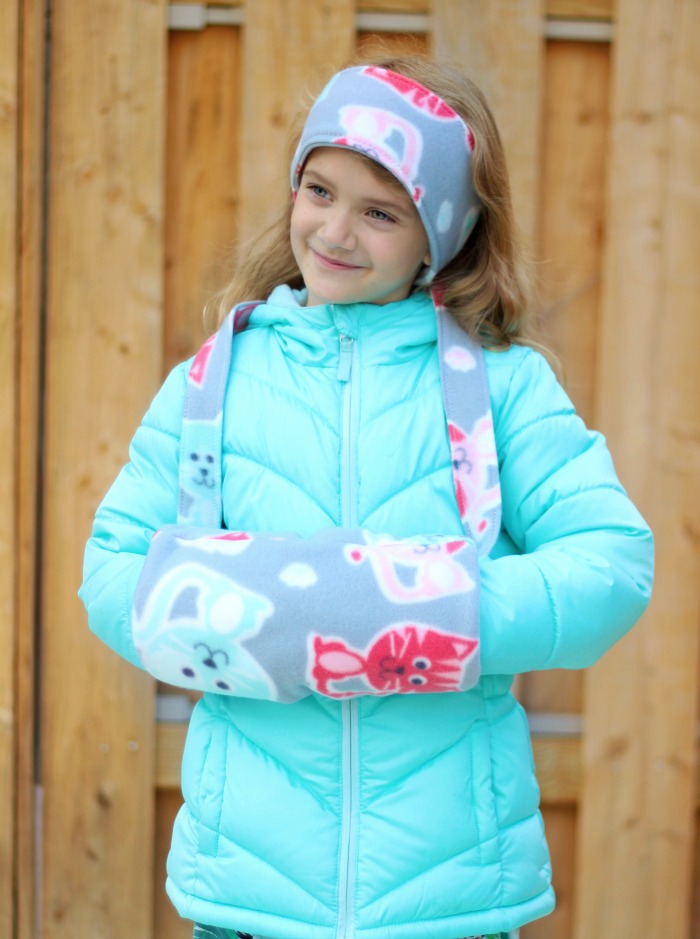 Would you like to make a matching ear warmer or scarf? The step by step tutorials for both of those are in my sewing book for kids!