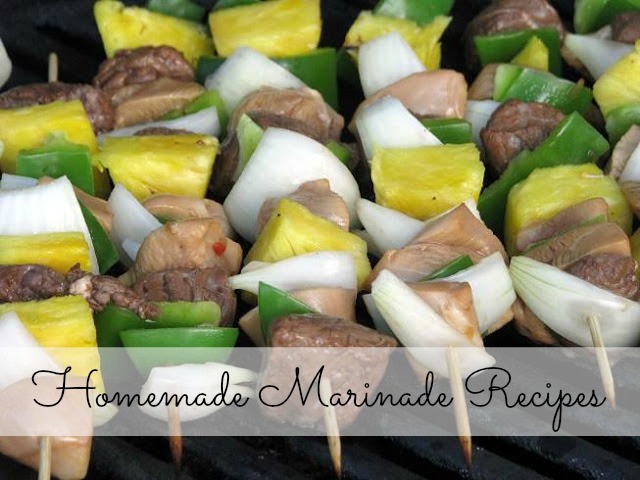 One of our favorite meals are kebobs. We love experimenting with different marinade recipes and packets for our meats and usually go back to our staple recipes.  Lately my husband has been sometimes leaving the meat off of the skewers and using a grill pan over the flame and they turn out just as good! I think they are fun to eat off of the stick though and the kids always seem to enjoy food from a stick.
This time I used green peppers, onions, and pineapple along with the beef and chicken breast.
Soaking the skewers overnight in water prevents them from burning when on the grill. Load them up with your favorite meats and veggies and grill to perfection!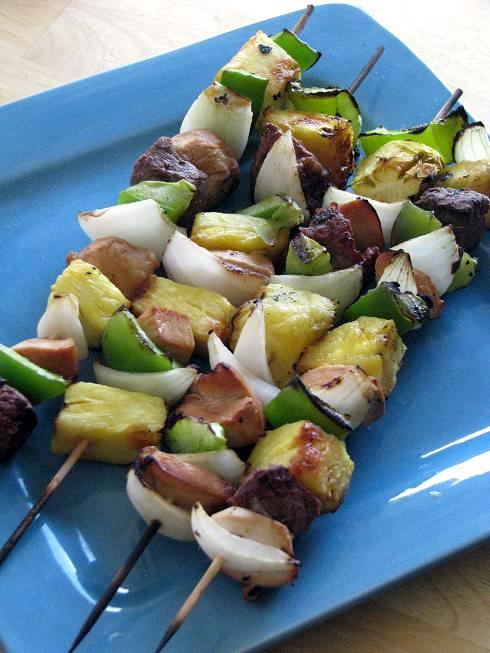 I have a couple combinations for marinades that we have used for years.
When it comes to store bought marinades we like McCormick's White Wine and Herb and Mesquite.
Our Beef Marinade
(I use this for roasts and steaks as well)
2 c. hot water
1/4 c. beef base
1 tsp. garlic powder
1 T. Worcestershire sauce
1 T. vinegar
Marinate 4-8 hours.
Our Chicken Marinade
1 c. chicken broth
1/2 c. soy sauce
1/2 c. Italian salad dressing
1/2 tsp. ginger
1/2 tsp. garlic powder
Marinate 4-8 hours
Soy Sauce
Yep. Just plain ol' soy sauce. It works great for all meats. We use it for tilapia, halibut, shrimp, chicken, and steak. Sometimes less is more.