Delicious fresh apple cider donuts are the perfect fall treat! Combining cinnamon, nutmeg, and apple cider flavors. Rolled in cinnamon and sugar or dipped in buttercream frosting and drizzled in caramel. Both versions are equally delicious!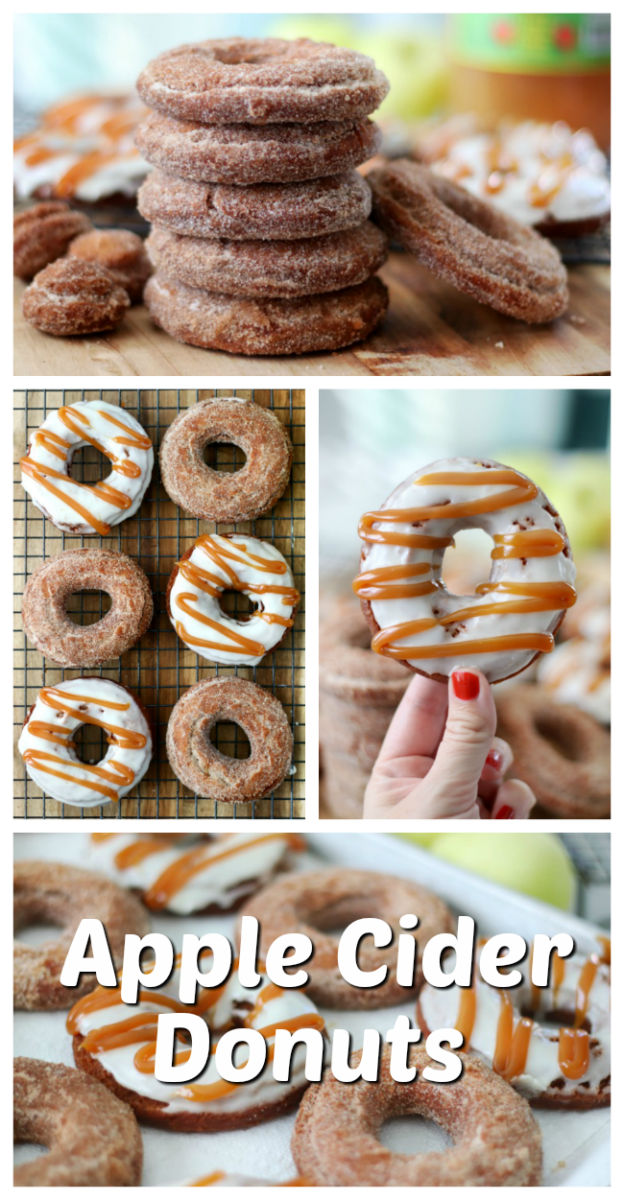 Watch our step by step video!
Last weekend we went to Apple Hill in Camino, California. It is about an hour and a half away from our home and is a fun place to visit in the fall. There are many apple/fruit orchards to visit as well as Christmas tree farms. Each with their own trademark reason to make a stop.
One of the orchards makes THE BEST Hot Apple Cider Donuts. Ever. They are so light in texture and you have no problem paying $1 each for them. The kids and I downed a dozen of those little suckers in 2 seconds flat.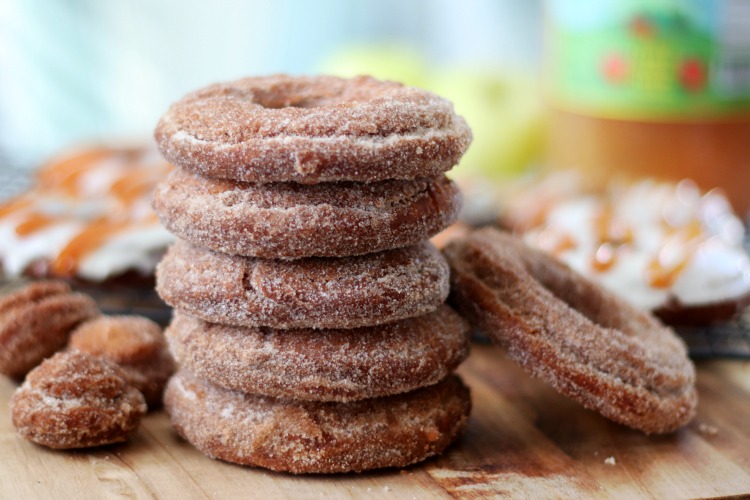 Aaron asked if we could bring some cider home with us, so we grabbed a jug and I decided to use some of it to make more apple cider donuts. This is a recipe that I've tweaked over the years and has become one of our favorites. The spices and the cinnamon sugar coating are a perfect balance of flavor.
Side note: Have you ever made your own apple cider? It's a great activity to do with kids, and you can make it in your pressure cooker! We used a bottle of cider from a local farm to make these donuts.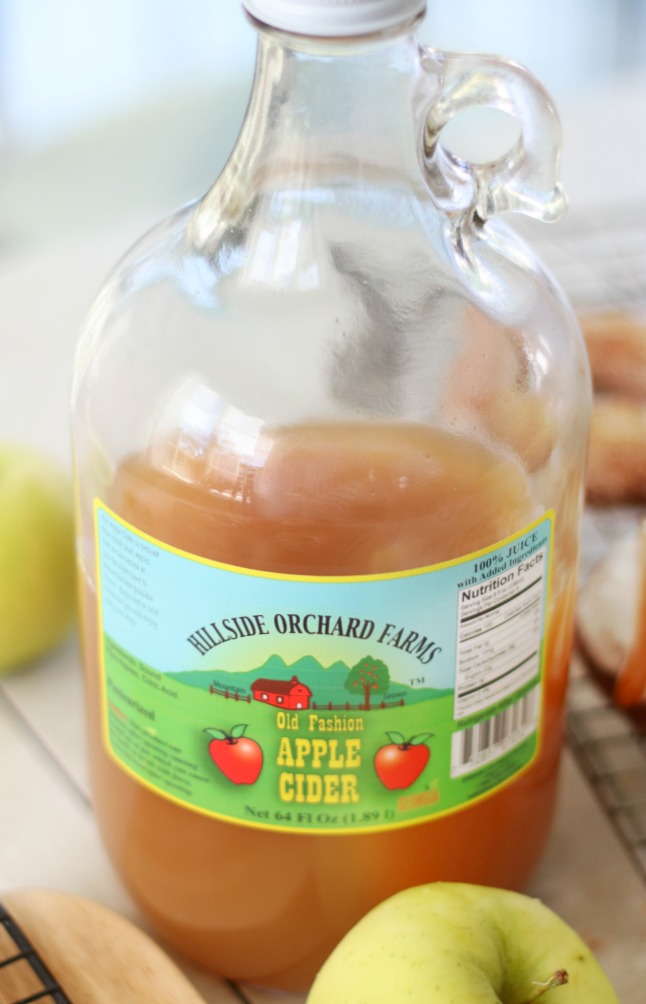 The apple cider flavor comes from making a cider reduction. Sounds fancy, but it isn't. You're simply going to boil 1 1/2 cups of apple cider on the stove until it reduces to about 1/2 cup. Don't worry if you leave it on a little too long and it ends up being a little less than 1/2 a cup. You can add a splash of cider to get it back up to what you'll need for this recipe.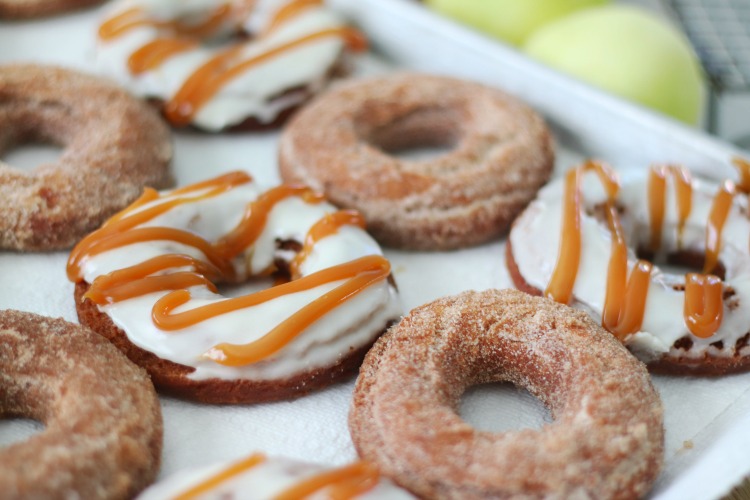 The apple cider donut dough comes together quickly and isn't going to feel like bread dough. It's more like sugar cookie dough. Super soft and easy to roll out. You can cut the donuts out using a biscuit cutter, donut cutter, canning lid, or cookie cutters.
These donuts are delicious with a glass of milk or
hot wassail.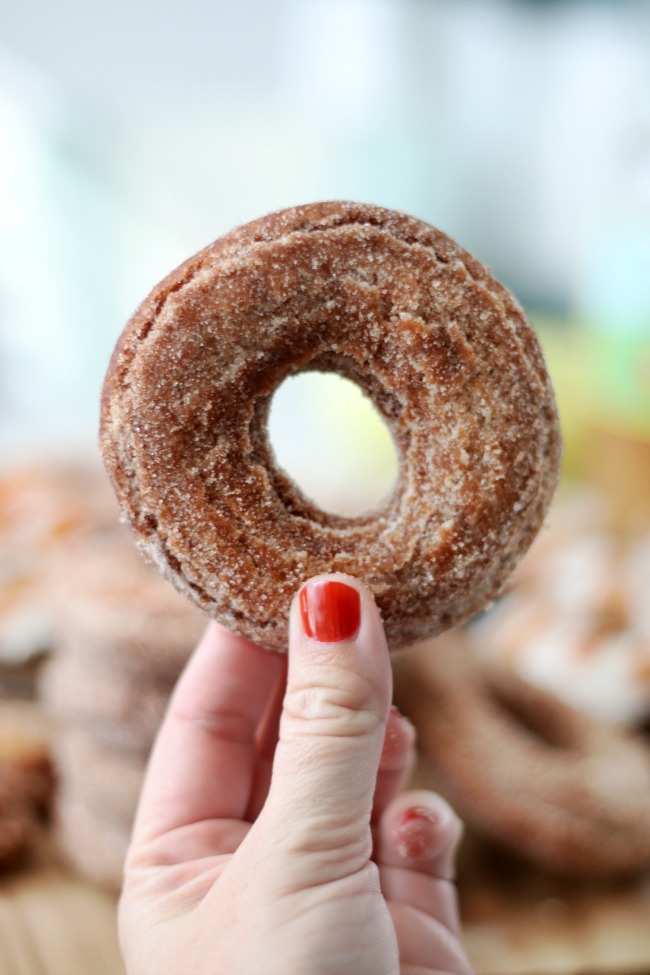 Cinnamon and Sugar Version
Once the donuts have had a chance to drain from the fryer, toss the warm donut in cinnamon and sugar.
Buttercream and Caramel Version
Our buttercream and caramel version is divine!
Dip cooled donuts in the buttercream glaze then drizzle with caramel.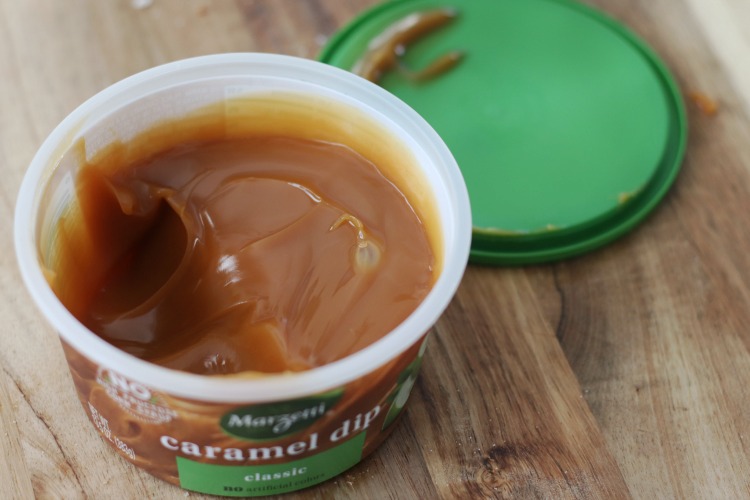 I like using the caramel dip found in the produce section of the grocery store. Super easy and it's the perfect texture without having to heat it up. I also use this dip when I make our Samoas rice krispies treats.
FREQUENTLY ASKED QUESTIONS AND TIPS
WHAT TEMPERATURE DOES THE OIL NEED TO BE TO DEEP FRY Apple Cider DONUTS?
375 degrees. Use a thermometer to monitor the oil.
WHAT IF MY OIL IS TOO HOT?
Remove from heat until the oil temp on the thermometer reaches 350-375 degrees again.
HOW DO YOU MAINTAIN THE OIL TEMPERATURE WHEN DEEP FRYING DONUTS?
Heat the oil on med-high until it begins to heat up. Once the oil reaches 375 degrees reduce the heat to low.
HOW MANY  DONUTS DOES THIS RECIPE MAKE?
This recipe makes 15 donuts and 15 donut holes.
CAN YOU REHEAT Apple Cider DONUTS?
Reheat day-old donuts in the microwave for about 6 seconds and they will be just like new!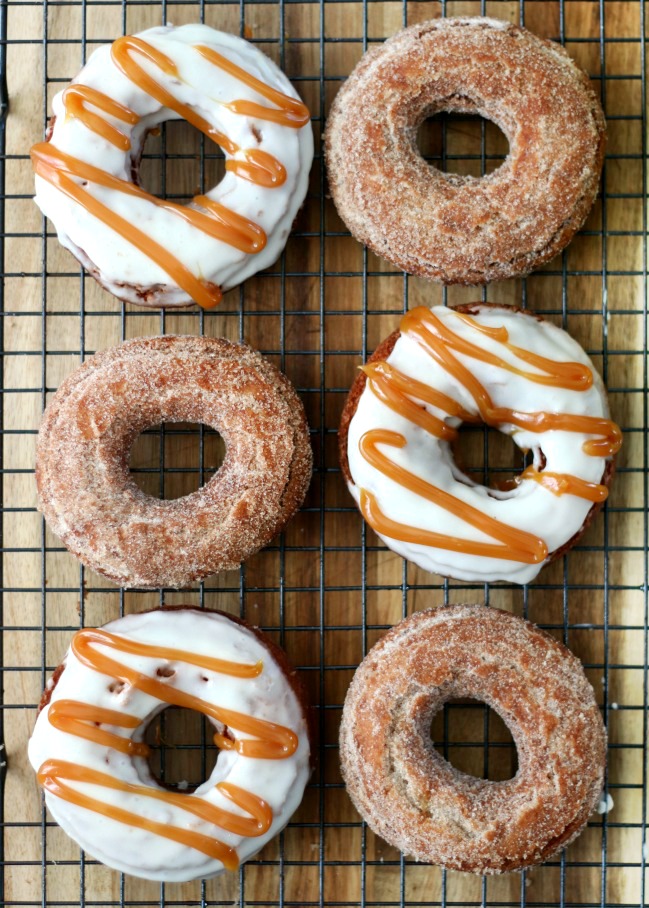 Hot Apple Cider Donuts Recipe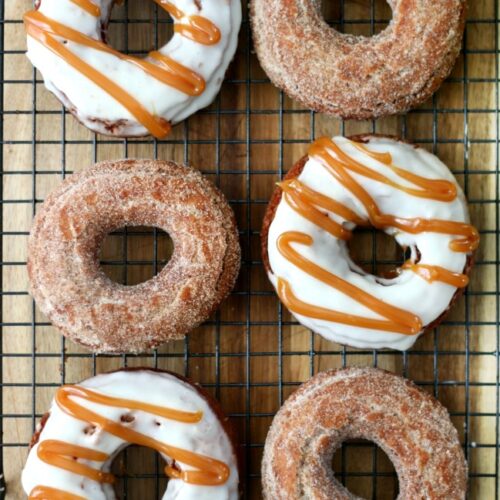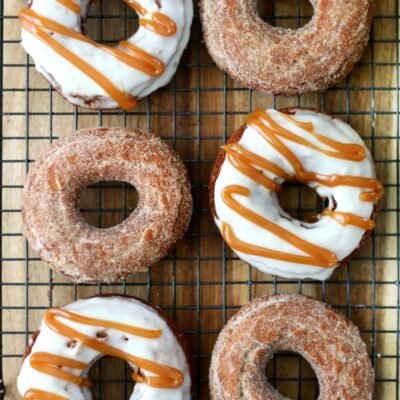 Apple Cider Donuts
Delicious fresh apple cider donuts are the perfect fall treat! Combining cinnamon, nutmeg, and apple cider flavors. Rolled in cinnamon and sugar or dipped in buttercream frosting and drizzled in caramel. Both versions are equally delicious!
Print
Pin
Rate
Ingredients
1 1/2

cups

apple cider

3 1/2

cups

all-purpose flour

divided

2

teaspoons

baking powder

1/2

teaspoon

baking soda

1

teaspoon

salt

2

teaspoons

ground cinnamon

1/2

teaspoon

nutmeg

1/3

cup

butter

melted

2

eggs

lightly beaten

vegetable oil for frying
Cinnamon Sugar Version
1

cup

sugar

1

Tbsp.

cinnamon
Buttercream Caramel Version
1/4

cup

butter

1

Tbsp.

honey

2

Tbsp.

milk

2

cups

powdered sugar

caramel dip
Instructions
Bring apple cider to a boil in a saucepan; cook, stirring occasionally until cider has reduced to 1/2 cup, about 20 minutes. Remove from heat and cool.

Whisk 1 cup flour, 1 cup sugar, baking powder, baking soda, 2 teaspoons cinnamon, and salt together in a large bowl. Add melted butter, eggs, egg yolk, and cooled cider together to flour mixture. Stir remaining 2 1/2 cups flour into mixture until dough is smooth. Refrigerate dough for 10 minutes.

Heat oil in a large pot or deep-fryer to 375 degrees F (190 degrees C).

Turn dough onto a well-floured work surface using floured hands; pat dough into 1/2-inch thickness. Cut dough into doughnuts using a doughnut cutter or 2 round cookie cutters (1 large and 1 small). Gather scraps and re-pat dough to cut out as many doughnuts as possible.

Carefully place doughnuts, working in batches, into hot oil; fry until doughnuts rise to the surface and begin to brown, about 2 minutes. Flip doughnuts and continue frying until opposite side is browned for another minute or so.

Remove doughnuts with a slotted spoon and place on a paper towel-lined plate to cool until easily handled, about 1 minute. Bring oil back to 375 degrees F before frying next batch.
Cinnamon Sugar Version
Mix 1 cup sugar and 1 tablespoon cinnamon together in a resealable freezer bag.

Toss warm doughnuts in the bag of cinnamon-sugar.
Buttercream Caramel Version
Heat butter and honey in microwave until melted. Stir. Add milk and vanilla. Stir in powdered sugar.

Dip cooled donuts in buttercream glaze.
Nutrition
Welcome! I'm Brandy, mother to 5 darling kiddos and a cute black lab named Toby. My husband is in the Coast Guard so we've lived all over the place, turning each house into a home. I love baking, sewing, making cute things with my kids, and sharing what I've learned with all of you!