Delicious fresh apple cider donuts are the perfect fall treat! Combining cinnamon, nutmeg, and apple cider flavors. YUM.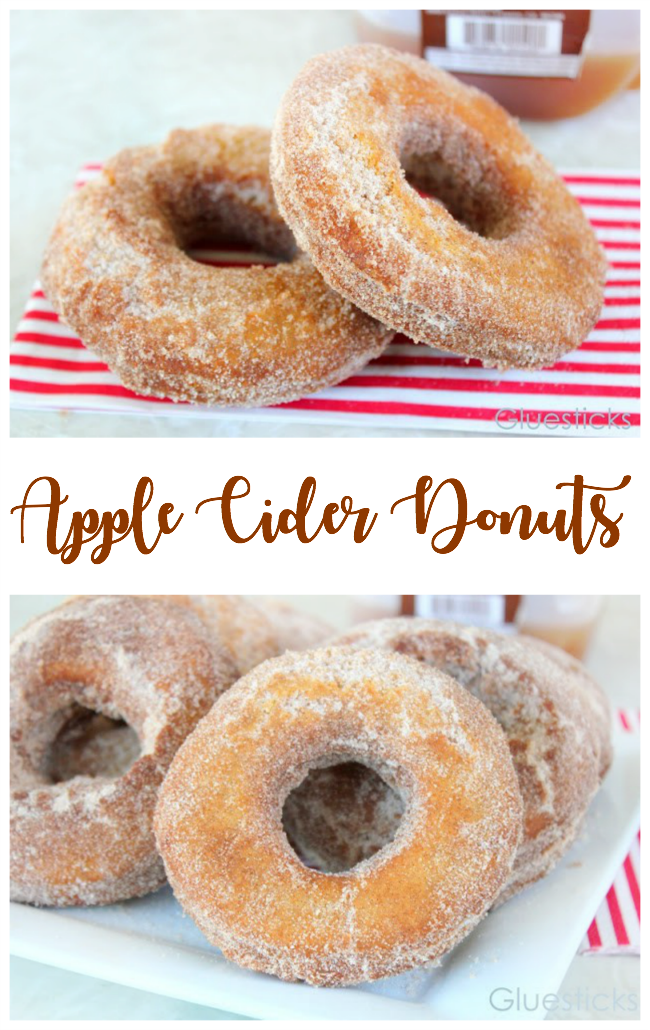 Last weekend we went to Apple Hill in Camino, California. It is about an hour and a half away from our home and is a fun place to visit in the fall. There are many apple/fruit orchards to visit as well as Christmas tree farms. Each with their own trademark reason to make a stop.
The Rainbow Orchard makes THE BEST Hot Apple Cider Donuts. Ever. They are so light in texture and you have no problem paying $1 each for them. The kids and I downed a dozen of those little suckers in 2 seconds flat.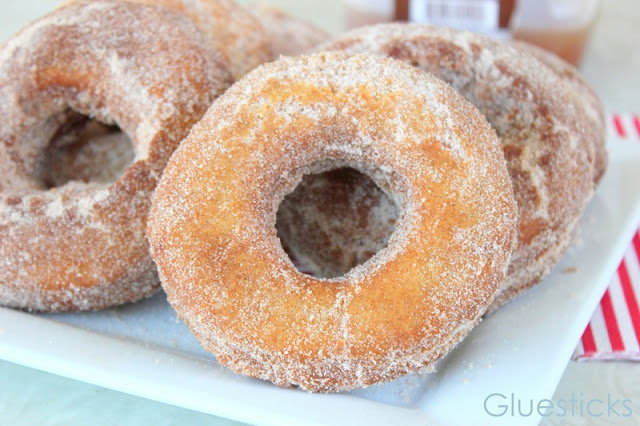 Aaron asked if we could bring some cider home with us, so we grabbed a quart and I decided to use some of it to make our own Hot Apple Cider Donuts. The verdict? These are pretty dang good! The spices and the cinnamon sugar coating are a perfect balance. The texture isn't as fall-apart light as the ones from Rainbow Orchard, but my kids found these to be easier to eat and they are still a nice soft texture which I love. When I came home that night I scoured the Internet looking for a recipe that would come close. I didn't want anything with add-ins like raisins, etc. or a glaze or caramel icing, etc. I'm sure those would be good, but I loved how simple these ones were. I was excited to find a recipe that I think came pretty close.
Hot Apple Cider Donuts
2 cups white sugar, divided
1 tablespoon ground cinnamon
1 1/2 cups apple cider
3 3/4 cups all-purpose flour, divided
2 teaspoons baking powder
2 teaspoons ground cinnamon
1 teaspoon salt
1/4 cup butter, melted
2 eggs, lightly beaten
1 egg yolk, lightly beaten
6 cups vegetable oil for frying
Mix 1 cup sugar and 1 tablespoon cinnamon together in a resealable freezer bag.
Bring apple cider to a boil in a saucepan; cook, stirring occasionally until cider has reduced to 1/2 cup, about 20 minutes. Remove from heat and cool.
Whisk 1 cup flour, 1 cup sugar, baking powder, 2 teaspoons cinnamon, and salt together in a large bowl. Mix butter, eggs, egg yolk, and cooled cider together in a separate bowl until smooth; stir into flour mixture. Stir remaining 2 3/4 cup flour into mixture until dough is smooth. Refrigerate dough for 10 minutes.
Heat oil in a large pot or deep-fryer to 375 degrees F (190 degrees C).
Turn dough onto a well-floured work surface using floured hands; pat dough into 1/2-inch thickness. Cut dough into doughnuts using a doughnut cutter or 2 round cookie cutters (1 large and 1 small). Gather scraps and re-pat dough to cut out as many doughnuts as possible.
Carefully slide doughnuts, working in batches, into hot oil; fry until doughnuts rise to the surface and begin to brown, 2 to 3 minutes. Flip doughnuts and continue frying until opposite side is browned about 1 1/2 minutes.
Remove doughnuts with a slotted spoon and place on a paper towel-lined plate to cool until easily handled, about 1 minute. Toss cooled doughnuts in the reserved bag of cinnamon-sugar. Bring oil back to 375 degrees F (190 degrees C) before frying next batch.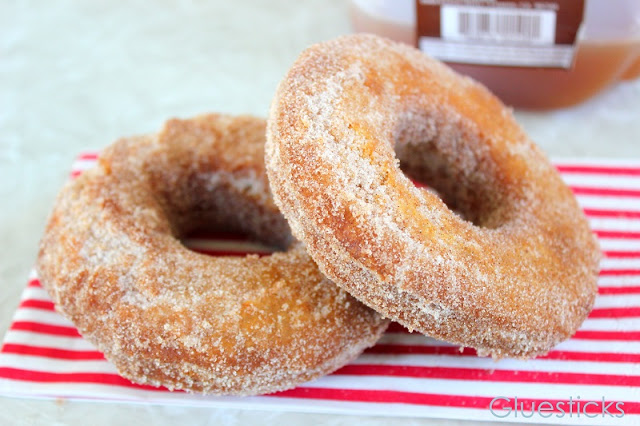 You might also like…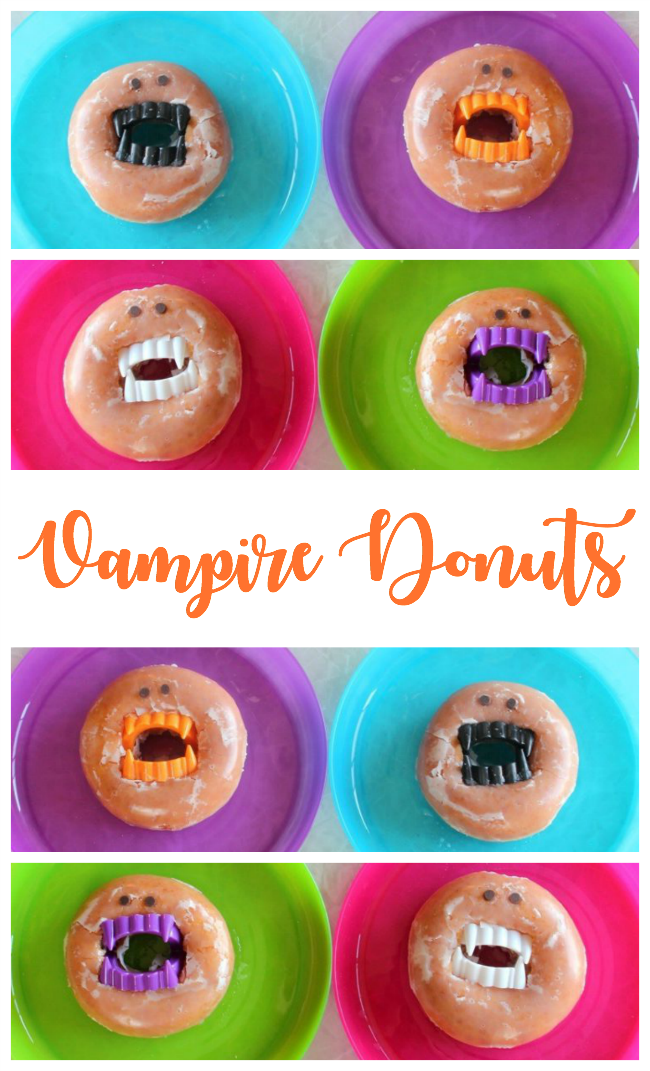 Are you ready to make the SILLIEST not-so-spooky Halloween treats? These vampire donuts come together in about 30 seconds. So easy and fun!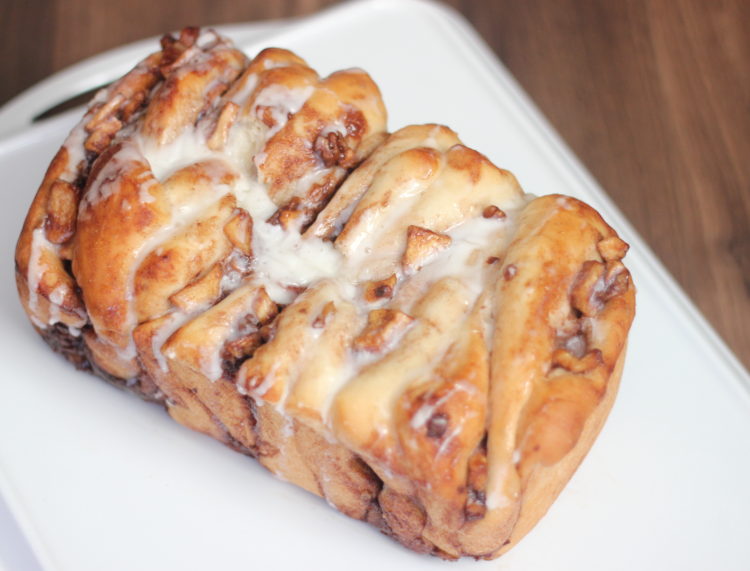 This apple cinnamon bread is a delicious light, pull apart bread with diced apples, a buttery cinnamon filling, chopped walnuts. Drizzled with a sugary glaze it's a family tradition for us— make it one for your too.
Mmm! How many of you have tried making homemade raised doughnuts? And how many have failed miserably? Me! Me! Me! I don't know how many times I've made doughnuts, only to have them turn out nasty….or almost edible. Sometimes burned on the outside, raw on the inside. Dense or flavor-less. But, being the pastry JUNKIE that I am, I kept trying.  So I'd like to share a recipe and some things I've learned to make the process easier.