Make a batch of hot chocolate sticks to keep on hand this winter! Simply melt in a cup of warm milk for a delicious and rich treat! Fun to make and easy to customize! This post contains affiliate links. 
You might also like our hot chocolate bombs or snowman hot chocolate bombs!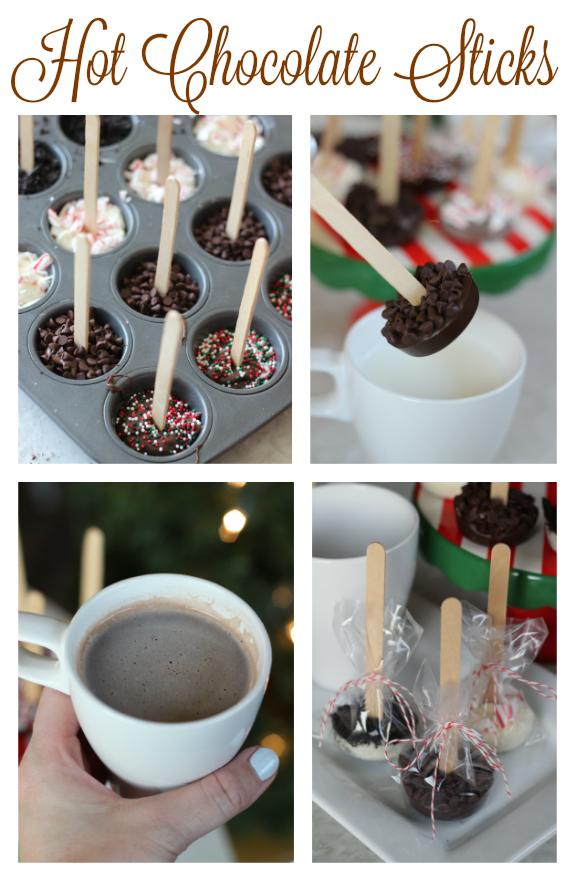 What is a Hot Chocolate Stick?
The kids and I couldn't help but take a peek at Target's Christmas section a couple of weeks ago. They were finishing up the aisles and had so many fun things! I especially loved the fun foods section with gift boxes, cookie mixes, and holiday candy.
It had been a long day of school and dental cleanings and we still had to pick up a birthday gift for a friend before heading home. I told the kids that they could pick out something fun to have as an after dinner treat.
That's when we found a variety of flavors of hot chocolate sticks, how fun!
We grabbed 6, and as I was checking out and walking to the car it dawned on me that I had just spent $6 on something that I could have easily make for a fraction of the price.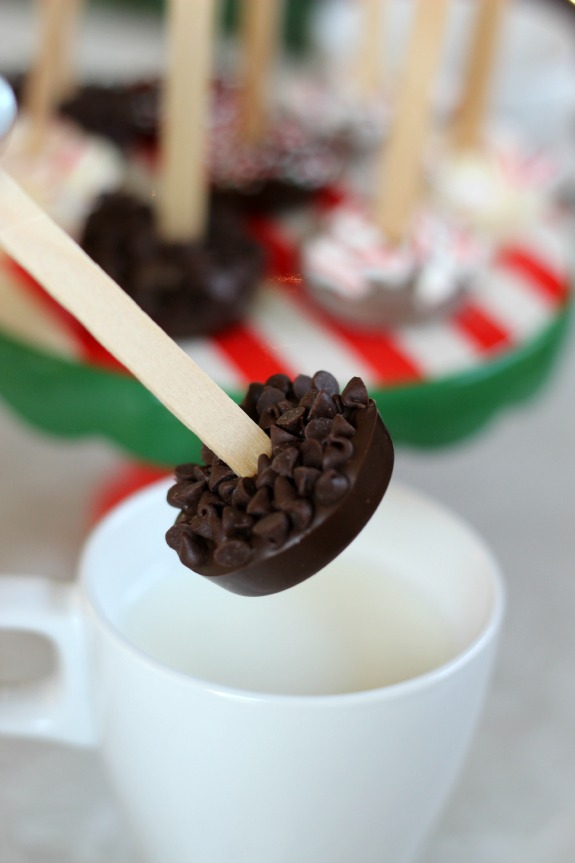 So that's what we did. We made a whole batch to keep on hand this winter. Wouldn't these make fun gifts?
You can add them to a cup of hot milk, or EVEN BETTER, add them to a mug of hot chocolate to really take it up a notch! Talk about a rich and creamy mug of hot chocolate that can be customized by adding different flavored hot chocolate sticks!
Hot Chocolate on a Stick Recipe
gluesticksblog.com
Makes 6 Hot Chocolate Sticks
Ingredients:
1 c. of melting chocolates or chocolate chips
3 T. powdered sugar
8 drops flavoring oil (optional)
toppings (peppermint candy, semi-sweet chocolate chips, freeze dried marshmallows, etc.)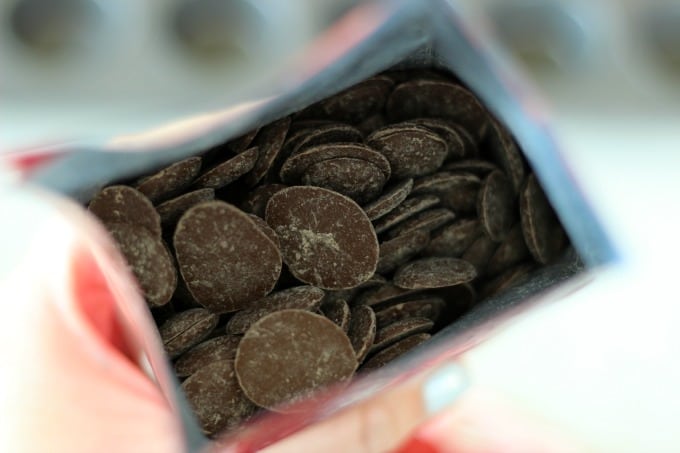 We used melting chocolates since that's what I had on hand, but chocolate chips would work too. I like melting chocolates because they are smooth and easy to work with in a double boiler or microwave.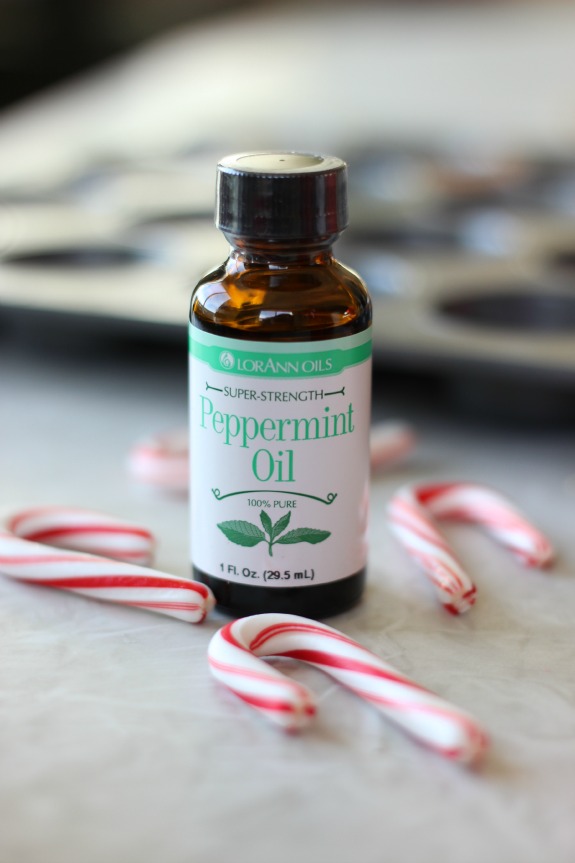 We love peppermint hot chocolate so I added a few drops of
peppermint oil
. A little bit goes a long way when using peppermint oil vs. extract. This is not to be confused with essential oil.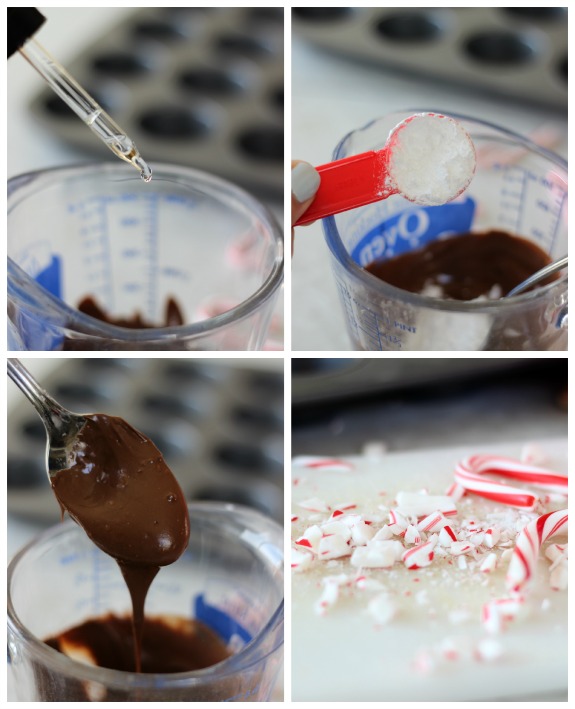 Place chocolates into a bowl microwave for 30 seconds. Stir. Continue microwaving in 10 second intervals (stirring after each interval) until smooth.
Add flavoring oil.
Stir in powdered sugar.
Mix until smooth.
Spoon mixture into a mini muffin pan or ice cube tray, filling each cup about 1/2 to 2/3 full. Add a popsicle stick and top with crushed candy canes, oreo crumbs, chocolate chips, or sprinkles!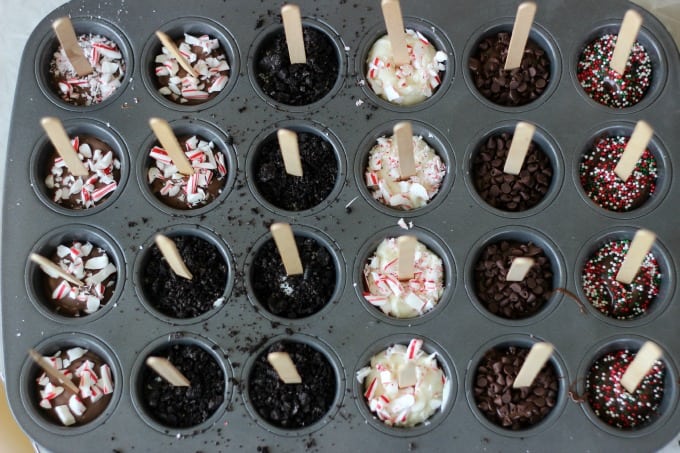 Freeze until hard, about 20 minutes. Gently pop out of
tray
. A
silicone mold
would make it even easier! I just used what I had and it worked too. Just tap gently on the counter a few times to loosen up.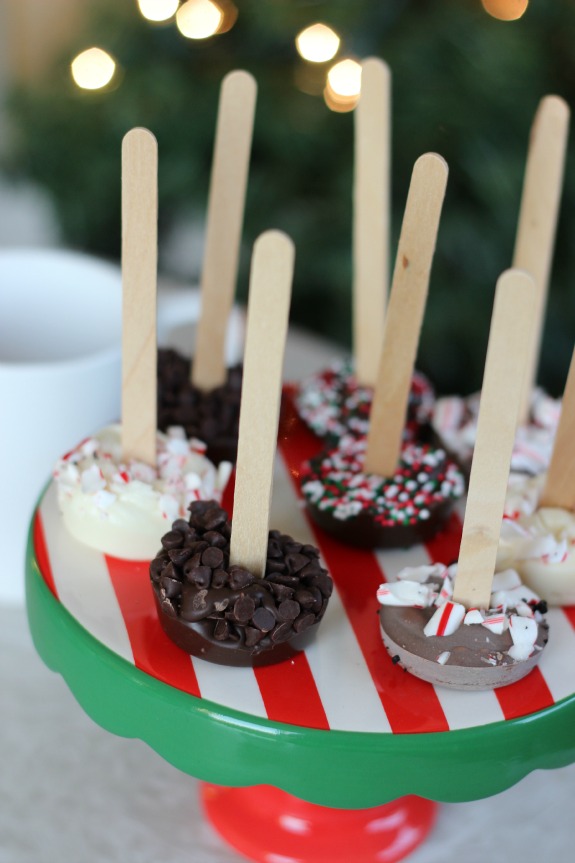 We made cookies and cream, dark chocolate with sprinkles, double chocolate (milk chocolate with semi sweet chocolate chips), white chocolate peppermint, and milk chocolate peppermint.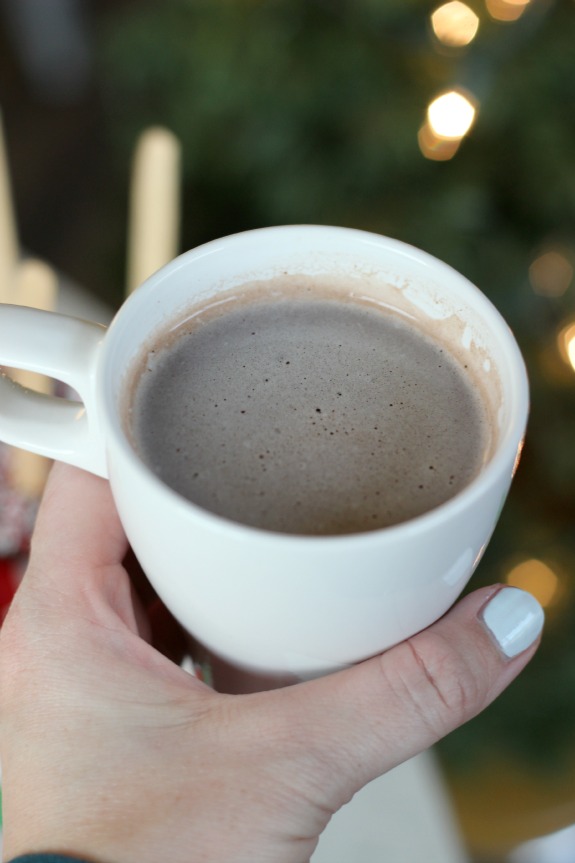 Stir one stick into a cup of hot milk until melted. It may not seem like a lot of chocolate, but it is plenty for a nice rich cup of hot chocolate! SO delicious.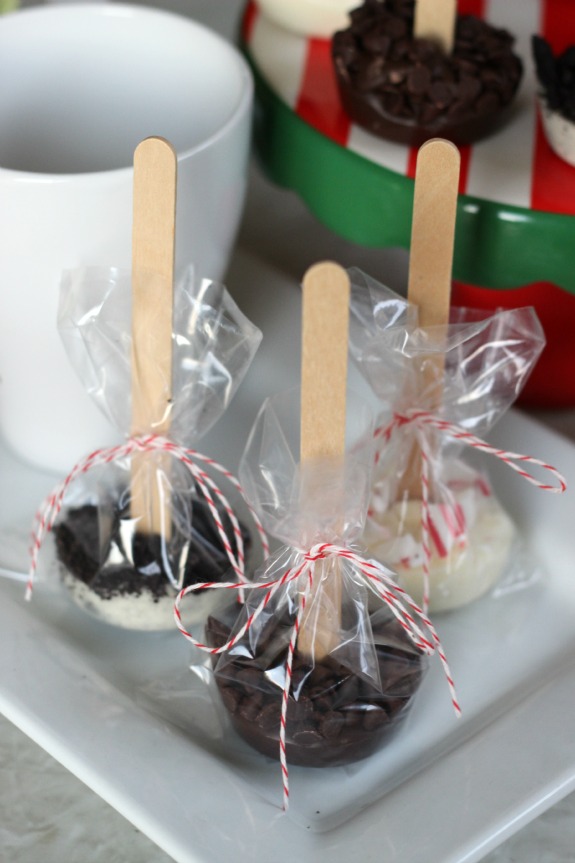 What is your favorite kind of hot chocolate? I love Starbuck's and could drink it by the gallon. The double chocolate version of this tastes very similar! It makes a huge difference in making hot chocolate with CHOCOLATE instead of a mix!
Welcome! I'm Brandy, mother to 5 darling kiddos and a cute black lab named Toby. My husband is in the Coast Guard so we've lived all over the place, turning each house into a home. I love baking, sewing, making cute things with my kids, and sharing what I've learned with all of you!