Tips and tricks for making and freezing baked goods. How to freeze pies, cookies and rolls. This especially comes in handy during the holidays! Bake a variety of treats in one day and freeze for parties and family dinners! This shop has been compensated by Collective Bias, Inc. and its advertiser. This post contains affiliate links.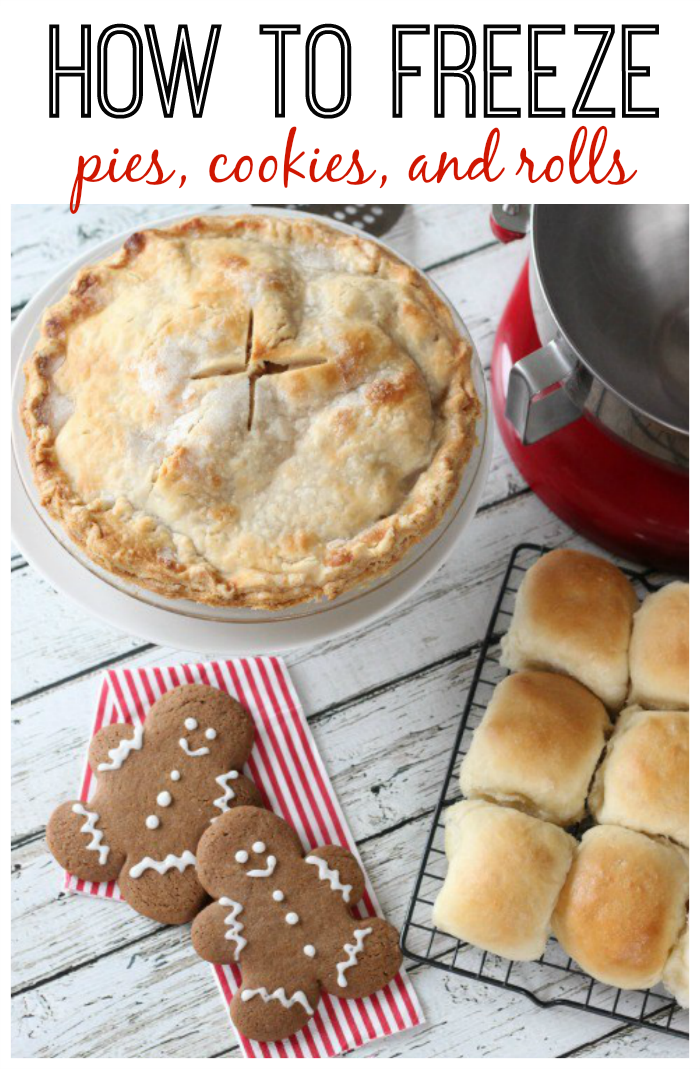 If I am going to go through the trouble of baking one pie, I might as well make two, right? Or 6! I had a moment of insanity last month and made 6 apple pies to use up a box of apples we had. Half way into the process I wondered why on earth I would put myself through that.  5 went into the freezer for a rainy day and one went right into the oven. My kitchen counters took a beating, and my floors were sticky enough to give even the best mop a run for it's money…but it was all worth it. Why?
Fast forward one week later and we were invited over to a friend's house for dinner. I volunteered to bring dessert. What did I bring? You guessed it. Apple pie! The next week the  youth group at church were looking for volunteers to donate baked goods for a fundraiser. Sure, I've got that! I pulled out a pie from the freezer and an hour later had a hot apple pie to send.
With the holidays being such a busy (and WONDERFUL!) time, it is nice to have a few things tucked away in the freezer for last minute parties and dinners.
Today I am going to show you how to freeze pies, rolls, and cookies!
How to Freeze Pies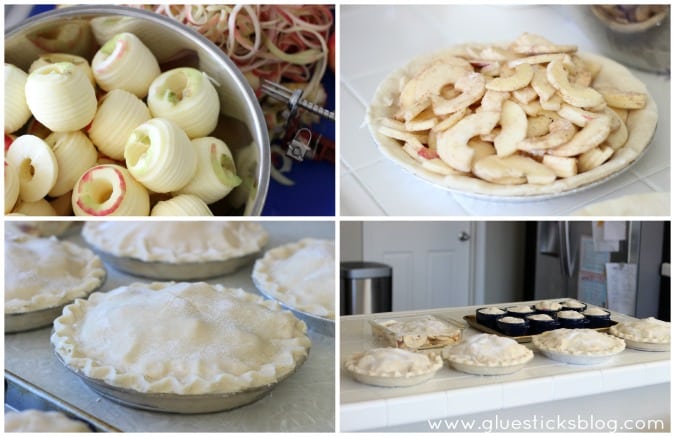 Freezing pies is incredibly easy and you still get that fresh from the oven pie, even months later! Instead of popping it in the oven, wrap with plastic wrap and then a layer of foil. Freeze.
When you are ready to bake it there is no need to thaw. Line a baking sheet with foil to catch drips, unwrap your pie, and bake  as you would any other pie.
How to Freeze Rolls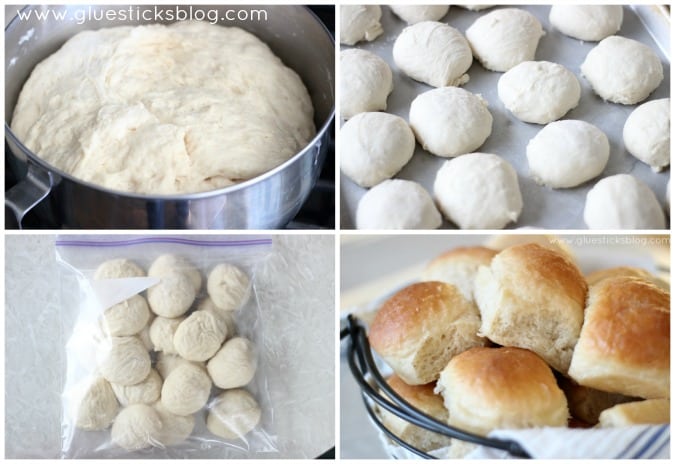 Rolls are a great item to have on hand in your freezer. You can bake ahead and freeze, or you can freeze dough balls for hot rolls on a future date.
To freeze, separate your dough into balls after the first rise. Fill up your baking sheet and then freeze. A deep freezer works great for large baking sheets of dough balls. Once frozen, remove from baking sheet and store in a large ziplock bag in the freezer.
When you are ready to bake them, place dough balls on a greased baking sheet. Cover in plastic wrap that has been sprayed with cooking spray to prevent it from sticking to the top of the rolls.  Let raise at room temperature until rolls double in size (about 3-5 hours depending on the temp in your kitchen). Bake as you normally would. My favorite rolls are these buttery dinner rolls that I shared last month.
How to Freeze Cookies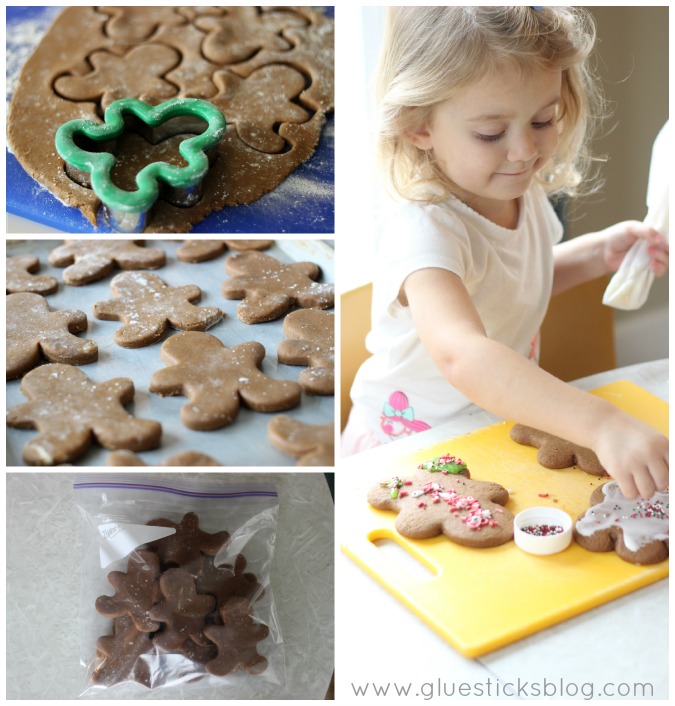 My grandma always had bags of baked cookies in her freezer. Chocolate chip cookies to be exact. You can bake cookies ahead and freeze, or freeze cookie dough balls. I prefer to freeze cookie dough so that I can have warm cookies straight from the oven.
Scoop dough and place on a baking sheet. No need to space them since you won't be baking them right now. Cram them all on the sheet and freeze until frozen solid. Store in ziplock bags.
When you are ready to bake them, simply remove from bag and space on a baking sheet. Bake as you normally would.
For rolled cookies, freeze cookie cut outs until frozen solid, store in a bag, and bake as normal. This works out great since my kids absolutely love decorating cookies. I can pull out a half a dozen gingerbread men and 10 minutes later they are out of the oven and ready to decorate.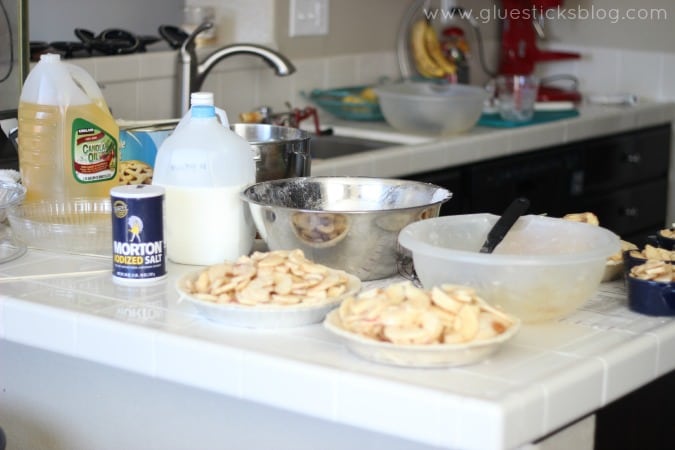 All of this lovely prepping and freezing isn't without its downfalls. (Note:  I did NOT make all of the rolls, cookies, and pies in the above photos on the same day. I'm not that crazy.) The day I made the pies my kitchen was absolutely trashed. Flour and sugar on the counters, sink and floors.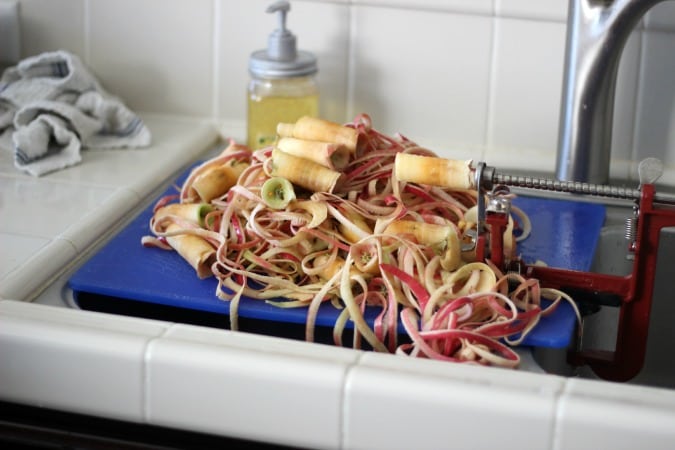 And then the apples. The deliciously juicy apples that left their stickiness everywhere.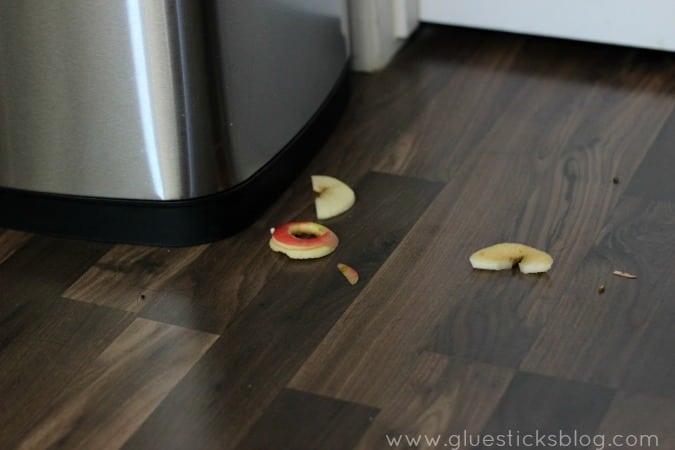 I didn't do a great job making it to the trash can as you can see. Sometimes it seems like you spend as much time cleaning up as you actually do baking. It's a good thing I really like baking but, I don't want to be cleaning right now. I'd rather be looking at Christmas lights, taking the kids to see Santa, and visiting with guests. This holiday baking season I went and picked up a new mop to deal with my laminate floors and the sticky messes that plague them.
Mops are expensive and I hate finding a dud. My ProMist was a great deal and makes cleaning my floors super easy: Fill, Spray, Mop, and Wash.
After a quick sweep and dry vacuum to get rid of the dust and crumbs, I quickly mop my floors. I use a basic concentrated glass cleaner (mixed with water) to clean them and leave the streak free. After mopping I simply toss the pad into the washing machine. A quick and spotless clean up.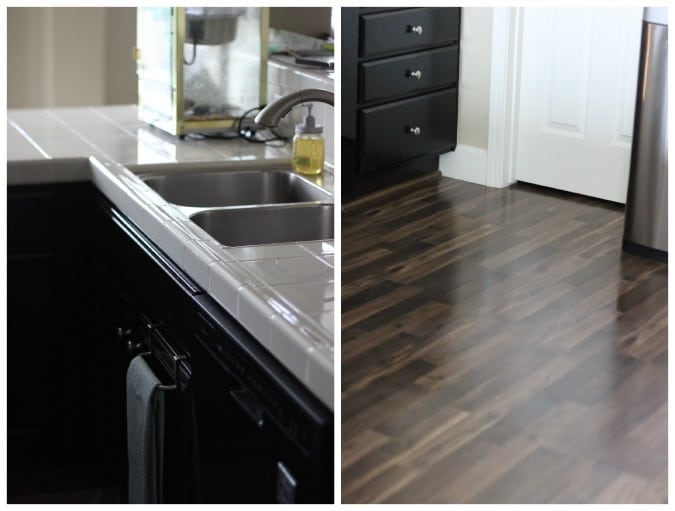 My kitchen was then clean…until it was time use it again! 😉