This post brought to you by Moen, Incorporated. All opinions are 100% mine.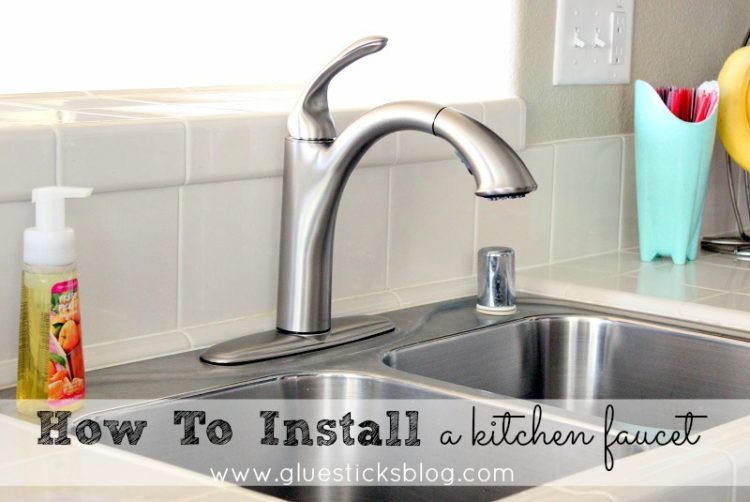 Today I am going to show you guys how I installed our new kitchen faucet. By myself! Laugh if you want to, but I have a super handy husband who can do pretty much anything around the house. The new faucet had been sitting in a big box in our kitchen for over a week and I was getting antsy. I knew Derrick would take care of it, but I kind of just wanted to see if I could do it. I was pleasantly surprised with how easy it was! Ok, I take that back. Fitting the top half of my body under the sink was a little tricky at times, but installing it was pretty straightforward. Since we were going from a 3 hole faucet cover to another 3 hole faucet cover (the width of the metal plate under the faucet), it was super easy.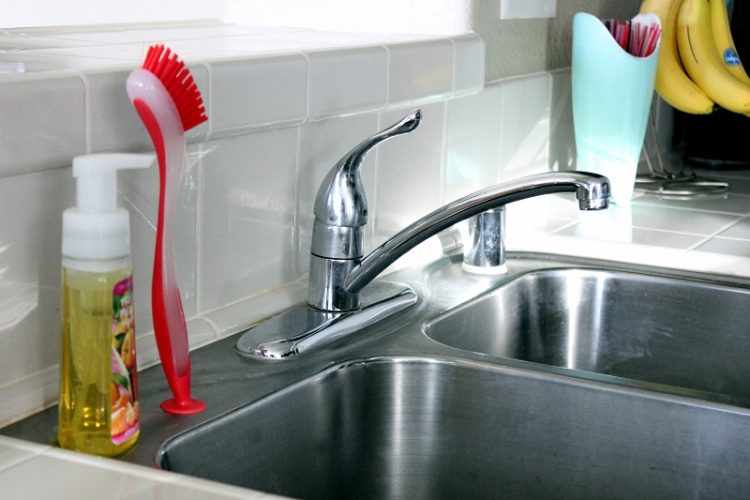 Here is the faucet that came with the house. It was the standard builders faucet. They wanted $300 to upgrade it to anything other than this. Crazy. We decided we'd just put one in ourselves after we moved in. That was a year ago. We are finally getting to that. The original faucet was nice and it worked fine, but I wanted one that had a retractable hose for filling bigger pitchers of water and spraying the sink down. The Moen Kinzel can be found at Lowe's and was everything I was looking for. It was almost identical to one that I had in a previous home of ours. Once you find something you like, you stick with it! It had the retractable hose system, an optional sprayer and a spot resistant finish.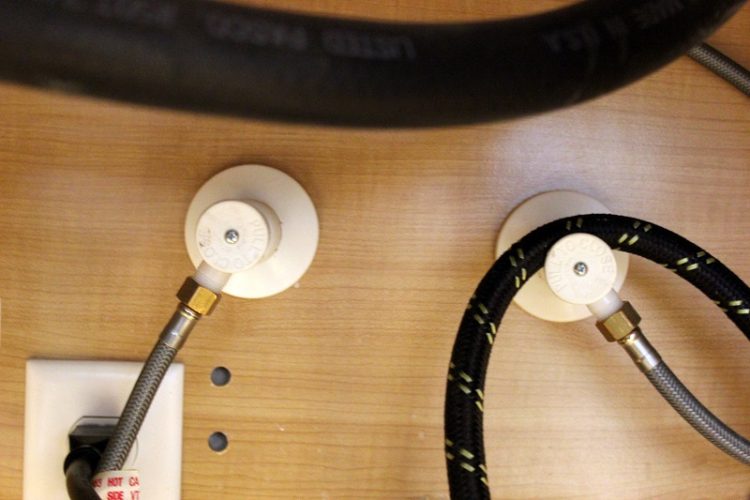 The first thing I did was shut off the water. That was easy. I just pulled out the knobs until they clicked.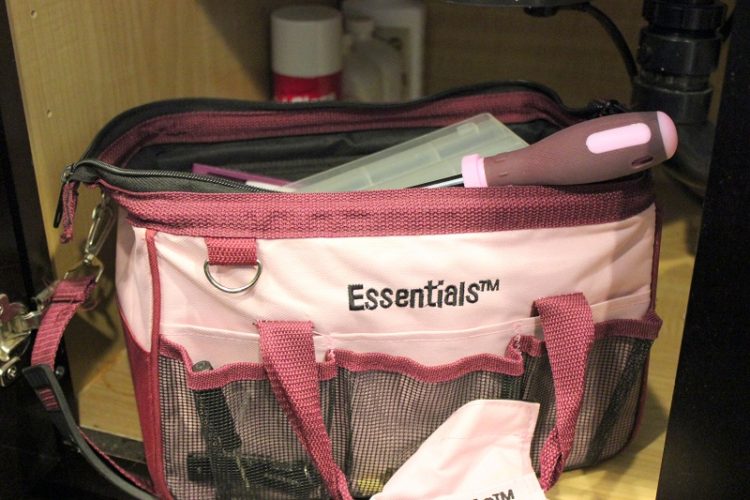 Do you like my tool bag? Derrick got me this a few years ago so that I would quit stealing his hammer, screwdrivers and wire cutters and other tools from the garage. This was my first time using the wrench, ha!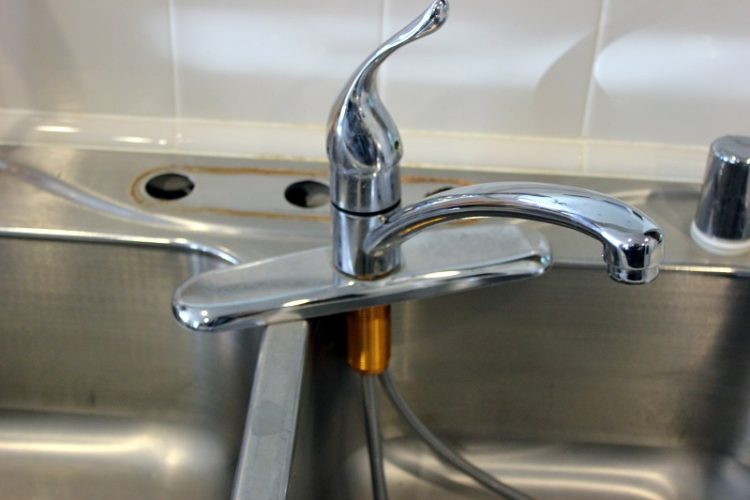 I needed to remove the old faucet. After I loosened the hardware from under the sink, the faucet and plate popped right off. Look how nasty it was under there. Sorry you had to see that.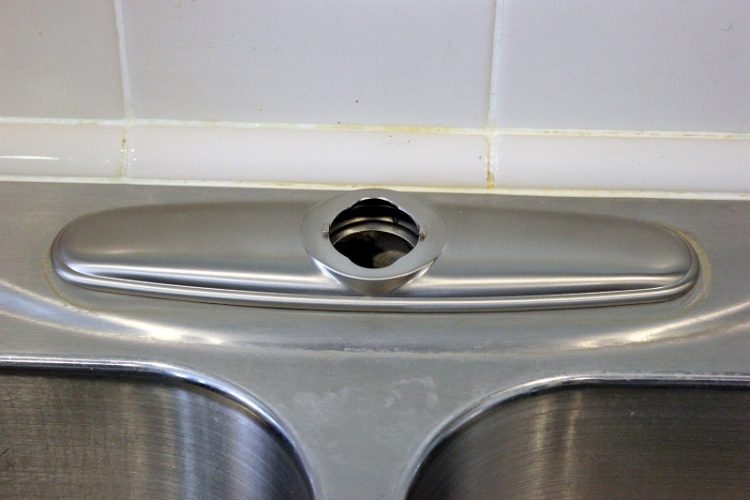 I gave the sink a nice scrub to remove the gunk from the previous faucet and then put the new plate on.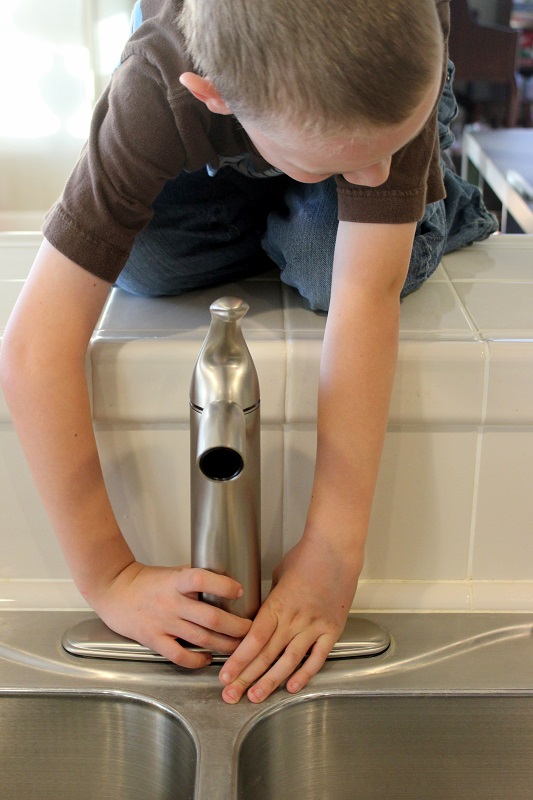 I strung the hot/cold water hoses through the hole and Aaron held it in place while I added the other plate under the sink and the hardware. I simply twisted it tight and then tightened it even more with the wrench.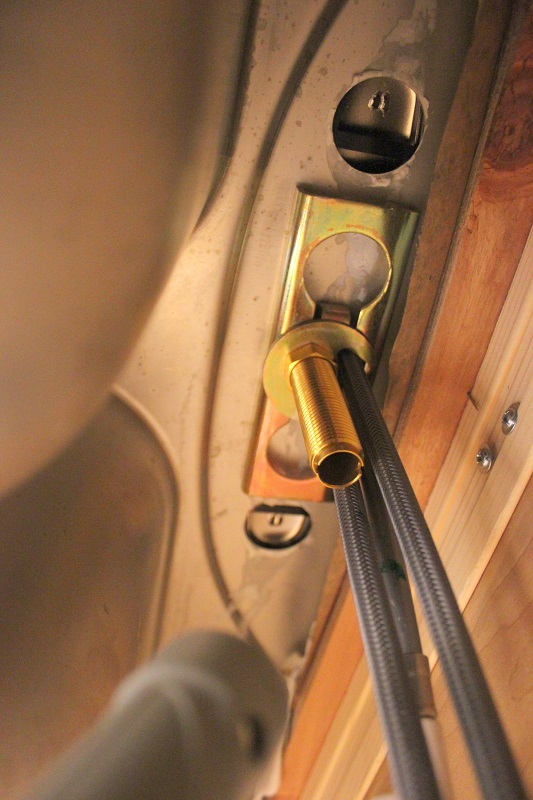 Here are the hoses under the sink. There are two for the water (hot and cold) and another for the retractable sprayer with the new faucet.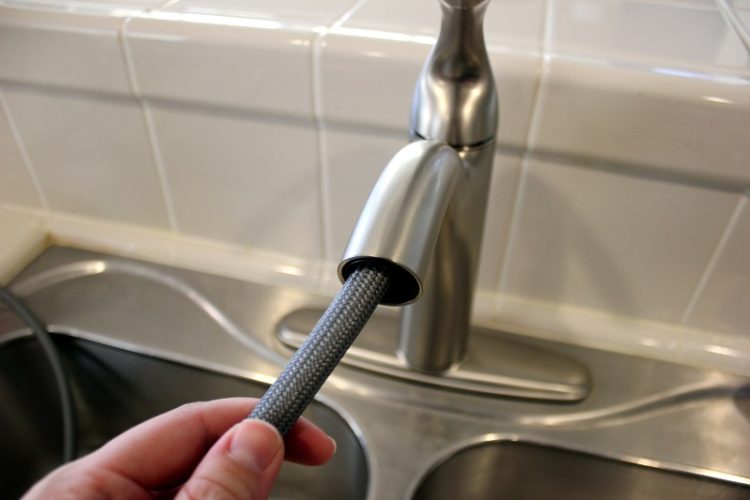 The retractable hose came in two sections. One section that went under the sink, and another that went through the faucet and attached to the one under the sink with a quick fastener.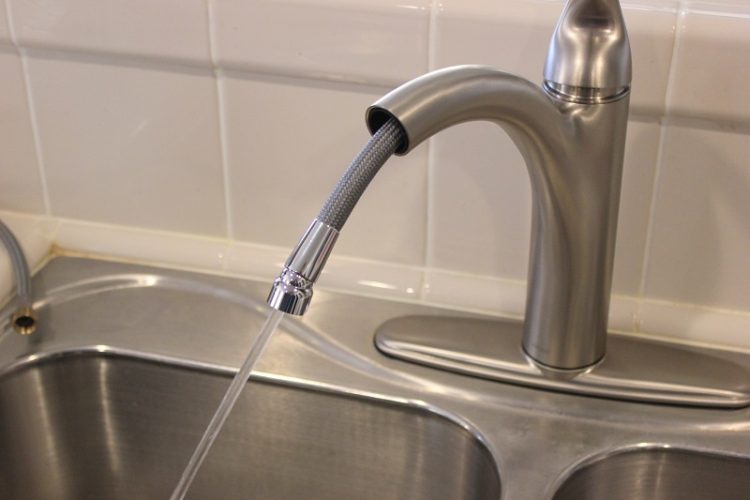 The two sections snapped into place and then I tested it to make sure it worked and that nothing leaked under the sink.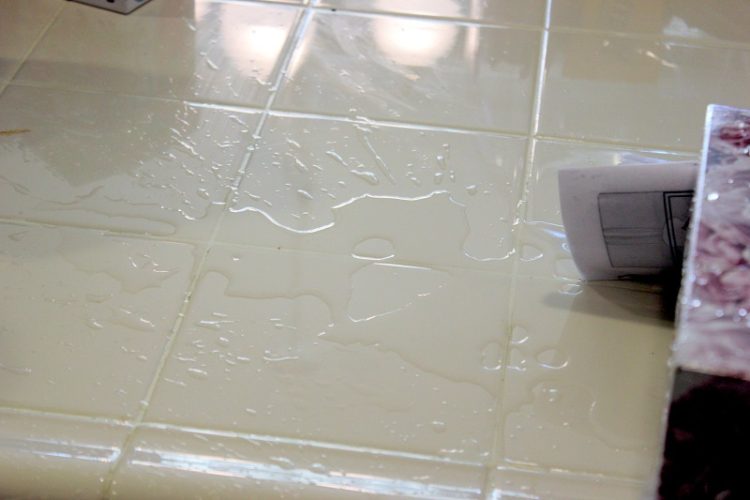 Apparently I didn't have enough hose pulled out. As soon as I turned it on, it quickly retracted and started spraying all over the kitchen and the kids. That was entertaining! BUT…it worked! Yay!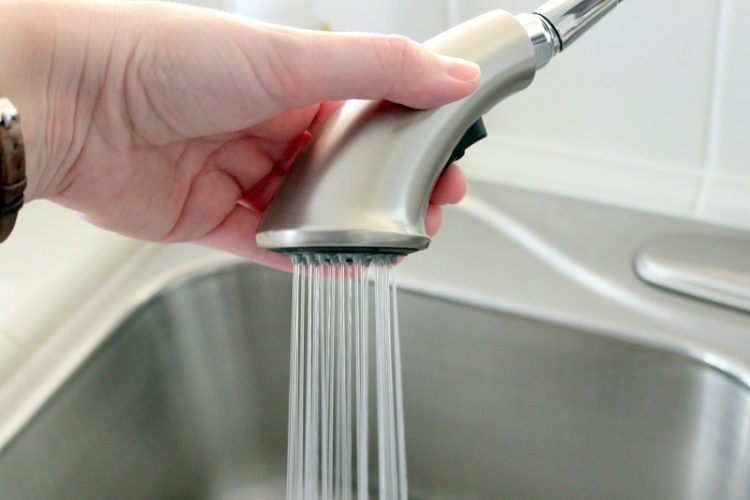 The last thing to do was twist on the new faucet head and add a weight to the hose so that it would automatically retract whenever I let it go.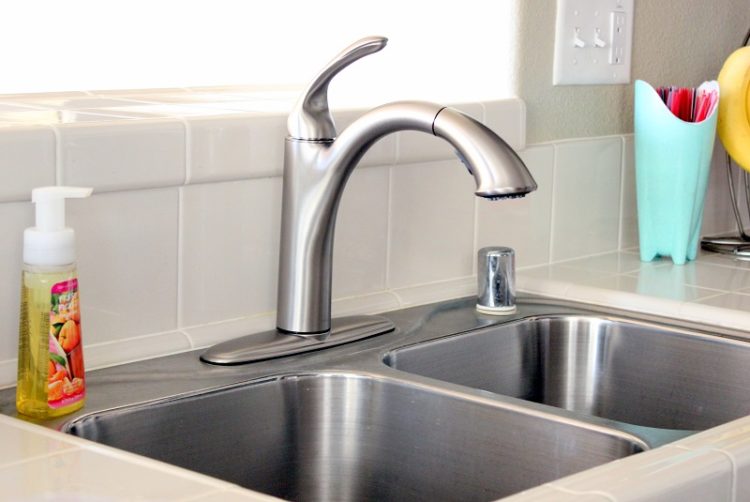 I absolutely love my new faucet! And I am pretty proud that I did it on my own. Start to finish, a little over an hour. Honestly folks, if I can do it, anyone can do it. And it was so much cheaper than the $300+ that the builders would have charged! Every faucet is a little bit different, but the concept is the same. Mine came with a soap/lotion dispenser as well, but since I didn't have use for that (I use foaming soap) I did not install that. The directions that came in the box were fantastic and very straightforward.
So that is that! How to Install a Kitchen Faucet. Now you can feel like a plumbing rock star too. Just don't ask me what to do if a pipe breaks. I'll pass you over to my husband in a flash.