A perfect beginning sewing project for kids. Create simple quilt blocks and let them practice their straight line sewing skills to create a cozy throw for reading and cold nights.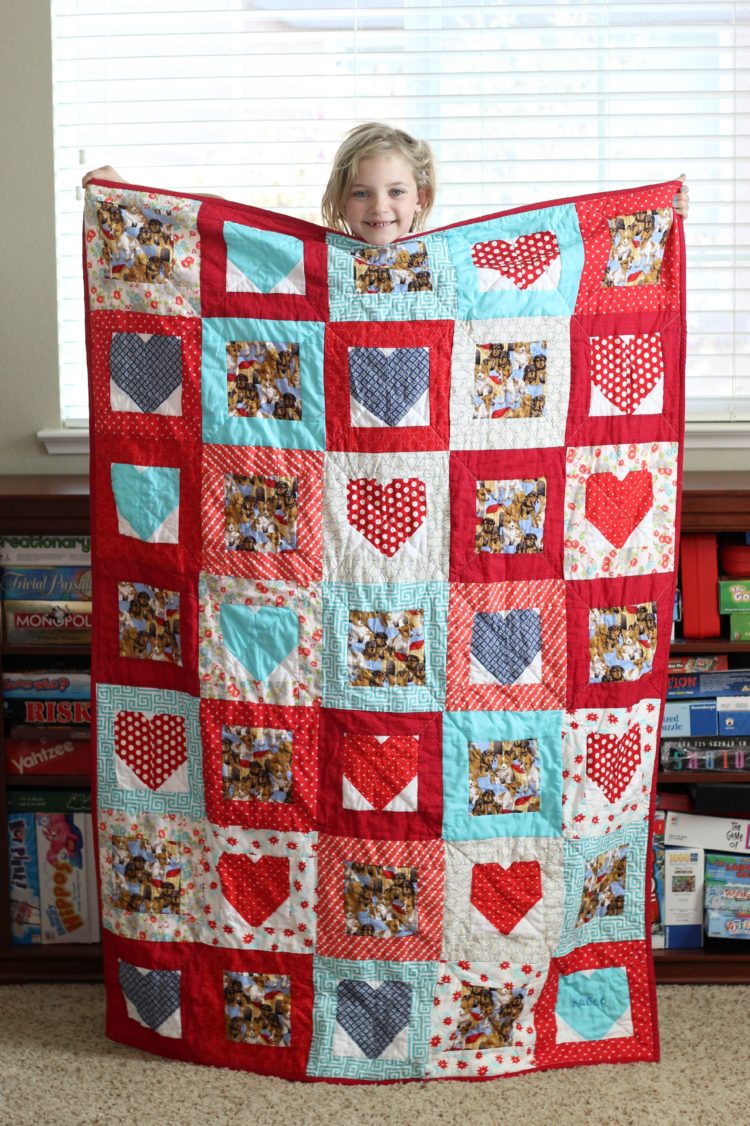 Kaylee has been learning how to use my machine and practicing her straight line sewing skills and I thought it would be fun to put those early skills to use by making her own little quilt for snuggling up in.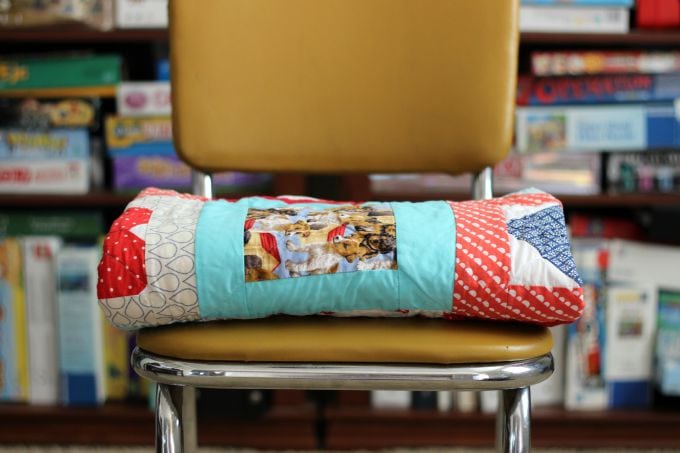 I received a bag of fabric from a friend at church a while back and this puppy fabric was in it. I wasn't sure if I was going to keep it at first but then decided that Kaylee might like to use it sometime. I was right! It was the first fabric that caught her eye, and miraculously, we were able to scrounge up enough scraps for the other pieces on the quilt.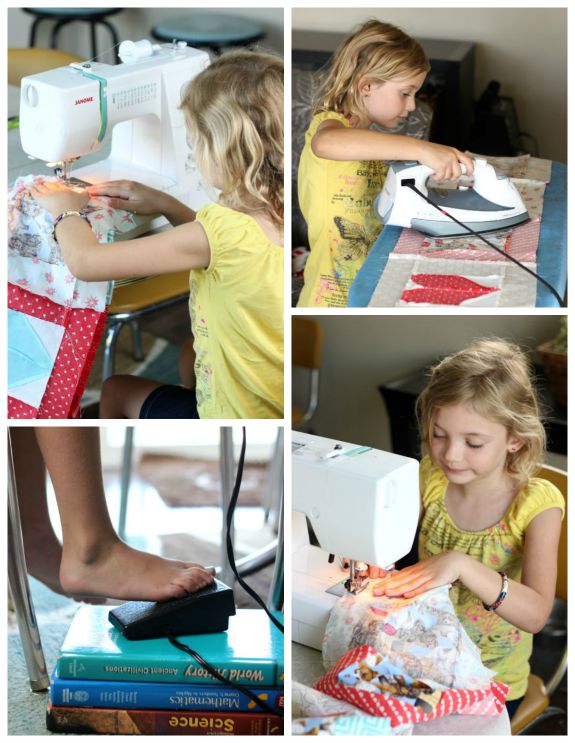 She is still very new to sewing so we kept it very simple. I made a stack of quilt blocks, and she practiced her "straight line" sewing skills by sewing all 35 blocks together into rows.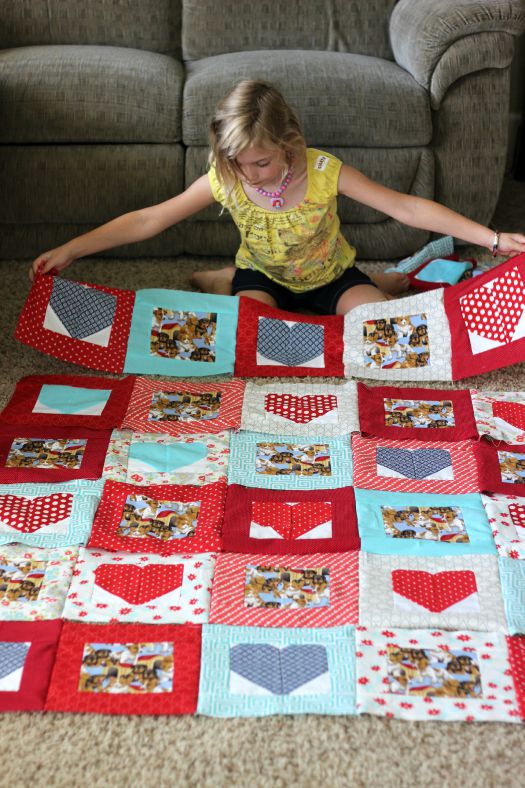 I'm so proud of her and how hard she worked on her quilt, sewing all of those rows together. She was disappointed when I told her that I was going to quilt it for her. Baby steps, girlfriend! I have a hard enough time wrangling my quilts through my machine. She's only 6 and will be quilting on her own soon enough, I'm sure!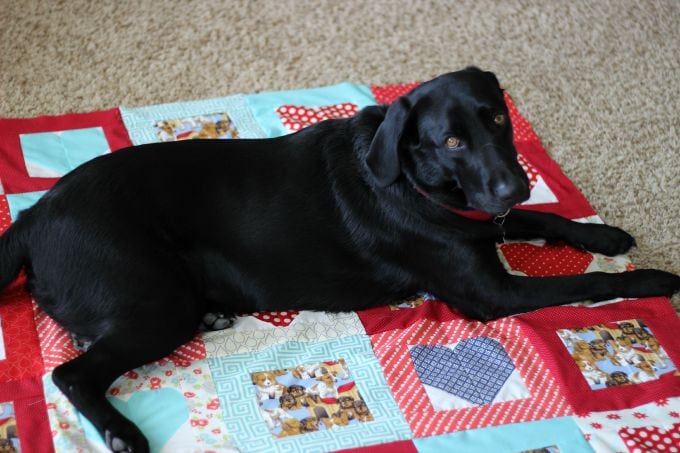 We named her quilt the "Puppy Love" quilt. I guess Toby viewed that as an invitation. He seeks out anything soft on the floor to lay on. It's a good thing all quilts go through the wash before they are finished. She waited up until 11:00 pm for her quilt to come out of the dryer, all fresh and crinkly. There's nothing more cozy than a warm, crinkly, quilt. I think she slept better that night with that little quilt that she made.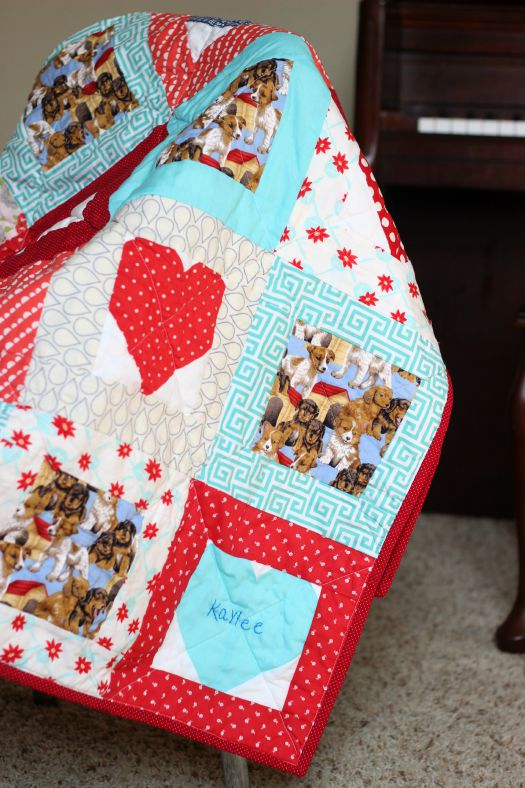 I'm so happy that she is enjoying her time at the sewing machine. Now she's on a mission to work on any and all sewing projects that she can find. She was so excited to fix an apron that she found in her dress up box that needed a seam to be stitched again. I hate mending and always have a pile of things that need a quick stitch or two. I think I'll have to start passing those off to her now 😉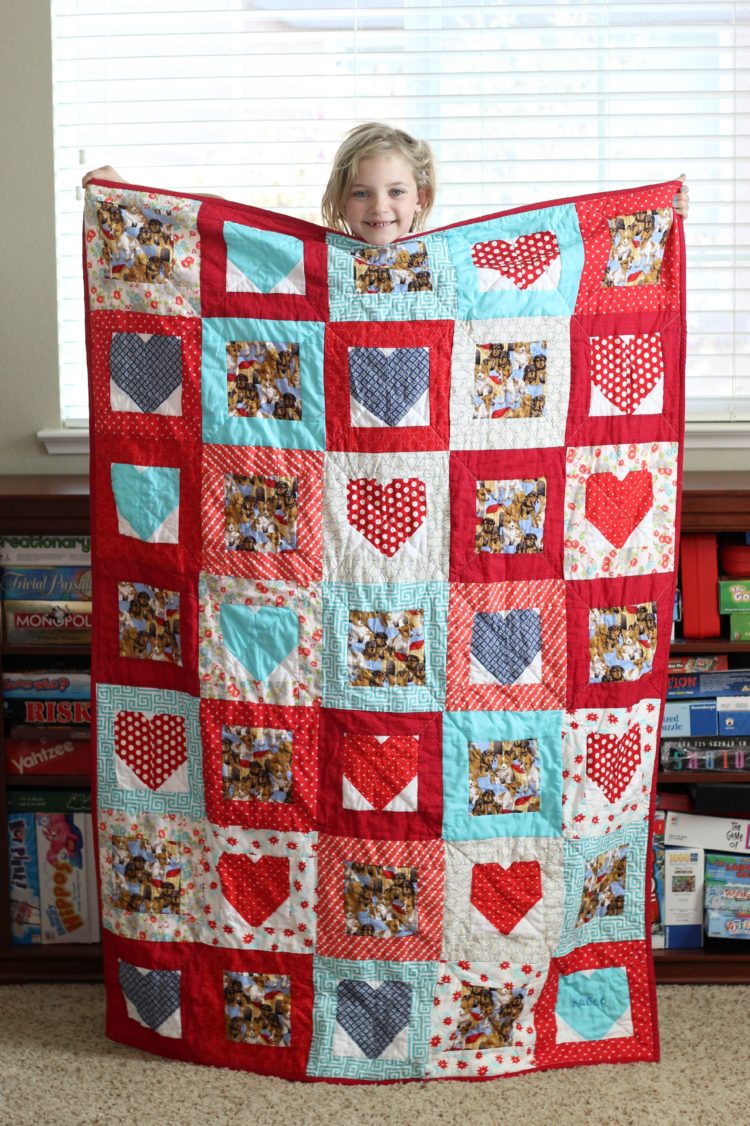 Neither one of us noticed that the first two rows are swapped until we finished the quilt, and I'm not going to tell her. It just adds character and I think this little quilt is absolutely perfect!
Heart Quilt Block Tutorial from Cluck Cluck Sew.