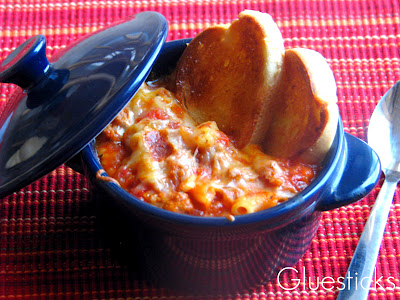 Here is a nice kid-friendly soup from
Paula
. I serve this with sliced baguettes that come in bags from Kroger. They are always available on the day-old rack for .79 and are perfect broiled up for a few minutes then spread with garlic butter.
Lasagna Soup
1 pound ground chuck (I use turkey)
1 onion, chopped
1 green bell pepper, chopped
3 cloves garlic, minced
1 teaspoon thyme
1 tablespoon firmly packed brown sugar
1 (32-ounce) box chicken broth
2 (14.5-ounce) can petite diced tomatoes
1 (15-ounce) can tomato sauce
2 teaspoons Italian seasoning
1/2 teaspoon salt
2 cups broken lasagna noodles or small pasta
1 (5-ounce) package grated Parmesan cheese
2 cups shredded mozzarella cheese
In a large stock pot, combine ground beef (or turkey), onion, bell pepper and garlic. Cook over medium-high heat for 8 to 10 minutes, stirring occasionally until beef is browned and crumbles. Drain well.
Stir in thyme, brown sugar, broth, diced tomatoes, tomato sauce, Italian seasoning, and salt. Bring to a boil over medium-high heat; reduce heat and simmer 20 minutes. Add noodles, and simmer until noodles are tender. Stir in Parmesan cheese.
Preheat broiler. Ladle soup into 8 to 10 ovenproof bowls. Evenly sprinkle with mozzarella cheese. Broil soups, 6-inches from heat, 3 to 4 minutes, until cheese is browned and bubbly. Serve immediately.
This heats up well for leftovers as well.  Enjoy!