These chicken bean bags are just about the cutest things that you can make with your sewing machine. Use them as pin cushions, bean bags or even rice packs! This post contains an affiliate link.
If you like this simple sewing project you'll love our sugar cookie pincushions, 5-minute hand warmers and fabric wired headband tutorial!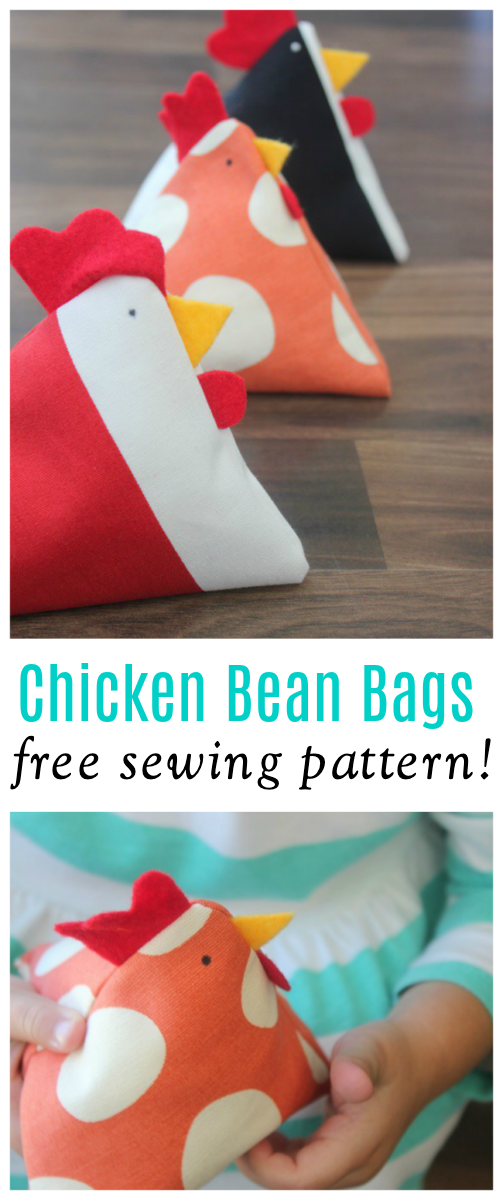 This post was originally shared in 2014, but has since been updated to include a video.
Watch our step by step video!
Ruby loves chickens. For some reason there are chickens all over the place in Yuba City. Especially in certain intersections and parking lots. Every time we go to Toys R Us or Winco we see chickens walking by our truck. She loves that. Her favorite song is "The Chicken Dance." There aren't any words, but she loves the actions and dance. I thought it would be fun to make her a chicken softie, but fell in love with these chicken bean bags instead. She loves them too. We started with one and she loved it so much that we made a few more. They take about 10 minutes so it's easy to make an entire flock! Her little chickens go everywhere with us. Grocery shopping, church, on her tricycle, and in her bed.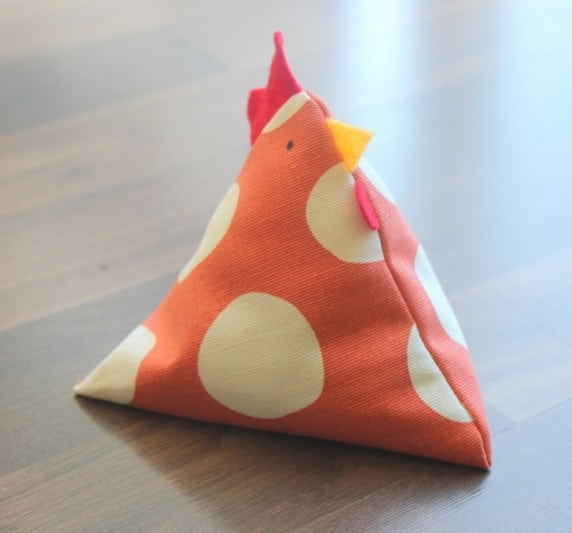 The sewing inspiration came from Anjie's Blog.  Red Ted Art saw the original and created some photo instructions. Ours are slightly larger than the original and since neither one came with a printable pattern, I quickly drew one to make it easier to keep them uniform when making them by the dozen, ha!
You can download it here: Little Chicken Bean Bag PDF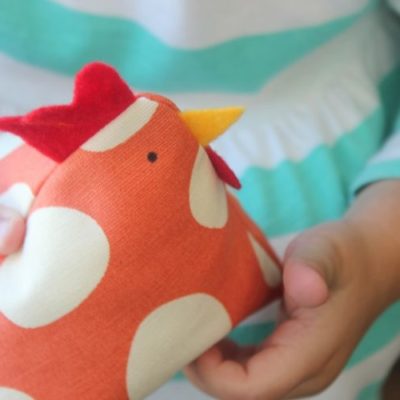 LITTLE CHICKEN BEAN BAGS
These chicken bean bags are just about the cutest things that you can make with your sewing machine. Use them as pin cushions, bean bags or even rice packs!
Print
Pin
Rate
Equipment
scissors

pins

Permanent Marker

sewing machine

needle

stuffing

rice
Materials
Instructions
Cut out felt templates for the face and a large rectangle of fabric for the chicken body. Lay the felt pieces in the upper right corner of the long rectangle of fabric.

Bring the bottom of the fabric to the top with the fold along the bottom. Pin to keep beak and details in place. Stitch top and right side, leaving left side open.

Turn right side out. Add an eye. You can hand sew this or use a sharpie pen like we did. Very gently so that it doesn't bleed.

Fill 1/3 with fiber fill and 1/3 with rice or small beans. Leave the rest open to allow room to close the bottom.

To turn your bean bag into a pyramid shaped one vs. a flat square, line up your seams so that the side seam lies flat as the back of the chicken. The front seam where the beak is and the back seam will line up and it will turn into the pyramid shape.  Turn under raw edges and pin closed.

Hand stitch to close.
Notes
You can fill this little chicken with stuffing, rice, beans or walnut shells. Can be sized down to make a paper weight or pin cushion!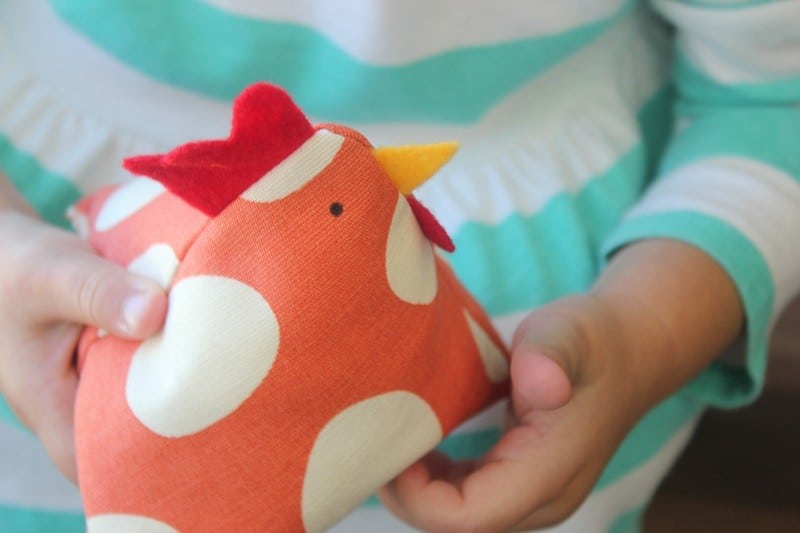 This little orange one is my favorite. Ruby's too.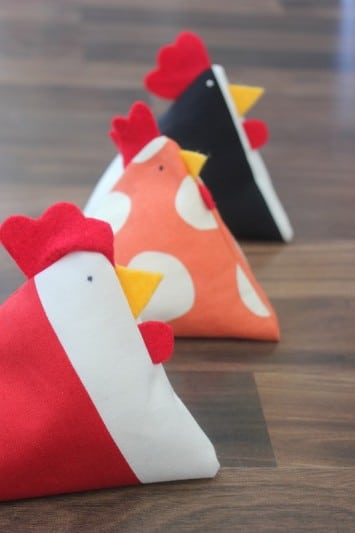 I'm thinking that this little pattern would make a great base for so many fun animal bean bags! A puppy, a cat, or even a pig.
Can you think of any others? What a fun little party favor or stocking stuffer, or homemade birthday gift!
For 60 more sewing projects, check out my sewing book for kids!