Come in if you dare! This Halloween mad scientist party is bubbling over with spooky concoctions, eye popping decor, and tons of fun!This shop has been compensated by Collective Bias and its advertiser.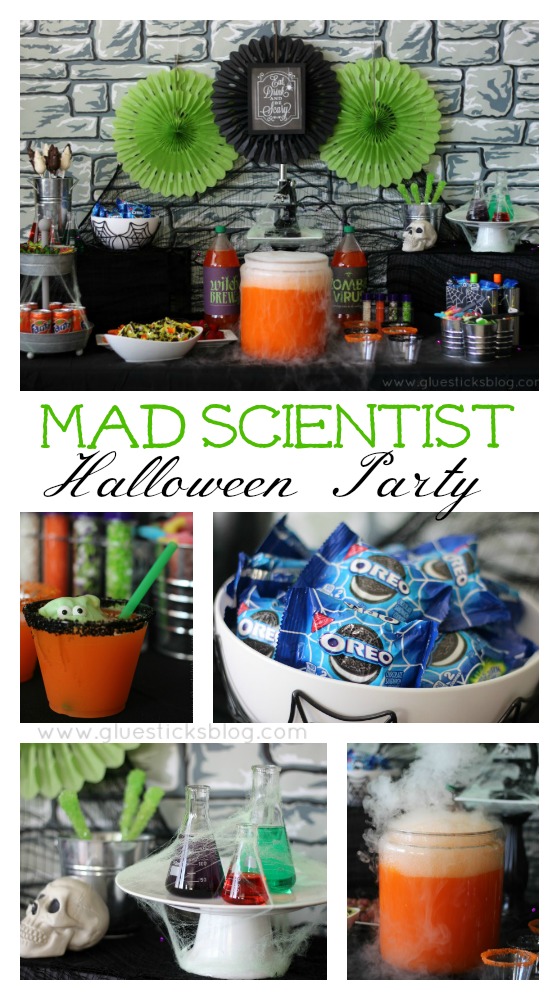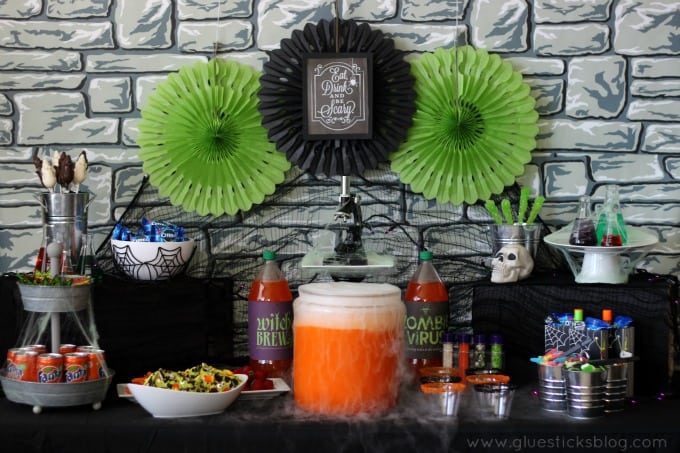 I love Halloween. I love the excitement of helping the kids find the perfect costume, trick or treating with friends on Halloween night, and all of the fun foods and decorations! Many tend to focus on the gory side of Halloween. I like taking a fun, somewhat spooky, and cute approach when it comes to our decor, our costumes, and our parties! That is exactly what this Mad Scientist Party is. Fun, somewhat spooky, and CUTE! Today I'm giving you all the ins and outs of creating a spooky lab in your home too!
Mad Scientist Party Tips: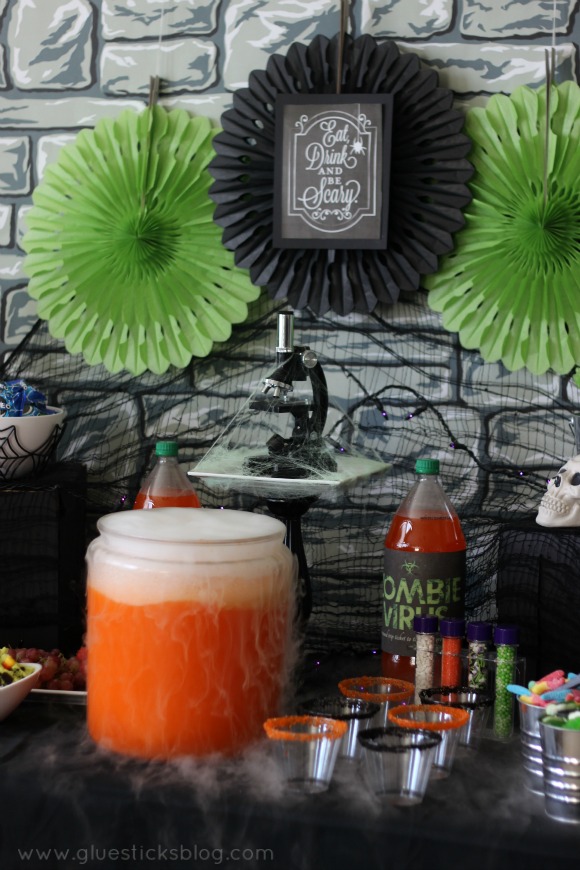 Tip: Set the main focus of your tablescape front and center, and work all other elements around it. Don't be afraid to go big with it either! 
The star of the party is this large 2 gallon steamy jar of punch! Orange Fanta, orange sherbet, and dry ice were combined to create this bubbly concoction. I also picked up a large roll of backdrop paper that was printed with a stone design. It sets the scene, helps the orange punch pop, and totally transforms the room!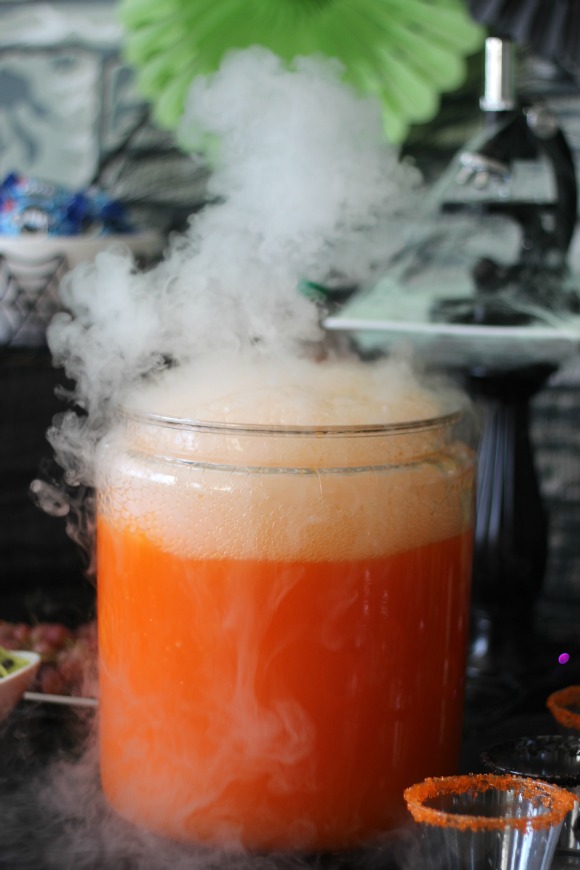 Mad Scientist Party Tip #1: If possible, incorporate interactive elements on your tablescape. An assembly line, some sort of bar for guests to create their own drinks, or a small craft for them to make and take home! 
Kids enjoy DIY party elements. Especially since they are always saying, "I can do it myself!" We had a station for guests to make their own Little Green Monster drinks, complete with sugar rimmed cups. They loved that.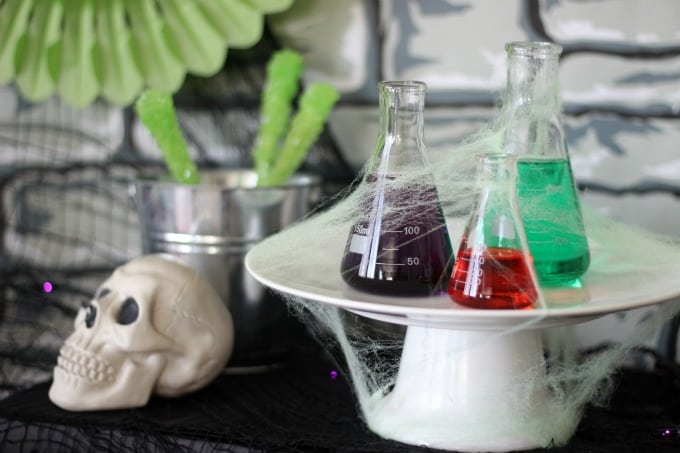 Mad Scientist Party Tip #2: Remember the Rule of 3 and Odd Numbers. The basic idea of the rule is that items that are arranged or grouped in odd numbers are more appealing and pleasing to the eye than even-numbered groups.
These glass flasks were perfect for adding color to my tablescape. Filled with water and food coloring they definitely scream "mad scientist"!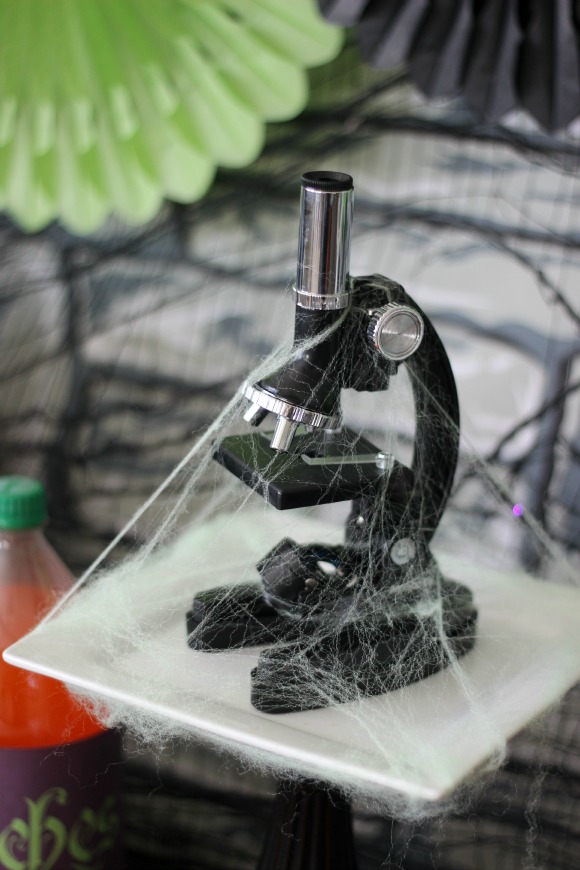 Mad Scientist Party Tip #3: Don't have cake stands in every color or size? Yeah, I don't either. That's ok! Improvise and make your own! Set a plate on top of an overturned bowl, a stack of books,  or a sturdy candle holder!
Every scientist needs a microscope, even if it is covered in cobwebs. A large candle stick with a plate combine to create a stand and add height to the display.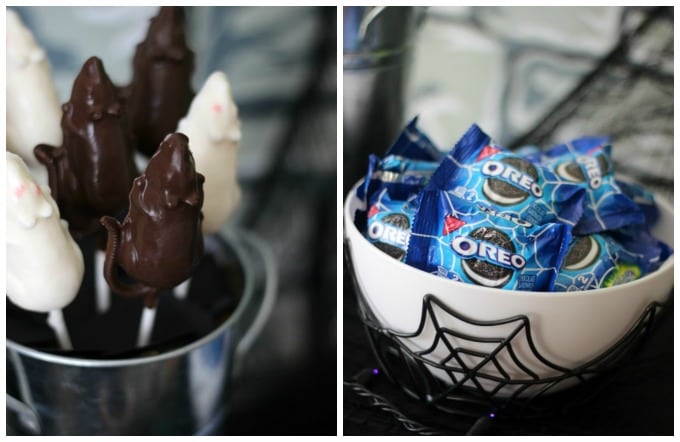 Mad Scientist Party Tip #4: Feel free to mix colors and metals in your displays. Raid your cupboard, craft room, and garage to find fun and unique ways to display your party elements.
I only had a few white dishes to pop against the black table cloth so I started rounding up my galvanized metal buckets. I realized that I had quite a few and actually liked the way they looked against the table cloth and stone wall.
Don't you love those chocolate rats? The kids did and they were so easy to make using this chocolate mold. The OREO 2 packs are also fun for parties and the wrappers actually glow in the dark!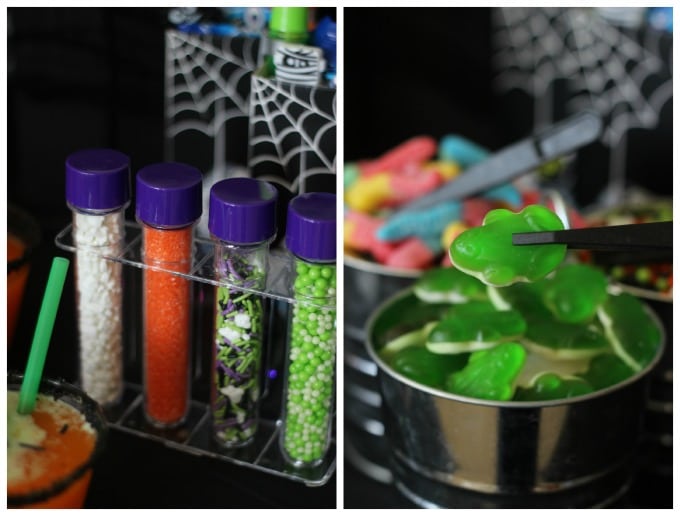 Mad Scientist Party Tip #5: Find items that have multiple uses! This will help save space. 
At first I thought about having bowls of sprinkles on the table and buying test tubes and filling them with colored water. Then I found these sprinkles and it was a 2 for 1 element to the party! Cha-ching!
I set out a variety of Halloween sprinkles, gummy frogs, gummy worms, and candy eyes for our Little Green Monster drink bar. Are you ready to finally see that "Little Green Monster" that I keep referencing?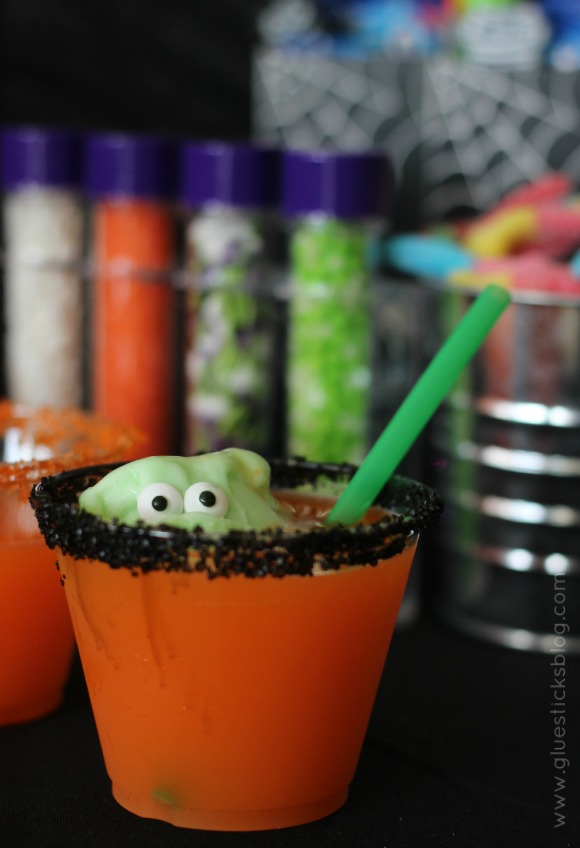 Ahhh! These make me laugh every time I see them. Hilarious, right? My friend, Kami, told me about these and how she made them with her class one year with her students when she was teaching school. A scoop of green sherbet added to the orange Fanta punch comes to alive when given a pair of eyes!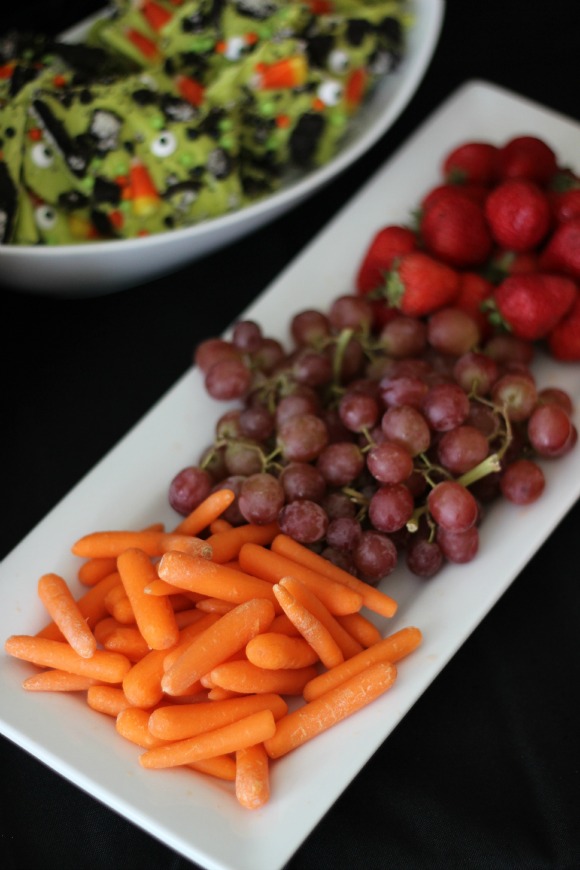 Mad Scientist Party Tip #6: Have a variety of types of foods to accommodate guests. Low sugar options as well as sweet treats.
I swapped out sugar cookies in my main party plan for a tray of fruits and veggies instead. We called them "witches fingers", "frog eyes", and "boo berries".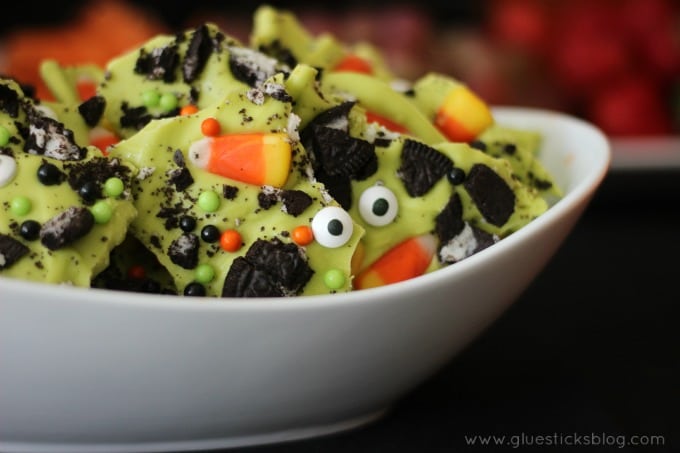 Mad Scientist Party Tip #7: Prepare as much of the party as possible in the days leading up to the event. Many foods can be prepped and stored or frozen ahead of time. That way, when the big day comes, you are left only having to prep the fresh stuff.
I made a batch of Spooky Halloween Bark the day before. The girls had fun adding an array of candy eyes, chopped OREOS, and sprinkles.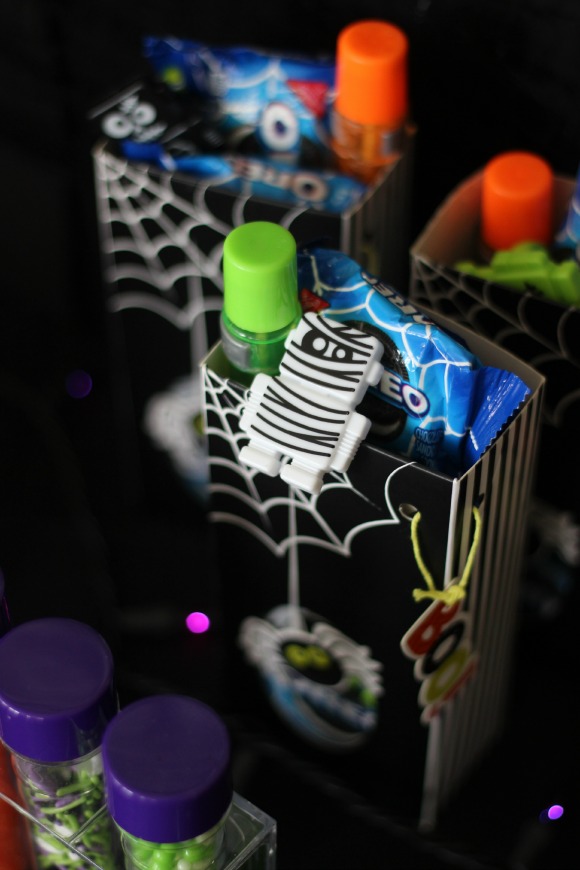 Mad Scientist Party Tip #8: Minimize the amount of "stuff" you send home with your guests. I know that as a parent I appreciate party bags that disappear quickly! The little trinkets and toys end up getting kicked around the house. Sometimes we will create a craft or small project that doubles as a parting gift. Othertimes I'll send each guest home with a small cupcake.
These treat boxes were filled with a small bottle of touchable bubbles (in a test tube), a pack of OREOS, and a small monster ring.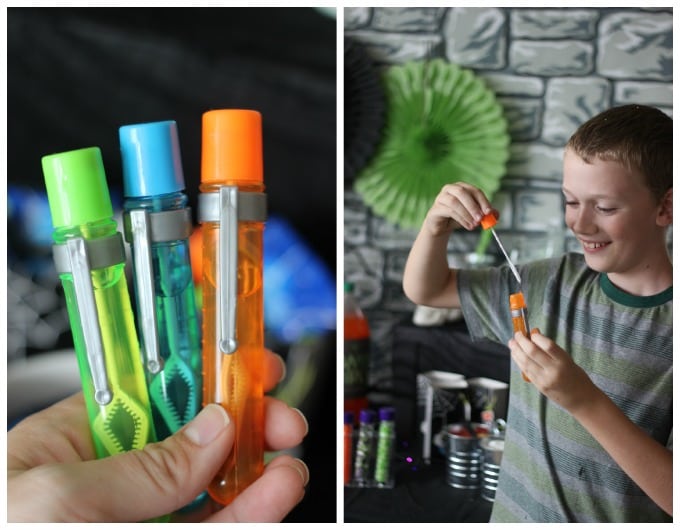 The kids
loved the bubbles
, but the one who especially enjoyed them was our dog, Toby.  That was the main entertainment for quite sometime as the kids took turns blowing bubbles for him to chase and try to eat.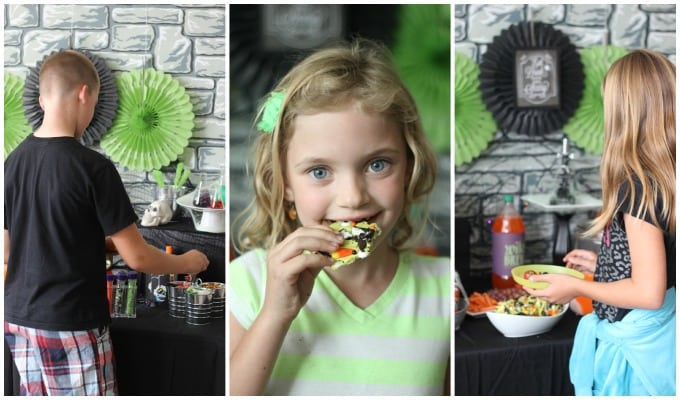 And now for the recipes!
Would you like to see how I made the OREO bark, sugar rimmed cups or Little Green Monster Punch? I'll show you!

Creepy OREO Bark
1 (12 oz.) package melting chocolates
4 OREO 2-packs (8 OREO cookies)
Halloween sprinkles
Candy eyes
Candy Corn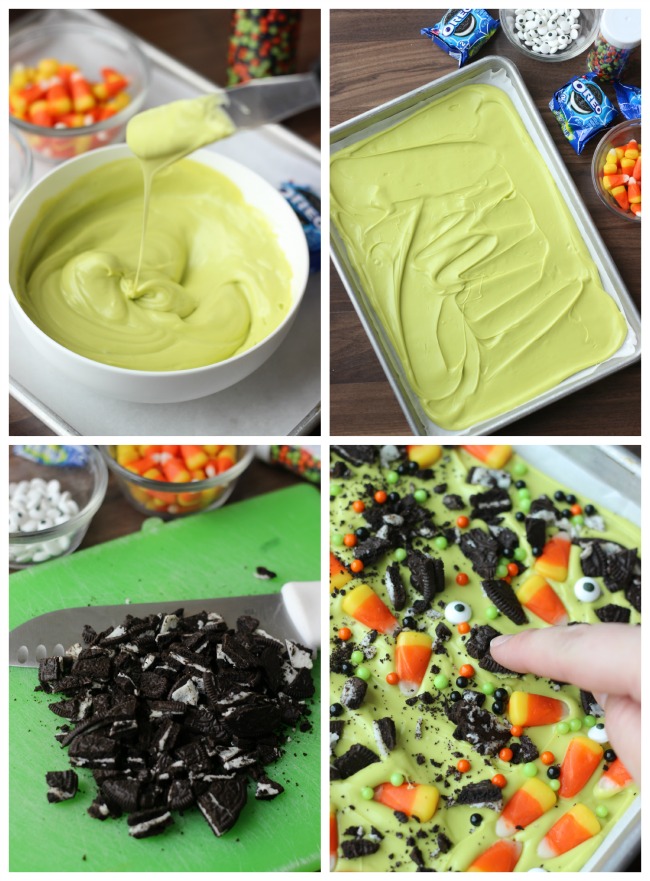 Melt chocolates in a microwave on 50% heat until smooth. About 60-90 seconds. Stir.
Pour over parchment lined baking sheet and spread to cover.
Chop Oreos into tiny pieces.
Sprinkle over melted chocolate and add other candies and sprinkles.
Refrigerate until firm.
Break into pieces and store in an air tight container.

Sugar Rimmed Goblets
1/2 c. Orange Fanta
Black and orange colored sugar
Dip cups in Fanta. Let excess drip off. Dip into colored sugar. Let dry.

Little Green Monster Punch
2 (2 liter) bottles Orange Fanta
1 container orange sherbet
1 container lime sherbet
candy eyes
Halloween Mix-ins
Pour Fanta into large bowl or pitcher.
Add orange sherbet 1 scoop at a time.
Add dry ice, if desired. Dry ice causes bubbling as well as "fog". Add it a little at a time to prevent punch from bubbling over. As always, be careful when working with dry ice.
A 1 small scoop of green sherbet to each glass after filling with punch. Decorate with candy eyes and sprinkles, if desired.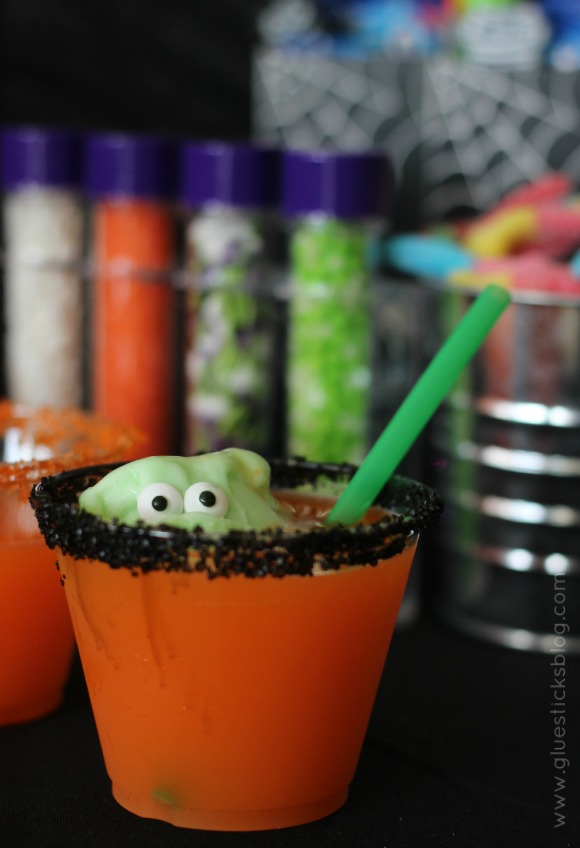 Evette Rios, host of the CBS show "Recipe Rehab" has created even more fun foods to go with a Spooky Snack Lab and you can find the Walmart exclusive 
recipes here! 
Are you hosting a Halloween party this year? What spooky foods will you be serving?
Printables I used:
"Eat, Drink, and be Scary" Sign
You might also like…